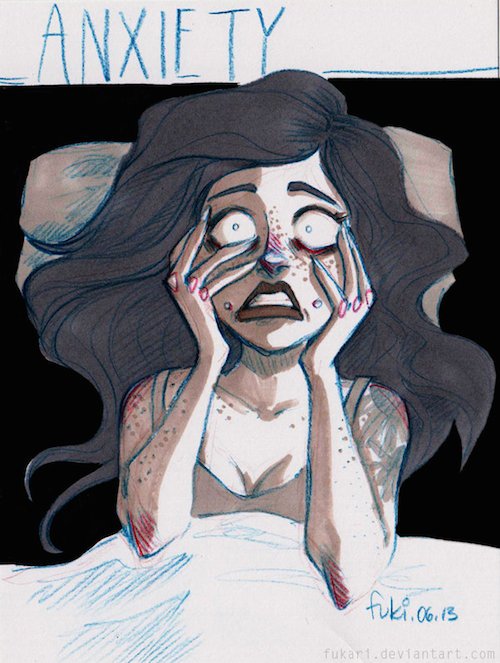 Never in a million years did I think I would be acknowledging this, and much less writing about it on the internet for a potential unlimited amount of people to see. So what am I talking about? Phobias. Anxiety. Panic Attacks. I am hoping writing about this will in a way be therapeutic for myself, but may also be exactly what someone else needed to hear who is dealing with the same thing.
Truthfully, this wasn't something I have even realized existed deep down in me until this week when I was forced to face my phobias by myself multiple times in one week, and in a country where I don't speak the language. That is already enough to make someone feel vulnerable. I don't know if this is something that I have created in my head…or if God slapped me in the face this week and said "It's time you woke up." You need to realize you have always had a fear of doctors!
I am well aware of how idiotic this sounds, and I am in no way an expert on phobias or dealing with anxiety. I would not classify myself as an anxious person. In fact, I would say I am quite the opposite and so would those around me. I am a control freak, a major go-getter (the word no is not in my vocabulary), very self motivated and self-reliant, and quite a Type-A personality. However, for some reason when anything medical is concerned I loose all control. That includes going to the doctors if I am sick, a simple check up, or any medical procedure. Apparently, it is called White Coat Syndrome.
If I have to go to any sort of doctor's appointment, my anxiety starts the night before. I start to think about the appointment and what will happen to me when I am there. I worry I will hear a
bad news, be in a vulnerable position, or have to get a needle in me at some point (a HUGE fear of mine). Right before I go to the appointment, I become very sweaty, my heart is racing to the point where I have trouble catching my breath, my mouth gets dry, and so on. Now if there is a needle involved, which just my luck there usually is, the symptoms are amplified by 10 and there may even be some uncontrollable crying involved. I don't know where it comes from!
How did I come to this realization? 
I briefly mentioned in a previous post that in May I badly sprained my ankle (or so I thought). It's now the end of August, and my ankle just won't heal. I put off going to the doctor's as long as possible, and there was always an excuse why I couldn't go. I don't know any doctors where I live. I would have to take time off work. All of the doctors I called are on vacation for a month. I was really hoping things would just heal on their own, and I would never have to experience the uncomfortableness of going to the doctor. However,  I couldn't ignore the pain anymore, and my parents kept pushing me to see someone in hopes to prevent any permanent damage. So I bit the bullet and scheduled a doctor's appointment on Monday.
Once I reached the city where the doctor's office was, I had a full blown panic attack…in public. I am sure no one noticed, but I felt like everyone knew. I completely sweat through my shirt, my heart felt like it was beating out of my chest, I couldn't catch my breath, and truly thought I would faint right there on the pavement. I even had to pop into Zara after my appointment to buy another shirt before going to work since I had sweat so much. I always arrive early at doctor's appointments to allow myself time to calm down before going in. Luckily, I found a park right across from the doctor's office with benches because I had to sit down. The only thing I could think to do was pull out my phone and watch Youtube videos that were completely materialistic and irrelevant to my situation. I sat on a park bench watching this beautiful amazon talk about her designer handbag collection, and did breathing exercises. That day was the worst feeling of anxiety I have ever experienced, and I was in shock to my reaction. Did this really just happen? Me? The always together one? The one who can do anything on my own and solider through life? I have always felt like nothing can stop me; within reason.
What was going through my mind?
Afterwards, I felt completely ridiculous because the doctor was so kind, gentile, and informative. But, that is the thing with phobias…they don't always make sense. You cannot always rationalize it, otherwise, it would not be a phobia. That is something that is hard for me because I like things to make sense. That is how I can process things, and move on. I wish I was more zen with the unknown like the people who feel whatever comes my way is meant to be. But I am a planner.
When it comes to this phobia, it feels like my brain is split in half. There is the logical side that understands doctors are meant to heal you, and in turn finding out the bad news about an injury or illness will help you because the doctor can recommend treatment to get you back to your normal self. Yet, the other part of my brain acts on the emotion and knows that I only go to the doctor when something is wrong, and I have no idea what they will tell me or do to me while I am there. The thought of going to a complete stranger in your most vulnerable state is terrifying.
What happened during my second realization this week? 
My second round of facing my phobia this week was actually on Friday. I had an MRI scheduled, as the doctor thinks I have something called a flake fracture. After my appointment, I would go to work as if nothing happened and this was an everyday occurrence. I thought it was the adult thing to do, and that your personal feelings or pains should never get in the way of the job. Your job comes first and your personal life comes second. However, sometimes we have to take a step back and realize we are human; not a robot! This time the pan started much earlier than usual because I had realized my fear. I was no longer ignoring it and was worried about how I would react knowing this. It really is an uncontrollable reaction. Would I faint? Would I cry at the appointment and have people look at me like this is only a silly MRI? Would there be a needle involved?


I cried the night before just from sheer anxiousness. When I got close to the doctor's office, the same feeling came over me, and I began to panic. I planned and wore strapless dress, but brought another bra in case I had to buy an outfit from sweating through my dress. I couldn't catch my breath, my mouth became dry, and I felt light-head. So I found a random bench and sat there with a million things going through my mind. I remember the night before I had told my boyfriend I was afraid I would have a needle put in me because doctors love to do that to me; even when I think it is irrelevant.
I felt like I was being prepped for surgery, I had to put on a hospital gown with the paper shower cap. This only made me feel more anxious. I have had MRIs before so I knew what to expect, but it still doesn't change the way you feel going through it with the ominous machine in front of you. The whole experience lasted about 45 minutes where I had to lay still on a metal table that sounded like a jack hammer was below me, and vibrated the whole table. Of course, just my luck…can you guess it? They had to put a catheter in my arm to inject a liquid that would help add contrast to the pictures. My favorite thing (sarcasm)! Even though the technician was so nice and tried to distract me while they were preparing the needle, after I left the appointment I just wanted to find a private place to cry because I don't cry in public. I seriously contemplated not going to work because this was a big deal to me (no matter how silly it may sound to some), and I knew my mind would be elsewhere for the rest of the day. Even after the "panic attack", the feeling kind of stays with you all day like a little cloud. But like the big girl I am, I thought having my presence at work was better than not being there at all. Also, I felt too uncomfortable to have to explain to people why this phobia was going to prevent me from coming into work that day. I do have to say I am quite proud that I managed to get it together, and do my job after feeling like such shit. I put my big girl panties on!
Any final thoughts? 
I kept it all in, and was a happy little worker bee until I got home. The millions of battling feelings I had experienced inside all day washed over me, and I needed to cry. I needed to release it because I believe you save the crying for when you are at home or in a private place. Truthfully, I did feel a lot better after that. I decided that night to do things for myself and focus on me; as selfish as it sounds. I needed to do things that made me smile, and that can be different for everyone. I watched some old childhood shows that take me to my "happy place", played SIMS (which I have loved since it came out), ate sushi, and played with my cat. She is quite intuitive, and knows when something is wrong with me. She'll be extra needy then and not leave my side, which is the way I like it.
I'm not sure how to move on from here as this is still pretty new to me. They say realizing it is the first step…so cliche. I would still in no way classify myself as an anxious person or someone who suffers from anxiety. I know there are so many people who have it worse, and deal with these feelings on a daily basis. I can't imagine that and kuddos to them for going through life the best way that they can. I think this whole experience has just opened my eyes my a bit, and gave me a glimpse of what it feels like to not be in control for once. I wouldn't say I ever looked down on those who had anxiety, but I was not able to put myself in their shoes in any way because I had not experienced it personally.
I do have people close to me who deal with anxiety on a daily basis. The experiences or situations that made them anxious seemed minute in the grand scheme of things, and I couldn't understand why their brain couldn't rationalize that. Sometimes, the anxiety seemed a bit dramatic or I felt that if they actually wanted to do something about it they could. That is how I feel about most things in life though. Maybe this was an experience meant to open my eyes because I have always internally dealt with the issue of perfection. This is the perfect example to remind myself that I am not perfect, I am human, and there are always new things that I am learning about myself. I know that I will find a way to get a handle on this phobia because I like to deal with things head on. I believe if you ignore things then they only get worse.
Very long winded….but I wanted to write about this to get my thoughts out there, and maybe help someone who doesn't classify themselves as someone who deals with anxiety on a daily basis or someone isn;t normally an anxious person. Maybe other people even share this same phobia of doctors and needles. Truthfully, something in me said write and so I did.
P.S. In  a second edition to this post, I thought about writing where I think this phobia stems from. Writing this post made me think back to all of my past experiences with doctor, hospitals, and needles. I have quite a few from childhood and adulthood experiences that have 100% contributed to this phobia; from multiple surgeries to emergency room visits.
SaveSave
SaveSave
SaveSave
SaveSave