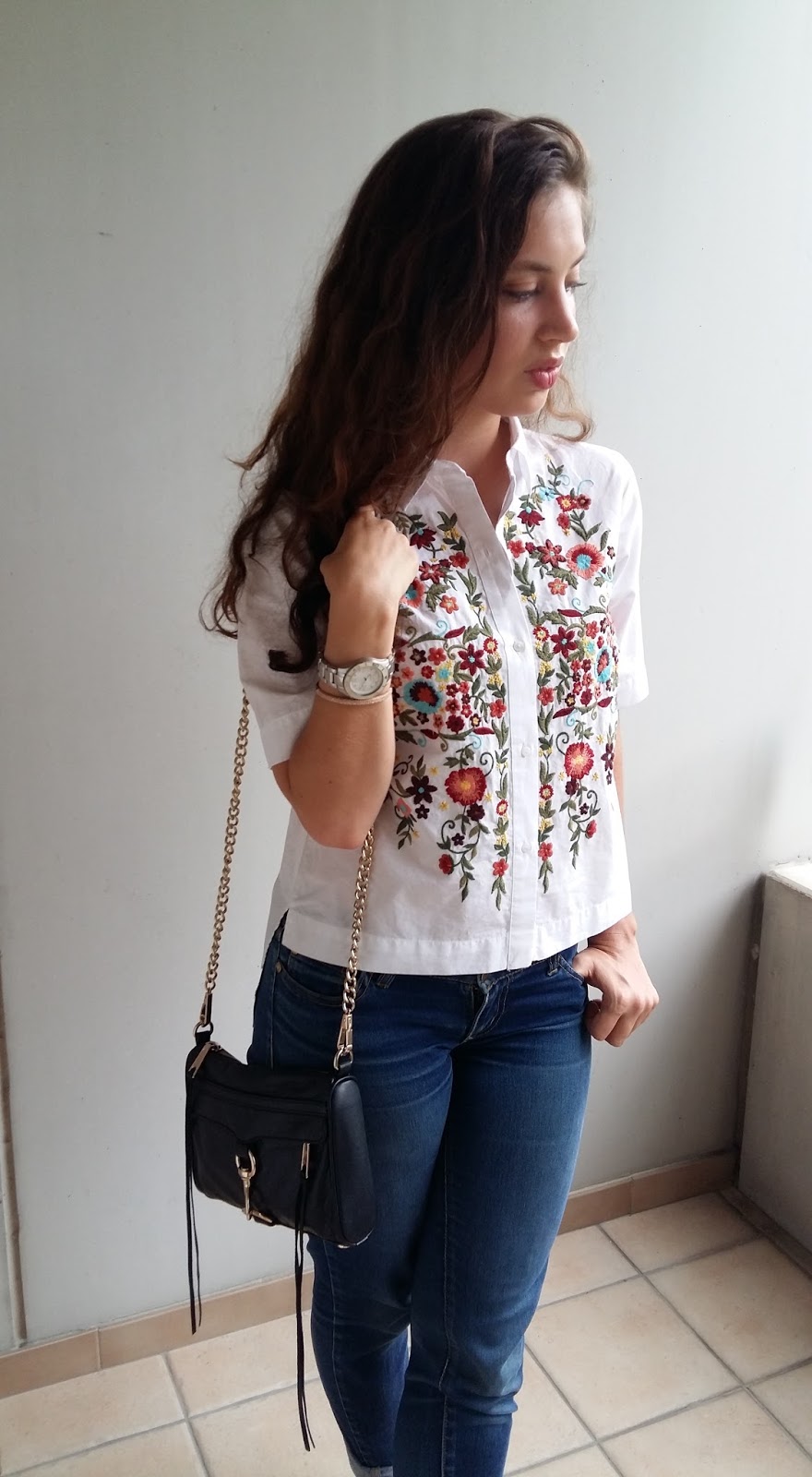 I have always felt that I was born in the wrong era, and I have had this feeling from a young age. I was fascinated by my father's teenage records he has somehow managed to keep, and watched many of the TV shows my parent's grew up on. I yearned to live in the years where my parents were teenagers in what I consider to be the best decade in music history, and really a cool time in fashion – the 1970's.
This crisp embroidered blouse gives that nod to those casual 70's vibes that I am loving, and has also recently come back into fashion. As they say, fashion relates itself. See how I style this embroidered blouse and keep it modern for a my favorite everyday summertime look.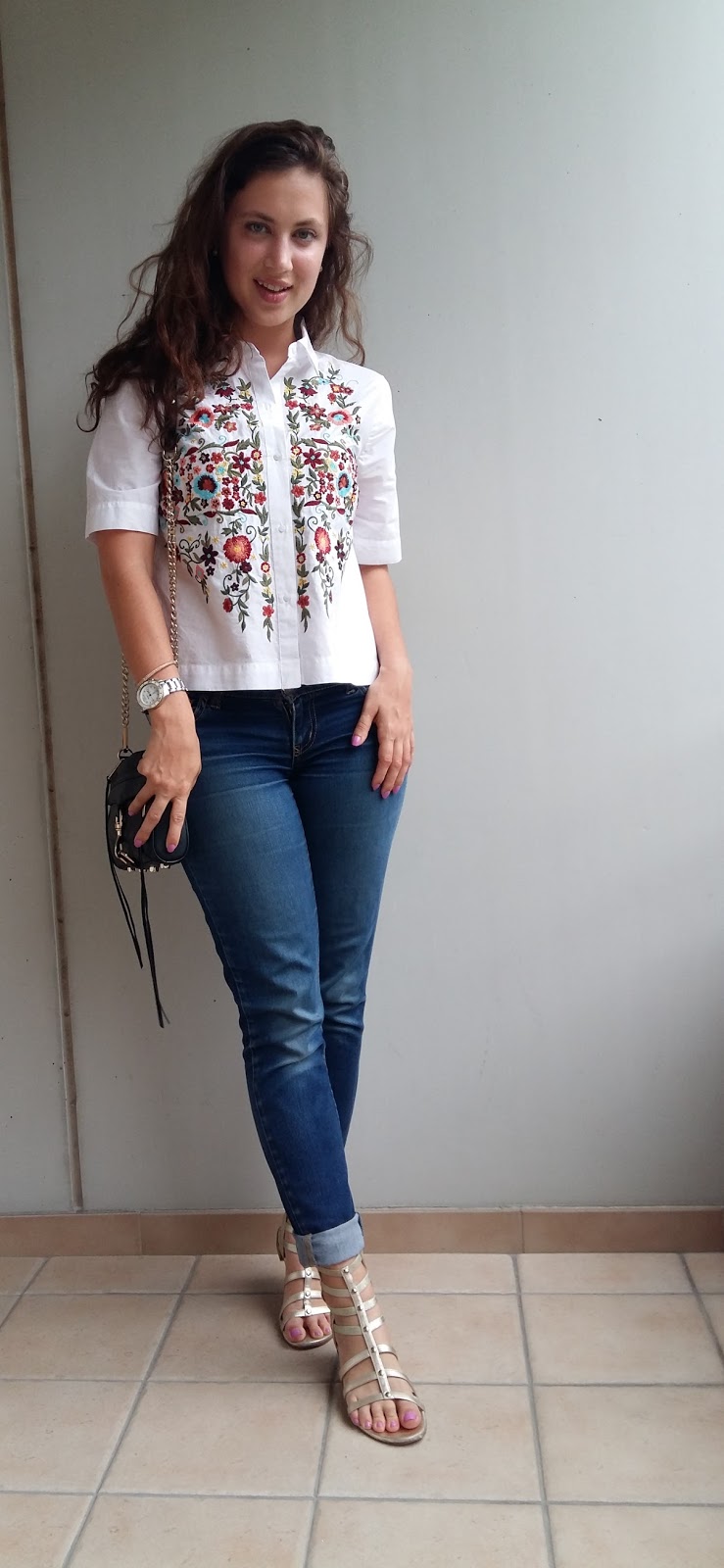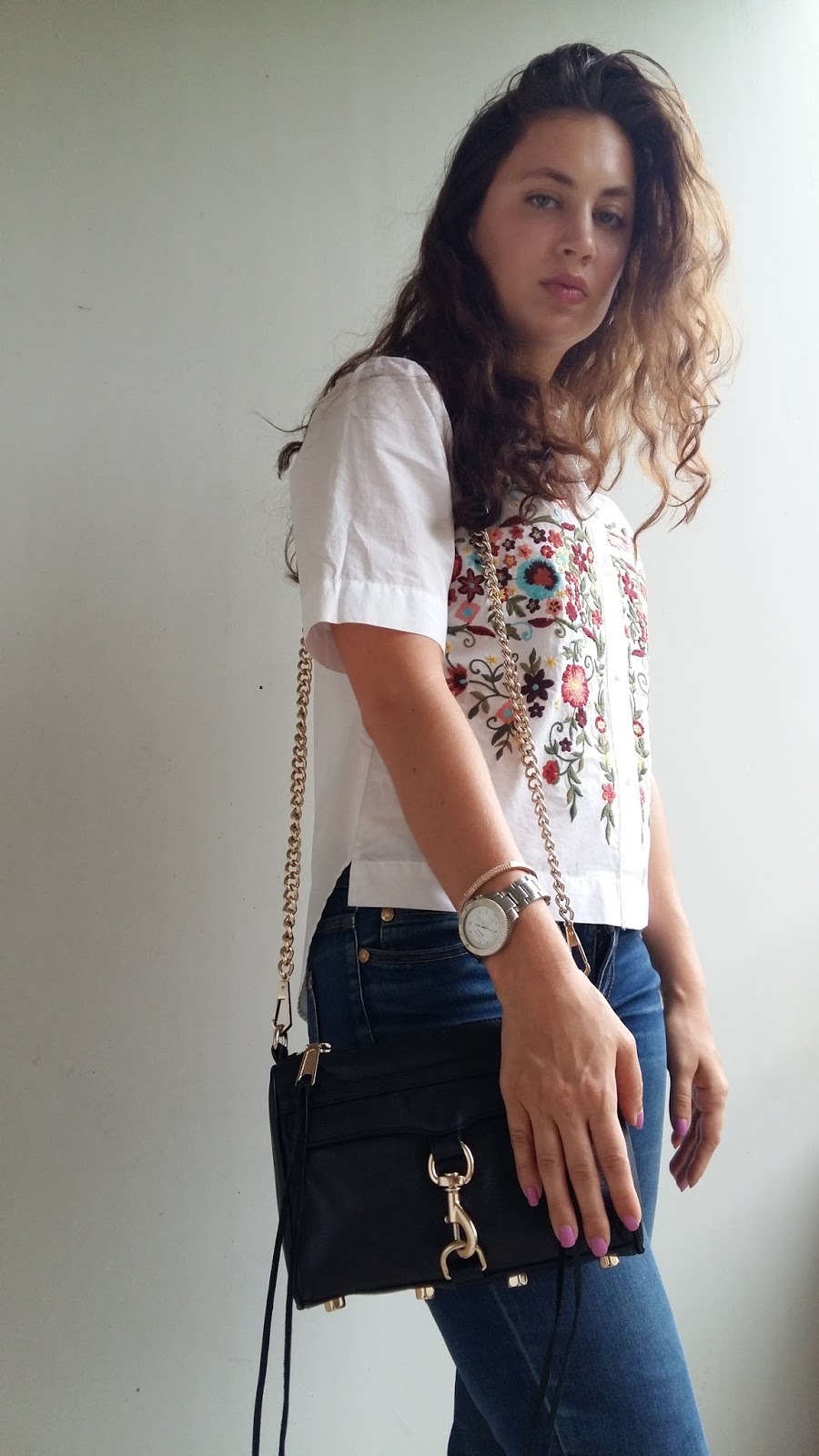 Top//Zara (no longer available, similar styles here and here)  Jeans//Celebrity Pink (love this pair here)  Handbag//Rebecca Minkoff  Shoes//Stuart Weitzman  Watch//DKNY (similar here)  Bracelet//Swarovski 
My style has evolved as of late, and I prefer to keep things simpler in my wardrobe so my clothes are easy to mix and match. It's so I don't have to waste time thinking about what to wear, and how to pair items on a regular basis. This embroidered top is a unique take on a simple white top, which is a wardrobe staple for everyone. By keeping the rest of the outfit simple, the top can be the main focus.
I would consider this top highly quality for Zara as the print is actually sewn into the fabric rather than a print on top. Score! I think embroidered top can also act as a transitional piece into Fall as he 70's vibes will be very on trend this upcoming season. Pair this with some dark wash flared denim, a long open cardigan, and block heels for a early Fall look that can easily take you from day to night.
I paired this look with my oldie but goodie Rebecca Minkoff Mini MAC,which I have to honestly say I have contemplated selling many times in the past.  It hasn't received as much use the last years, and I believe when something isn't being used that you should sell it to make room for something you will love. No need for it to collect dust on a shelf, right?
If you're looking for a quality mini bag at a reasonable price point then I highly suggest giving this bag a try. Even though the mini MAC is considered a small handbag, it mysteriously fits everything you need.
I finished off the look with favorite summertime shoe ever- the Stuart Weitzman Caesar. The metallic gold keeps the sandal unique to other gladiator style shoes on the market, and ties in the yellow from the embroidered blouse. I will warn you, this sandal gives you odd tan lines, but is so comfortable. I consider it a summer wardrobe staple.
What is your favorite trend of the moment?
SHOP MY LOOK:
SaveSave
SaveSave
SaveSave
SaveSave