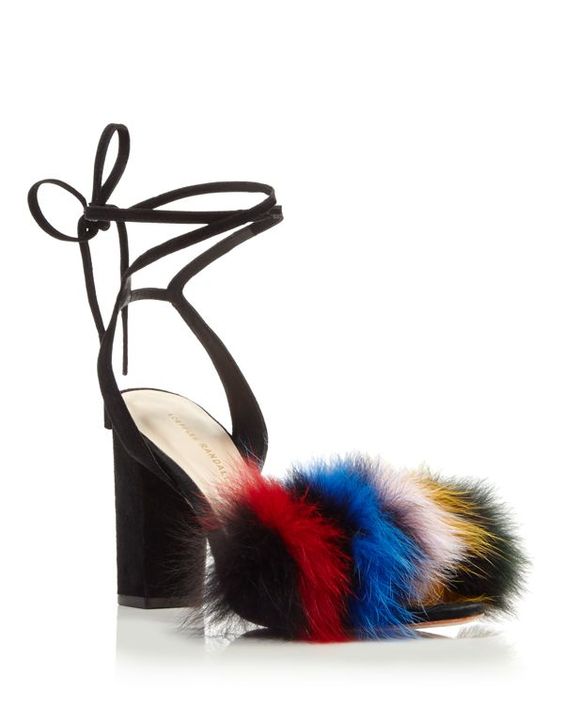 One trend lately that I cannot get enough of is fur shoes! I never thought I would say that,  and I feel like it is one of those things you either absolutely love or it makes you want to vomit. I think there is something so chic but playful about this look.
Especially, when it is paired with a more sophisticated look, and the fun shoe can add a different element to take your look up a notch. I am on the hunt for a pair where the fur looks like it is good quality, and not the Frederick's of Hollywood fur slipper kind of look. Though, I did try to buy those when I was young and my mother told me I was silly.
The one pair that has really caught my eye is the Loeffler Randall Nicollette, which I want in every color possible! For a designer shoe, they are surprisingly reasonably priced at $450, but I am trying to decided if this is a trend worth spending that money on or if I should opt for the "inspired" look.
I am all for spending the money when I know it is something I will wear over and over again or that even in a year from now I will still love as much as the day I bought it. I worry that this trend may be seasonal (so 2016) and that $450 will not be money well spent. However, they are just so perfect and sometimes the "inspired" version doesn't give you the same feel.
Below, are some of my fur shoe inspirations.
What do you think of this trend? Love it or hate it? Is it here to stay?
SHOP THIS FUR SHOE TREND
SaveSave
SaveSave
SaveSave
SaveSave
SaveSave