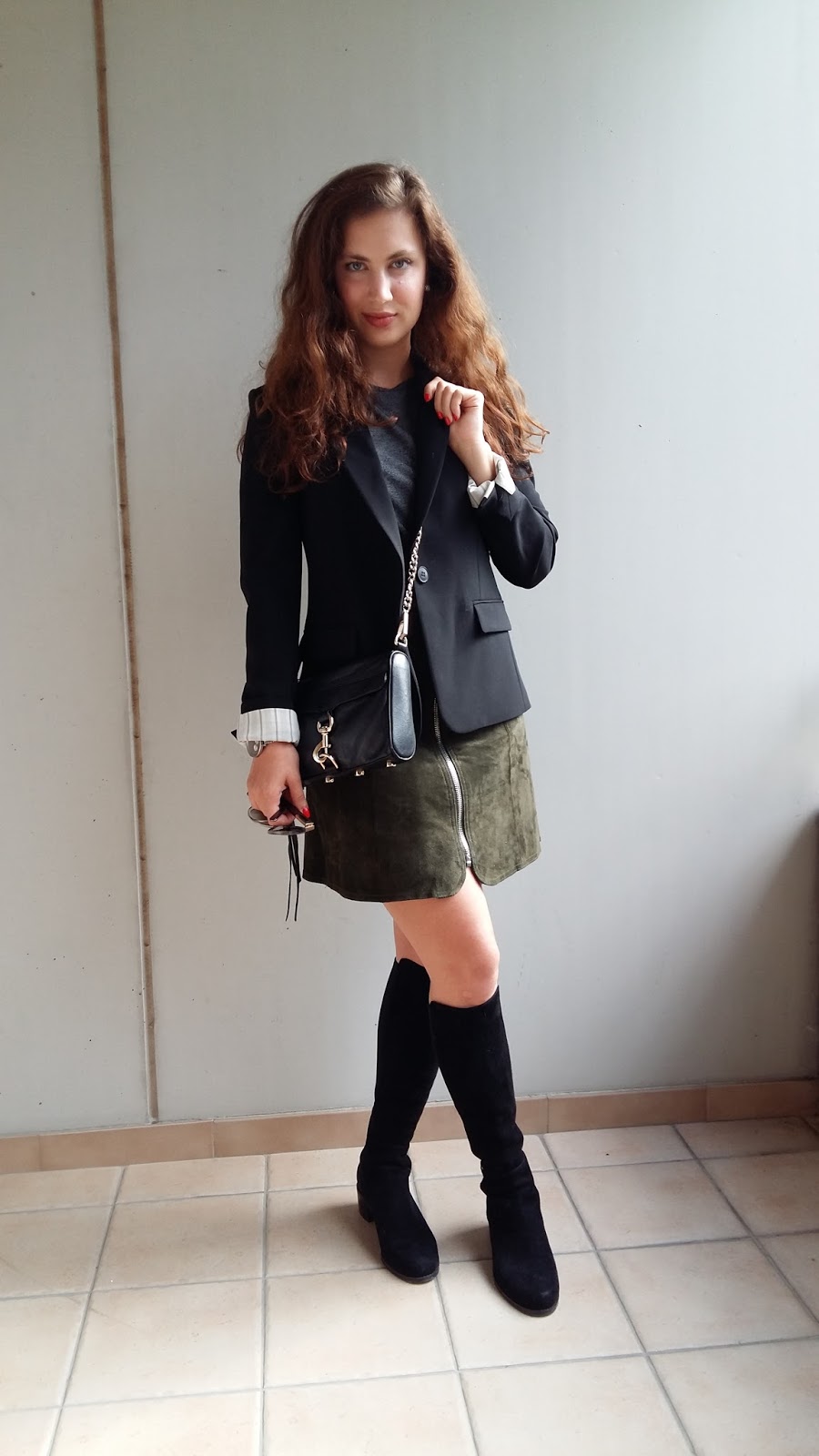 As the weather is quickly transitioning into Fall, I am really not wanting to give up on showing some skin. My least favorite part about colder weather are the many layers required to keep warm, and not being able to show any part of my skin for fear of freezing. If you live in a place with warm weather then I am very jealous, and you can completely disregard this small rant.
I recently popped into Zara to find items for my Fall wardrobe. I saw a mix of two very distinct styles in store: 90's metallic, and 70's inspiration with the earth colors and textured materials à la suede, leather, fringe, etc. I did come away with this adorable green leather mini skirt, which I think will be perfect to carry me through Fall's dropping temperatures. It also fits my current obsession with a nod to 70's chic.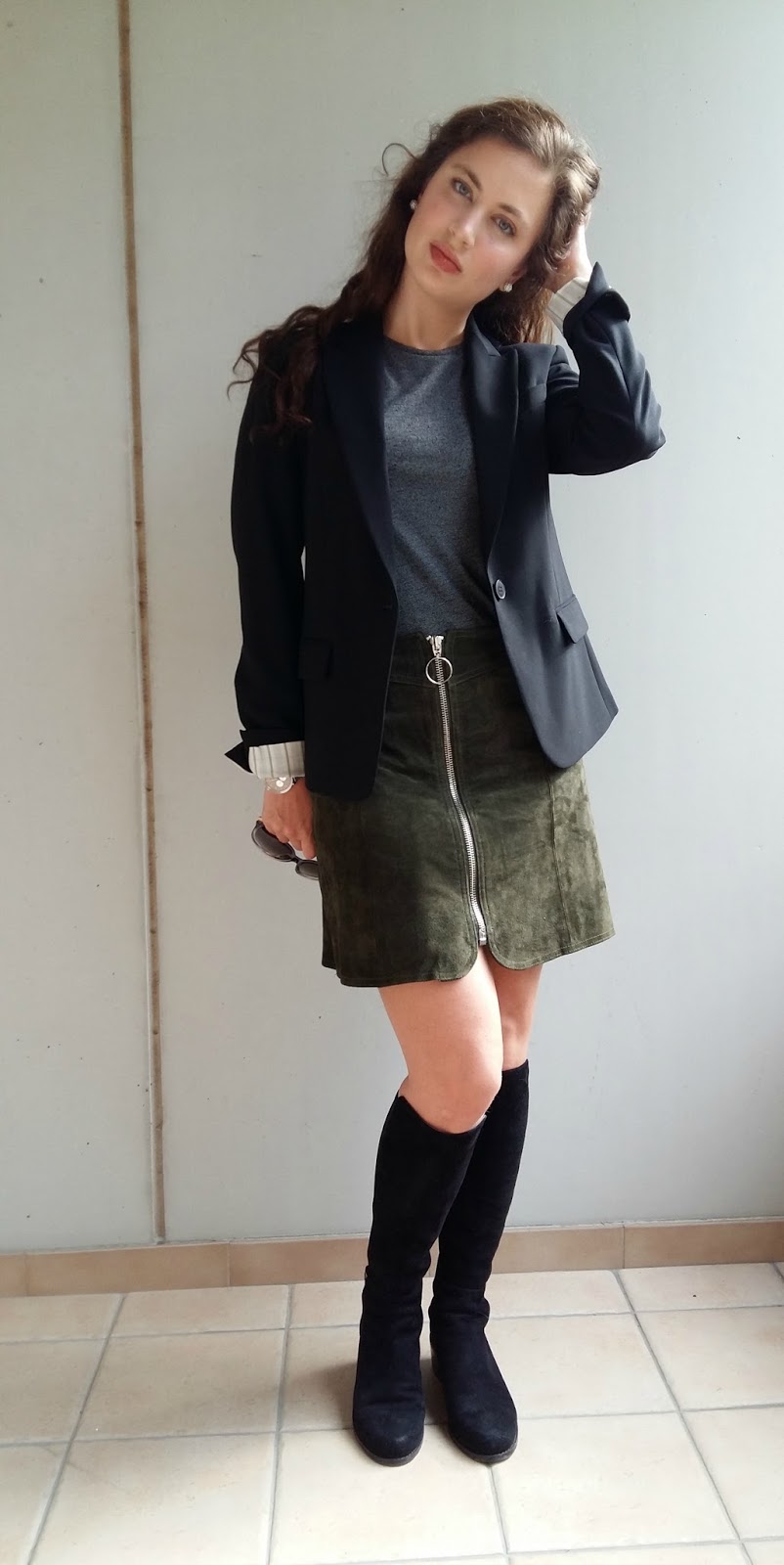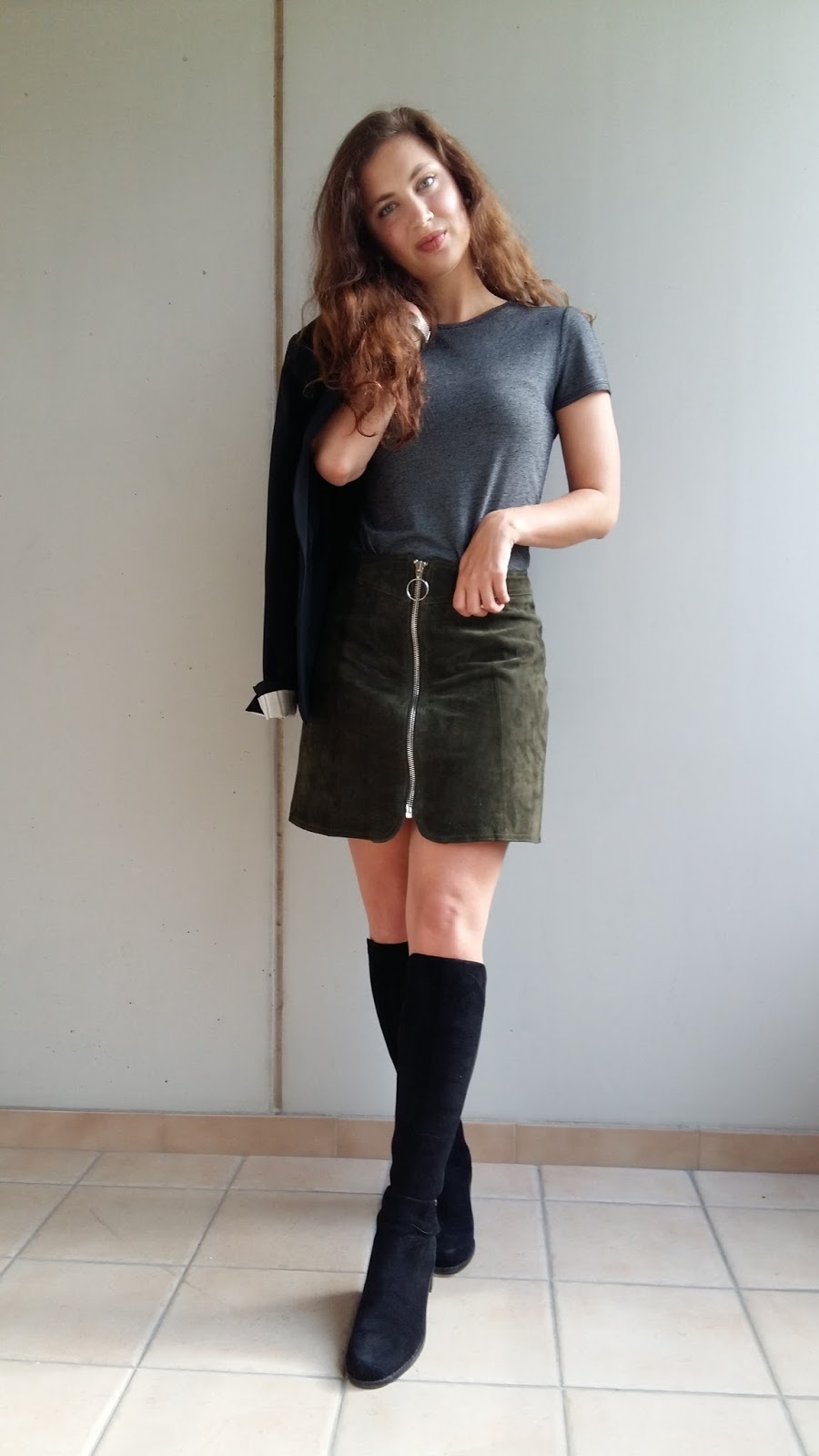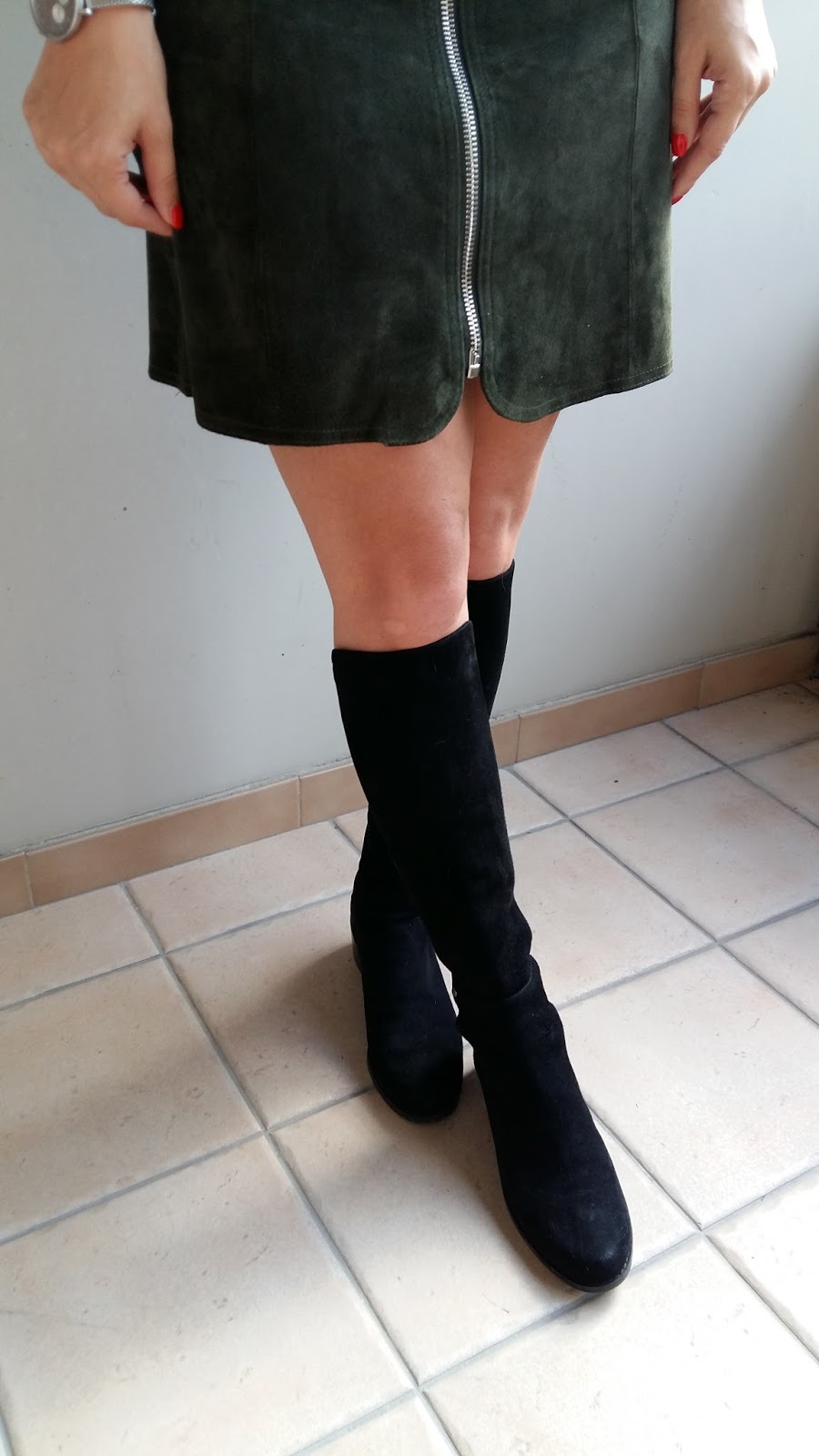 Blazer: Theory // T-Shirt: Target (old) // Skirt: Zara (New Collection) // Boots: Stuart Weitzman // Handbag: Rebecca Minkoff
I think Zara is the perfect place to find the latest trends for the season as they are always on point. When I saw this green leather mini skirt, I knew I had to have it! The skirt is made out of a heavy real-leather (cruelty-free, according to the tag), and I love the detailing of the zipper down the middle. I feel like all I need is a peasant blouse and some clogs, and I will transport right back into the 70's.
Now onto my favorite boots in my collection. The Stuart Weitzman 5050 boots are the most comfortable, yet stylish boots I own. When I put on these boots, I instantly feel chic as they can take a simple outfit to a new level. In case you haven't noticed, I am always on the hunt for items that make me look like I tried hard – when in reality I didn't.
I love to have most items in my closet pair well together so I can get ready easily and GO.
These boots were the steal of a century for me, and a completely unexpected buy. In Fall 2015, I was on the hunt for the perfect boots to add to my collection. I had always been partial to riding boots, and was trying to find another style rather than my go-to. I was in love with the Stuart Weitzman boots, but had a difficult time justifying the price tag of $650+ for boots that could quickly get dirty in Switzerland.
I kid you not when I say I bought easily 13 pairs of boots from all brands, and returned every single one. I was about to give up when I thought I would check Nordstrom Rack one last time. I found these shoes in a size 6.5, and I am normally a size 6 in Stuart Weitzman boots.
Apparently, these were the only pair available at any Nordstrom Rack across the entire US….so needless to say, I had to buy them! Even when you are on the hunt for something as materialistic as the perfect shoe to add to your collection, perseverance pays off. Knowing I got these boots for an amazing deal, feels like a major accomplishment. You understand the feeling if you love a good deal!
For my fellow deal hunters out there, what is the best deal you have ever found? 
SHOP MY LOOK
SaveSave
SaveSave
SaveSave
SaveSave
SaveSave