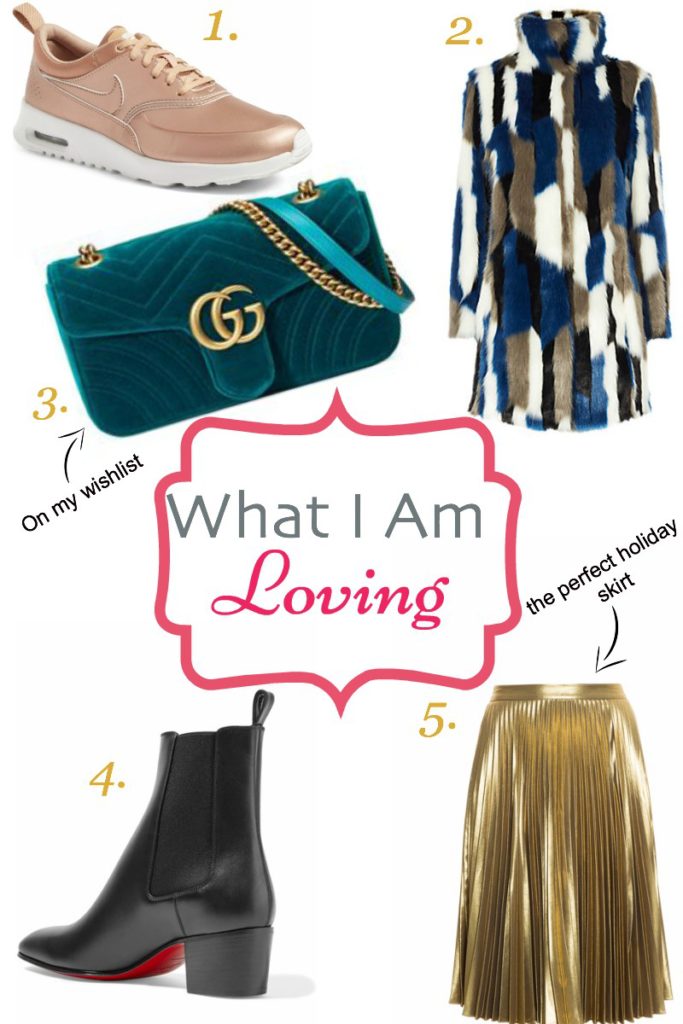 Happy Saturday Everyone! I can't tell you how excited I am to just sit on my couch and watch movies  all weekend. To say this week at work was tough is an understatement so it is time to relax and surround myself with things that make me happy. This may or may not include some online shopping. Keep reading to know more about my favorite fashion items at the moment. 
ONE// Fashion Sneakers: This year I have fallen in love with what I call fashion sneakers. I never envisioned myself as wearing athletic shoes on a daily basis when I am trying to look cute. I think these types of shoes can add an element of cool to any outfit, and are surprsingly easy to pair. Right now, my obsession is metallic sneakers.
TWO// Crazy Winter Coats: I say the crazier the coat, the better. The specific coat above is by Karen Millen, who is really on point in the coat game this season. I used to love her formal dresses for events, but I had never thought much about her coat selection, until now. These coats are meant to be a fashion statement so I would pair this with an a monochromatic neutral outfit. Especially, with a black turtleneck sweater and leather leggings!
THREE// Small Handbags: I can't tell you the last time I have used one of my larger handbags. Since this summer, it has all been about the smaller handbags. When you carry a smaller handbag, you realize the unnecessary items you used to carry. It is a lot easier to go through life when you aren't lugging around everything you own in a handbag. I have been loving handbags that can double as a shoulder bag and crossbody.
FOUR// Chelsea Boots: Since I am petite, I was always worried that short boots cut my legs in an awkward place. At the beginning of this year, I bought a pair of Kate Spade Chelsea boots, and I have worn them nonstop. These types of shoes are extremely versatile, and were the only pair of shoes I brought on a recent business trip. If you are petite and you think you cannot wear this style of boot, I would say keep looking until you find the right pair for you.
FIVE// Metallic Skirts: Metallic is a huge trend right now, and I have found myself obsessed with this trend too. I wouldn't splurge on this item as it really is a trend piece, and there are some great inexpensive options at places like Zara. Specifically, I am loving silver mini skirts or long pleated skirts. I find that fall and winter fashion can be repetitive since you have to stay warm. I mean how many times can you wear pair sweaters with jeans. These metallic skirts can be an interesting alternative to typical winter attire when paired with oversized sweaters and Chelsea boots.
What fashion trends are you loving right now?
SHOP MY FAVORITES
SaveSave
SaveSave
SaveSave
SaveSave