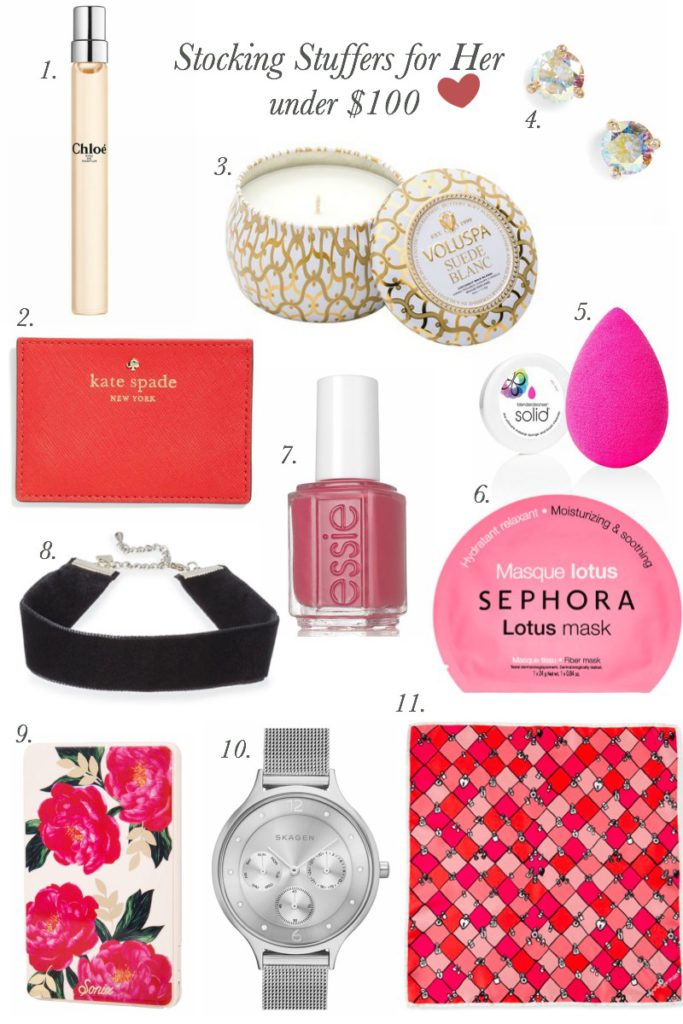 Happy Sunday Everyone! I hope you had a rest filled weekend. I've spent most of my weekend  watching the newest episodes of the Gilmore Girls revival, and I know that I am not alone in that. As the gift giving season is upon us (my favorite time of the year), I have decided to compile a list of stocking stuffer ideas that all girly girls would be happy to receive…just in case you are stuck on what to get the women in your life. Or maybe you are looking to treat yourself. Keep reading if you want to know more about these great gift ideas.

ONE// Travel Sized Perfume: This is a great way to not break the bank when buying perfume for your loved ones, especially since scent can be such a personal choice. A travel sized perfume not only allows her to sample the fragrance before splurging for the big bottle, but is also a neccessary item to have in your handbag. One of my favorite scents is Chloe Eau de Parfum, which is perfect for any floral scent lovers out there.
TWO// Card Holder (on sale now): As purses are getting smaller and smaller then so must your wallet. After switching to a smaller wallet about a year ago, I don't know if I can ever go back to my large zip wallet. A card holder is perfect for those handbag minimalists or for those who love to take small handbags when they go out.
THREE// Candles: Any candle lover would be happy to receive a luxury candle brand. One of my favorites is Voluspa as they come in beautifully decorated tins, but don't make you feel guilty for spending so much money on something that will burn out soon. You can buy the large sized candle to use as a stand alone gift or a mini size for a stocking stuffer (which is only $8).
FOUR// Studs (on sale for $26): I feel like jewelry is an item that people don't often buy for themselves, which is why they make perfect gifts. Statement earrings can be a wonderful gift, but I would steer clear unless you know the recipient's personal style very well. Stud earrings are beautiful, versatile, and always guaranteed to make her smile.
FIVE// Beauty Blender: Everyone makeup lover must own one. Simple as that! The Beauty Blender isn't just a regular makeup sponge. It has special technology to ensure that your makeup isn't absorbed into the sponge, which means less waste and less money spent on re-filling your products. If she already has one then backups are always appreciated.
SIX// Sheet Masks: Sheet masks have been the beauty craze for the last few years. They're great to travel with as they are mess free, and many brands have come out with really affordable options. My personal favorite are Dr. Jart Masks, which you can buy in a pack of 5 on eBay. I have also heard fantastic things about the Sephora brand sheet masks.
SEVEN// Nail polish: You can never have enough nail polish, and they make fun stocking stuffers. A classic red, especially around the holidays, is always a great go-to. My favorite, easily accessible brands are OPI, Essie, and Orly. The quality is great and there is an endless selection of colors.
EIGHT// Chokers: 90's trends were in full swing this year, and with that came the choker. I found a great velvet choker that looks high quality, but won't break the bank. This is perfect for any fashion lovers in your life or those who want to reminisce about the 90's. How is this back in style already?
NINE// Portable Charger: Do you have that person in your life who always lives on their phone? A portable but stylish charger is a thoughtful gift for those phone addicts who can never seem to keep their phone charged.
TEN// Watch (on sale now): If you want to spend a bit more money then I suggest a Skagen watch. Most are under $150, but look much more expensive. The one I have linked is reduced to $70 in the Nordstrom sale. I receive so many compliments when I wear my Skagen watch as they look and feel high quality. Also, the mesh strap detailing is quite unique.
ELEVEN// Silk Scarf: I have been collecting silk scarves for years, and they are so versatile. You can drape it over your shoulders, tie around your neck or in your hair, wear as a silk cuff, or tie onto your handbag as an accessory. I say the crazier the pattern, the better.
What would you love to get as a stocking stuffer?
SHOP MY GIFT IDEAS
SaveSave
SaveSave