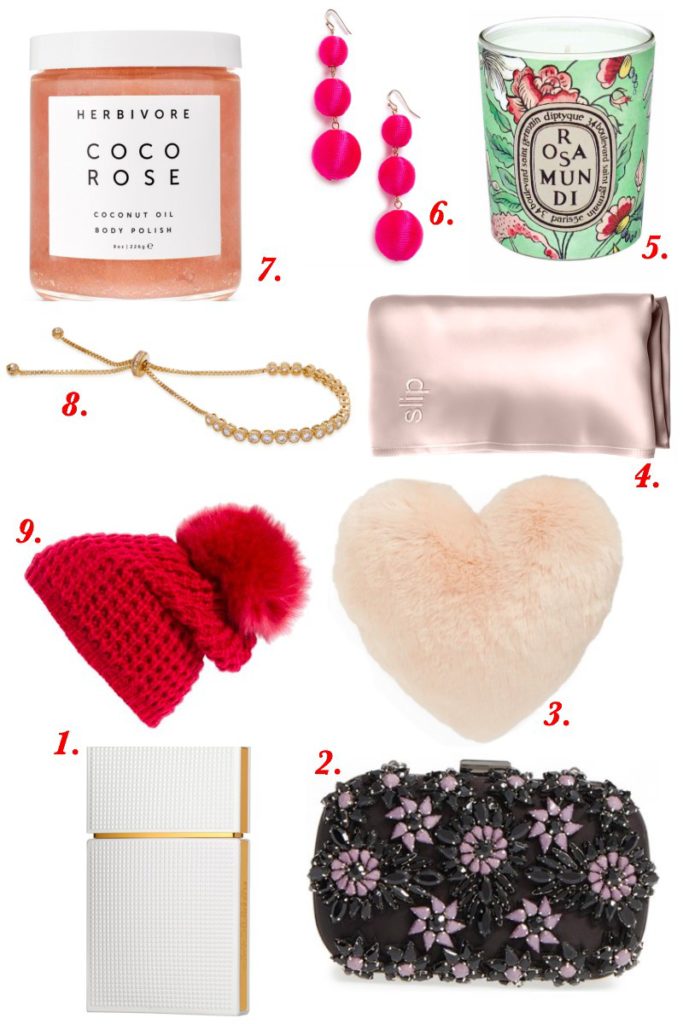 One of my favorite holidays is almost here! Today, Valentine's Day can be often thought of as a commercially driven holiday, but call me a hopeless romantic because I love Valentines Day (always have). I love pink, and I love love. I also think it's a nice way to remind us to focus on our loved ones as we can become ME focused in our busy lives. Even though we shouldn't need a day specifically set aside for this, we all want a day to feel cared for and appreciated. Plus who doesn't love candy, dressing up, and beautiful flowers?!

If you don't have a significant other to celebrate with then I say shower yourself with lovely gifts that make you smile. You can always use a day to pamper yourself, and as some say "Treat Yo Self!" I have listed some cute gift ideas that are Valentines Day inspired for yourself, a significant other, a friend, or any girly girl in your life. However, you can never go wrong with the classic flowers in my book!
MY GIFT IDEAS
ONE// Perfume: I have heard other bloggers and Youtubers talk about the Elizabeth and James perfumes, but never thought much of it. In a recent trip to Nordstrom I smelled the Elizabeth and James Nirvana White perfume, and instantly fell in love. The scent is described as feminine with dark sophistication, and the top note is peony.
TWO// Clutch: This is not just a clutch, but also a piece of jewelry. It can be that perfect date night or night out item that elevates an all black or basic outfit. It would also be a beautiful display in a closet. You have to admit, sometimes you buy things just because they would  look gorgeous in your wardrobe.
THREE// Furry Home Accents: Not only is this pillow in the shape of a heart (perfect for Valentines Day), but it's always furry. I love furry pillows and blankets because they add texture and sophistication to any room. Plus can you ever have too many decorative pillows?
FOUR// Silk Pillow Case: This may be a pricy pillowcase so it's not an item you would probably purchase for yourself. This is why it would make a great gift! The beauty benefits make this pillowcase a must-try as it reduces frizziness, is hypoallergenic, and anti-aging. It's like a spa in a pillowcase.
FIVE// Fancy Candles: Maybe I am one of the few, but I LOVE fancy candles. I have always advised friends when they don't know what to buy as gifts that beautifully packaged candles are always a great option. There is nothing better than a fragrant candle that can also serve as an accent piece. There are several brands that make what I call "fancy" candles. Have a look at brands like Nest, Voluspa, Jo Malone, or diptyque.
SIX// Crispin Drop Earrings: If you follow any bloggers or are an Instagram addict then you know these earrings are having a real moment right now. They add a touch of fun to any outfit and are easy to dress up or down. The Crispin earrings come in every color so you can stock up on all of them without worrying about repeating these statement earrings.
SEVEN// Body Polish: One of my favorite weekend activities is a pampering session from a relaxing shower to face masks while watching my guilty pleasure reality shows. A body polish is a great way to add a touch of spa to your shower routine while helping you maintain soft skin. It even helps you achieve a closer shave.
EIGHT// Delicate Bracelet: Dainty jewelry is all about femininity, and is so easy to pair from day to night. I am all about having key pieces that I can wear no matter my outfit. This dainty bracelet adds that touch of bling without being over-the-top, and is adjustable. Great for all of my small wrist ladies. Use my code LOVE30 for 30% off everything at Boho Betty until February 11th.
NINE// Pom Pom Hat: It can be hard to look cute while trying to stay warm. I've fallen in love with these pom pom hats as they do both. Honestly, everything with fur accents are catching my eye right now. They add texture and luxe to an otherwise simple outfit. Plus these come in a few fun colors, which is perfect for those who tend to opt for a more neutral color palette.
Do you also love Valentines Day?
SHOP MY GIFT IDEAS
SaveSave
SaveSave
SaveSave
SaveSave