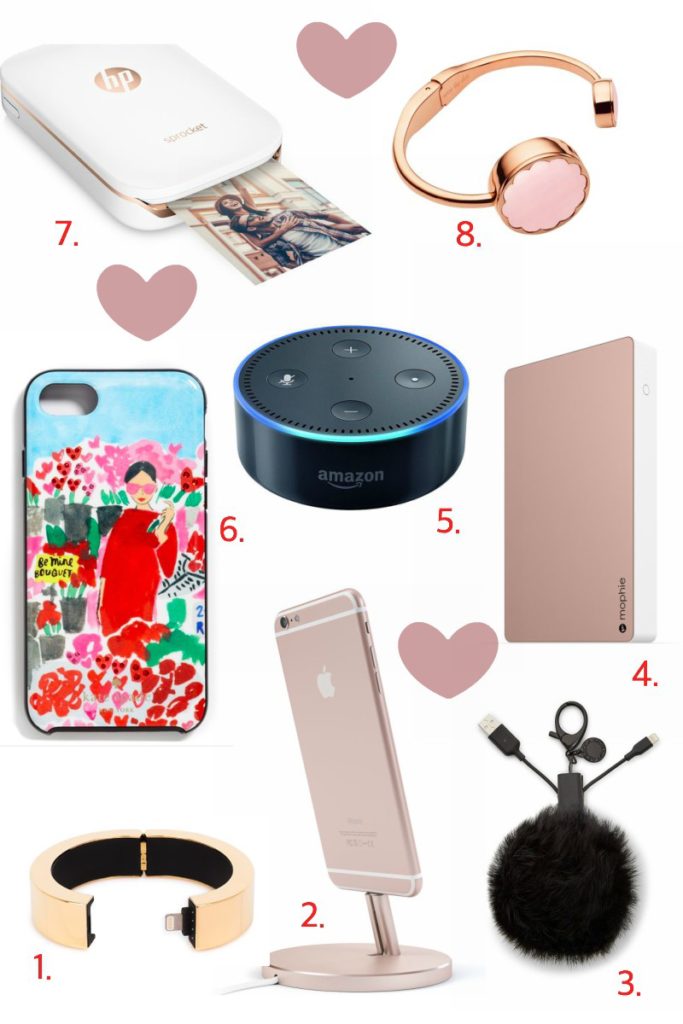 Here is my second installment of Valentines Day inspired gifts for all of the tech lovers in your life or in you. Valentines Day can be spent with a significant other, friends, or even enjoying your own company. See here for my previous post on gift ideas for all my fellow girly girls out there. A great idea can also be to mix and match gifts from these different lists to really tailor it to your loved one. No one fits on a single list!

ONE// Tech Bracelet: Fashionable jewelry that is also functional…need I say more? The bracelet acts as a secret iPhone charger so you never have to worry about low battery.  It comes in three different tones to suite your preference: silver, matte silver, and gold. I am surprised I have never seen this before.
TWO// Charging Station: First, it comes in rose gold. No one can say no to rose gold. Second, this charging station allows you to charge your phone in a convenient way. I know I am not the only one who has had to prop up my phone to watch Youtube videos while doing my makeup. This charging station would be the perfect replacement for that.
THREE// Handbag Charm: Clearly, I am all about keeping your devices charged because here is another charging item. I always worried that I'll need my phone for something important, and there will be no battery left. This handbag charm is a hidden charger so you can always make sure you have one with you. There are so many variations of these handbag charm charger so find a design that works for you!
FOUR// Power Bank: Almost done with the charging items! We use our phones for everything so it is pretty hard for our phones to remain charged. This little universal battery will get you more than seven additional charges on your smartphone, and has three USB ports to allow you to charge multiple devices at once. Perfect for a blogger, Youtuber, or Instagram addict.
FIVE// Smart Speaker: If you are unsure about spending $180 on the Amazon Echo then the Amazon Dot is a great place to start. This speaker allows you to take part in the fun without breaking the bank. It is a hands-free, voice-controlled device that uses Alexa to play music, control smart home devices, provide information, read the news, set alarms, etc. You can even request an Uber with the device!
SIX// Phone Case: You can never have enough phone cases. It's a nice gift to receive because you need it, but may not aways jump to buy it for yourself. I know I have been rocking the same phone case for a long time as I can't quite make myself spend $45+ for a decent case. A great gift is something you need, but you don't really buy for yourself.
SEVEN// Printer: This is one of the coolest tech items I have seen in a long time! It is a portable printer (size of a cell phone) that allows you to print photos directly from your smartphone or tablet. This is perfect for anyone who loves to take pictures or surround themselves with photos of loved ones and adventures.
EIGHT// Fitness Tracker: Most New Years resolutions include getting fit or being more healthy in all aspects of life. This fitness bracelet can help you achieve your goals by tracking your steps, sleep cycles and social media activity in style. The design includes flower-shaped mother-of-pearl insets, a light-up notification feature to keep you updated on your progress without distraction, and is Bluetooth-enabled to control your camera and music when you're on the go.
What other tech items do you love?
SHOP MY GIFT IDEAS
SaveSave
SaveSave
SaveSave