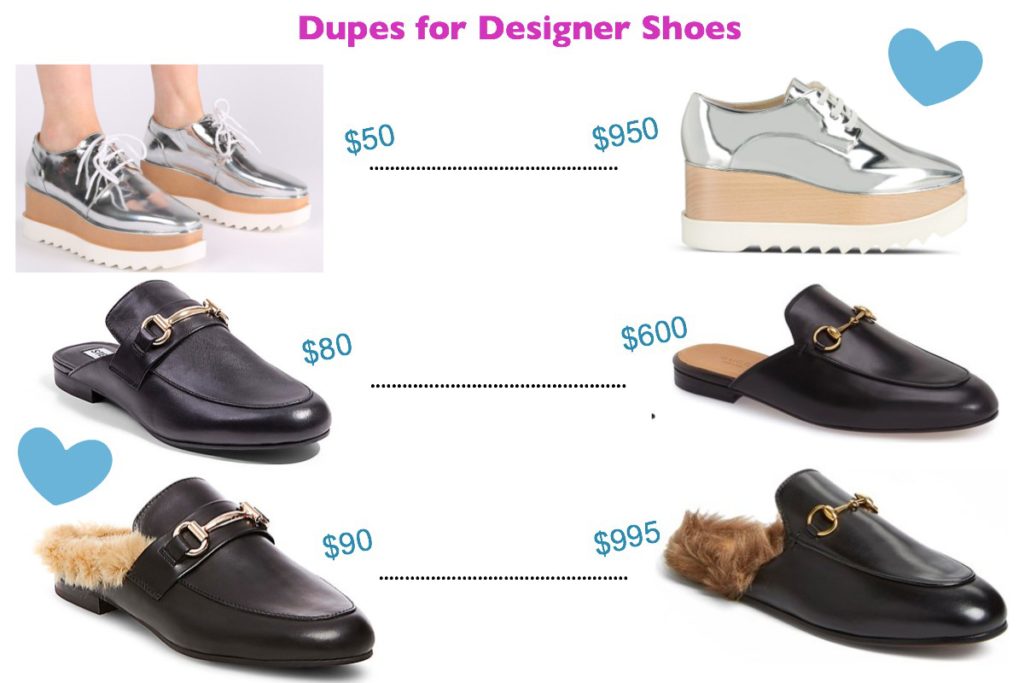 Happy Sunday! I hope you have all enjoyed your weekend.
These three dupes fell into my lap during my usual browse of the internet and Instagram. I am a big believer in buying dupes for trendier items or a new style that is out of your comfort zone. It is a great way to see if the item will actually work in your wardrobe before dropping the big bucks on the luxury item. If I was to give you one tip before buying luxury, that would be it.
Real vs. Dupes
Public Desire Maya vs. Stella McCartney Elyse // I am in shock of how similar these shoes look. I have been loving the look of the Stella McCartney Elyse platforms as I think they add a touch of cool girl chic to a simple outfit. I was worried about spending over $900 on such a trendy item that I may not like in a year from now, but these are a great alternative.
Steve Madden Kandi vs. Gucci Princetown // The Gucci slides were everywhere last year, and finally seem to be making their way to the high street. Everyone from Zara to Sam Edelman are coming out with Gucci dupes. These Steve Madden slides are the closest I've seen. I have been eyeing the Gucci pair, but bought these Sam Edelman Perri slides to see if backless shoes would work for me. I have to say that I can't get enough.
Steve Madden Jill vs. Gucci Princetown (with fur) // These Gucci fur slides have been a big hit with bloggers and fashionistas alike. I can see why. They are an unexpected touch of luxury and texture to these otherwise classic shoes. I've mentioned in previous posts that I am always on the hunt for classic pieces with a twist. It can take a simple item and make it modern. My only worry is that the fur-line Gucci Princetown slides would be difficult to upkeep the fur. Since it's so close to the ground, I would think the fur would easily get dirty. For anyone who has these please let me know if you have experienced any problems with this.
Have you found other great dupes? If so, share in the comments section!
SHOP THE ITEMS IN THIS POST:
SaveSave
SaveSave
SaveSave
SaveSave
SaveSave