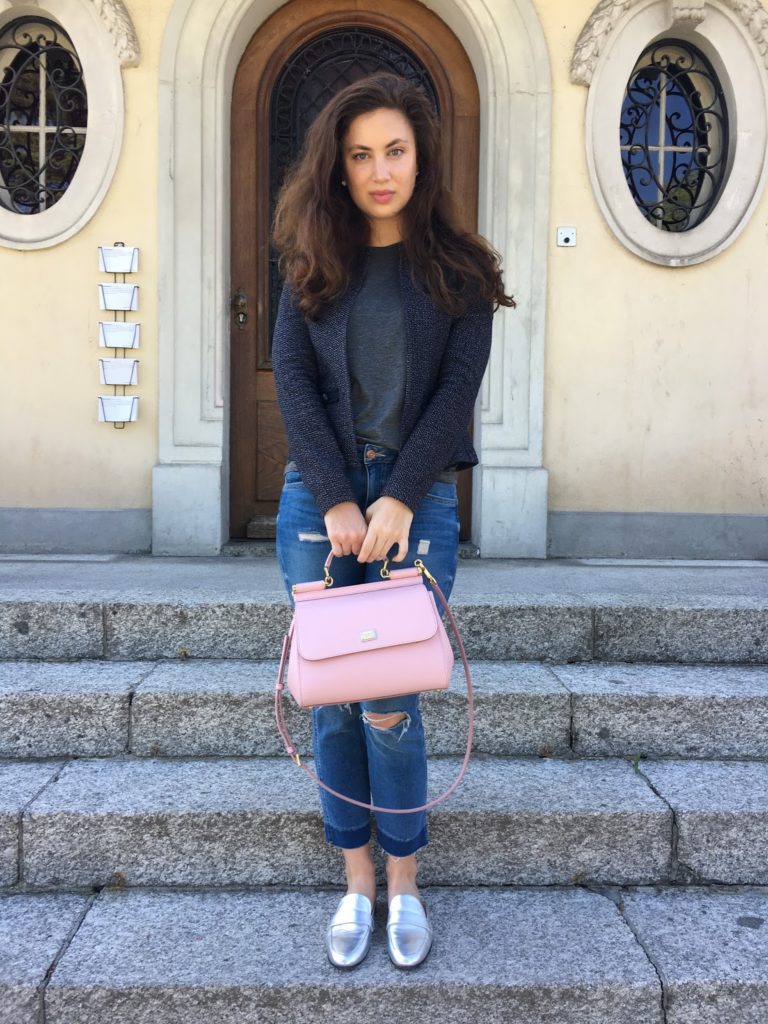 It's finally starting to feel like spring in Switzerland, and I can't tell you how happy that makes me. I was getting so tired of the cold weather and grey days. There are so many more possibilities in styling when the weather warms up. It's not the same jeans, sweater, and boots look we tend to live in for the winter.
In this post I wanted to share with you one of my favorite grab-and-go styles that looks like you put in a lot of effort (even though you didn't). I'm loving a simple t-shirt and jeans that is dressed up with a mix of classic items and the unexpected trend piece to keep it modern.
I will also be sharing with you my new Dolce & Gabbana handbag that I know will quickly become essential in my collection.
I have nothing to wear…Where do I start?
If I was to give anyone advice on what to wear when you have no idea what to put together, it would be to start with a base of a t-shirt and jeans. From there you can add your own unique pieces and it's so easy to dress up from day to night by just changing shoes or a handbag. I paired this simple outfit with a classic tweed style jacket, blush pink (the color of the season) Dolce & Gabbana handbag, and my favorite Sam Edelman metallic slides…I can't stop pairing them with anything for that cool girl chic look.
Meet my new handbag
I have also welcomed a new handbag into my collection, and this is my first post showing her off. A few years ago in Nordstrom, I tried on this Dolce & Gabbana Miss Sicily handbag in black. I was just a college student at the time, and this was way out of my price range. I never forgot about it though, and it just goes to show how hard work can pay off. It can be nice to treat yourself, and for me that's handbags.
After seeing Tamara Kalinic with this color Dolce & Gabbana handbag, I knew I had to have it! The blush pink adds a nice touch of color and femininity to a simple outfit, but is also a great alternative to the traditional neutrals. I hope I can show you that it really does go with everything.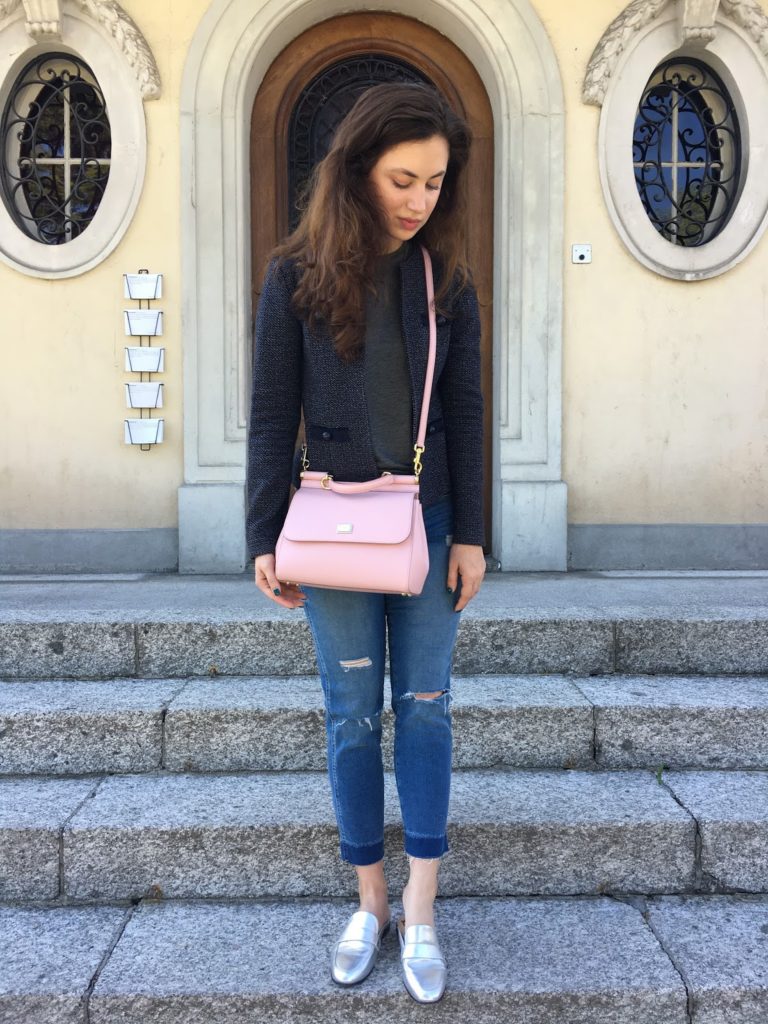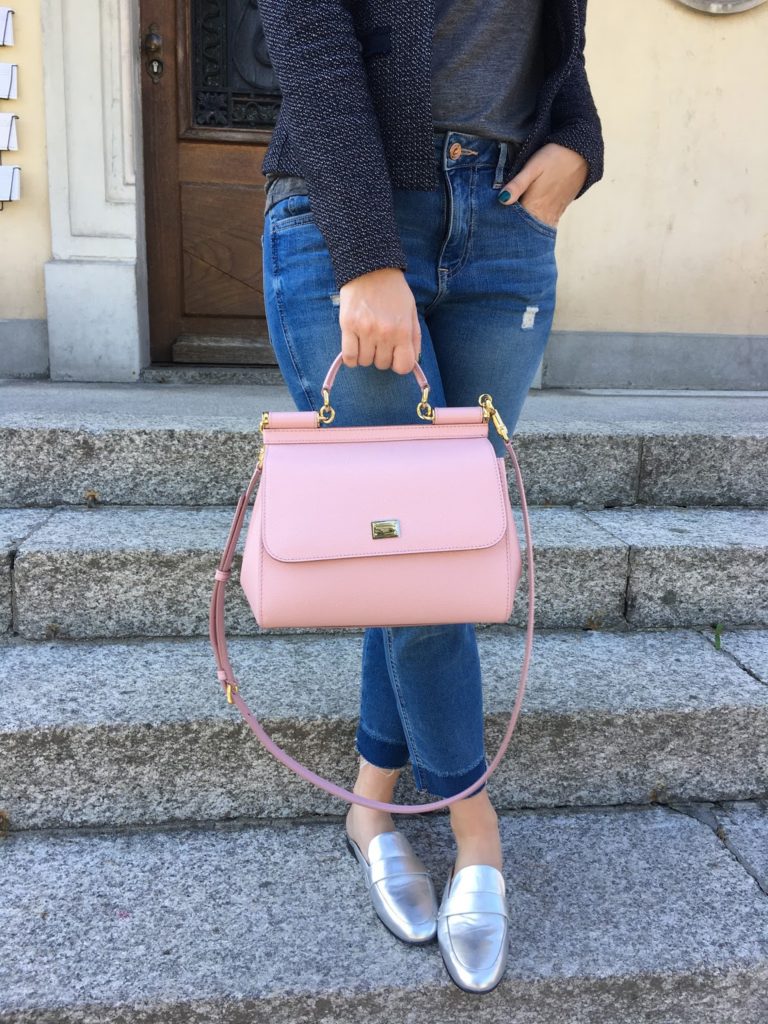 (The handbag wasn't fully closed so it looks a bit uneven…that could just be me noticing this and now I told you :))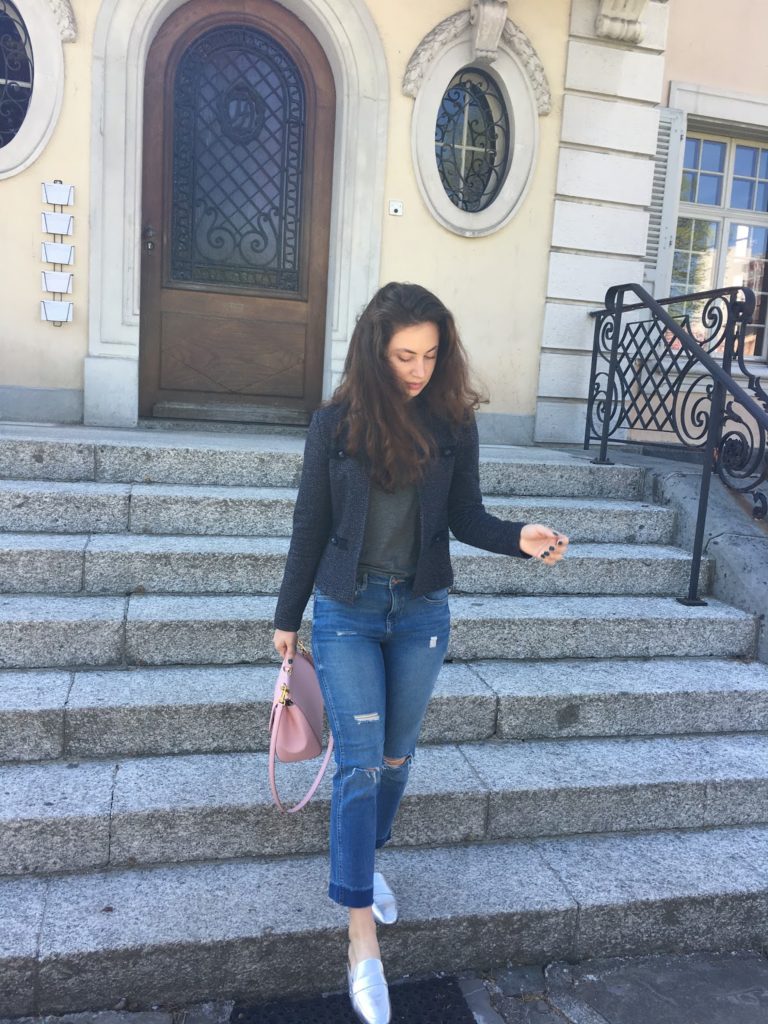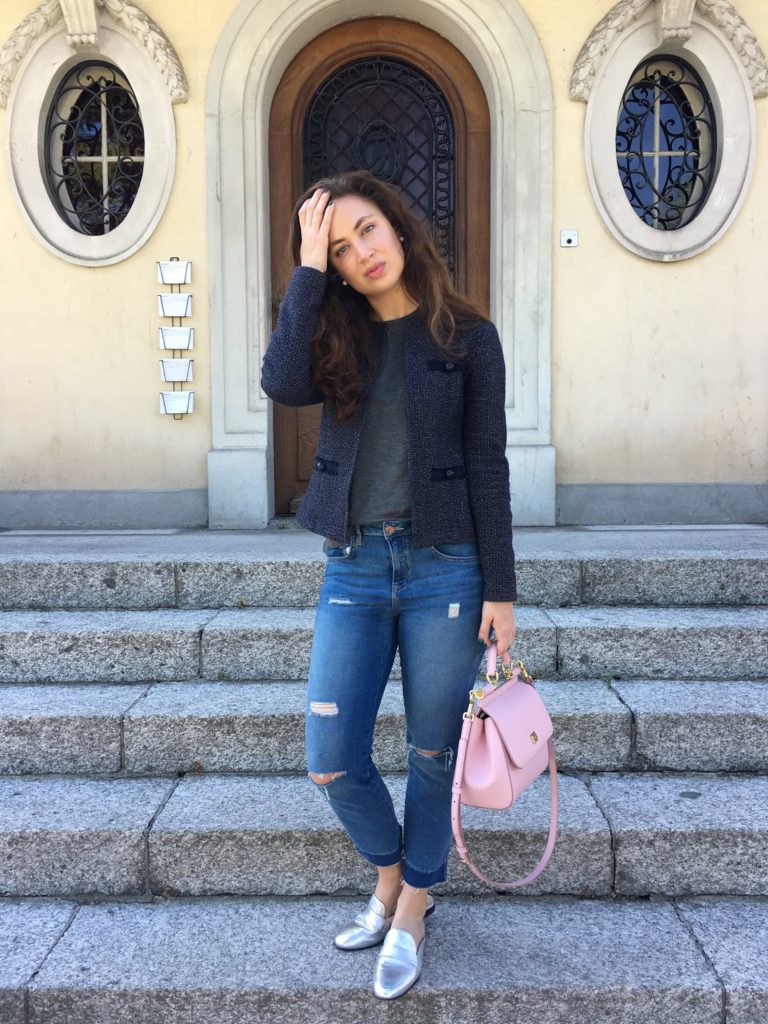 Jeans//New Look Petite  T-shirt//Zara  Jacket//Camaieu (old, in love with this one)  Handbag//Dolce & Gabbana  Slides//Sam Edelman
SHOP MY LOOK
SaveSave
SaveSave
SaveSave
SaveSaveSaveSave
SaveSave
SaveSave
SaveSave