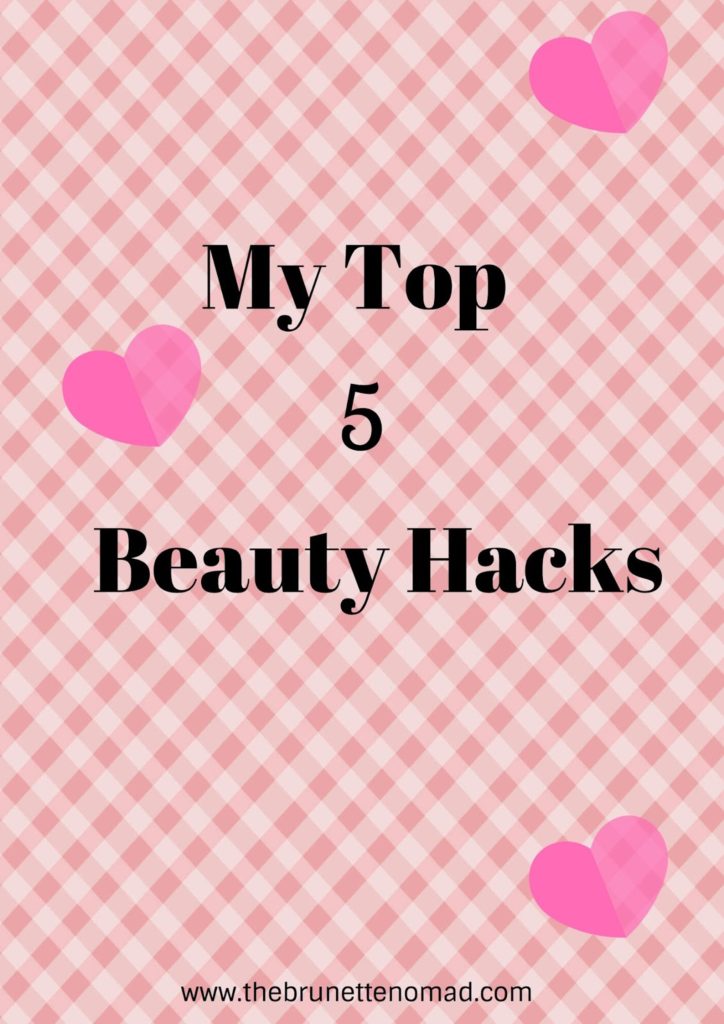 We all have those beauty tricks that we do on a regular basis and share with our closest friends. Sometimes, we don't even realize that we are doing is different or special. I thought I would share with you my first installment of my top 5 beauty hacks.
As a lover of all things beauty and skincare related I have learned a lot over the years from hacks I have discovered myself, bloggers, youtubers, and magazines. When getting ready with my mom or friends in the past, these are some habits I have gotten a lot of questions on – even some strange looks – so I thought this may help some of you.
Keep reading to find out my top 5 beauty hacks…
1// Ice Facial
This is the most inexpensive facial that you can give yourself and never run out of product. Doesn't that sound pretty amazing? I wrap an ice cube in a thin towel and apply it all over my face. This feels especially great after a hot shower. Applying ice to your face improves blood circulation and gives your face a healthy glow without any products. It also reduces large pores and minimizes the production of excess oil. If you have stubborn and irritated acne, ice is great to help reduce redness and swelling before you apply makeup.
2// Clear Mascara
Everyone has that one thing they have to do before leaving the house to feel good about themselves. For some this is lipstick or mascara. For me it is what I call "gluing my eyebrows down". I have natural brows. No major plucking or waxing so they tend to have a mind of their own. I used to buy expensive brow products to keep my brows in place (like a Benefit clear brow gel that is not made anymore). Essentially, I realized these clear brow gels are clear mascara. For the last 6+ years, I have been using the clear Great Lash mascara as my eyebrow gel. It is super cheap, and available at any drugstore in the States. I stock up on this stuff when I'm home.
3// Don't Keep Makeup in the Bathroom
I feel like most people apply makeup at the bathroom sink so it makes sense to keep your products there. Why is it bad to store your makeup in the bathroom? High heat and humid steam from showers can quickly breed mold and bacteria in your products. Most products do contain preservatives that help keep mold and bacteria away, however, these factors can change the consistency of your products so it always best to keep in a cool/dry place. You probably spend a lot money on your makeup so why not try to keep them working the best for you?
4// Perfume after the shower
I've gotten into the habit of doing this for years, and have even caught myself spraying perfume when get out of the shower before bed. A great way to keep your perfume scent lasting all day is to spray it right after taking a shower and before getting dressed. The moisture on your skin will help lock in the scent to keep is lasting for hours. I highly recommend applying an unscented lotion after you get out of the shower and before your fragrance. The moisture will ensure that your scent stays even longer.
5// Hairspray as Makeup Setting Spray
 This is not a tip I would recommend on a regular basis because hairspray contains products that you wouldn't want to put on your face all of the time (i.e. strong alcohols). However, this is a great tip for when you are in a pinch and need to keep your makeup lasting. If you run out of your makeup setting spray or are traveling and forgot to bring one, you can use your hairspray to keep your makeup staying in place all night. In high school, before makeup setting sprays hit the market for non-pros, I used this trick. Now, nothing can truly replace my
favorite setting spray
.
Do you have any beauty hacks that you would love to share?
SHOP THIS POST
SaveSave
SaveSave
SaveSave
SaveSave