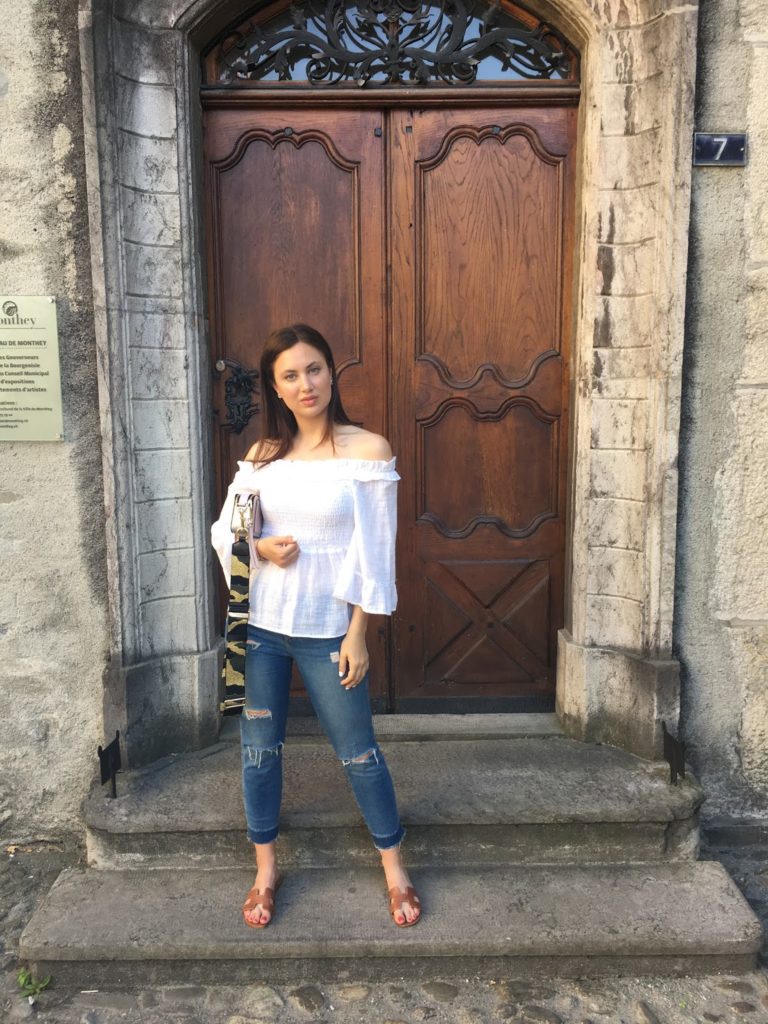 Have you ever had that happen where you are window shopping online to see the latest item to come out, and you find something that makes you say I HAVE TO HAVE IT!
As I've gotten older, I really want my purchases to have a purpose so I don't find myself in 6 months with items in my wardrobe that I don't love. After one week of thinking about this purse, all of the ways I could style it, and dreaming about it (Yes, I actually had dreams where I was wearing the handbag), I thought it's about time I purchased it.
In short, I think I may have found the new handbag that you should add to your collection. Read more to find out what it is…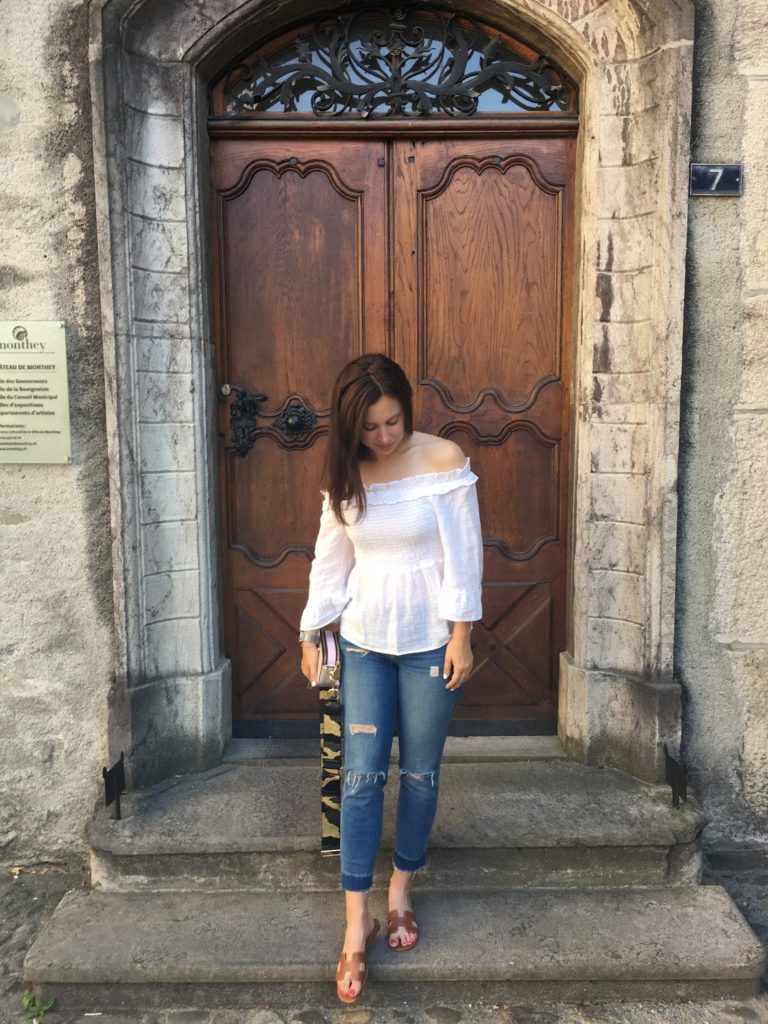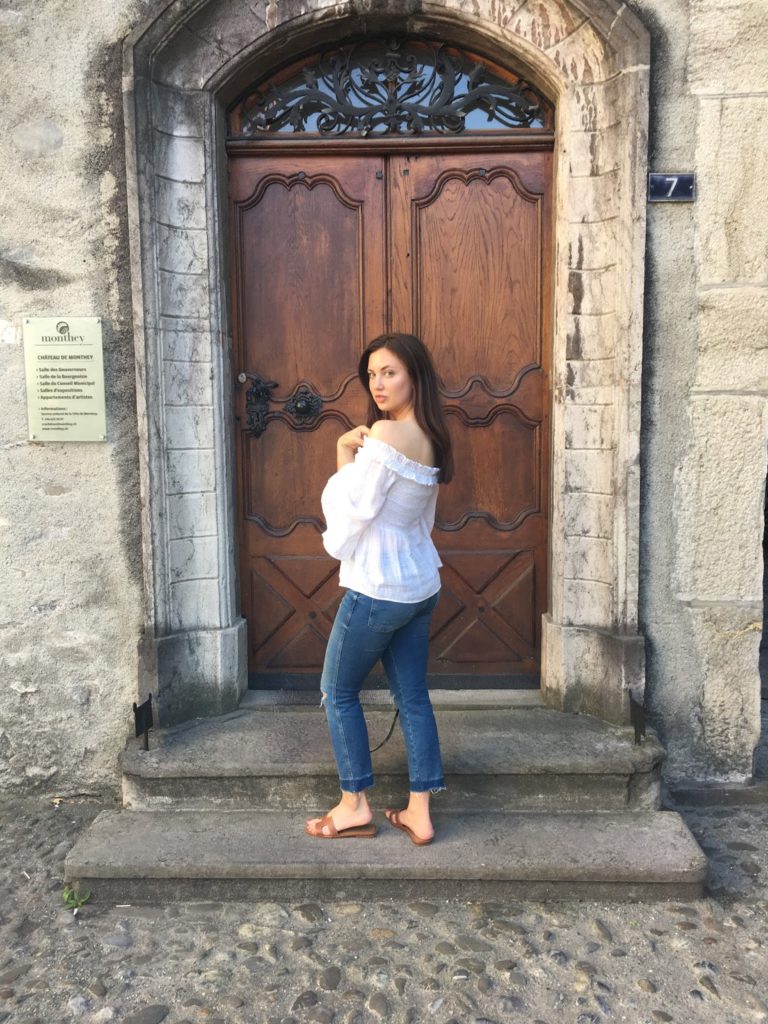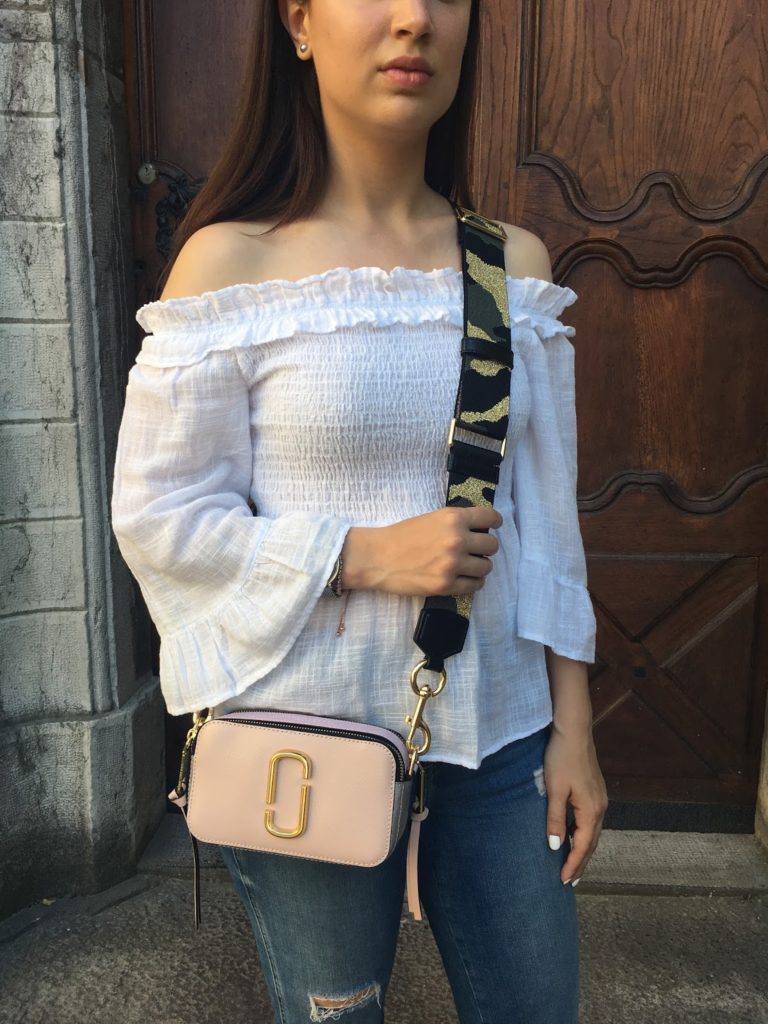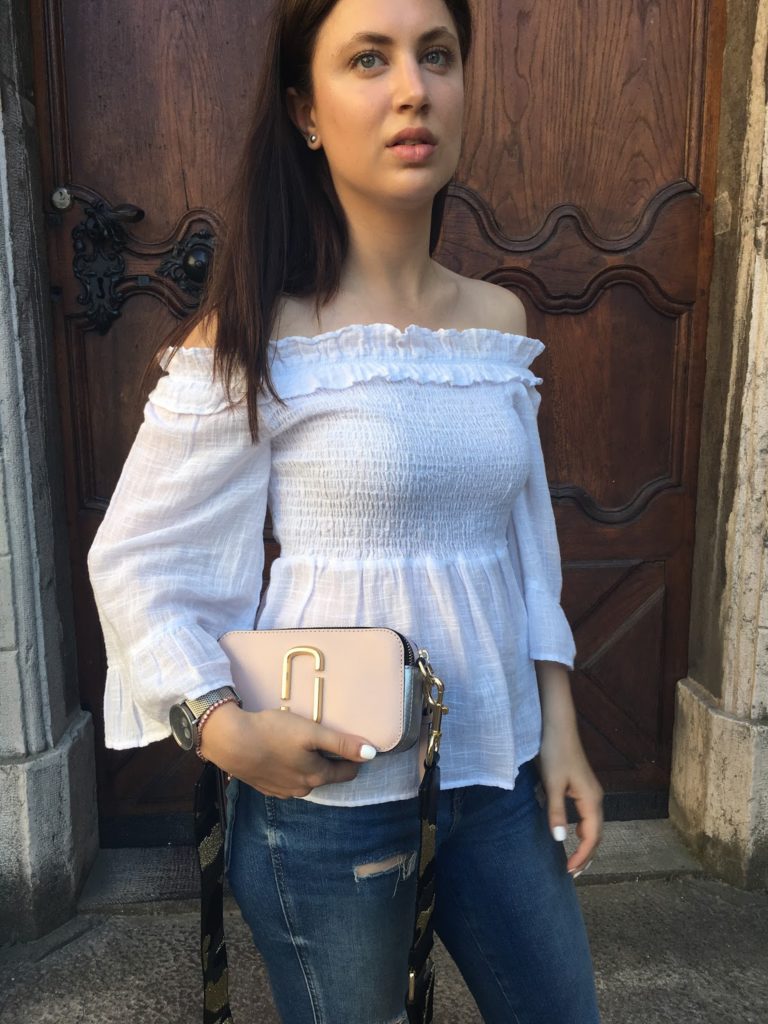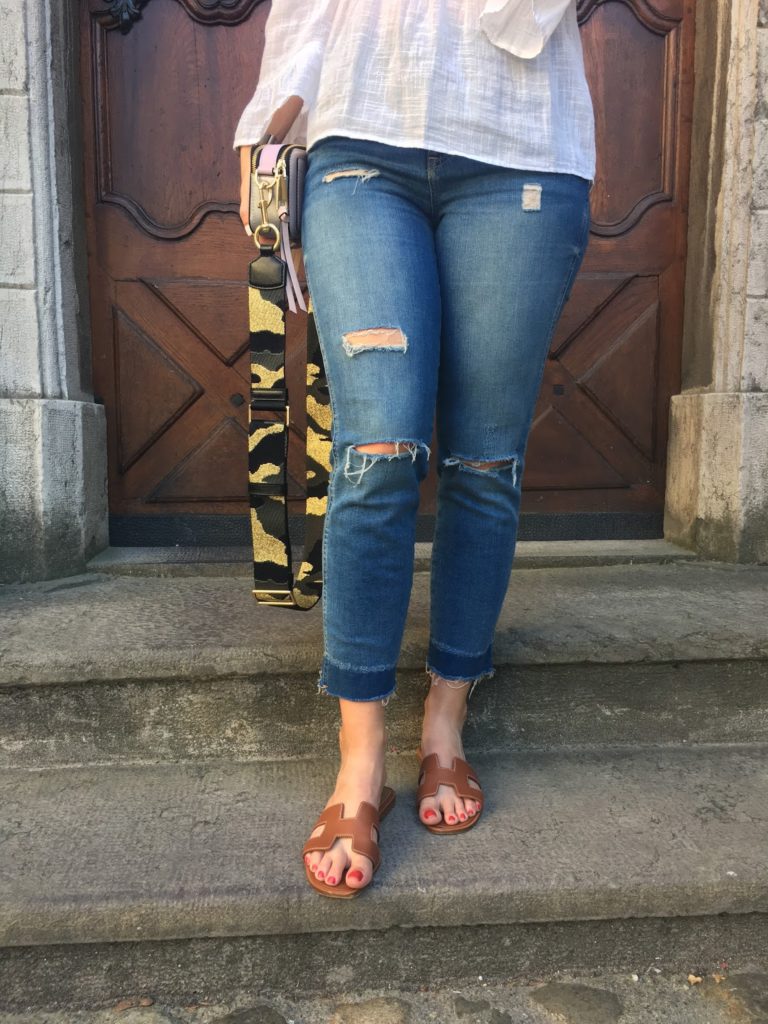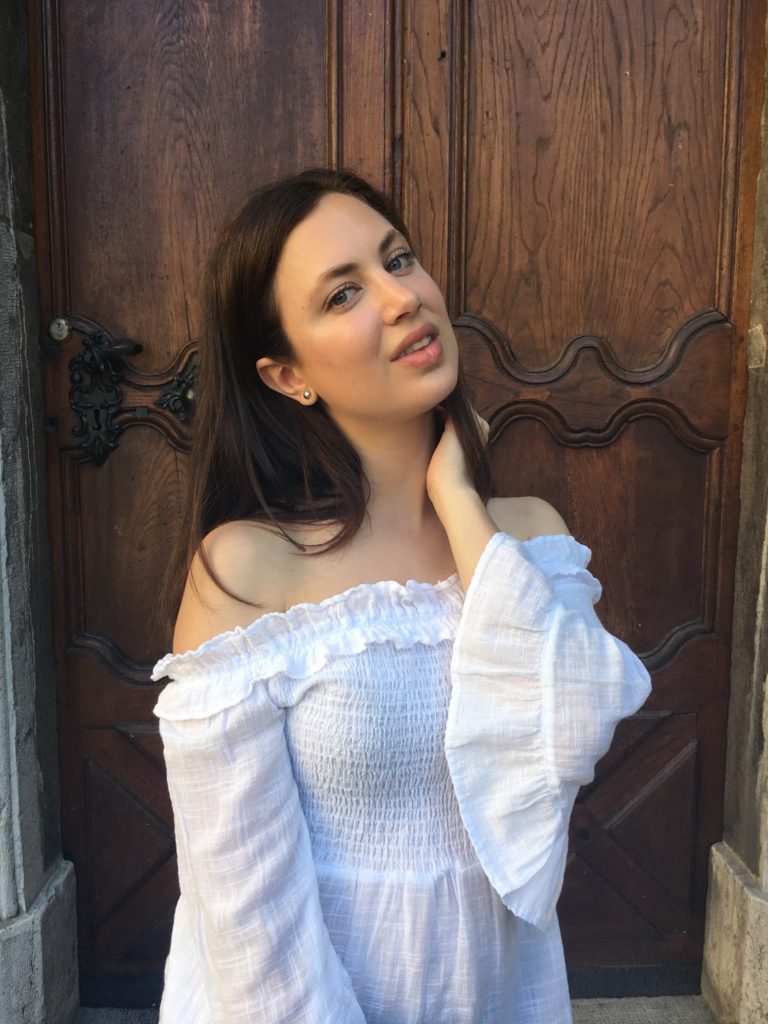 Top//Zara  Jeans//NewLook Petite  Handbag//Marc Jacobs Snapshot  Shoes//Hermes Oran
I pre-ordered the Marc Jacobs Snapshot handbag from LUISAVIAROMA, one of my favorite online retailers to purchase designer handbags. I may have only had this handbag for one week, but I continually receive compliments on this bag, and have not seen it on anyone yet in real life or on social media.
Why I love the Marc Jacobs Snapshot handbag?
It is the cutest bag ever. There is no other way to describe it. From the color, the size, and the interchangeable strap; this handbag is probably the cutest handbag in my collection right now. The saffiano leather and hardware feel very high quality and for the price it is a steal.
This handbag is only $300, which is fair considering the quality of the materials and the designer name. There are plenty of Tory Burch handbags that cost more, and the quality doesn't compare (in my opinion).It comes in several different colors and strap variations so you can easily find one that matches your style or you can even own multiple. I purchased my handbag in the light pink color, which is my favorite handbag neutral at the moment.
It is multi-use because you can also remove the strap to carry it is as a clutch. I personally love to keep the strap on as I think that is what adds the fun element to the handbag. As you can see in the pictures, I carry the handbag under my arm…like a clutch…but still keep the strap attached.
I think it adds a fun pop of pattern to my otherwise simple outfit. If you have more than one snapshot handbag, you can interchange the straps. I'm already considering another color. Which one should I get?
What does this handbag fit?
At first, I was worried about the size because it is quite a small handbag. A perfect crossbody size for my petite frame (I am 5'4″ for reference). However, it fits everything I need for a normal day out.
In my handbag, I can fit:
1// My iPhone 6s (with a thin case on)
2// Chapstick
3// Travel sized perfume bottle
4// Lipstick
5// House Keys
6// iPhone charger
7// iPhone earbuds
8// My small wallet
There is still room for a few small or thin items if you need to carry more in your handbags. Unfortunately, I can't get my sunglasses in there with a case so I just leave them on top of my head. This isn't a big worry for me.
Final Thoughts
I can easily see this becoming the latest "it" bag to carry for Summer and Fall, and so far I haven't seen this anywhere. What are your thoughts on this bag? Will you be picking it up?
SHOP MY LOOK
SaveSave
SaveSave
SaveSave
SaveSave
SaveSave
SaveSave
SaveSaveSaveSave