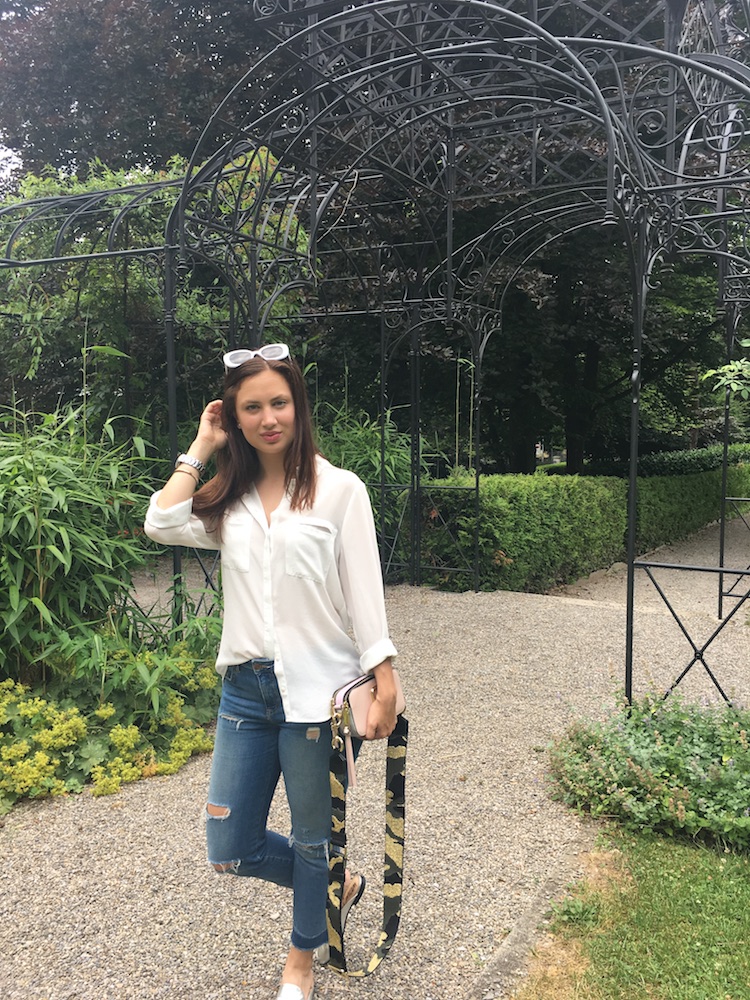 For my 25th birthday, my mom thought as a gift we could go on a mother daughter trip. A free trip with my best friend was a no brainer. We decided on Prague as I had only been a twice before, and my mom goes often with my dad to keep him company on his business trips. She told me since the last time I went, she had discovered so many new and unique places to eat. As someone who LOVES food, I am always up for trying new places with interesting menus.
I may have gotten food poisoning one day from ice cream….Apparently, you can get food poisoning from ice cream (Any fellow Texans remember the Blue Bell scandal a few years ago?). Nonetheless, I still enjoyed my trip, discovered some great new restaurants, and realized Prague has so much more to offer food wise than I thought.
Read more to discover my food journey in Prague….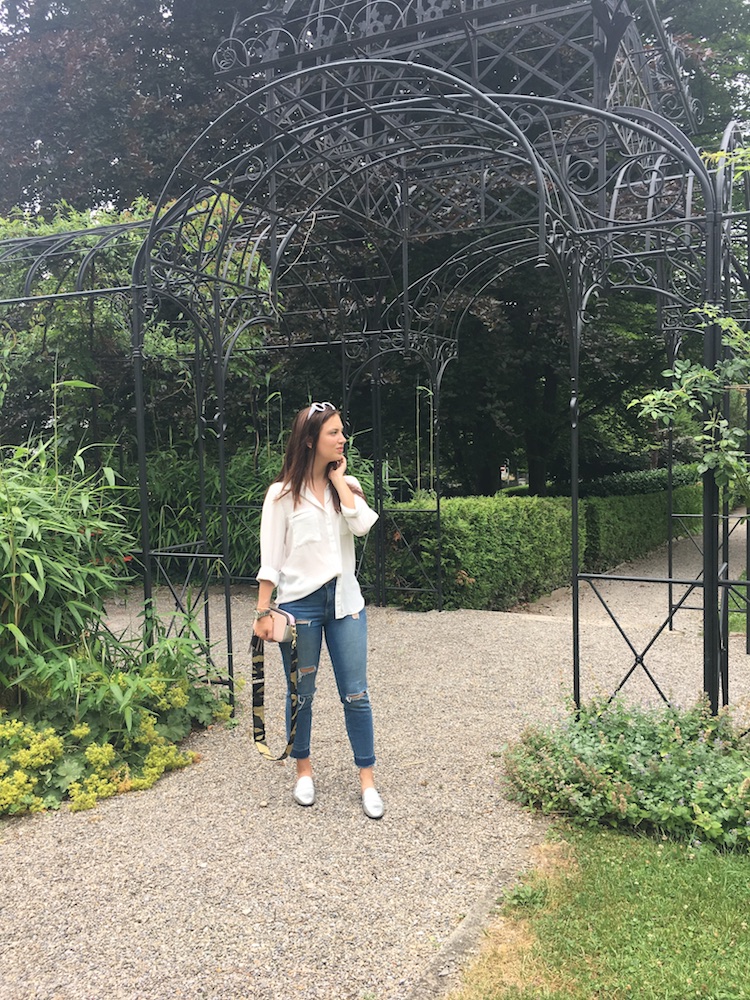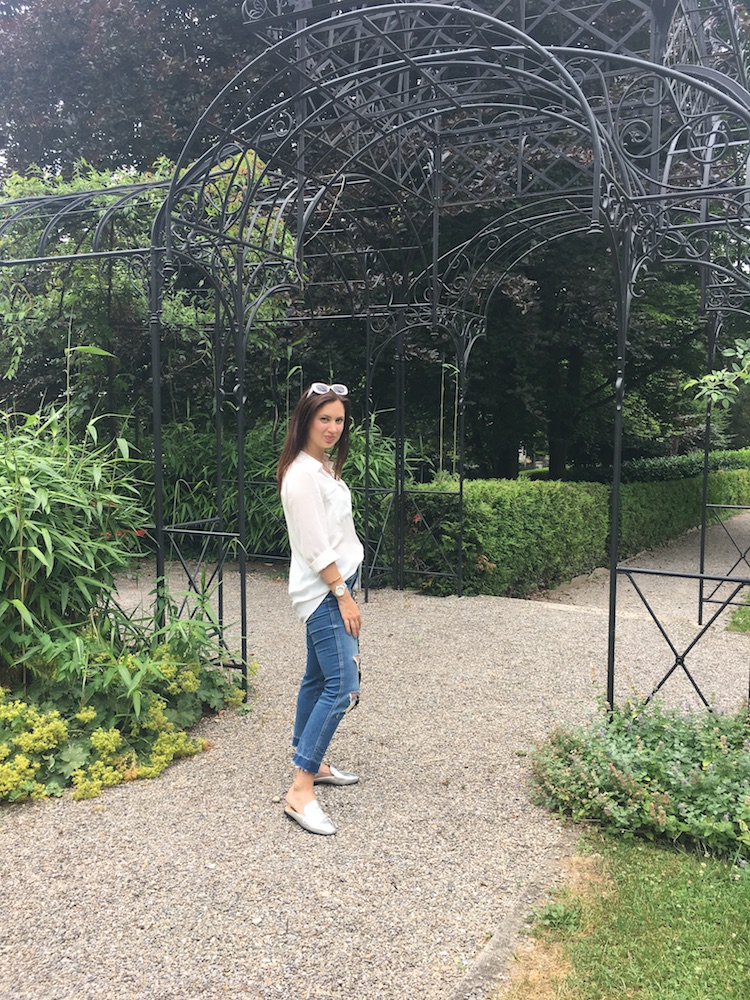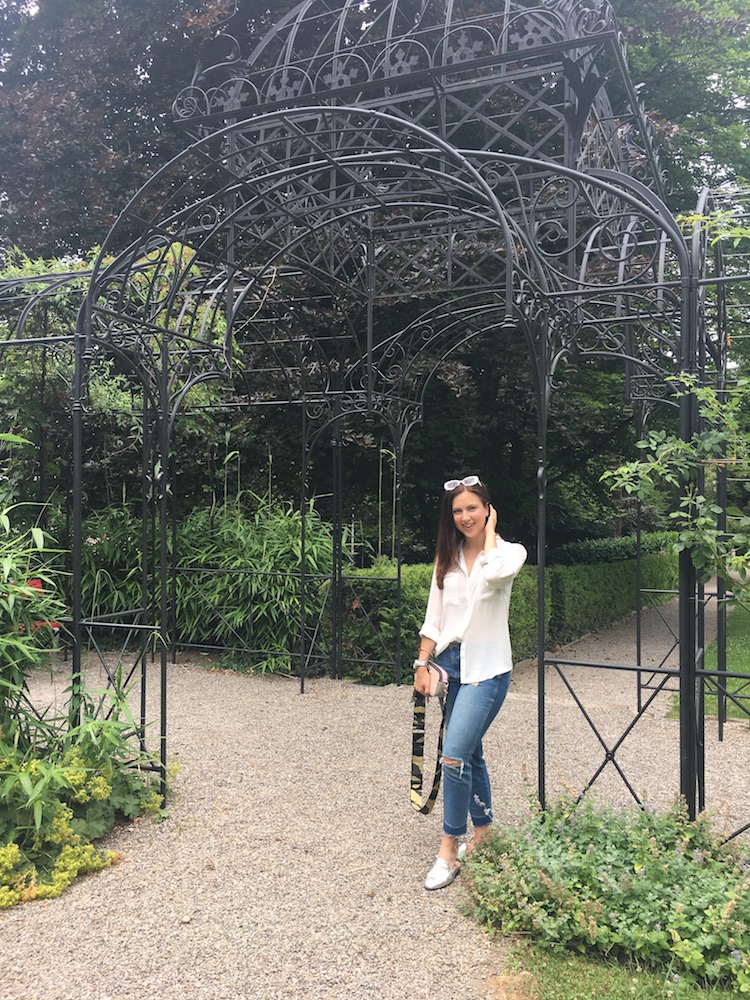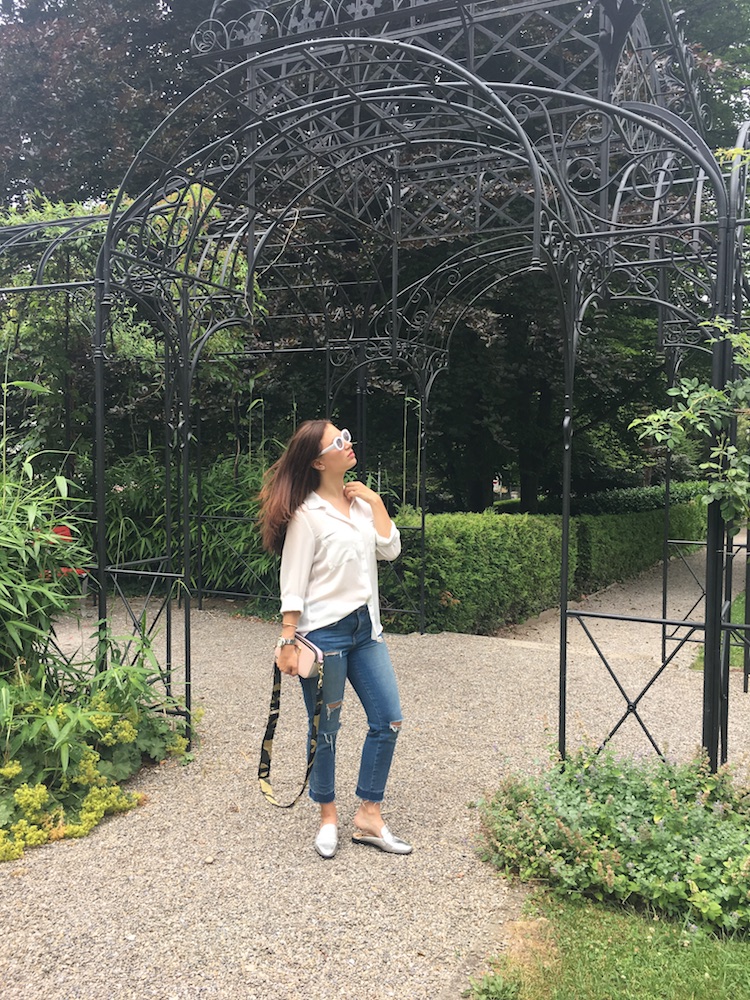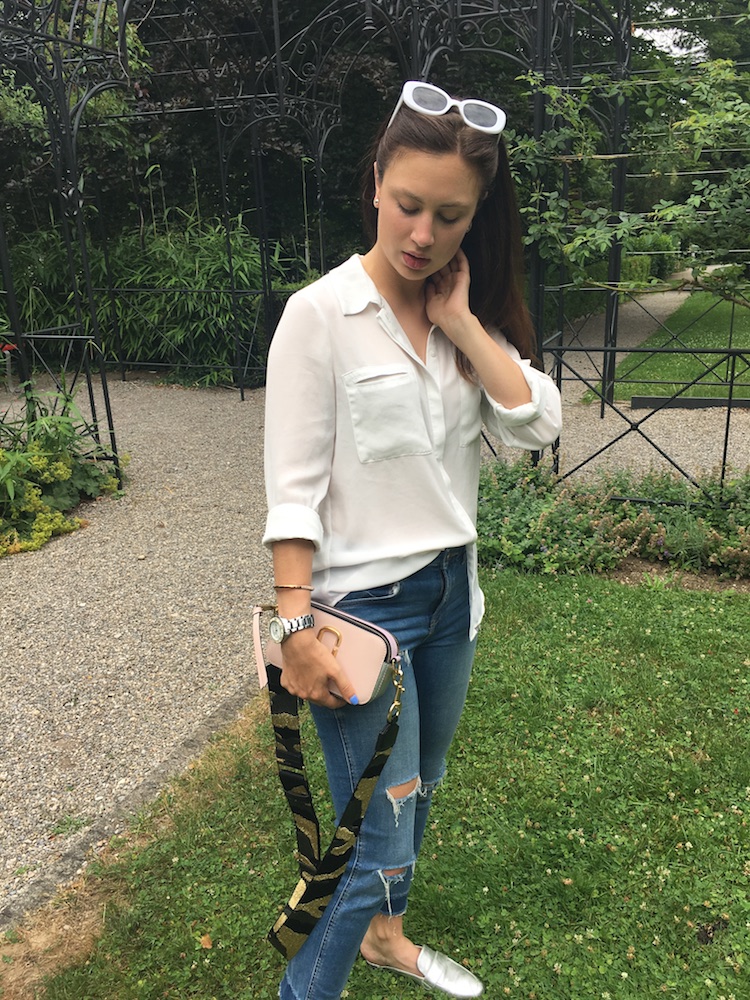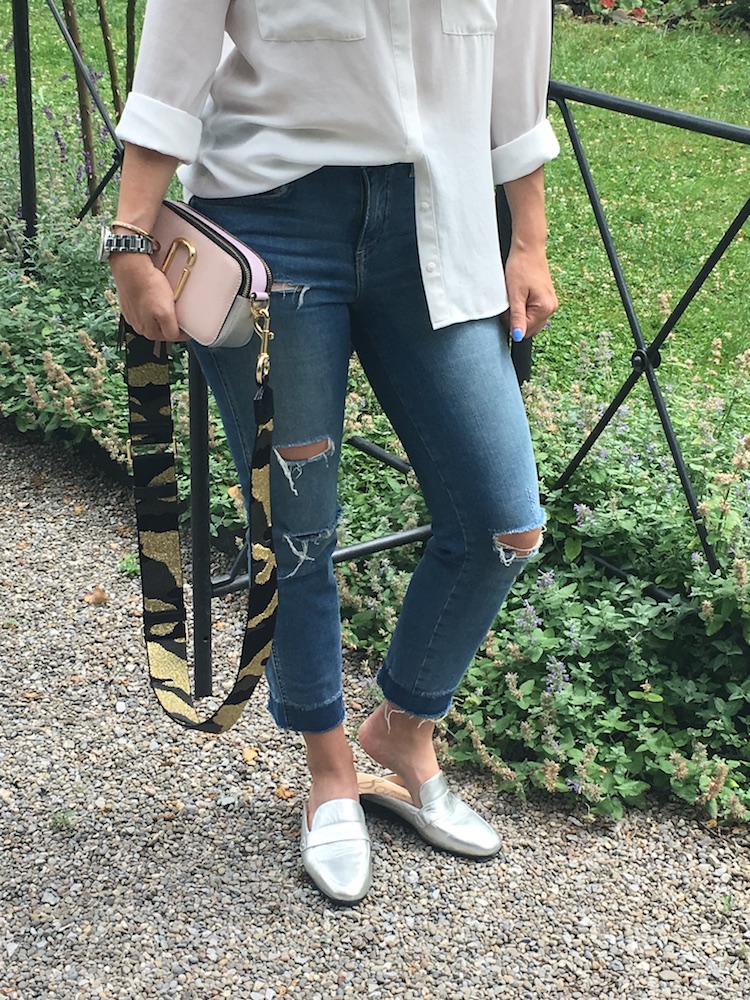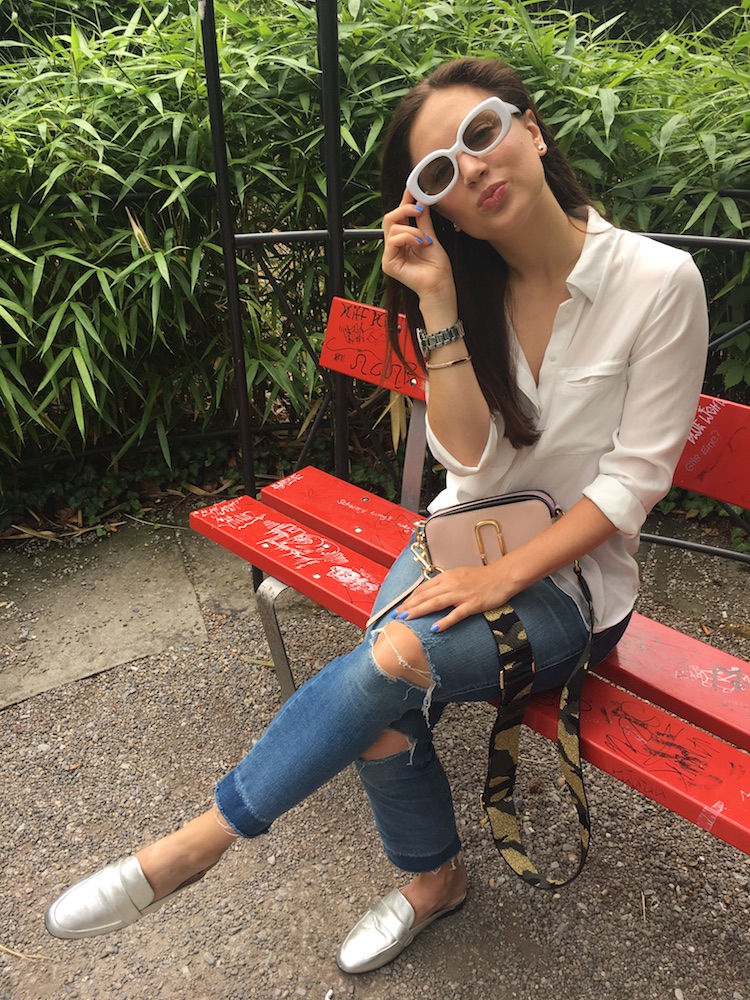 Top//Nordstrom Rack (old, similar here and here)  Jeans//New Look  Shoes//Sam Edelman Perri  Handbag//Marc Jacobs Snapshot  Sunglasses//ASOS
Day 1
We arrived in the afternoon just after lunch so dropped off our bags at the hotel and headed out for a quick lunch. It was more about walking around for a bit and then back to the hotel to rest before dinner.
Pre-Dinner Drinks @Bokovka:
This place was so cool! I will be honest, it does not look like much from the outside so it probably gets easily passed up by tourists. But if you love wine then you have to visit this place. It feels like a cosy cave with a courtyard. Each day they open up several bottles and that is the selection you choose from.
They also sell cheese and meats so you can have a platter to go along with your wine, if you'd like. I tried a Czech sparkling wine, which was really unusual for me. I'm pretty picky on my white wines. I would love to go back as it has that right mix of hole in the wall and coolness (for a lack of a better word).
Dinner @Sansho:
Even though this is the meal that made me sick (that darn ice cream got me), I would still go back. My parents have been several times, and have always enjoyed their meal. They've never gotten the green tea matcha ice cream so maybe stay away from that.
The restaurant is asian fusion, and focuses on supporting local farmers for happy animals (i.e. yummy meat). If you are a vegetarian then this might not be the place for you as they focus on meat in most courses. The restaurant offers a degustation menu so several courses of small samplings. My favorite was the pork belly with watermelon in a hoisin sauce…it was really good!
Day 2
I call this the sick day. Unfortunately, this is the day I took a turn for the worse, but nonetheless I tried to get out of the hotel to experience the city. Even if that meant getting sick in a public restroom. Yes, you heard that right, but I was determined to not let food poisoning ruin my trip.
Lunch @Nostress:
As you can imagine, I was not in the right state to eat so I just ordered a soup to have something in my stomach. My mother frequents Nostress because of
1) free wifi, which is a godsend when you have no connection in another country
2) it's in a quite residential area just off the craziness of the main streets
3) Decent food
Sadly, no food agreed with me at this point, but my kind waiter offered to bring me tea to settle my stomach. He also didn't charge my mom for her coffee or for my tea, which he 100% did not have to do. Clearly, I have not forgotten his kindness.
Dinner @RED Pif:
I will warn you this restaurant is pretty easy to miss as it's on a small side street without much signage. The food is really unusual as the chef is from Sri Lanka and adds ingredients from his home into his menu. He comes out to describe each dish so you get to meet him firsthand, which I think is such a fun touch.
The restaurant also has a great sommelier so if you love wine then this is an interesting place to try. I stuck with a soup since my stomach was still not doing well, but I would have ordered it again! I had a hen and corn consume with raw herbs and flowers. It originally came with popcorn on top (unusual), but I asked them to take that off for my stomach. The plating of the food was beautiful!
Day 3
This was our last full day in Prague as we were leaving the next day after breakfast. Since, I was feeling much better we decided to go shopping. I was on a mission to treat myself for my birthday, and purchase a new handbag. I've always loved handbags.
You can see the latest addition to my  handbag  collection on my Instagram (@brunettenomad).  After lunch, we visited the Jewish Quarter as my mom said the tours were a must see, and I could not agree more.
Lunch @Nostress:
Yep, we visited this place again. It was a few minutes walk from the designer shops where we were, and the kindness of my waiter yesterday made us want to go back. Finally, I could enjoy my meal. I tried the asian beef salad with cucumbers and a chili sauce. Since I was still "alive" the same waiter from yesterday gave us a parting gift of macaroons. They were pretty good so definitely order them for dessert if you go!
Dinner @La Bottega Bistroteka:
If you couldn't tell by now, I come from a family that loves wine. We tend to gravitate towards places that have interesting wine menus, and La Bottega has nice wine with a knowledgable staff. If you don't know much about wine, they could definitely help you.
The restaurant is really casual so no need to dress up. The food was so fresh, and they even brought out the fresh fish to show us before they cooked it. My mom and I shared a starter of meats and cheeses and for our main we had grilled sea bass with grilled vegetables. Our waitress even deboned the fish in front of us…it's a lost art.
A Few Notable Places to See
Old Town Square: It is the most touristy place you can visit in Prague, but for a reason. It houses the famous old clock that dates back to the early 1400's. It's stunning to see, and the square is surrounded by the most gorgeous buildings. You feel like you're in a Disney storybook.
Josefov (Jewish Quarter): There are 3 different tours you can choose from. You have the option for a walking tour in a group or you can wander on your own, which is what we did. That's more my thing. I wasn't sure if I would enjoy visiting the synagogues and such as I'm not Jewish, but it is 100% a must see. If you know history or are familiar with details of WW2 then you know there is a really rich Jewish heritage in Prague. Not everything on the tour was worth it, in my option. However, my favorite places were: Old Jewish Cemetery, Old New Synagogue, Spanish Synagogue (this place was handprinted and stunning!).
Parizska: It is the most expensive shopping street in Prague with every designer you could imagine. Even if you aren't a big luxury shopping fan, it is still a pretty street to see. Also who doesn't love window shopping and daydreaming?!
Have you been to Prague before? If so, what were your thoughts on the city?
SHOP MY LOOK
SaveSave
SaveSave
SaveSave
SaveSave
SaveSave
SaveSave
SaveSave
SaveSave
SaveSave
SaveSave
SaveSave
SaveSave
SaveSave
SaveSave
SaveSave
SaveSave
SaveSaveSaveSaveSaveSaveSaveSave
SaveSave
SaveSaveSaveSaveSaveSaveSaveSave
SaveSave
SaveSave
SaveSave
SaveSave
SaveSave
SaveSave
SaveSave
SaveSave
SaveSaveSaveSave