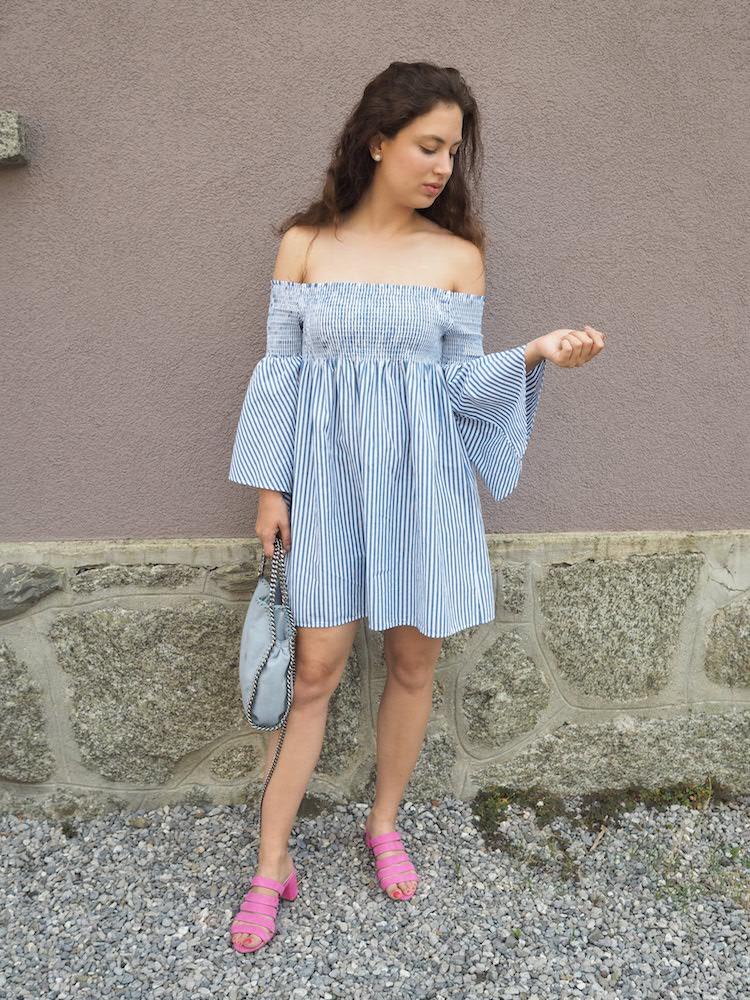 Yes, another off-the-shoulder piece. I bet you have been overloaded with this trend in the last two summers from bloggers, celebrities, and basically every girl walking down the street.
I will continue to embrace this trend and I don't see it going anywhere anytime soon. There is something so flirty and refreshing about off the shoulder pieces. I'm not as comfortable showing off the girls (if you know what I mean) so the off-the-shoulder trend offers me that right about of sexy without making me feel like I'm heading into the club.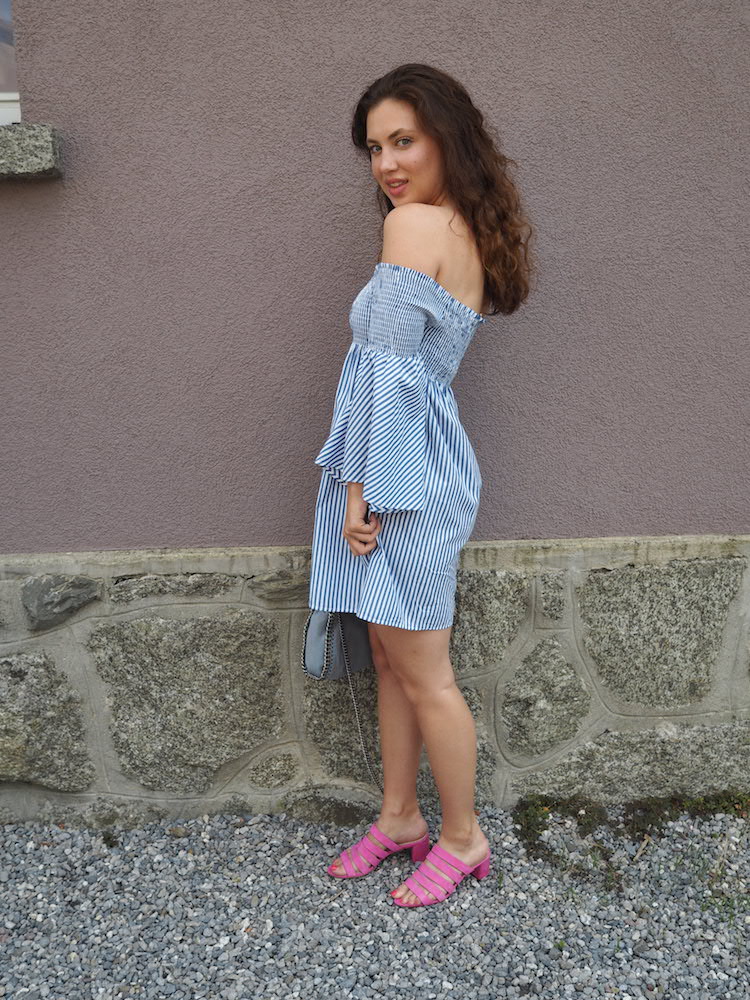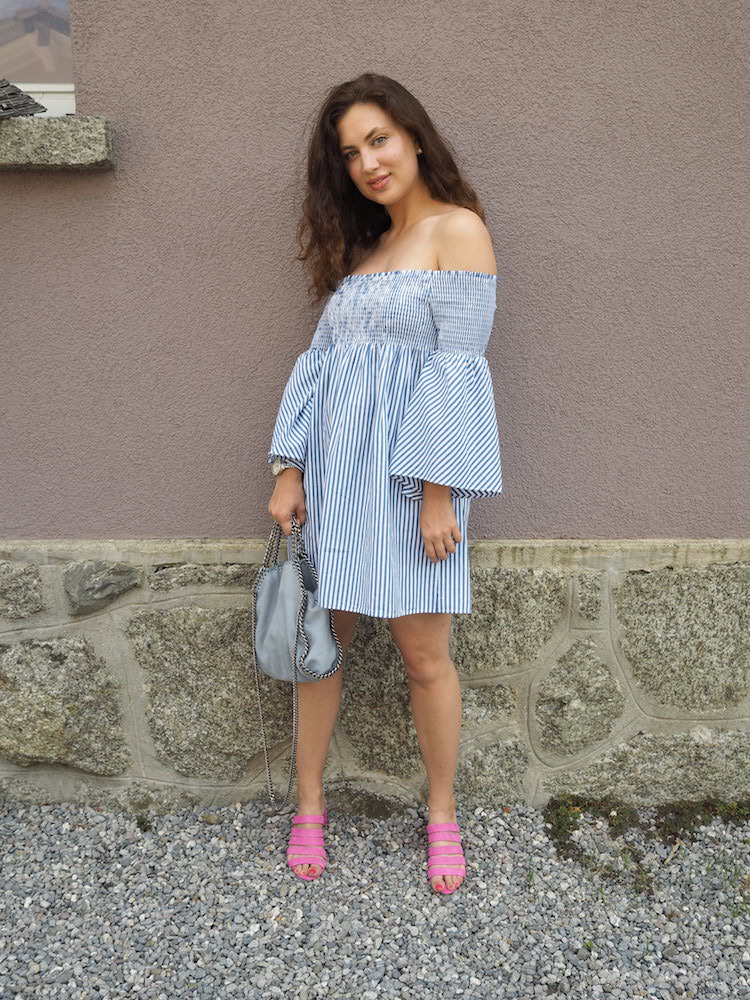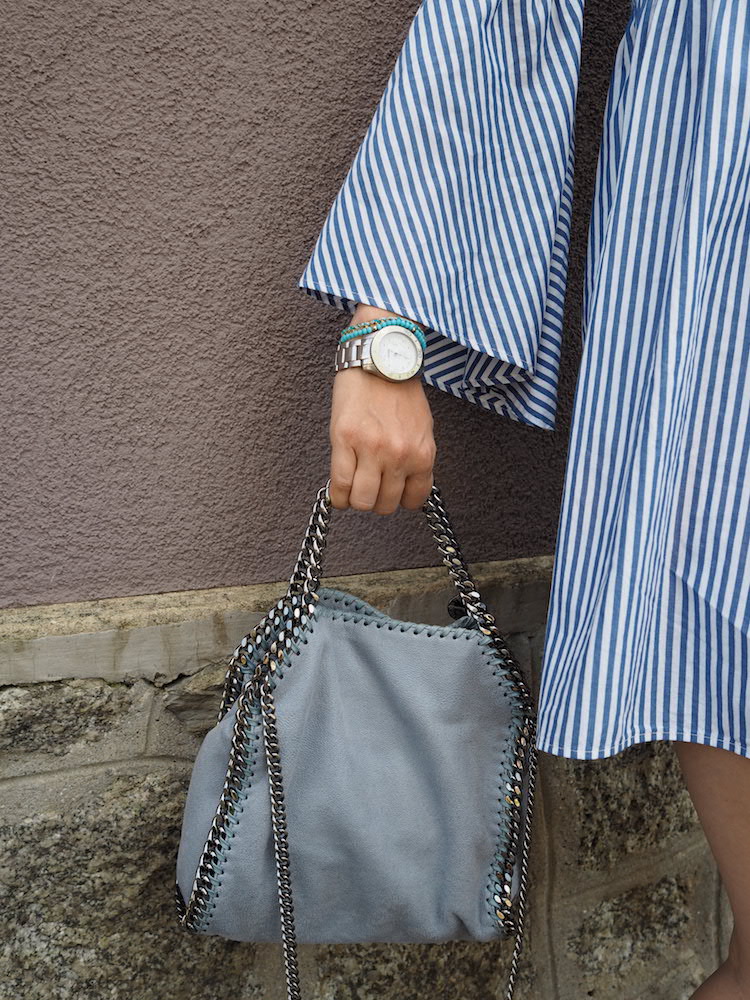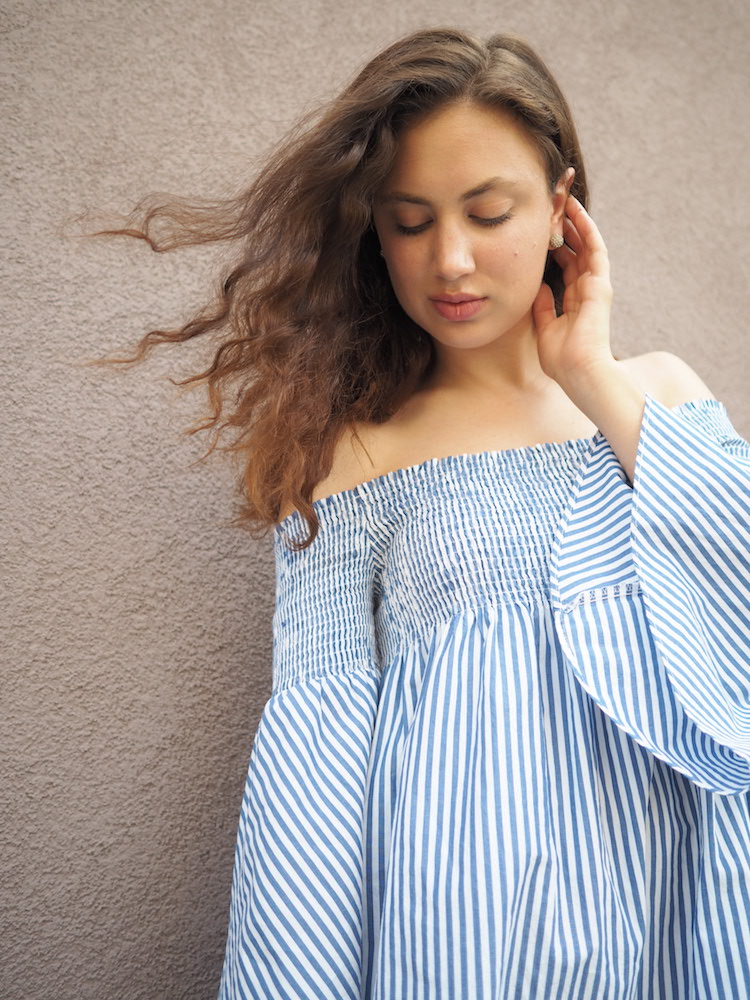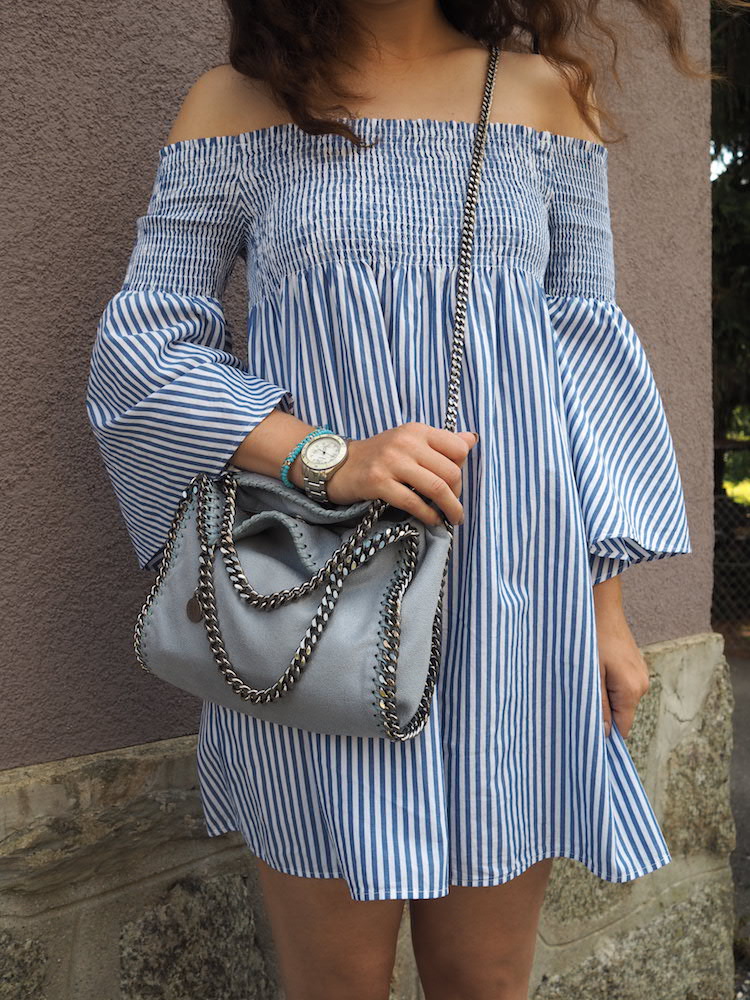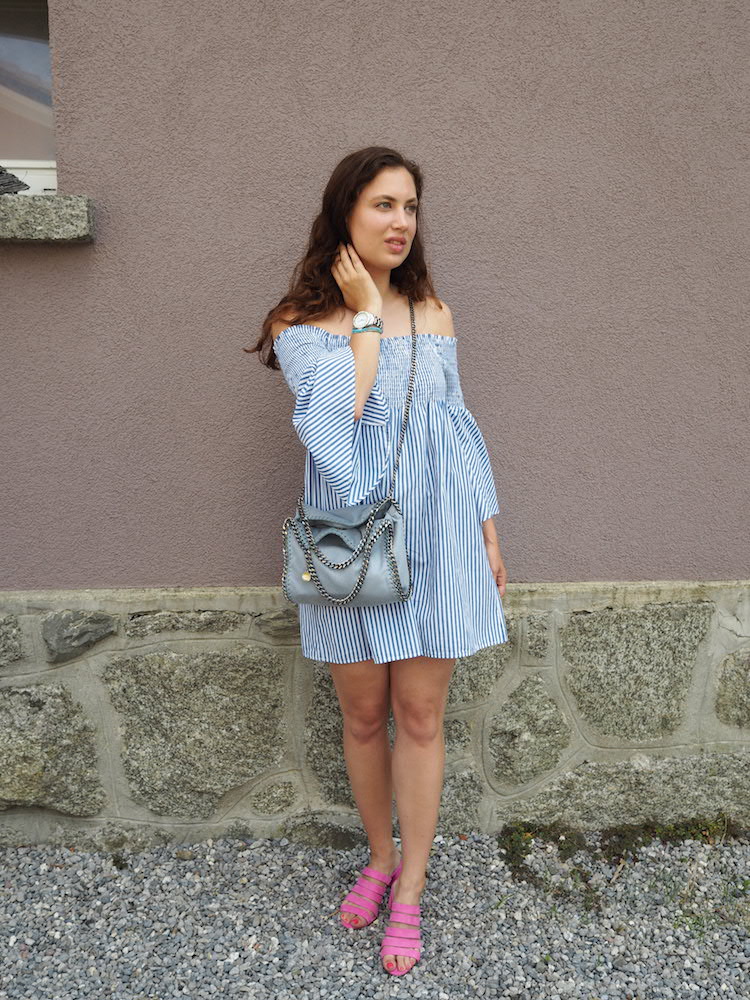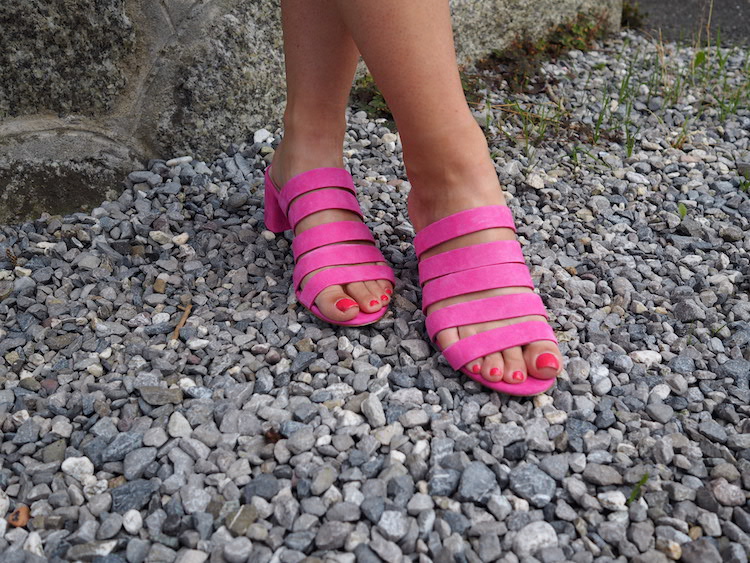 Dress//Zara  Handbag//Stella McCartney Falabella  Shoes//Loeffler Randall  Watch//DKNY (old)
Why do I love this off-the-shoulder dress?
What I love about this specific dress is not only the affordable price (around $50), but also the lightweight material and the ease of dressing it up from day to night. That is key for me because I feel like getting dressed should be simple. I used to waste hours carefully coordinating my outfits to create that "perfect" look.
In the movies they often have makeover montages so I thought that's the way I want to go about things…clearly, I thought I should live my life as a movie. However, as I got older I realized it took me so long to get dressed because I wasn't smart about the items I was buying.
For me it is essential to buy pieces that:
1)I feel great in
2)I can easily pair with other items in my wardrobe
3)I can dress up from day to night.
As I always reiterate, fashion should be fun. I have often found the looks I love the most are the ones I thought the least about, and just grabbed items from my wardrobe to create a look. Now that you know why I love this dress and my whole philosophy on getting dressed…
Let's talk about these shoes.
Welcome to my collection beautiful Loeffler Randall Finley Sandals. They are made of ultra soft suede, and are honestly really comfortable. I can't buy shoes that I cannot walk in, and this is the perfect heel height for everyday. I can see myself wearing these shoes with a bright white dress or with a frayed jean skirt and sheer top. The color is called Ultra Pink, and that name fits these shoes. Who doesn't love a pop of pink though?
Are you still rocking the off the shoulder trend?
SHOP MY LOOK
SaveSave SaveSave SaveSave SaveSave SaveSave SaveSave SaveSave SaveSave SaveSave SaveSave SaveSave SaveSave SaveSave SaveSave SaveSave SaveSave SaveSave SaveSave SaveSave
SaveSaveSaveSave
SaveSave
SaveSaveSaveSave
SaveSave
SaveSaveSaveSave
SaveSave
SaveSave
SaveSave