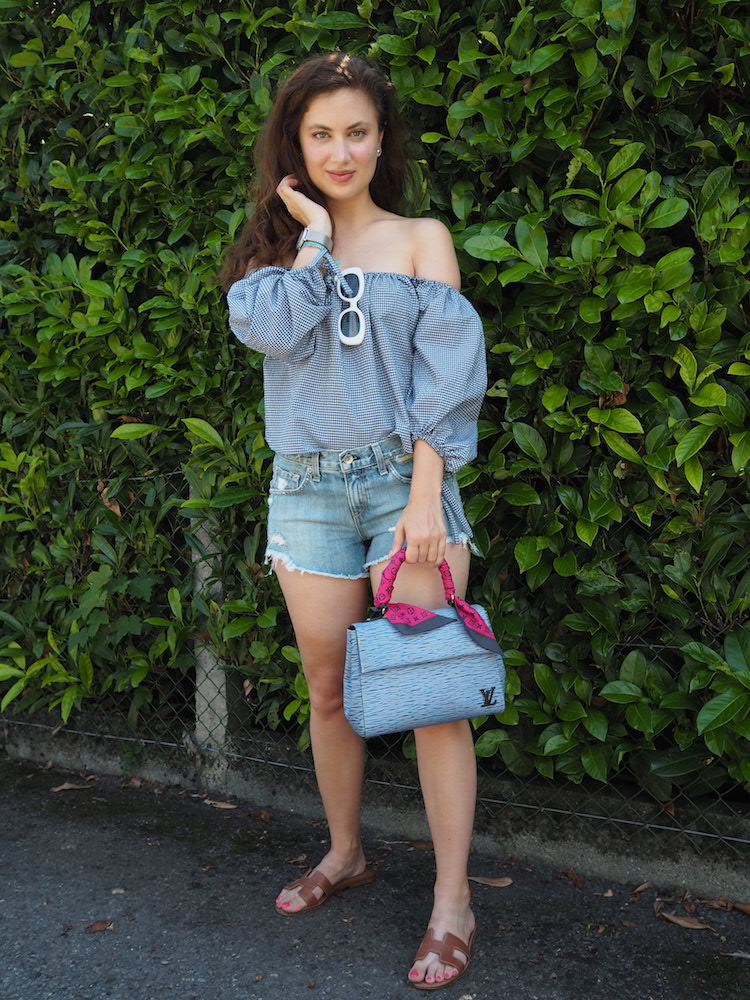 As August comes to a close, we start to think about the upcoming season (cue tears). I'm sure you have already bought items for your next season's wardrobe, and are getting ready to embrace Fall's trends. For someone who loves summer and all things sunshine, I am not ready to embrace the next season. This means I will continue to wear my jean cut offs, my gingham pieces, and everything off the shoulder until the last day it is acceptable to do so. Luckily, Switzerland is 32 degrees today (roughly 90 degree F) so I can still daydream about long summer days that make me so happy.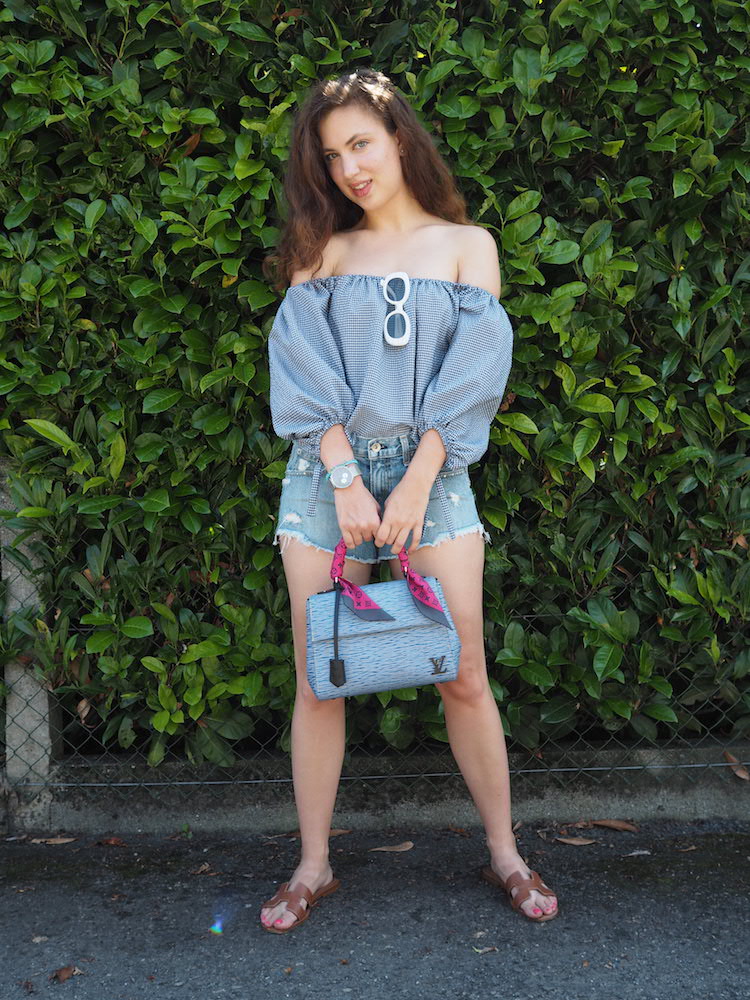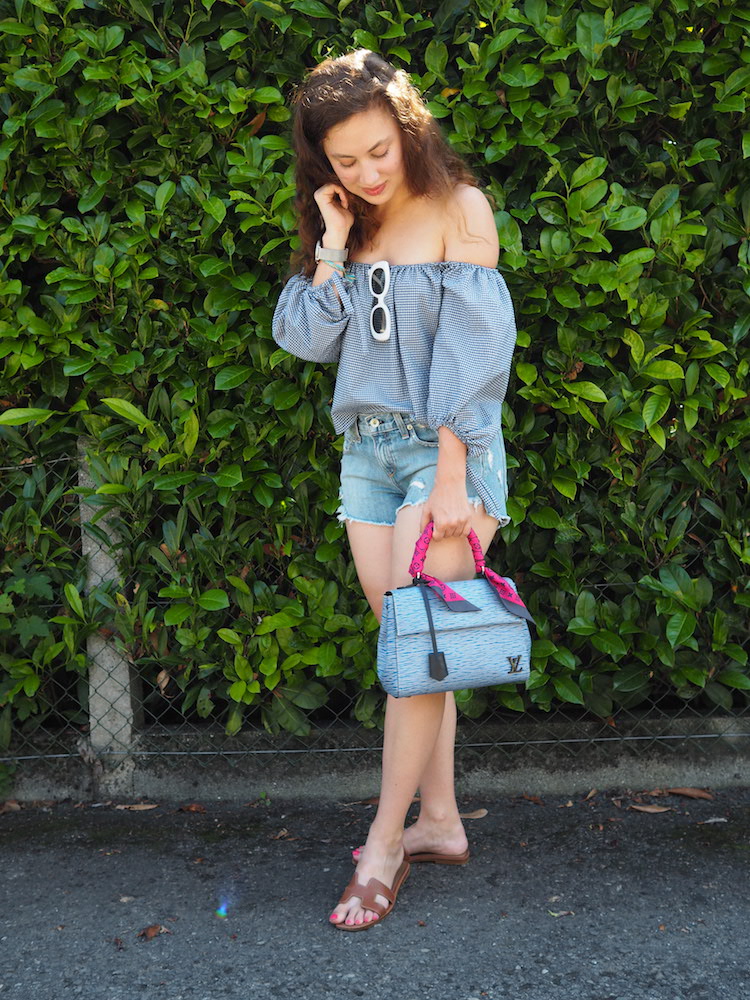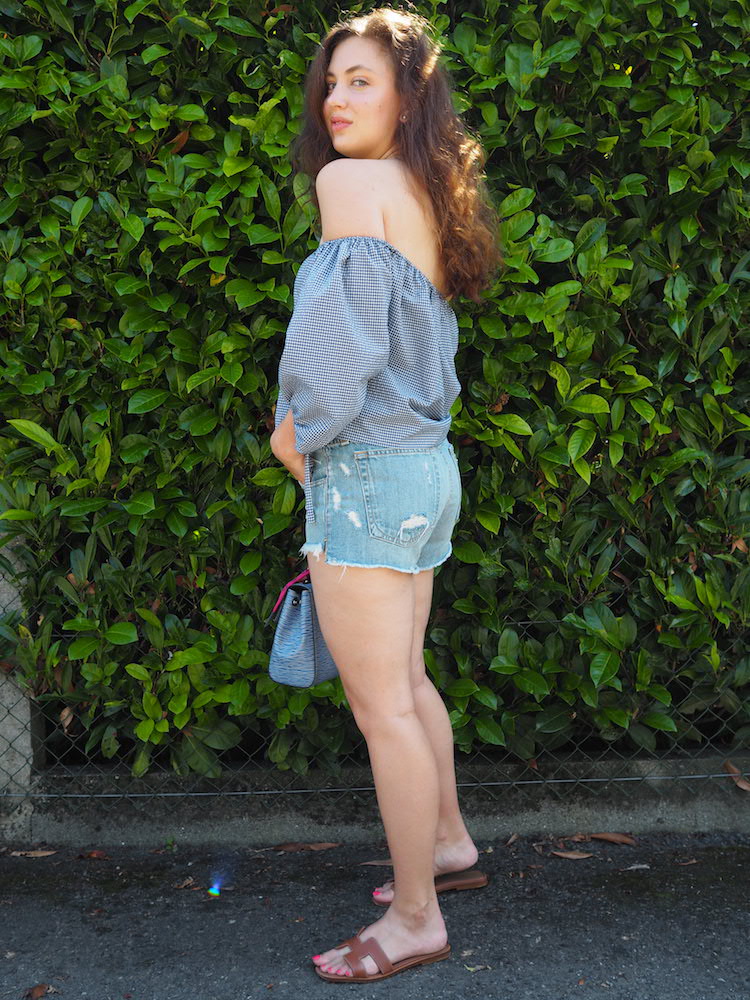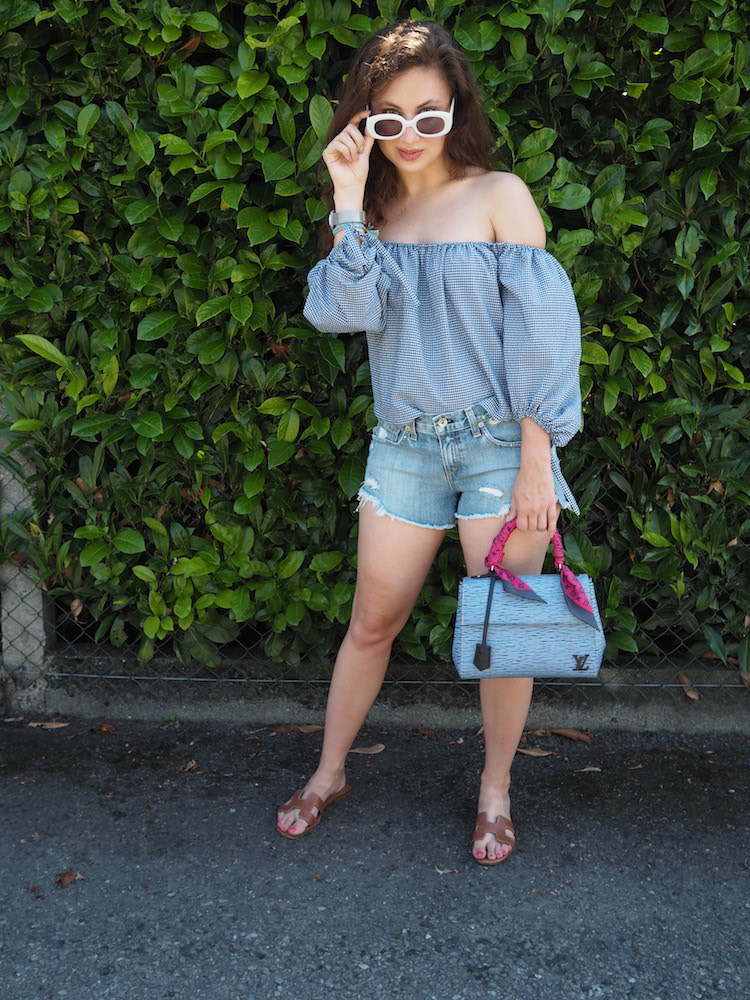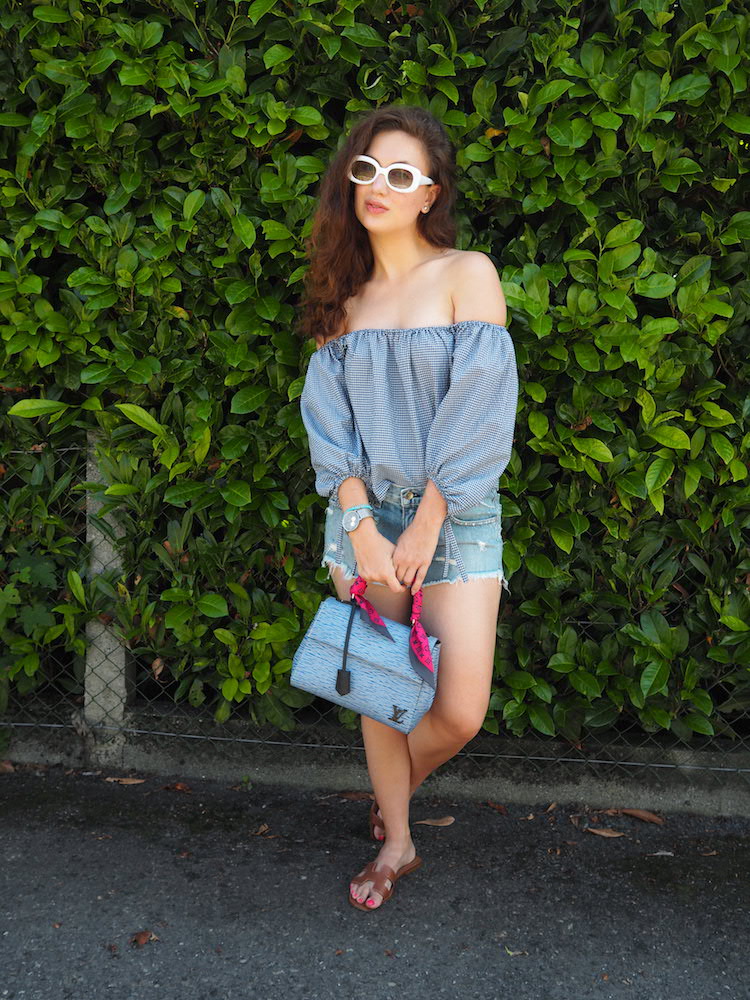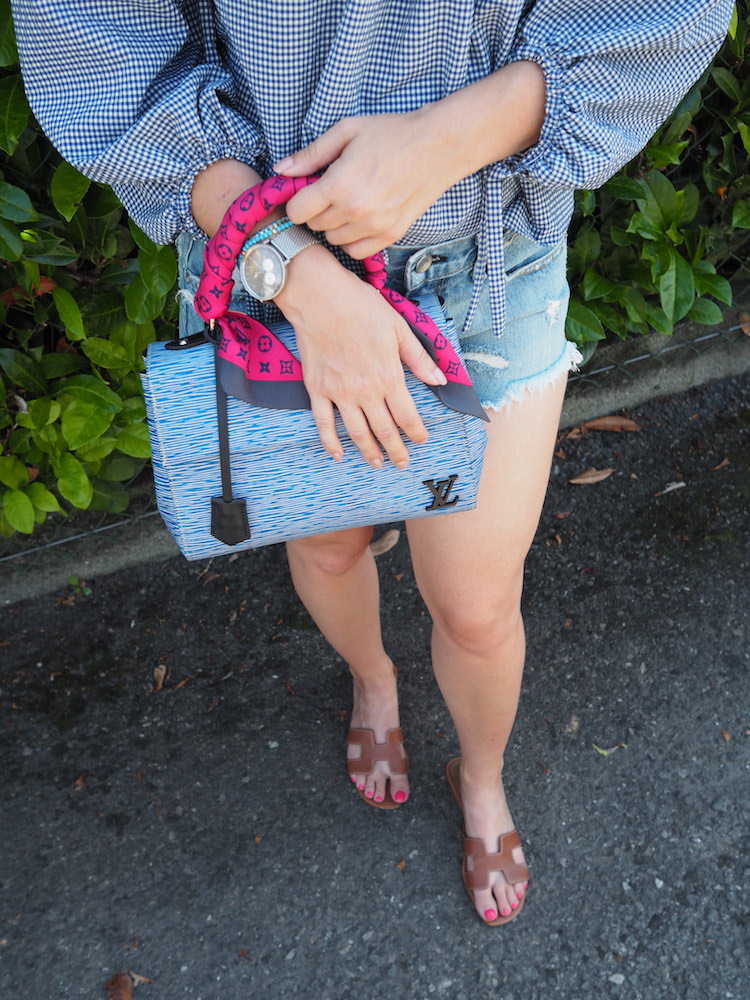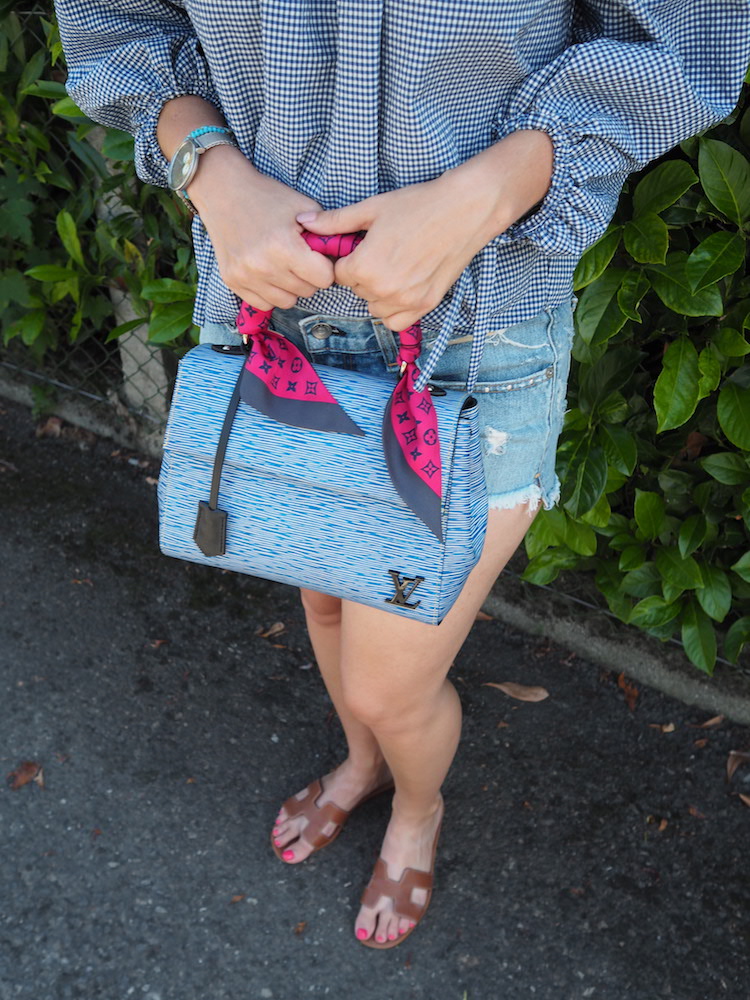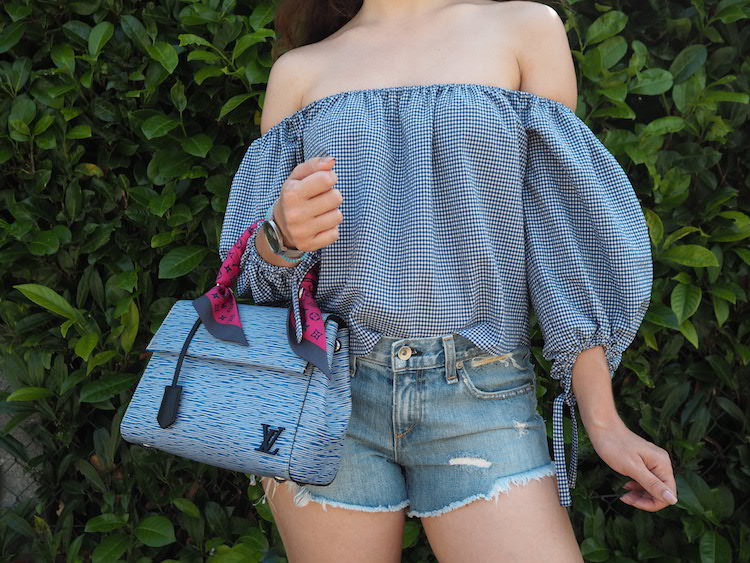 Top//Zara (old, similar here and here)  Shorts//Rag & Bone  Handbag//Louis Vuitton  Shoes//Hermes  Twilly//Louis Vuitton  Sunglasses//Asos  Watch//Skagen (old, similar here)
I've loved the classic and cute look of gingham for years, but my real obsession with the tend came last year when the print exploded from department stores to the high street. I purchased this top at Zara last year, and it combines two of my favorite trends: gingham and off the shoulder. This is one of those style of tops that my boyfriend refers to as a pirate top. Good thing I dress for me and no one else.
Sometimes I get stares at what I wear, especially in Switzerland where people tend to dress more practical and casual. This pair of white 90's inspired sunglasses are always an eye-catcher. The bright white adds a pop of freshness to any look and the shape is really on trend. 90's are back. I love it, but it is also too soon.
No matter how many stares I get or whispers and points (yes, this actually happened the other day), I still wear what I like. I dress for myself and fashion is my form of self-expression. Some paint or write poetry, but I love to continually explore my love of fashion and find new ways to style pieces or pair different colors together.
I've loved fashion from a young age. 
My mother tells me stories of taking me shopping at around two years old. I already had opinions of what I wanted to wear and what I didn't want to wear. She would lay out a selection of outfits on my bed, and let me choose because she knew it made me happy to decide what I was wearing that day. Long story short, you have to be confident in what you wear, and dress in items that make you happy. Of course let's be realistic, you have to be somewhat aware of your environment. You probably shouldn't wear a tube top to your corporate job, right? If you love what you wear then it doesn't matter what people say or if they stare because YOU feel amazing.
I also say if they are staring then I must look pretty good! 
SHOP MY LOOK: 
SaveSave
SaveSave
SaveSave
SaveSave
SaveSave
SaveSave
SaveSave
SaveSave
SaveSave
SaveSave
SaveSave
SaveSave
SaveSaveSaveSave
SaveSave
SaveSave
SaveSave
SaveSave
SaveSave
SaveSave