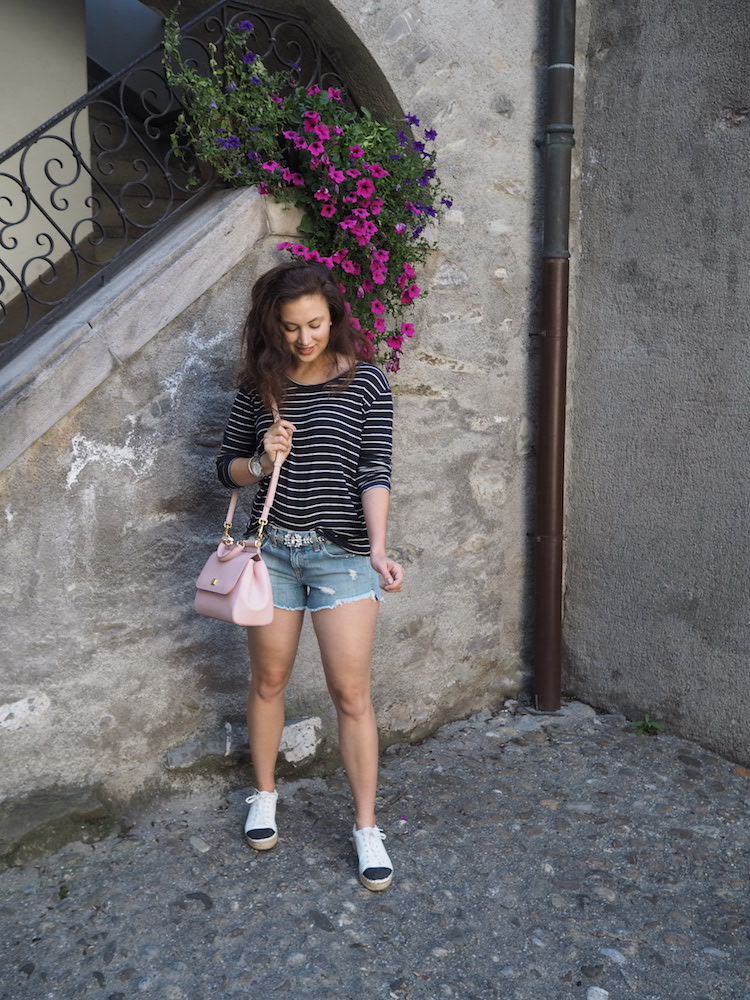 For those of you who don't know, I am a huge luxury handbag lover. I always have been, and probably always will be. One of my most used handbags this year has been my Dolce & Gabbana Miss Sicily. I'm sure you have seen it in countless pictures on my blog and Instagram. When I love something I can't stop wearing it. After owning this handbag for 6 months, I thought I could finally give a fair review of this handbag for anyone interested in purchasing it or for any fellow handbag lovers that are just curious.
Read more to find out about the pros, the cons, and my overall thoughts on the Dolce & Gabbana Miss Sicily handbag.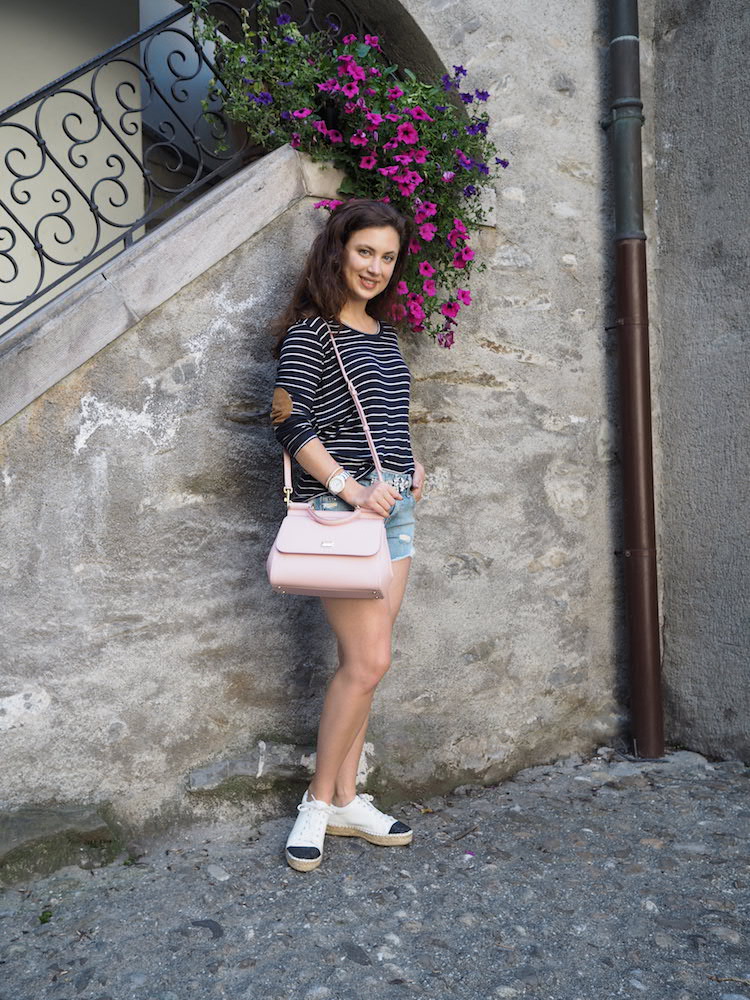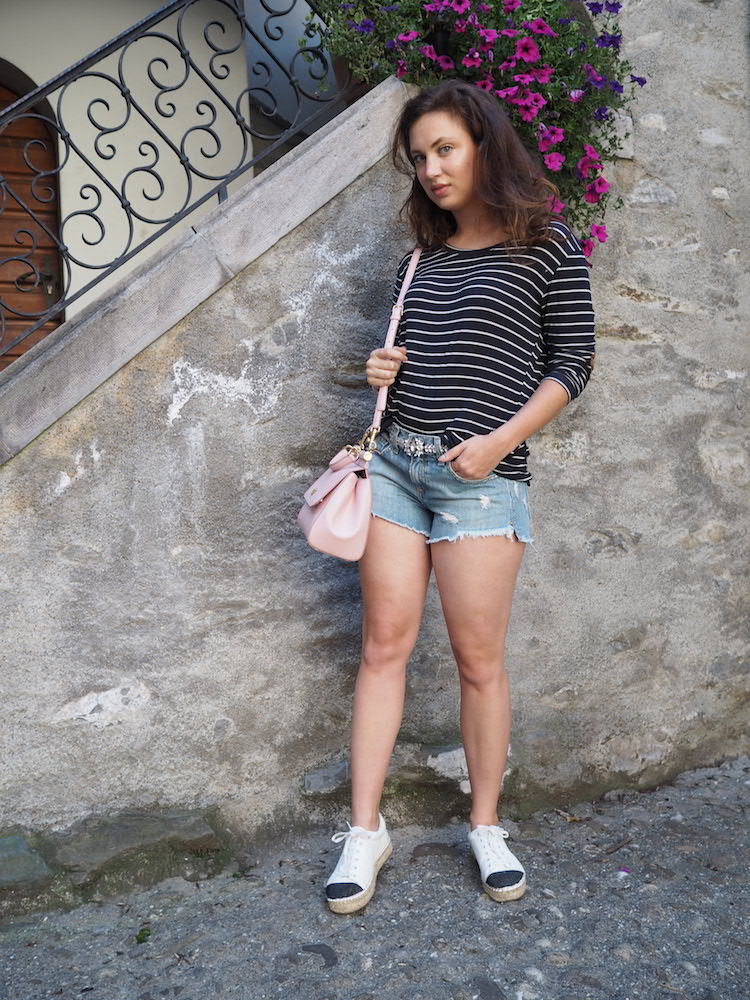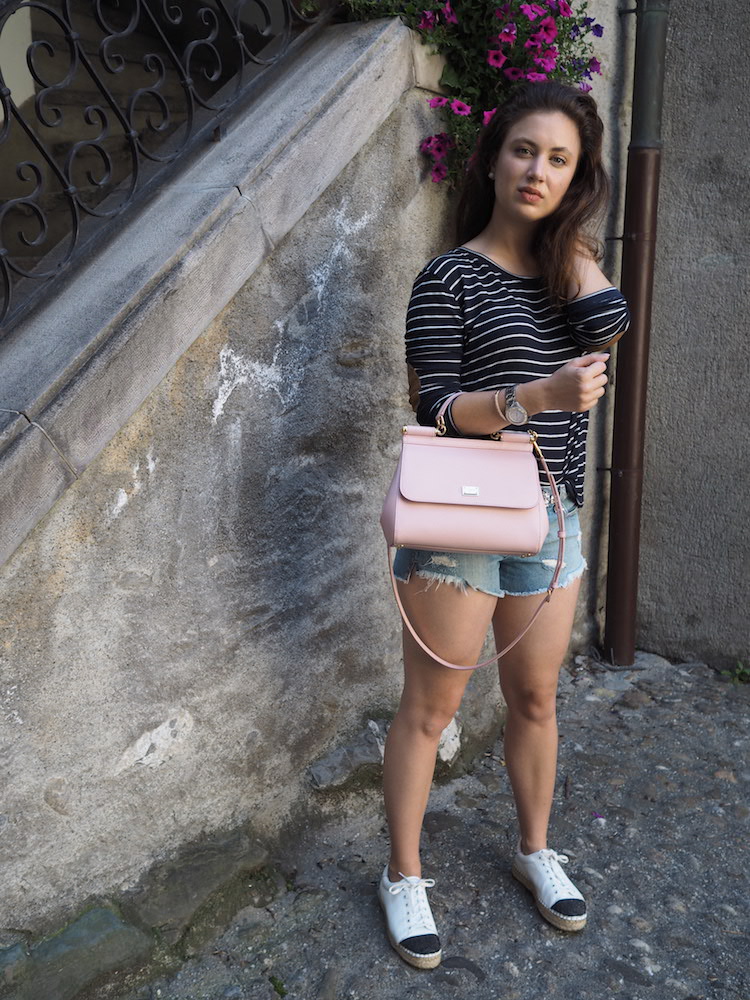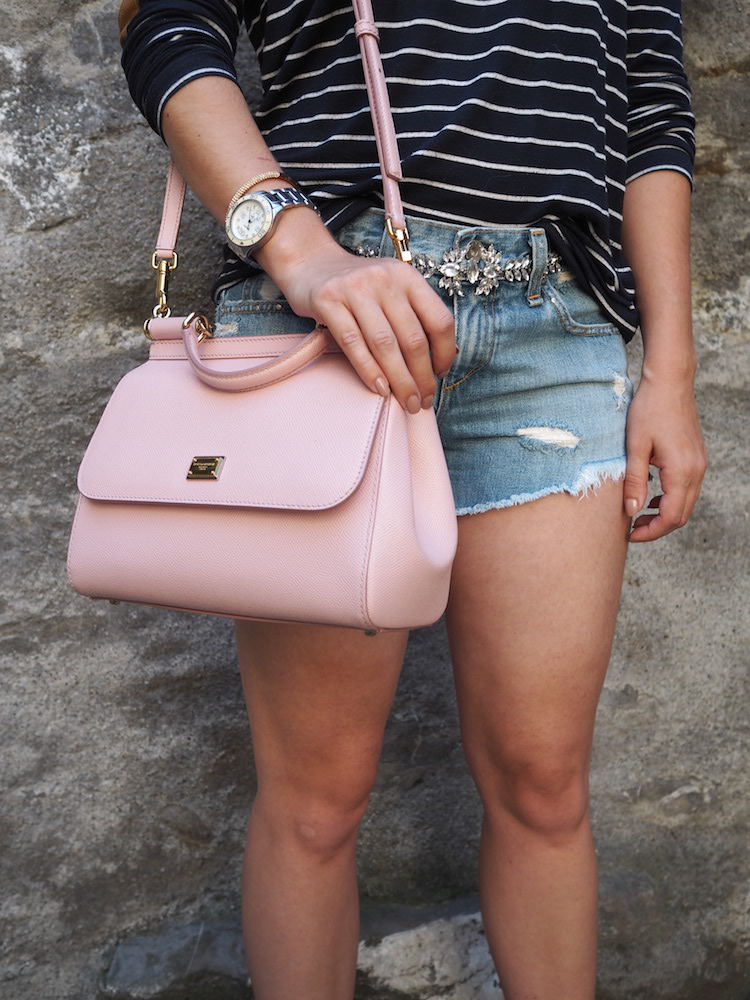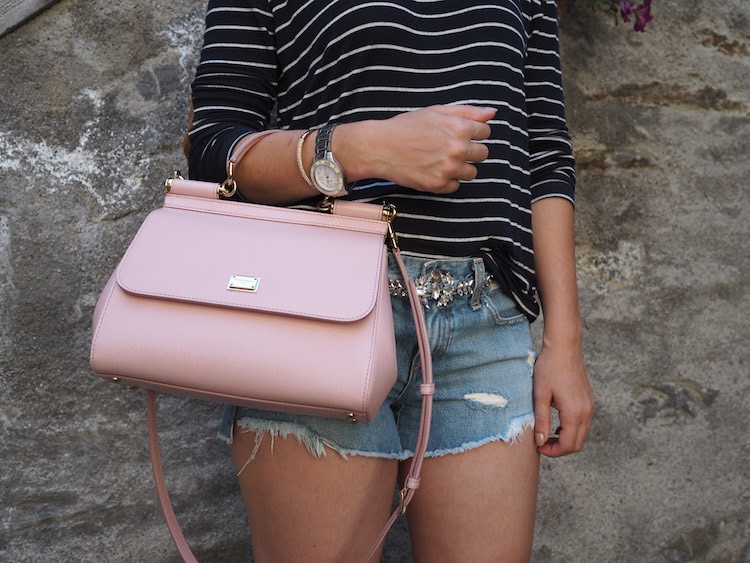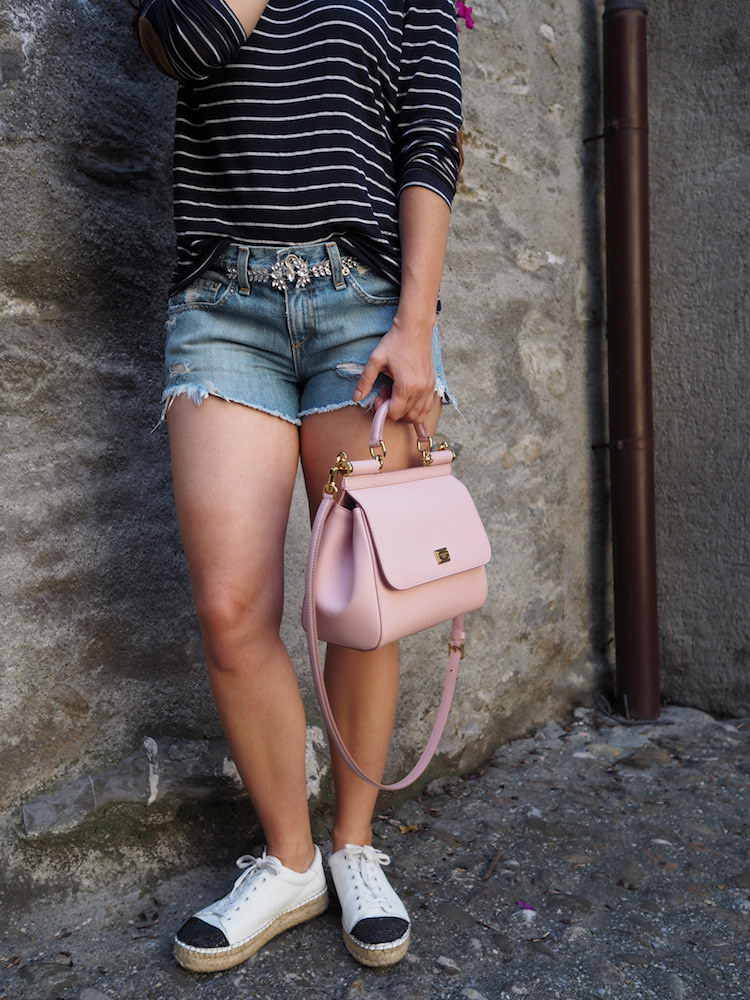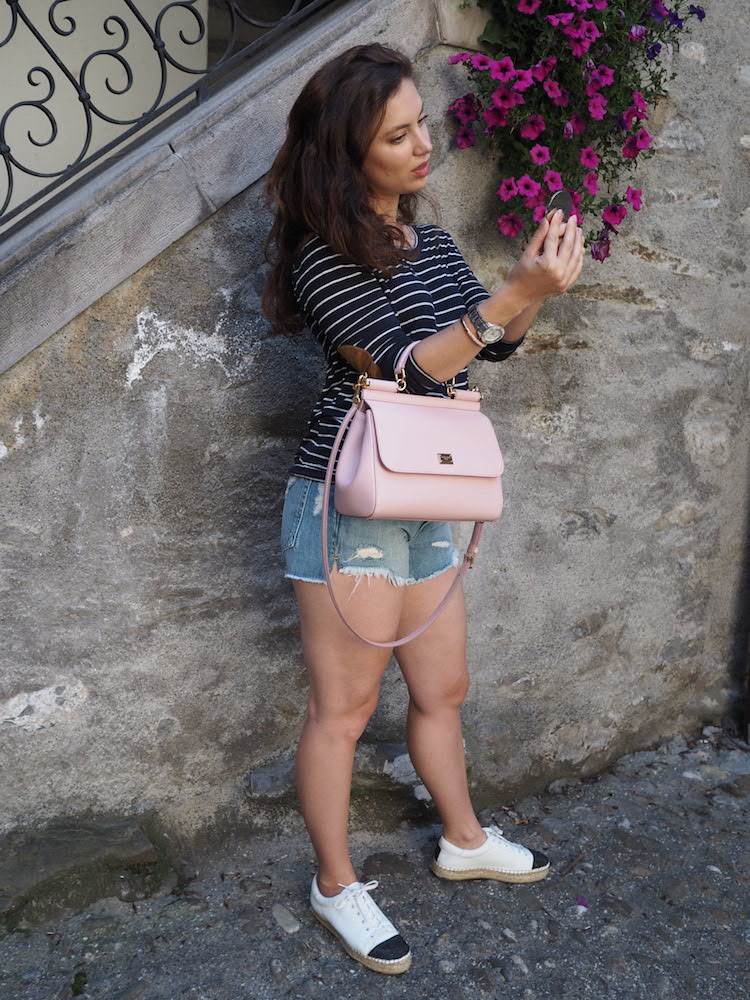 Top//Zara (old, similar here and here)  Shorts//Rag & Bone  Shoes//Kendall + Kylie (similar here)  Handbag//Dolce & Gabbana  Watch//DKNY (old, similar here)
PROS//
Quality: From the moment I first held the handbag I could just feel the quality in the leather and the hardware. After 6 months of using this handbag often, I have seen no signs of wear. I have traveled with this bag and reluctantly put it under seats on the airplane. I think one of the reasons this handbag has held up so well to constant use, is partly due to the grainy textured  leather. This type of leather is usually more scratch resistant than smooth leather (always good to keep in mind when purchasing a luxury bag). There are also feet on the bottom of the handbag, which is a major plus for me. I'm surprised that not all handbags have this feature.
Removable strap: The last three handbags I've purchased have removable straps, and I never realized how important this was to me. I normally keep the strap on because I love the look of having the strap hang. It feels very much like I don't care and casual. It's like having multiple handbags in one. It gives me the option to wear it crossbody, on the shoulder, in the crook of my arm, and sometimes I just hold the top handle. There are an endless number of ways to wear this handbag, and that versatility is so appealing to me.
Size: I'm happy for my first Miss Sicily handbag that I went with the medium size. I went back and forth between the small and medium sizes. Being petite, when I heard medium I was worried it would be too big on me,  and look awkward. I've gotten pretty good at streamlining the contents of my handbag to the essentials so there is no need for a big handbag with wasted space. However, the medium size is perfect! I can fit all of my essentials and more without feeling like I'm carrying a jumbo bag reminiscent of Nicole Richie circa 2005. You know what I'm talking about. The size of this handbag can easily transition with your look from day to night, and is a great handbag to travel with.
Color Selection: I always knew that I wanted the handbag in the powder pink color. If you haven't noticed I have an obsession with light pink handbags that probably won't end anytime soon. I consider it my neutral, and I always urge people to give this color a try no matter your aesthetic. You can find this handbag in basically any color you could dream of, and even prints to match Dolce's print of the season. One of my favorites was the family collection. I thought it was really fun, quirky, and unique. Next, I have my eye on the pastel blue color with the embellished handle.
CONS//
Wear over time: Before I purchased this handbag, I relentlessly searched the pre-loved market to see if I could find the bag at a cheaper price in great condition. Who doesn't want to save money if they can, right?! Most of the handbags I saw were not in the best condition. The structure was misshapen and for a lack of better words smushed. I'm not sure if this is something that happens over time or if the sellers did not take care of their handbags. However, this is still something to keep in mind. I keep my handbag stuffed to (hopefully) prevent this from happening as the structure is one of the things I love most about the bag.
Re-sale value: If your intention is to eventually re-sell this handbag and get your investment back then I would not recommend this handbag to you.
The top 3 brands that usually retain their value on the pre-loved market are: Hermes, Louis Vuitton, and Chanel.
It is due to the continuous price increases throughout the year and the classic history of these brands. This is never a worry for me because I don't buy handbags for this intention. I buy items that I know I will love and wear with everything so in terms of cost per wear, I get my money's worth. However, there is a good chance this handbag will not retain it's value on the pre-loved market.
OVERALL THOUGHTS//
If anyone is considering this handbag to enjoy and not for re-selling purposes, I would highly recommend it! I have really enjoyed carrying this handbag, and have been so impressed with the quality and versatility that I want to get another one. As I mentioned I think my next Dolce & Gabbana handbag will be the pastel blue color with the embellished handle in the small size. I take very good care of my handbags and probably baby them a bit too much so if you want to understand their wear and tear from someone who is much rougher on the handbags, then I'm not the one to go to. However, I have used this handbag numerous times over the last 6 months and even traveled with it more than once. It still looks brand new and like I just took it out of the box.
I never thought of myself as much of Dolce & Gabbana girl because their known for their classic leopard print and opulent gold jewelry, which isn't my style. Something has changed though. I have been obsessed with the designs of the last few season and now I have officially been bitten by the Dolce bug. I only want to add more of their handbags to my collection.
What are your thoughts on this handbag and the Dolce & Gabbana brand in general? 
SHOP MY LOOK:
SaveSave
SaveSave
SaveSave
SaveSave
SaveSave
SaveSave
SaveSave
SaveSave
SaveSave
SaveSave
SaveSave
SaveSave
SaveSave
SaveSave
SaveSave
SaveSave
SaveSave
SaveSave
SaveSave
SaveSave
SaveSave
SaveSave
SaveSave