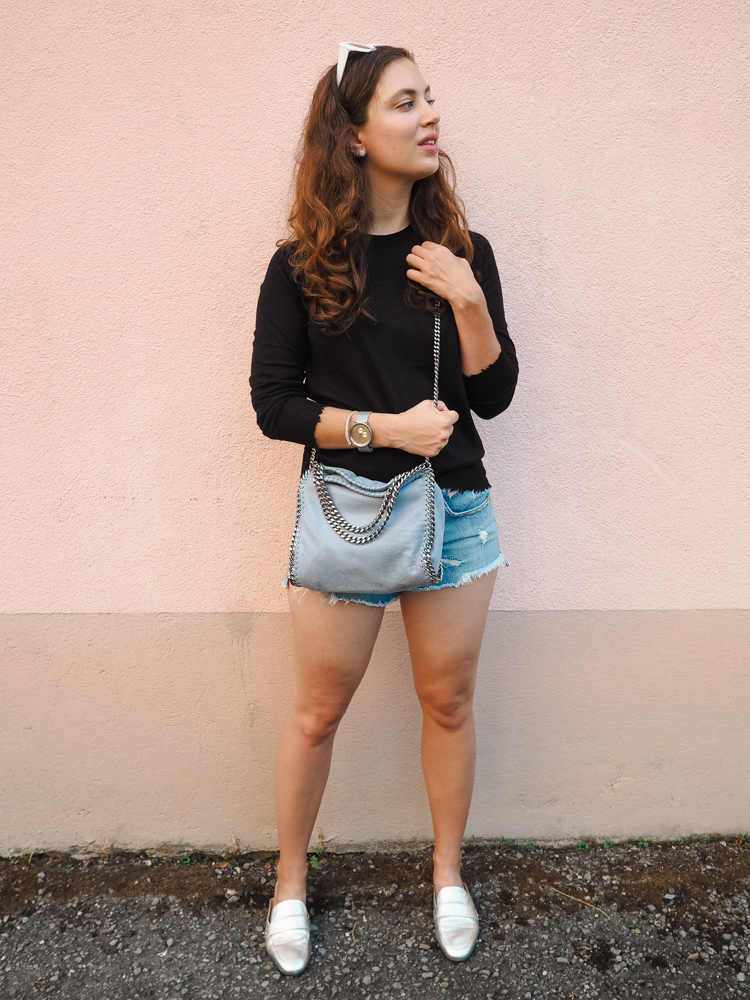 As August comes to an end that means summer will soon fade; depending on where you live. Fashion magazines have begun talking about the upcoming season's trends and stores are starting to stock up on those cold weather pieces.
While the weather isn't quite ready for a full on coat and sweater, soon you will have to start transitioning your wardrobe into key pieces of Fall. That in-between weather for any season can be difficult to style. Will I be too hot? Will I be too cold?
In this post, I show you one of my new favorite ways to still use your denim shorts and slowly transition your look into Fall. I plan on doing a few more of these posts with key summer pieces so stayed tuned!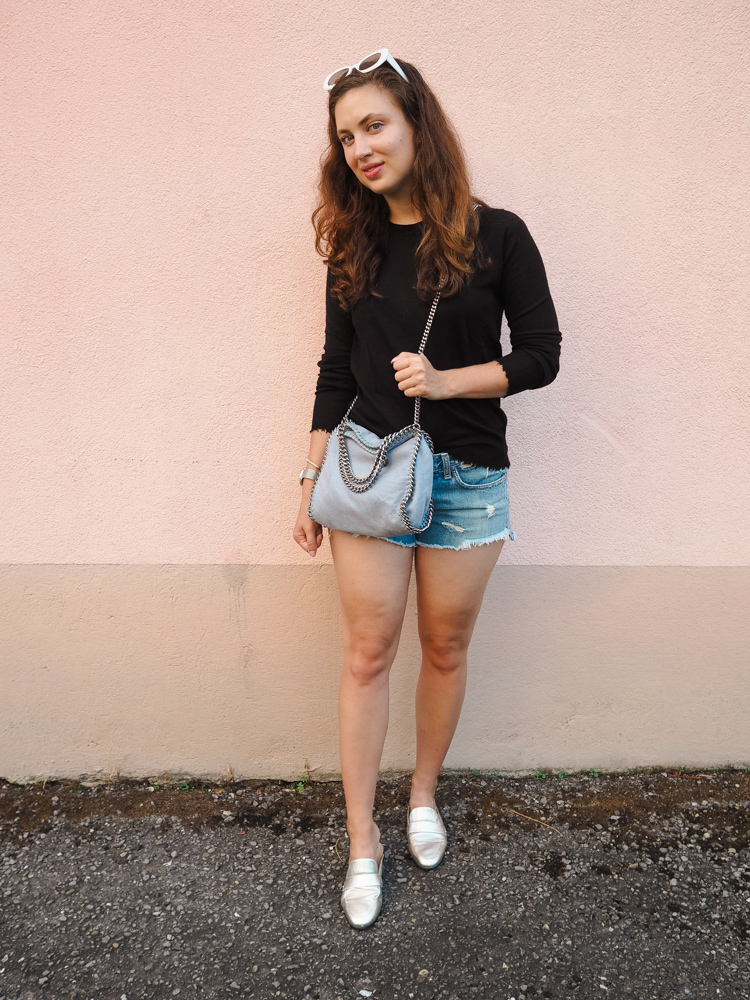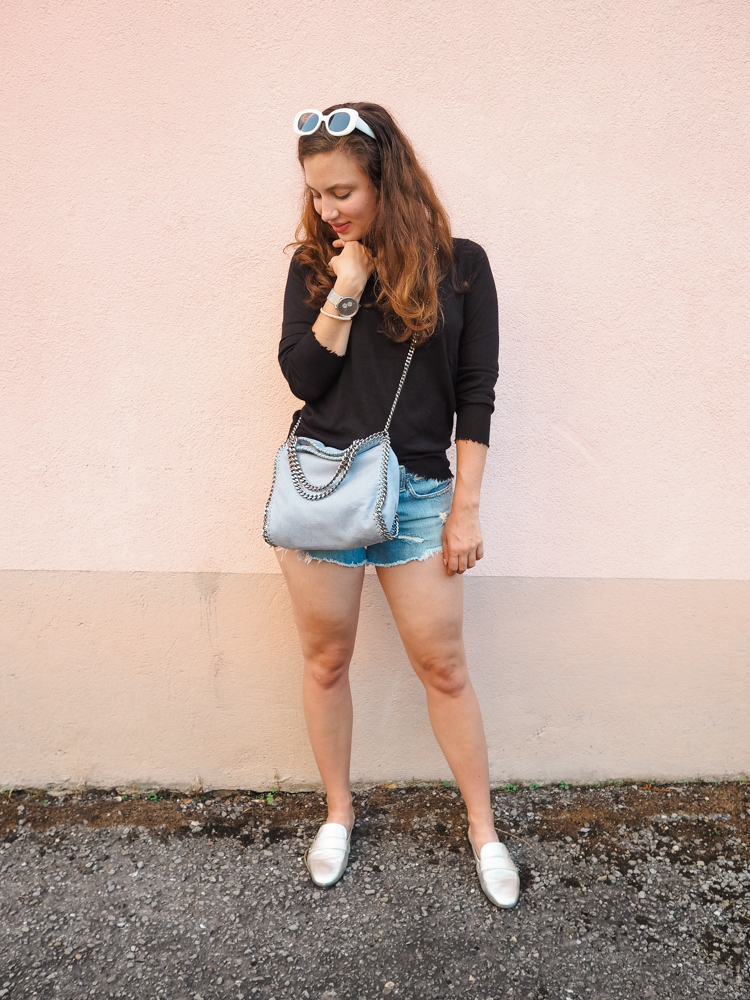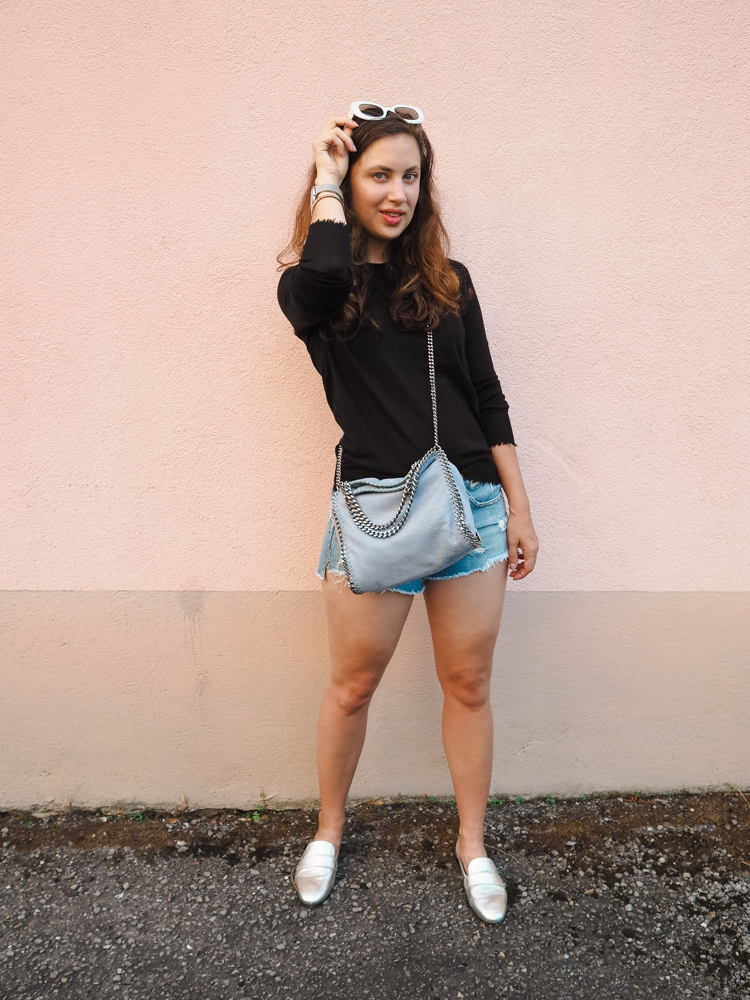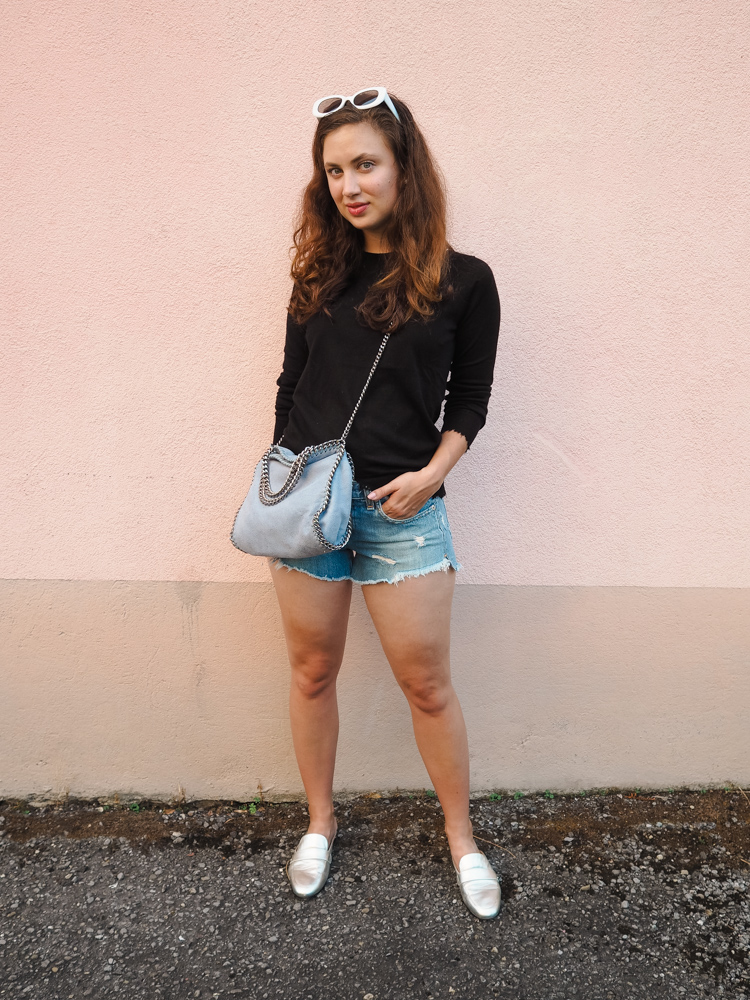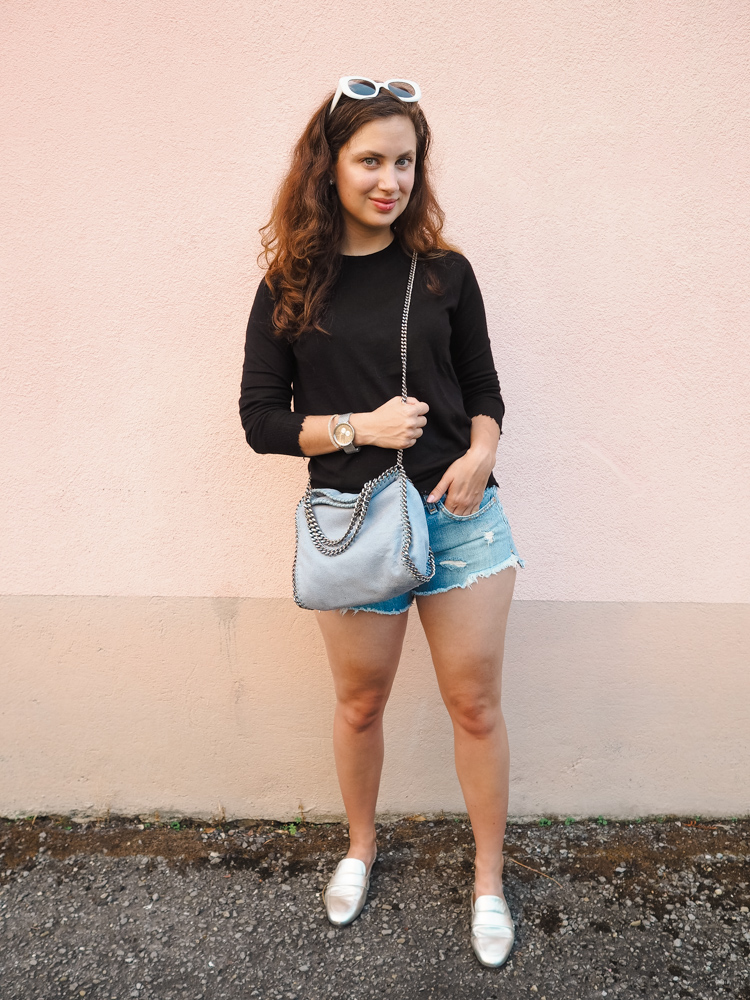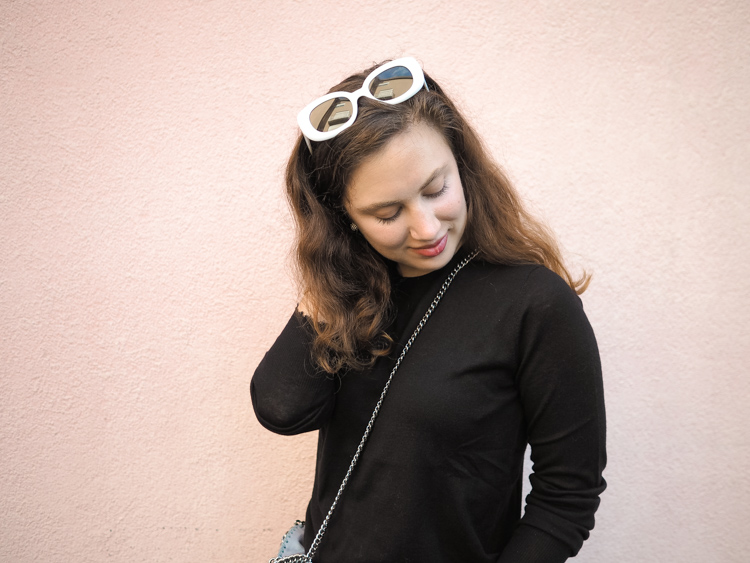 Sweater//Zara (similar here, and here)  Shorts//Rag & Bone  Handbag//Stella McCartney  Shoes//Sam Edelman  Sunglasses//Asos  Watch//Skagen  Bracelet//Swarovski
I feel like 99% of us own a pair of denim shorts. I truly believe that you can never have enough denim. It is a staple in everyone's wardrobe, never goes out of style, and there are now so many variations of denim that you could never get bored.
If you are in the market for a great pair of denim shorts then I cannot recommend enough these Rag & Bone Boyfriend Studded Denim shorts. They are shorter than I've normally gone for in the past. That is just because my self-concious area is my thighs, and I know a lot of women can relate.
However, they are so comfortable, and I love the detailing from the studs to the raw hem. You can feel the quality when you put them on. There is not a ton of stretch so be aware of that, and they do run true to size. I purchased mine in a size 26 (I'm normally a US 2, UK8, EU 36 for reference), and that was the perfect size for me as I do have a big booty for a petite girl.
Now onto the sweater…
Last week I was watching a Zara haul video from fashion blogger, Emma Hill. I fell in love with two pieces in particular, and went out on the hunt the next day. One is what I'm calling the "jacket of the season", but I'll save that for another post. The second item was this raw hem black sweater. A sweater in August, really?
I was sweating when taking this picture, but I think it will work great towards the end of September so you can plan ahead. It is a really thin material (my favorite type of sweater), and I like the added detailing of the raw hem that can also be seen on the sleeves. It takes it from being an ordinary black sweater to something a bit more unique. I'm always looking for those extra elements on classic pieces to bring an added level of interest to my look.
To me denim shorts scream warm weather, but by adding the longer layer of the thin sweater it allows you to wear your shorts for longer. If you need a little more warmth, I would pair these shorts with a black tee and plaid blazer or add some booties to the current look for the city girl chic vibe.
Have you started buying items for your Fall wardrobe yet?
SHOP MY LOOK:

SaveSave
SaveSave
SaveSaveSaveSave
SaveSave
SaveSave
SaveSave
SaveSave
SaveSave
SaveSaveSaveSave
SaveSave
SaveSave
SaveSave
SaveSave
SaveSave
SaveSave