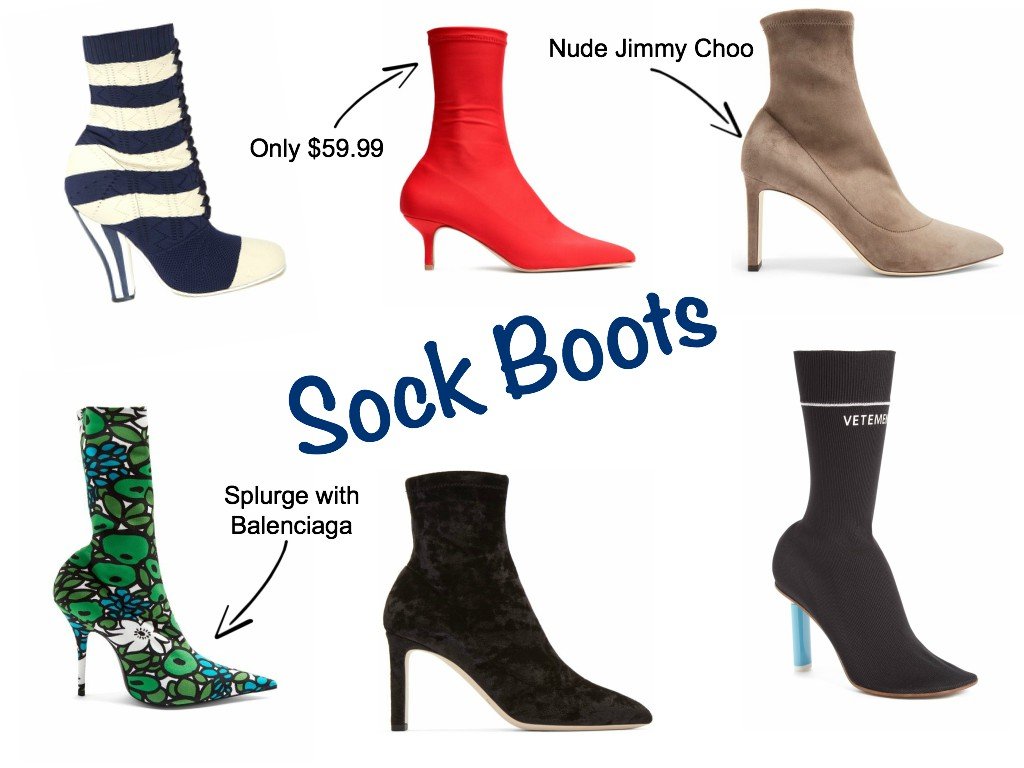 As we near September, it is not too early to start thinking about the key pieces in your Autumn wardrobe. Read my previous post on the hot trends for the upcoming season where I did an overview of the reoccurring trends I saw on the runway.
This post is all about one trend in particular, the infamous sock boot. What an appropriate name for this shoe because it is actually made of a stretchy jersey or neoprene material that forms to your foot and is very slimming. Fendi took the sock boot trend the most literal with making a shoe resembling an actual sock. At first, I thought why…just why would anyone wear these shoes?!
However, now I have to say that the sock boot trend as really grown on me. I think paired with the right look it can be really cool and chic.
The look stems from the athleisure trend that we were all obsessed with – and many are still rocking all over Instagram. It's the model off duty look we have seen Kendall Jenner and Bella Hadid perfect. The sock boot is just an elevated take on that trend and can easily take you from day to night. We all know, I love a good piece that takes you from day to night. Wear it with deconstructed denim, a white blouse, and a plaid blazer for day. For night, a flowy red dress and these glitter sock boots will make you the belle of the ball. We lead busy lives so why not make getting dressed as simple as possible.
If you are interested in jumping into this trend, I've included some pairs that you can shop at various price points or just gather inspiration from for future looks.
What are your thoughts on the sock boot trend?
SHOP THIS TREND
Splurge and Save options available
SaveSave
SaveSave
SaveSave
SaveSave
SaveSave
SaveSave
SaveSave
SaveSave