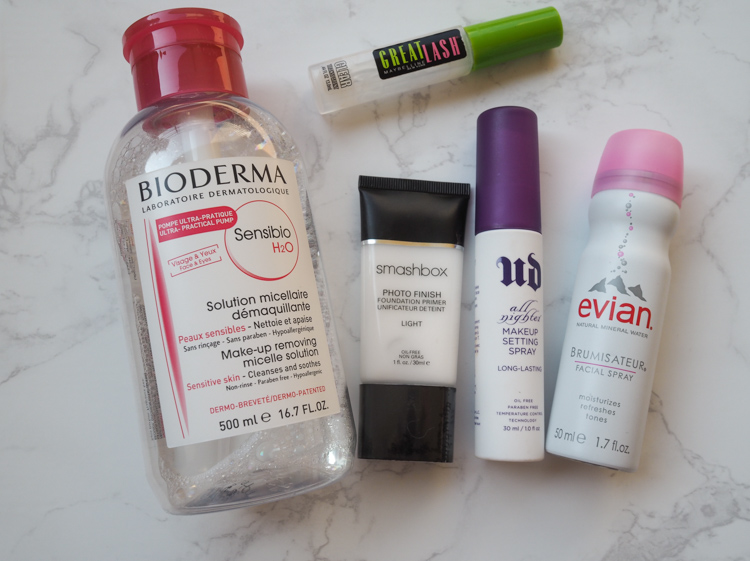 When I was packing for a trip earlier this month (I went back home to Texas for two weeks in case you didn't check out my Instagram), I started to think about what skincare and makeup products could I not live without. If I got stuck on my layover, what products would I consider necessary for me to feel some semblance of normality.
Then I realized, no matter how many different makeup and skincare products I have tried over the years, there are a select few items that I keep repurchasing, and will never find myself without. I take these items on every trip, and cannot complete a makeup look without them.
I wanted to share with you the products that I consider as must-haves in my collection.
1// Micellar Water
I have been using Bioderma's Micellar Water as a part of my skincare regime for probably close to 7 years. I have never been so loyal to a product as this one, and there are many reasons why. After you cleanse your face, it is a great way to make sure that all dirt has been removed. I take a cotton pad and quickly swipe it over my face, and then continue on with the rest of my skincare routine.
You would be surprised what is left behind even after you wash your face…Gross!
This product is also my favorite to remove my makeup. It is used by makeup artists to remove persistent products on shoots. After I use my makeup eraser, I take the Bioderma micellar water on a cotton pad and go over my face until all makeup has been removed. I'm a bit fanatical about removing all traces of makeup.
The micellar water has no fragrance (perfect to not irritate skin), and leaves no traces of oil or film on the skin after use. Everything you'd want in a product!
2// Primer
Everyone and their mother started using primer after the beauty community craze on Youtube around 2010. I have tried a lot of different primers, and always come back to the Smashbox Photo Finish Light primer. I feel like it creates the perfect base to my look, and helps my makeup last for hours.
Since I have dry skin, I prefer to use primers that have a similar texture to a moisturizer. I have tried many different silicone based primers, but I don't like the feeling of it sitting on my skin. Maybe one day I will find a silicone based primer I like as those are really the best to blur the pores and fill in fine lines. But until that day comes, I will be loyal to my Smashbox primer.
3// Clear Mascara
People always ask celebrities and beauty gurus on Youtube, "what is the one makeup product that you can't leave the house without?" Some need mascara to feel put together and others need lipstick.
And Me? I need to have my eyebrows groomed before I leave the house. I have unruly eyebrows that never seemed to fully grown in. Therefore, they often have a mind of their own and easily make me look angry. I noticed many of the fancy eyebrow products that I was using were essentially clear mascara. In college, I started to use Great Lash clear mascara on my eyebrows, and haven't looked back.
Extra Tip: I use a toothbrush (don't worry it is specifically designated for my eyebrows) to comb through my brows for the perfect shape. Afterwards, I apply the Great Lash.
4// Makeup Setting Spray
If you haven't used makeup setting spray then you better get over to Sephora right now, and pick some up. If there was ever product that completely changed my makeup, this would be it.
Do you feel like your makeup melts off by the end of the day?  Have you embarrassingly left a makeup stain on a white shirt?
Then you need a makeup setting spray. It basically ensures that your makeup is smudge proof throughout the day, and locks everything into place. Make sure you are happy with your makeup before applying because it will be nearly impossible to fix afterwards. I once realized after I applied the setting spray that I went a bit too blush happy on one cheek and tried to rub it off to make it more even…it didn't work.
I haven't ventured out too much in the makeup setting world because this Urban Decay All Nighter Spray has just been so good to me.
5// Water Spray
To finish EVERY makeup look, I apply a water setting spray after my Urban Decay spray has dried down. Maybe this is because I have dry skin, but I feel like adding this spray keeps my look dewy and instantly refreshes everything. Makeup can sometimes accentuate my dry skin and this water spray  brings moisture back to my look.
It's also my best friend on the plane. Just a quick spritz and you are ready to go! I alternate between the Eau Thermale Avène and the Evian Mineral Water Spray.
What are your must-have makeup products that you can't live without?
SHOP THIS POST:
SaveSave
SaveSave
SaveSave
SaveSave
SaveSave