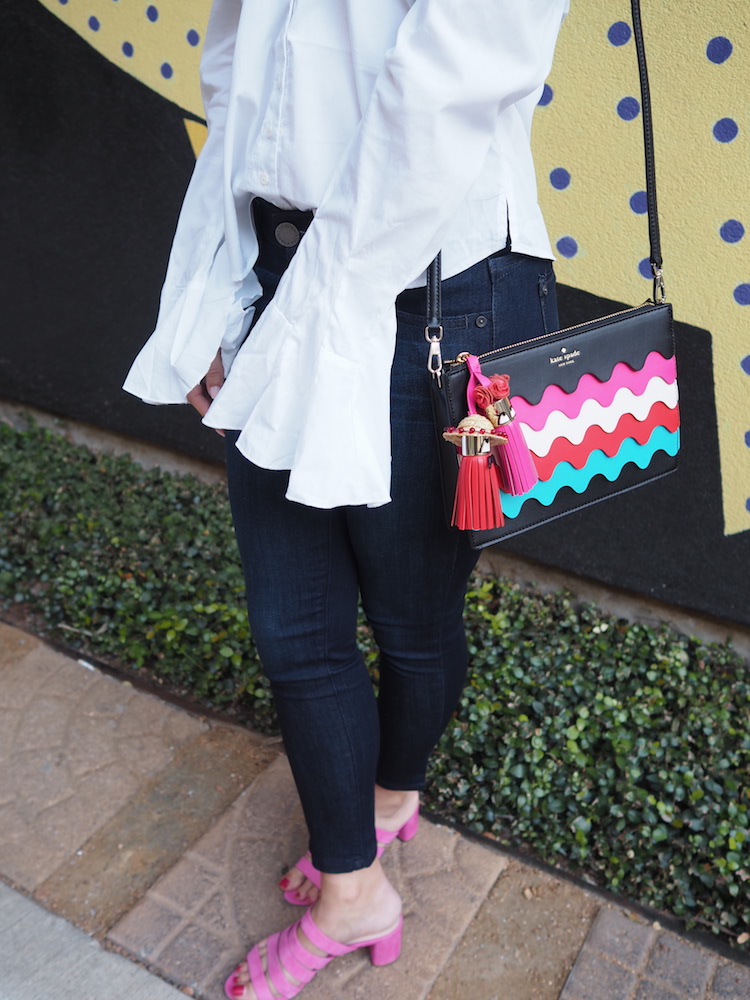 Do you ever dream about a mouthwatering street taco or the smell of chicken molé? Is that just me?! I guess when you're from Texas and living in Switzerland, where this is no concept of proper Mexican food, you find yourself in this predicament often. 
Whenever I am back home in Dallas, the first thing I say is that I want to eat so much Mexican food that I can't eat anymore. Obviously, this never happens because I could eat Mexican food everyday. It is one of my favorite cuisines, and is much more varied than people realize.
Dallas has its fair share of upscale Mexican restaurants. But if you want the good stuff,the authentic stuff, then you have to be willing to step out of the traditional spots to find it.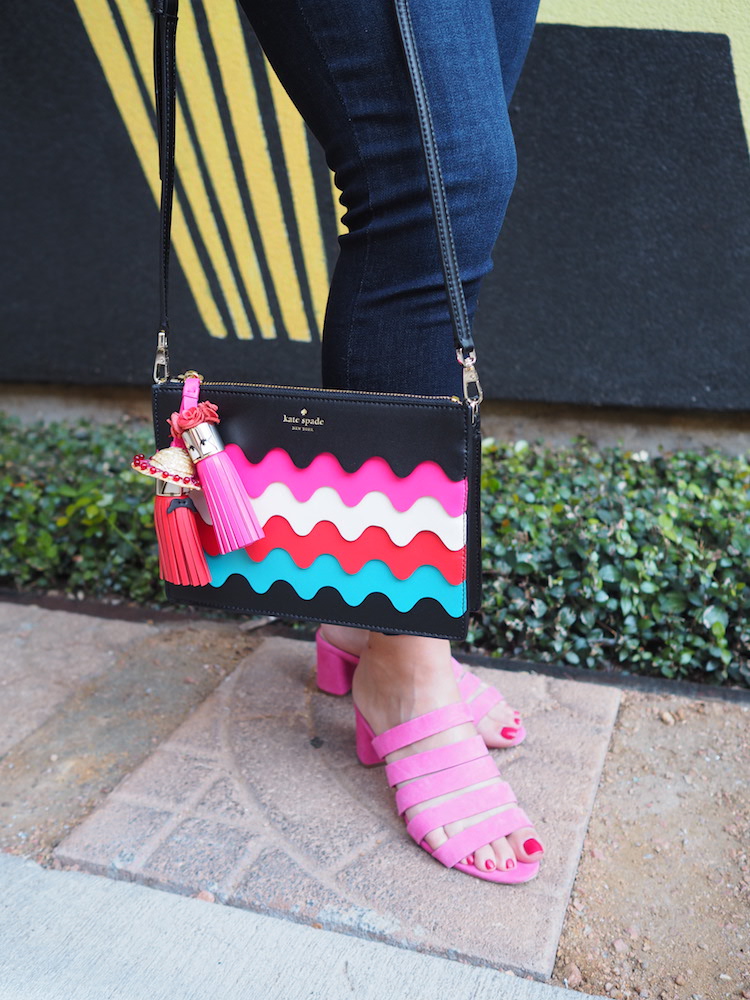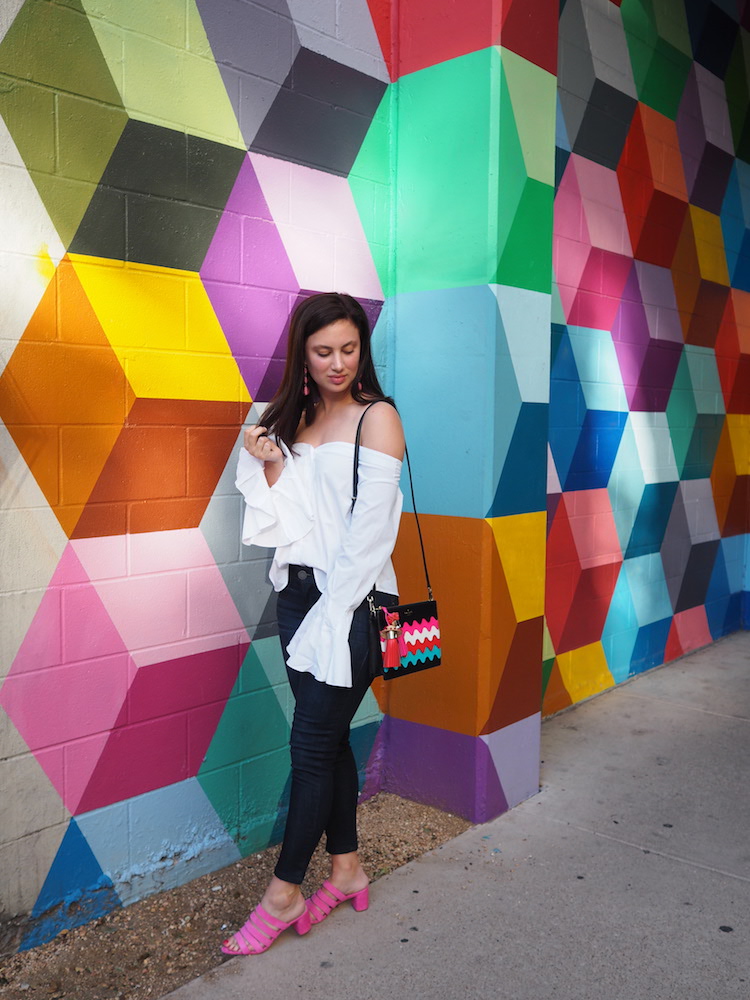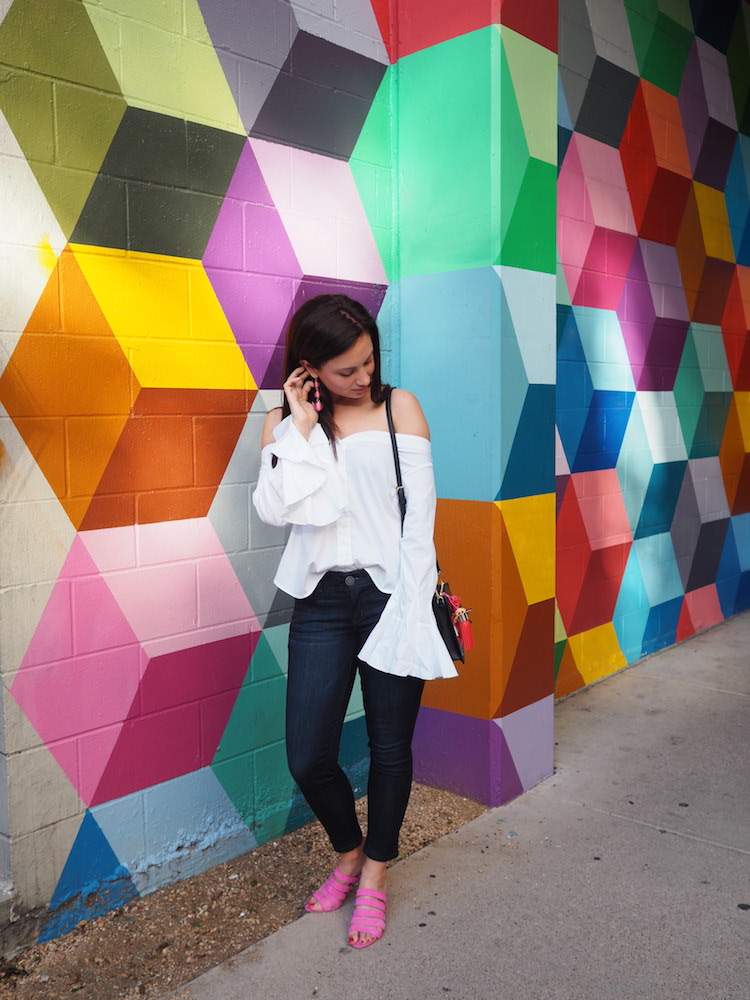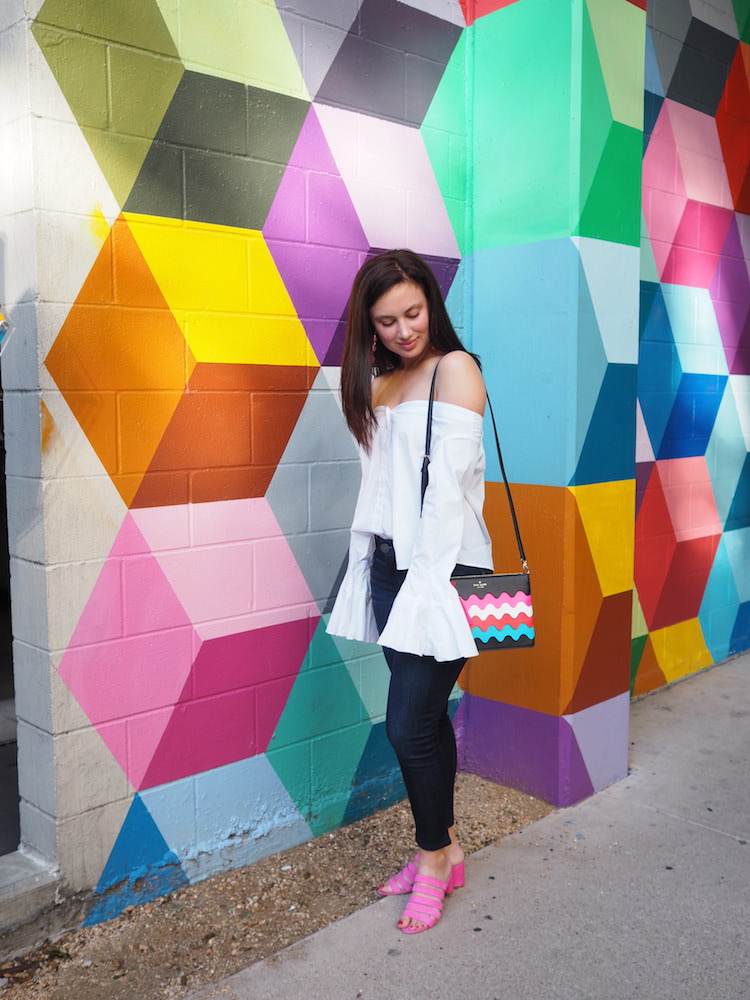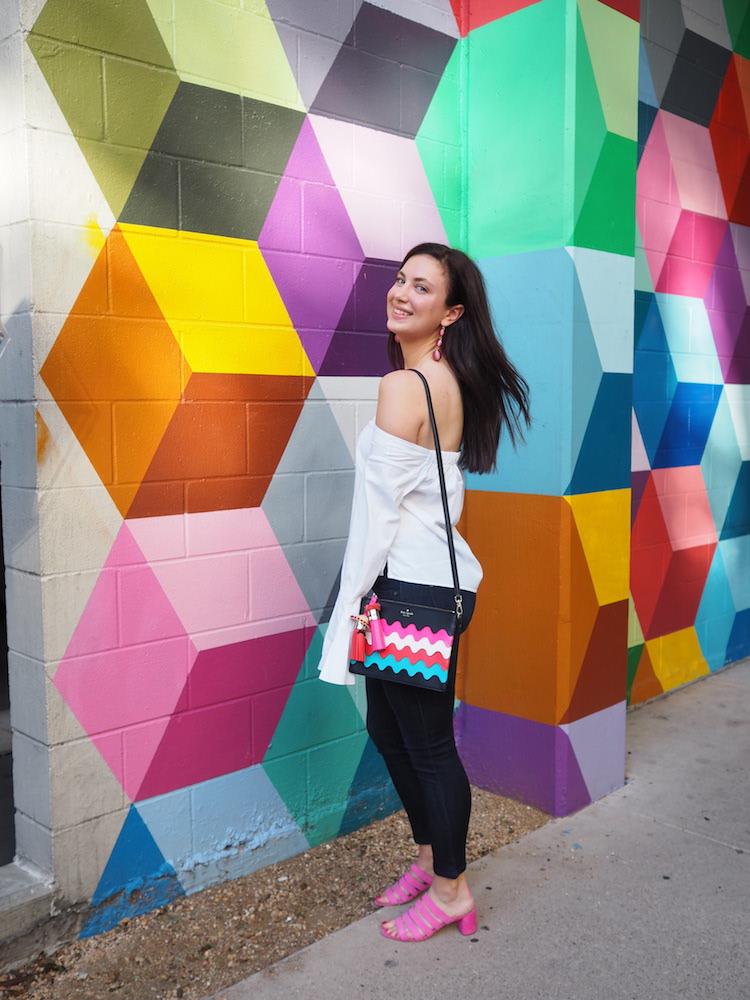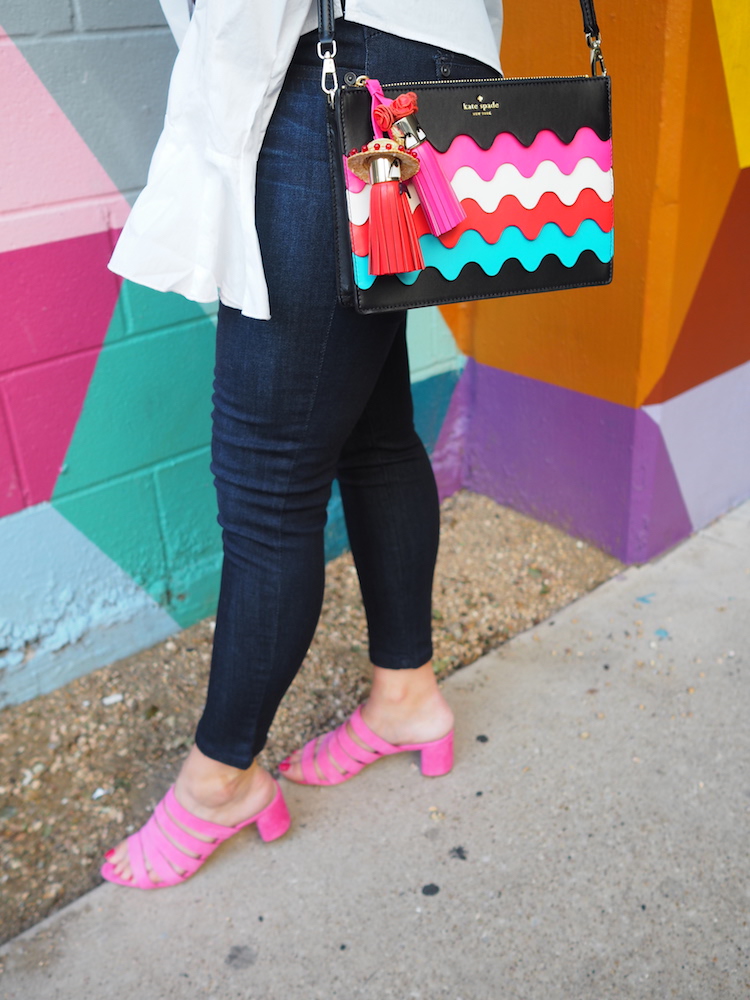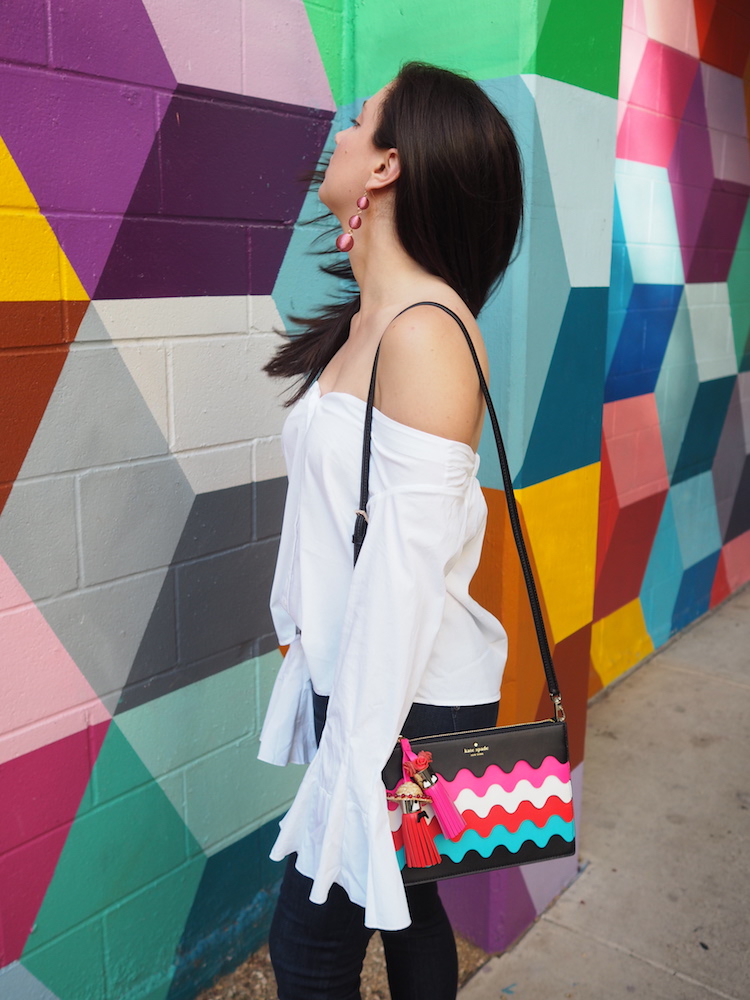 Top//Free People (almost sold out, similar here and here)  Jeans//Wit & Wisdom  Handbag//Kate Spade (c/o)  Shoes//Loeffler Randall  Earrings//BaubleBar
One of my favorite Tex-Mex restaurants in all of Dallas is Ojeda's, which is home to my favorite dish called chicken molé. It is considered one of the signature sauces of Mexico, and is made up of chocolate with roughly 20 spices (it depends on the region the recipe originates from). To get the right amount of sweetness with heat is not an easy task, but Ojeda's does it right.
They have also have a great top shelf margarita (on the rocks, preferably) that will put hair on your chest. You must try their margaritas, but don't have more than two or you will be under the table. The location of Ojeda's is less than desired, and can make you worry when they have a police officer on watch during the restaurant's opening hours.
However, I urge you to look past this because once your inside the dimly light restaurant with Mexican folk music and brightly colored lights- you will forget where you are. The atmosphere inside the restaurant is happy, the staff is always nice, and the food is authentic. What more could you ask for?
ABOUT MY LOOK…
Mexican culture is known for its bright colors, and this Kate Spade Clarise handbag does not disappoint. The Kate Spade Spring and Summer 2017 collection drew inspiration from Mexico and Frida Kahlo with floral motifs and vibrant colors. One of my other favorite handbags from this collection was this cactus clutch (sold out now).
Sometimes, you just need a good novelty handbag to make your outfit pop!
I felt like this rickrack design was more wearable on a daily basis, and I am a big fan of any handbag that has removable straps. You can see previous blog posts here and here where I feature two handbag purchases this year that both have removable straps, and truly that was not planned.
The removable strap gives you more options and is easy to transition from day to night. We all have handbags that we love, but don't allow you to be handsfree so they don't get as much use as we would like. This handbag is the best of both worlds- clutch, crossbody, and a shoulder bag.
I love the look of a crisp white blouse as a background for color. It makes the brightness pop, but also allows the vibrancy to be the main focus of your look. I paired the Kate Spade bag with this Free People off the shoulder blouse that has a menswear element to it. The blouse looks like a button down, but has the elastic band in the back to make it a comfortable off the shoulder top. The dramatic sleeve detail is not only fun, but is on trend for this upcoming season.
The more dramatic the sleeve, the better it is. 
To finish off the look I added my favorite bright shoes of the moment, which happened to match the bag perfectly. When I saw this handbag, I envisioned pairing it with my Loeffler Randall Finely sandals. These sandals are the perfect heel height to wear during the day, but also be comfortable at night. It tied in the bright colors of the handbag, and if I was to wear more color…this is how I would do it.
Click here to read the first blog post in this Dallas Food Guide series.
If you have been to Dallas or live here, what is your favorite Mexican food restaurant? I am always on the hunt for the next good place. 
SHOP MY LOOK:
*Kate Spade kindly let me borrow the handbag for this post. No compensation was given from Kate Spade as a result of displaying their product or mentioning the brand. I personally picked out this handbag, and all opinions are always own. 
SaveSave
SaveSave
SaveSave
SaveSave
SaveSave
SaveSave
SaveSave
SaveSave
SaveSave
SaveSave
SaveSave
SaveSave
SaveSave
SaveSave
SaveSaveSaveSave
SaveSave
SaveSave
SaveSaveSaveSaveSaveSaveSaveSave