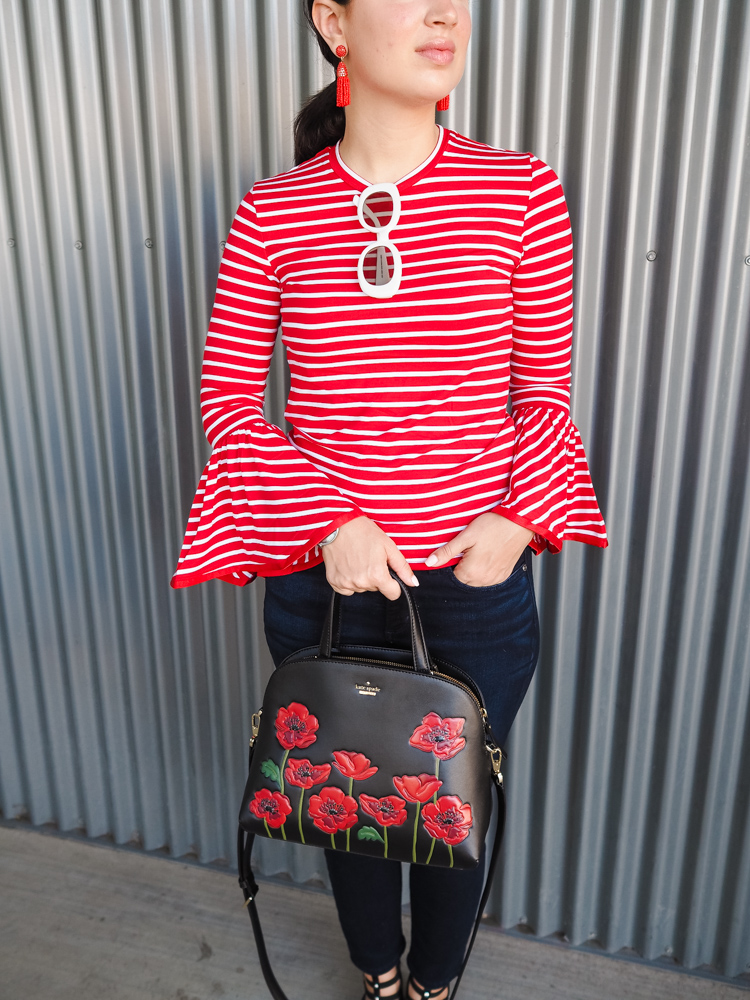 Dallas is what I call a concrete jungle of the South. Muti-level monstrosities called highways and skyscrapers are commonplace in my sweet hometown.After spending much of my life living between Texas and various countries in Europe, I wouldn't call Dallas a pretty city with stunning architecture. It's hard to when you walk around the medieval streets of Prague or see churches nearly a century old in Paris.
However, what Dallas does have is an amazing food scene, and that is why I will always recommend visiting Dallas to any food lover (or shopping addict…but that's for another post).
As a native to this wonderful city and self-proclaimed foodie, I wanted to share a few of my favorite restaurants that may not be as well known. Along with the help of Kate Spade at NorthPark Center I will bring you along to 3 of my favorite places to eat in Dallas.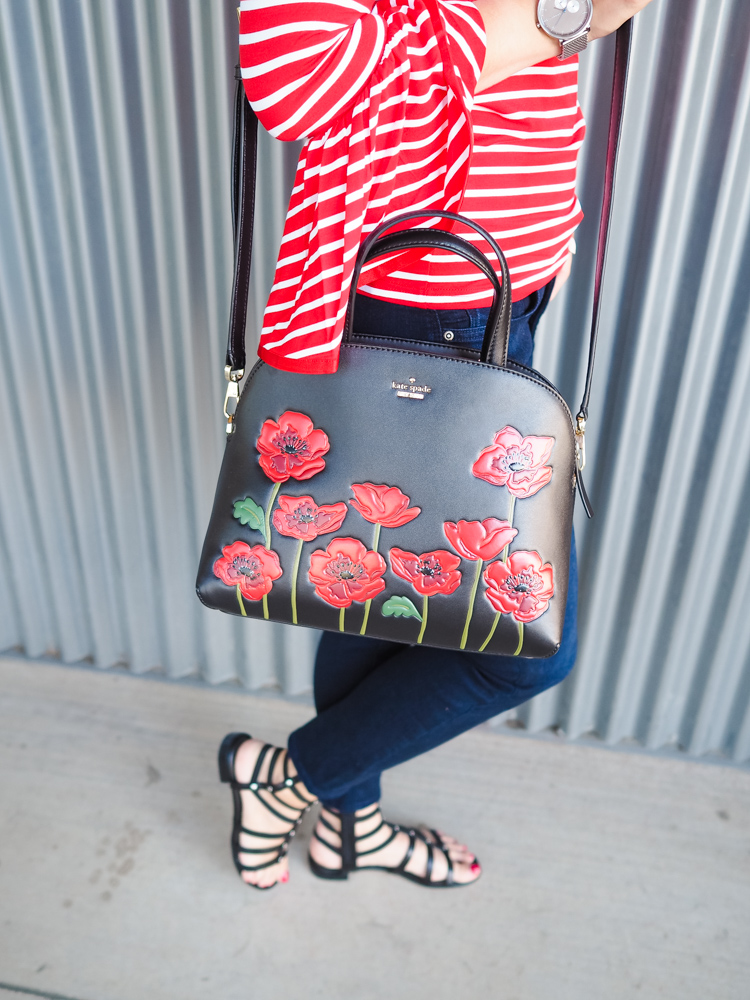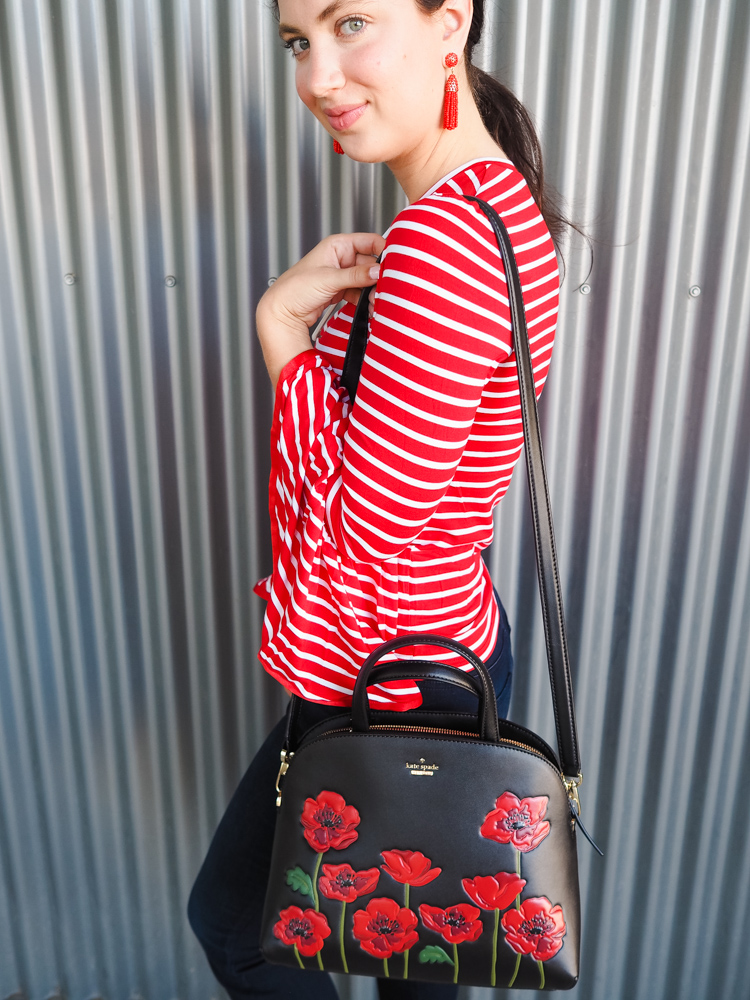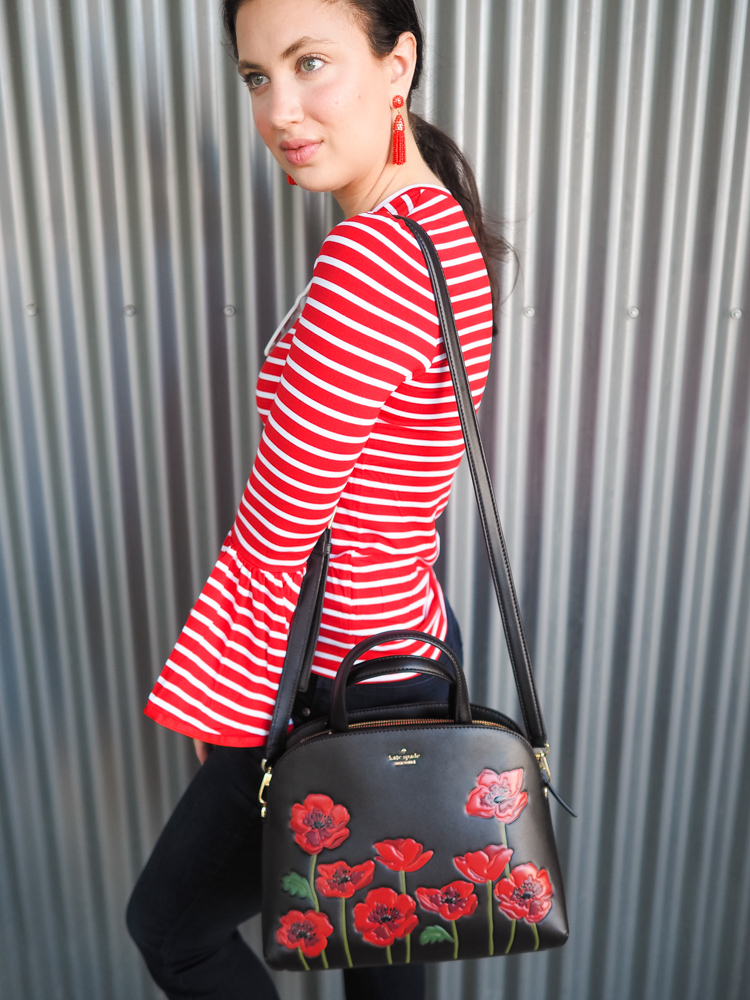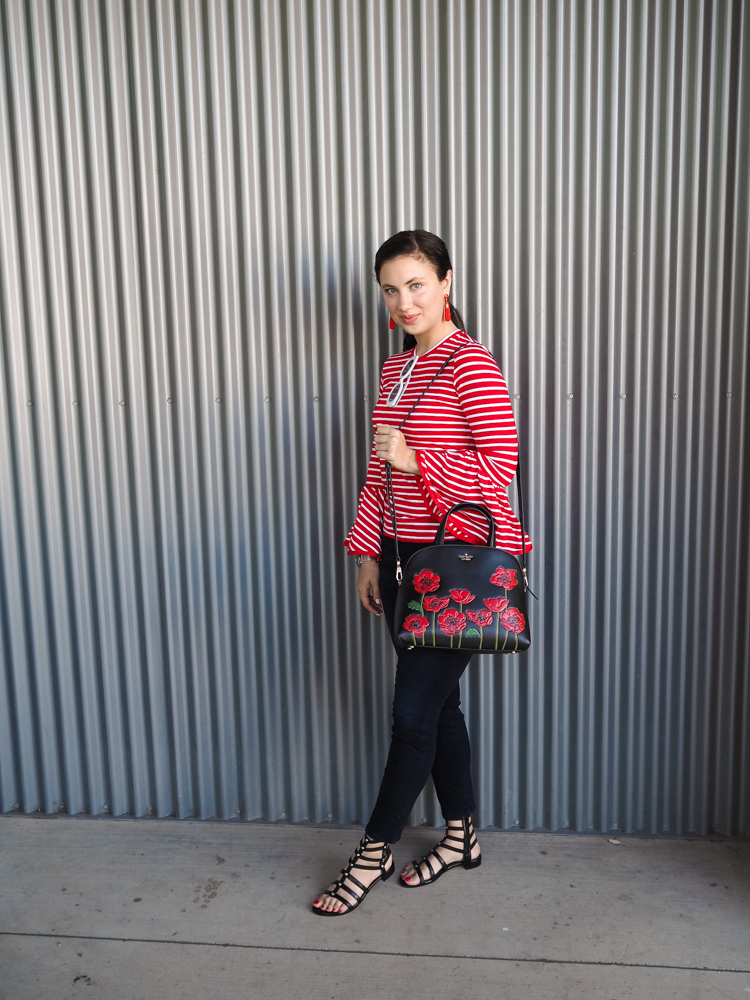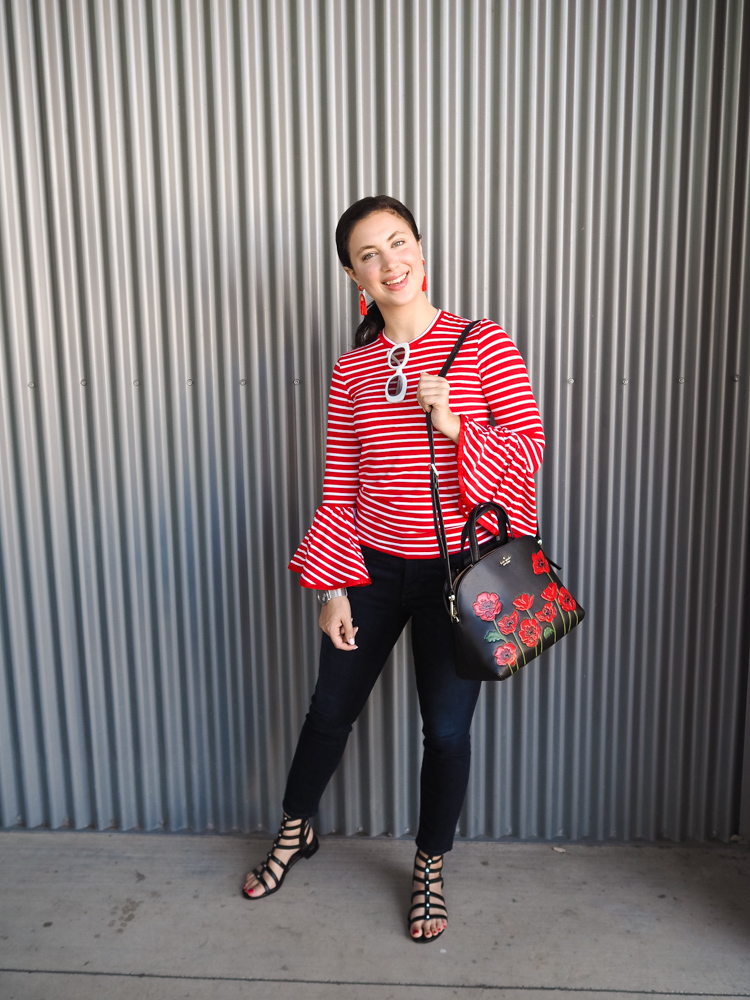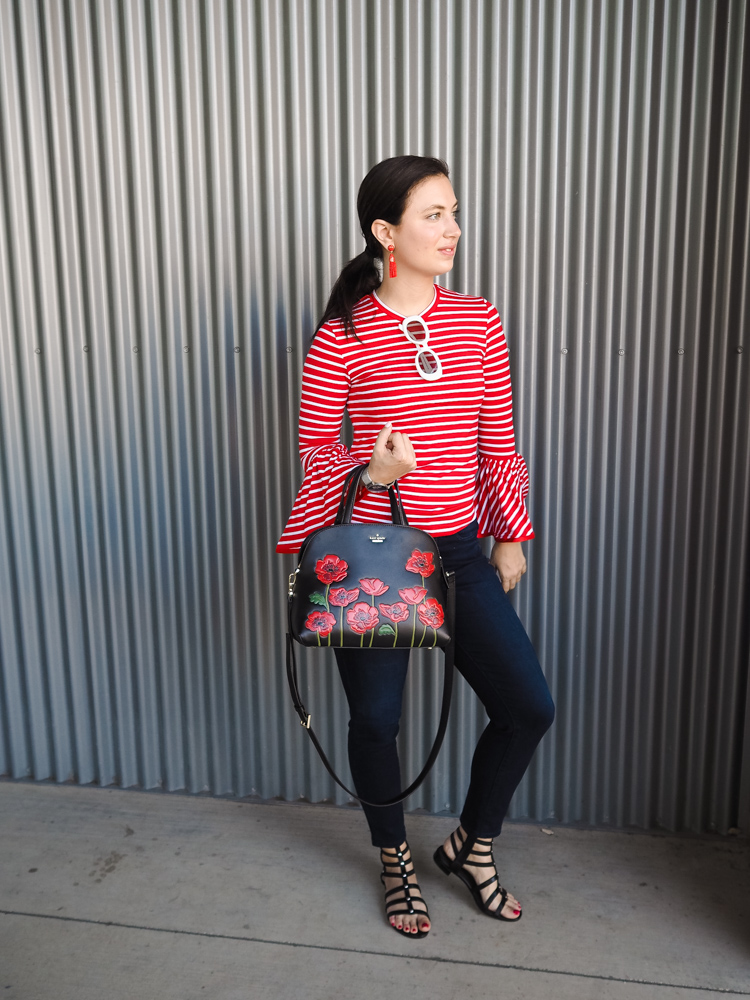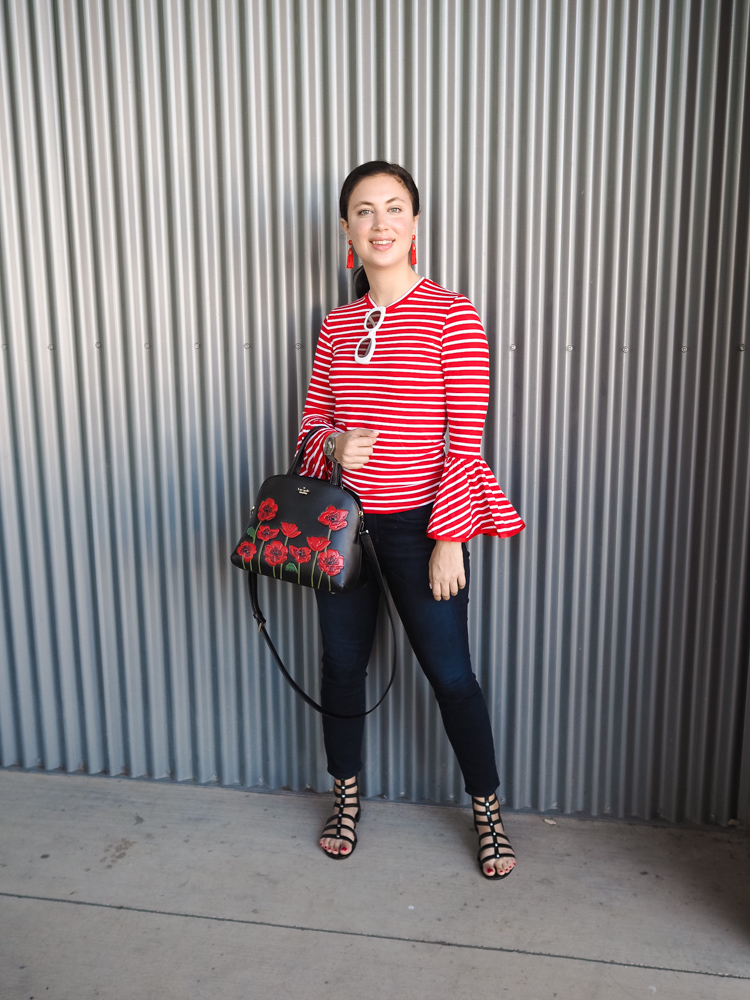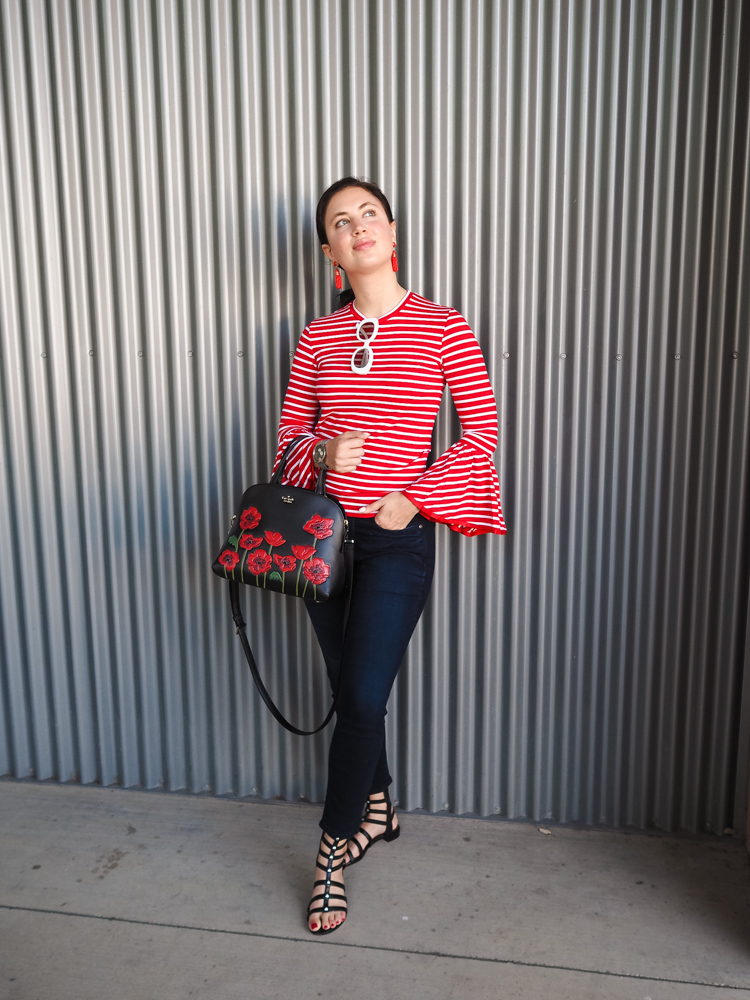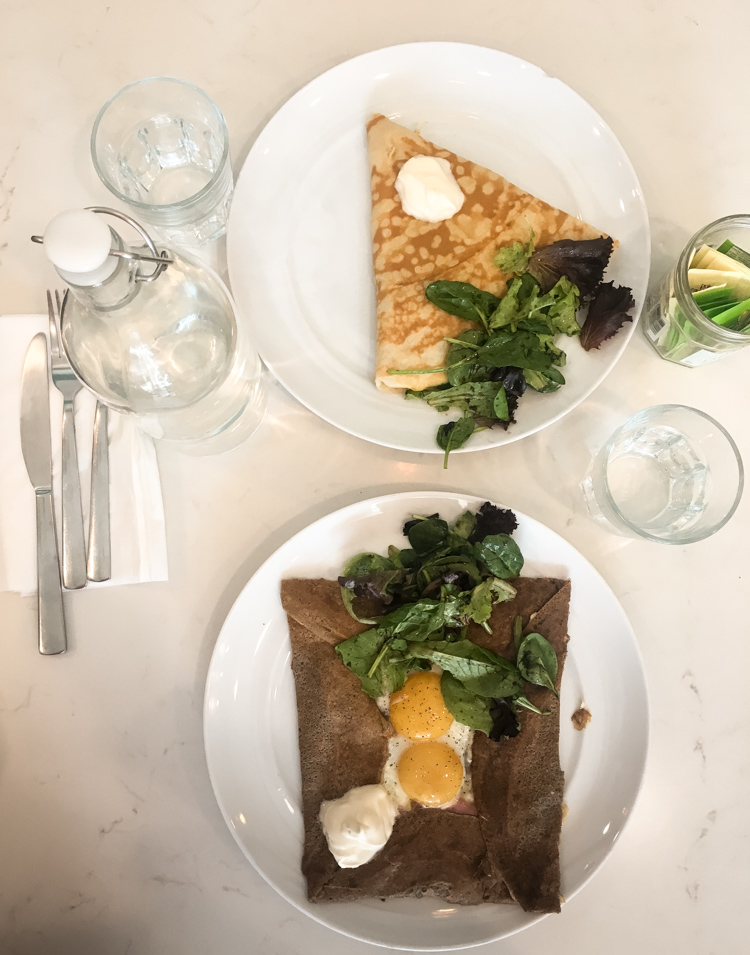 Top//Style Mafia (sold out, similar here and here)  Jeans//NYDJ  Handbag//Kate Spade (c/o)  Shoes//Stuart Weitzman  Watch//Skagen  Earrings//BaubleBar  Sunglasses//Asos (similar here)
If you're ever looking for a casual brunch spot with your girlfriends or just really craving crêpes then I suggest visiting Whisk Crepes Cafe down the street from Trinity Groves, which is another really cool restaurant scene. I have been to Paris many times and live quite close to France, and I have to say that these crêpes are done right. Thin, not crunchy, and a mixture of classic French options with Texas flair.
The restaurant is quaint with an industrial and eclectic feel. It is in no way a typical Dallas glamorous brunch spot where designer-clad women clink champagne glasses filled with mimosas. But, the food is delicious. To me, that is all that really matters. If the food isn't memorable then the place isn't memorable.
I ordered the ham, gruyere and sunny side up egg crêpe on buckwheat. Some of my favorite combinations on one dish. I highly considered the Spanish chorizo, eggs, and jalap-cilantro cream option for the southwestern flair that you often find in Texas food. Maybe, for the next time I go.
Now onto the outfit…
I'm sure you all know by now that I am someone who likes to feel put together with the most minimal amount of effort. I want to look like I spent a long time coming up with my look, but in reality that time was cut in half. I enjoy looking nice, and I am a big fashion lover (obviously), but who has time to carefully curate every look.
That is why I love this outfit.
By wearing simple pieces that do the talking, you can add that element of interest to take your outfit from basic to wow. This Kate Spade handbag is a great representation of that philosophy, and I usually like to build my looks around my bag.
Anyone can have a simple black top handle bag. Don't get me wrong, it is important to have the basics in your wardrobe. But, the poppy design on this Kate Spade handbag adds a fun statement to an otherwise simple bag, and whatever you pair with this will already look like you tried. I decided to add other elements of red throughout my look to keep the poppy print bag as the focal point.
I paired this Kate Spade handbag with a red and white stripped shirt by Style Mafia, which I think will be my new obsession in the Fall. The bell sleeves add drama to a basic tee, and my dark-wash denim keep the look streamlined with focus on the red accents.
For a more evening or date night appropriate look, all you have to do is switch the caesar sandals for your favorite pointed black patent leather heels like these Prada ones or this cheaper alternative from Sam Edelman.
To see the other posts in this food guide series click here.
What are your thoughts on this look? How would you have styled this look differently?
SHOP MY LOOK:
*Kate Spade kindly let me borrow the handbag for this post. No compensation was given from Kate Spade as a result of displaying their product or mentioning the brand. I personally picked out this handbag, and all opinions are always own. 
SaveSave
SaveSave
SaveSave
SaveSave
SaveSave
SaveSaveSaveSaveSaveSave
SaveSaveSaveSave
SaveSave
SaveSave
SaveSave
SaveSaveSaveSave
SaveSave
SaveSave
SaveSave
SaveSave