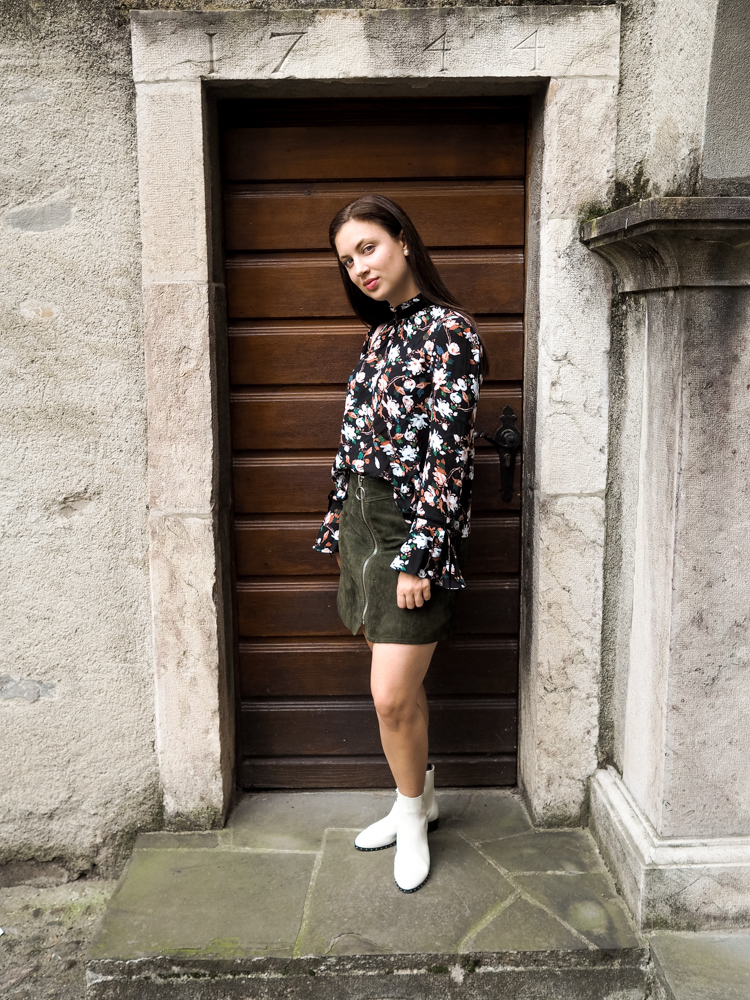 As we are officially into Fall now, I am sure you have heard a lot about the latest trends for this new season. If you are a fashion addict like myself then I bet you closely watched the runways of NYF, LFW, MFW, and PFW to mentally take notes of how you could recreate these trends in everyday life. As much as I wish life was a runway, you have to find ways to take these high fashion trend pieces and translate that into real life and your own personal style.
If you are feeling overwhelmed with all of the trends or just want a quick list of what is on trend right now, check out a previous blog post where I went over 10 key trends for this Fall and Winter season.
In this particular post, I am rocking two trends of the season that I think go together seamlessly: winter florals and white booties.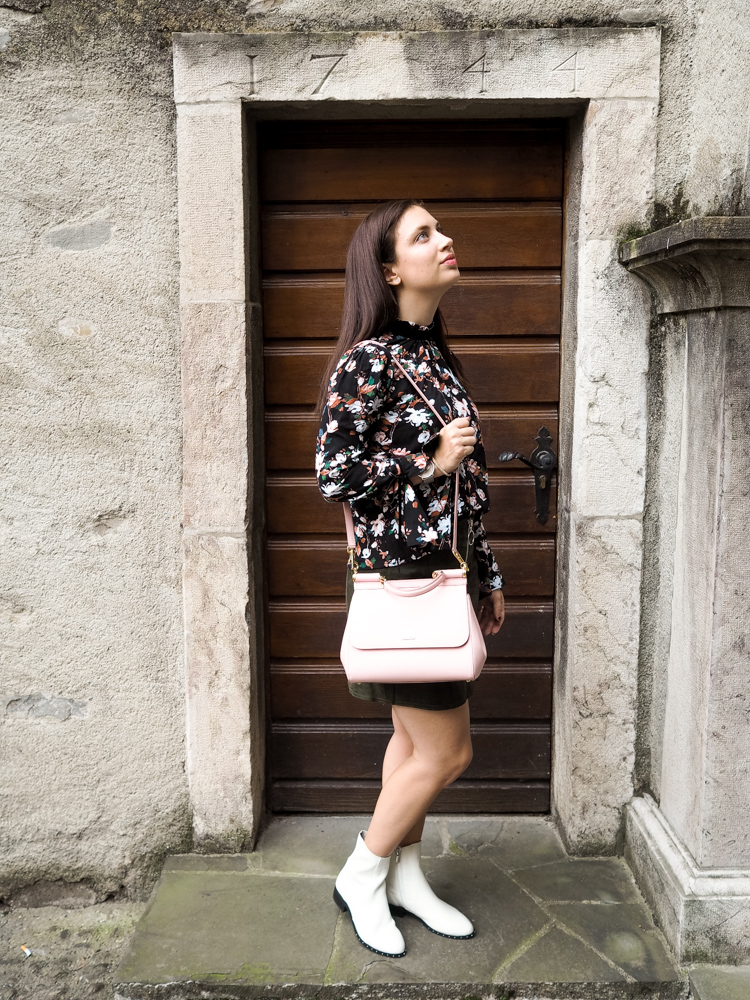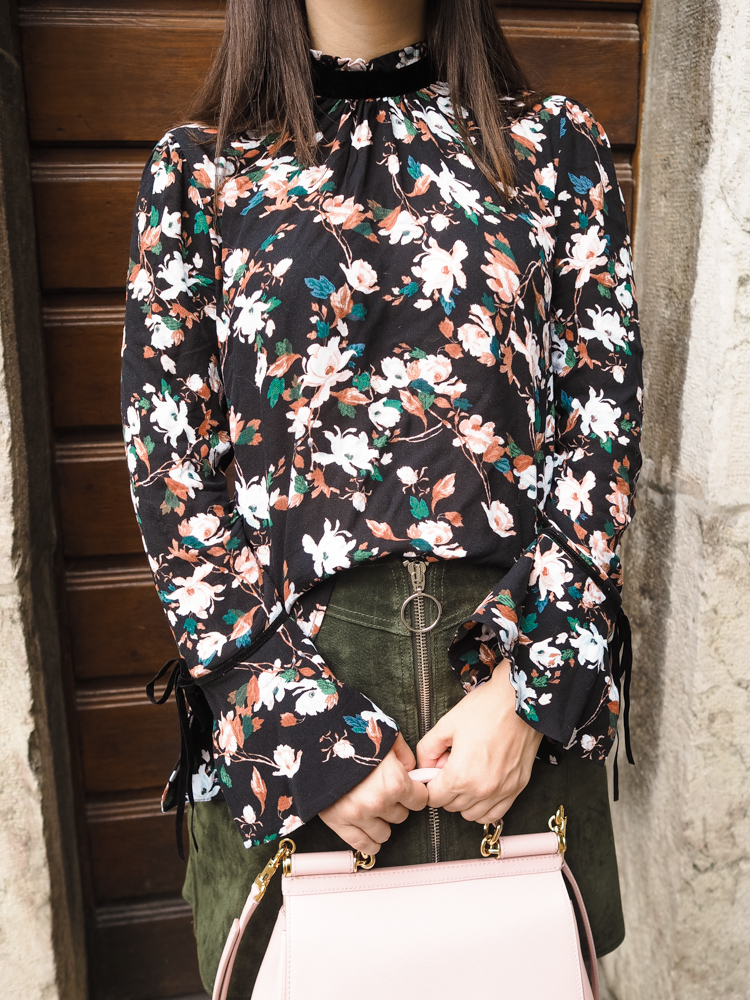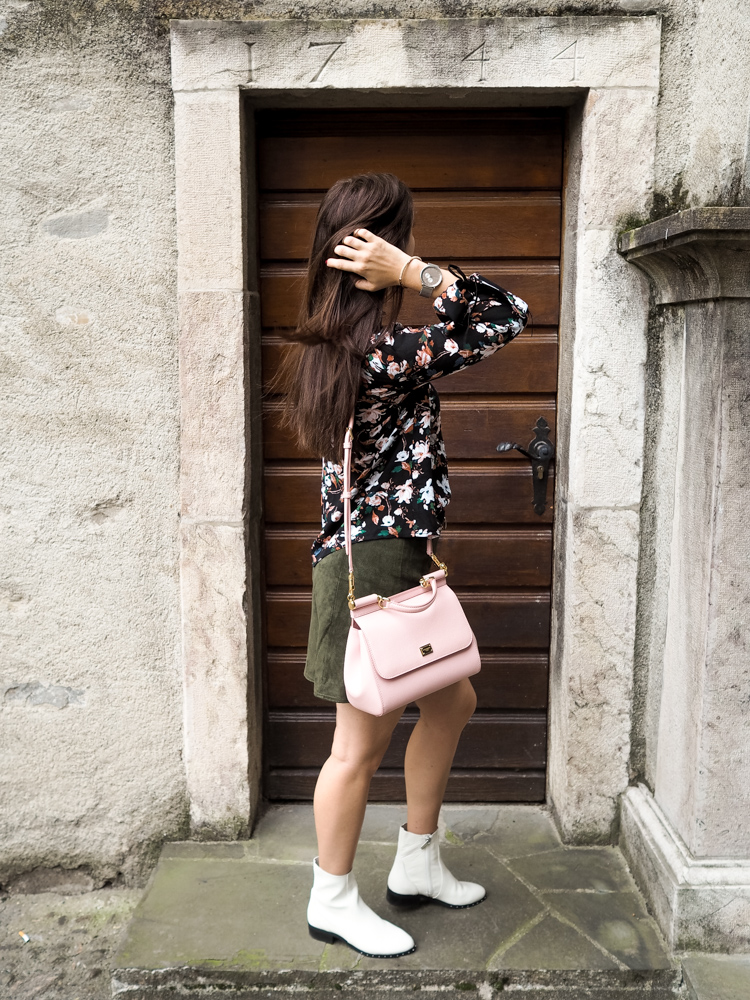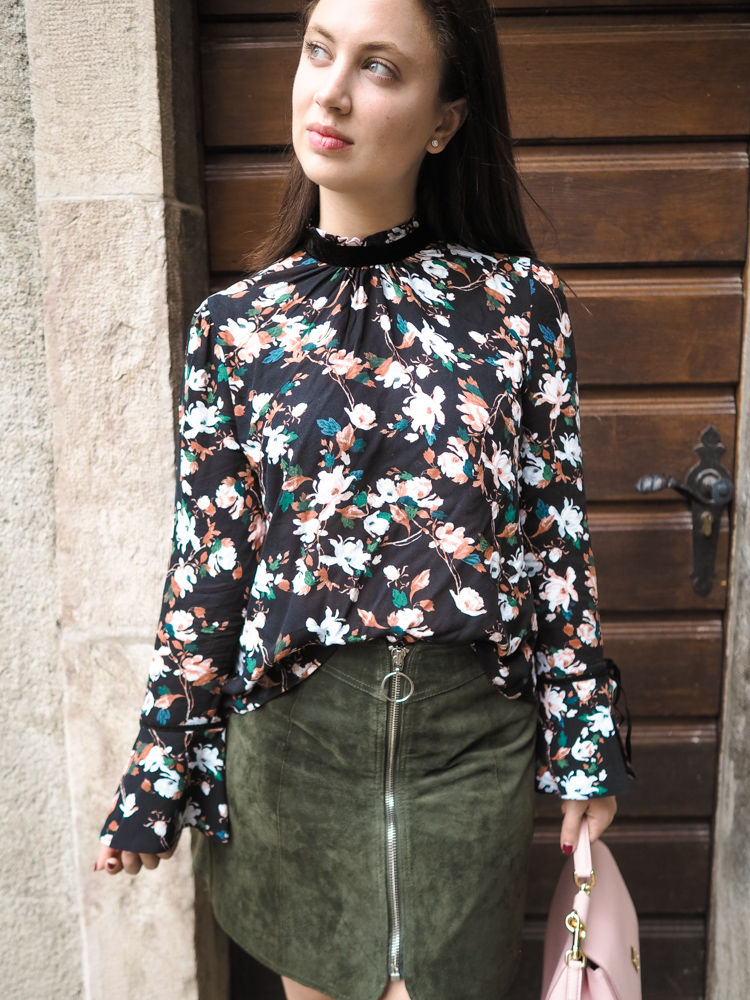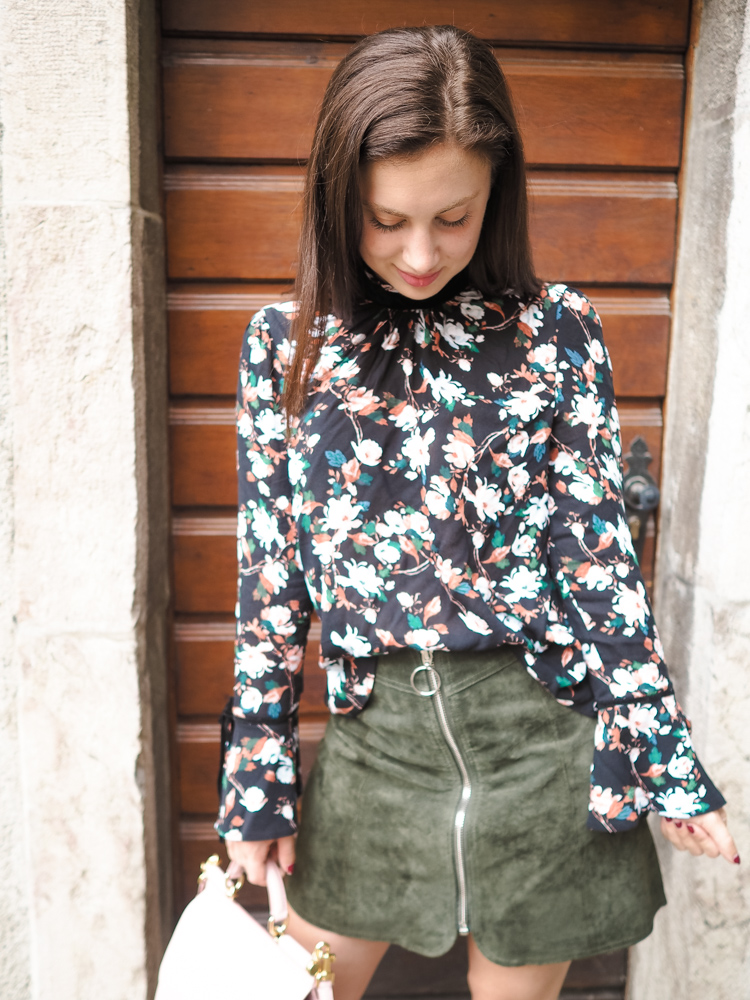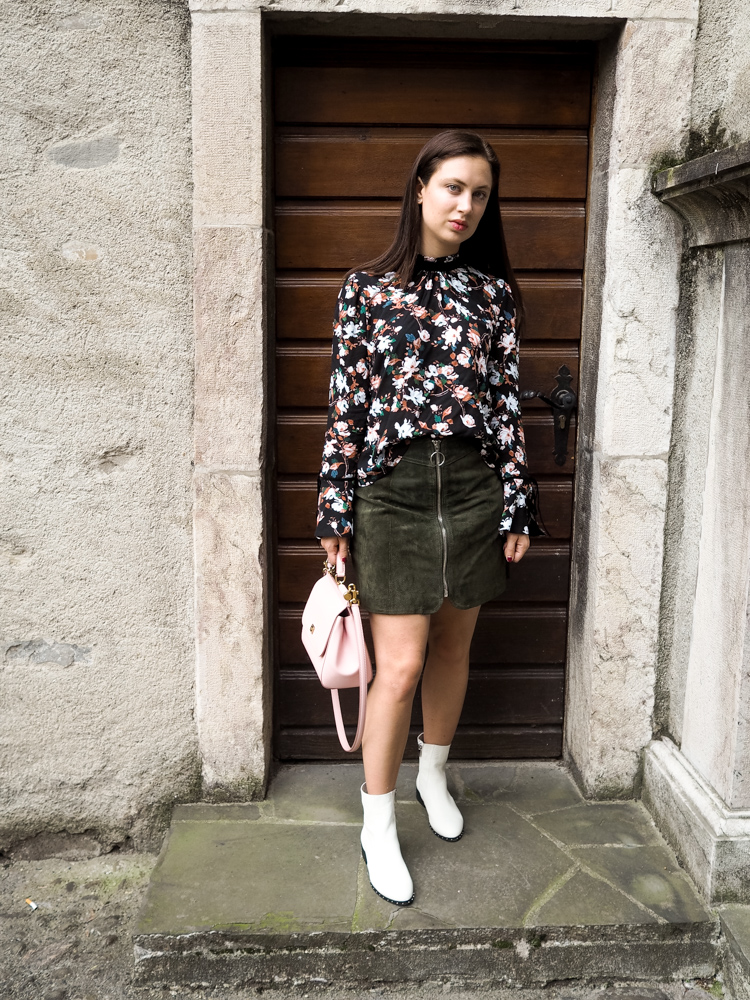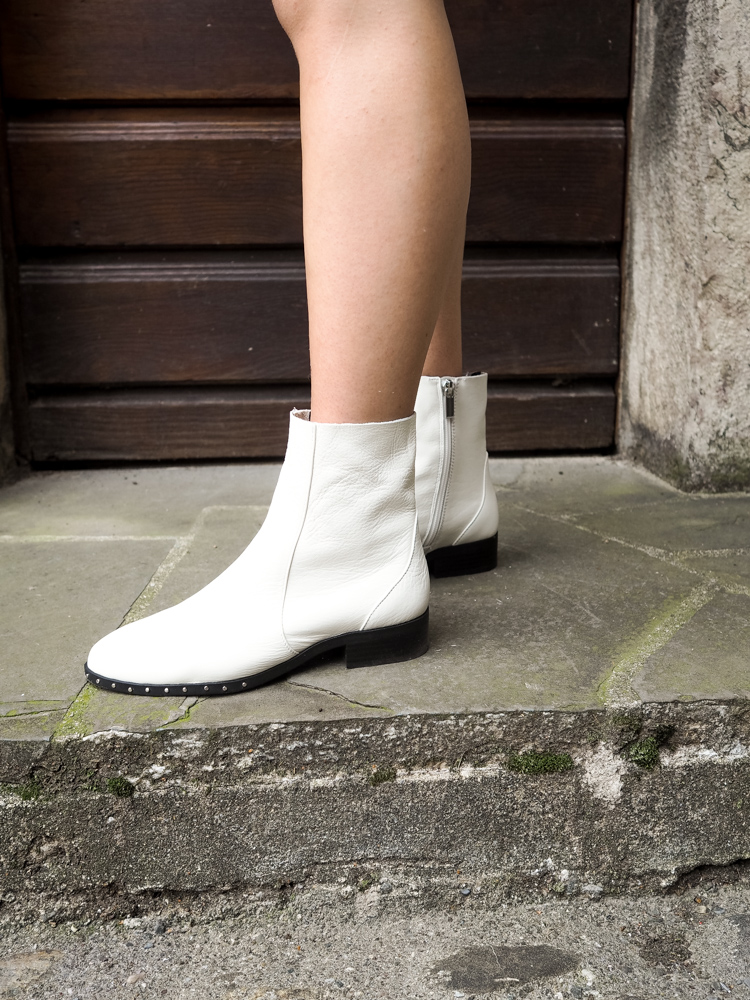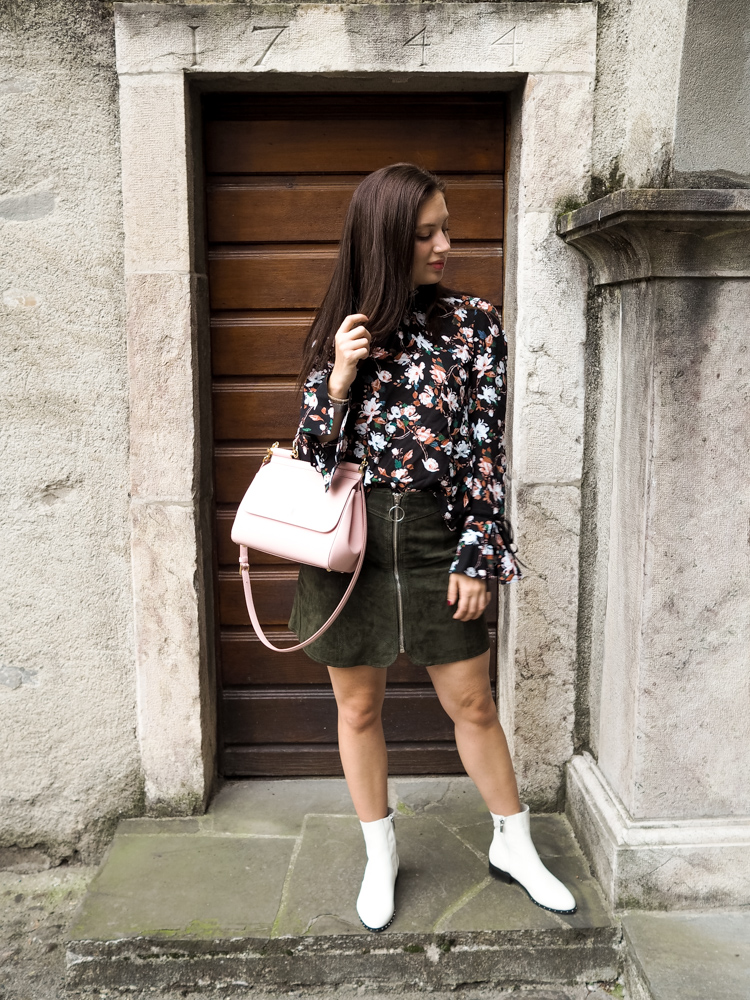 Top//BP  Skirt//Zara (last season, similar here and here)  Booties//Topshop  Handbag//Dolce & Gabbana  Earrings//Nordstrom
Whenever I hear the words floral print, I heard Miranda Priestly saying "Florals? For Spring? Groundbreaking." Please tell me you know what movie that line is from. However, you know what is groundbreaking – continuing this typically warm weather print into the colder months.  It is refreshing and gives a nod to those 70's vibes that we tend to gravitate towards in Fall.
How can I make my florals winter appropriate?
Choose a pattern with a dark background (like this top from BP) or go for a print with rich jewel tones that you would most likely shy away from in the Spring. The high neck and velvet detailing keep this print strictly cold weather appropriate. Also can we talk about these sleeves though?
Dramatic and belle sleeves are a major trend for this season, and one of my favorites. You will see this on anything from sweatshirts to blouses to dresses. If you are looking for one trend that is very wearable but still makes an impact, I would go for the dramatic sleeves. You can choose to go as ruffled as you like or for a delicate belle sleeve like the top I am wearing. There are so many options out there, even for the trend shy.
I paired my winter floral blouse with a green cowhide skirt I purchased from Zara last Fall. Earth tones will always be on trend for Fall and Winter so I can see myself continuing to wear this for many seasons to come. It adds those Fall vibes to any look, and is easily dressed up or down – which is essential to anything in my wardrobe.
 As I always say, I love to make getting dressed as simple as possible. 
To top off this look, I wore my brand new (as in literally just came in the mail right before my shoot) white Topshop booties. I love the freshness that a white bootie adds to a darker and textured look, however, I didn't want to break the bank on this trend as I don't see myself wearing this long term. These white booties are very comfortable, and I love the small detailing of these studs at the front of the shoe. Every detail counts, right? The height of the boot is perfect to feel chic and on trend without feeling like a go-go dancer. My boyfriend did tell me that these booties remind him of shoes from Mad Men…thanks!
Would you ever consider wearing white booties?
SHOP MY LOOK:
SaveSave
SaveSave
SaveSave
SaveSave
SaveSave
SaveSave
SaveSave
SaveSave
SaveSave
SaveSave