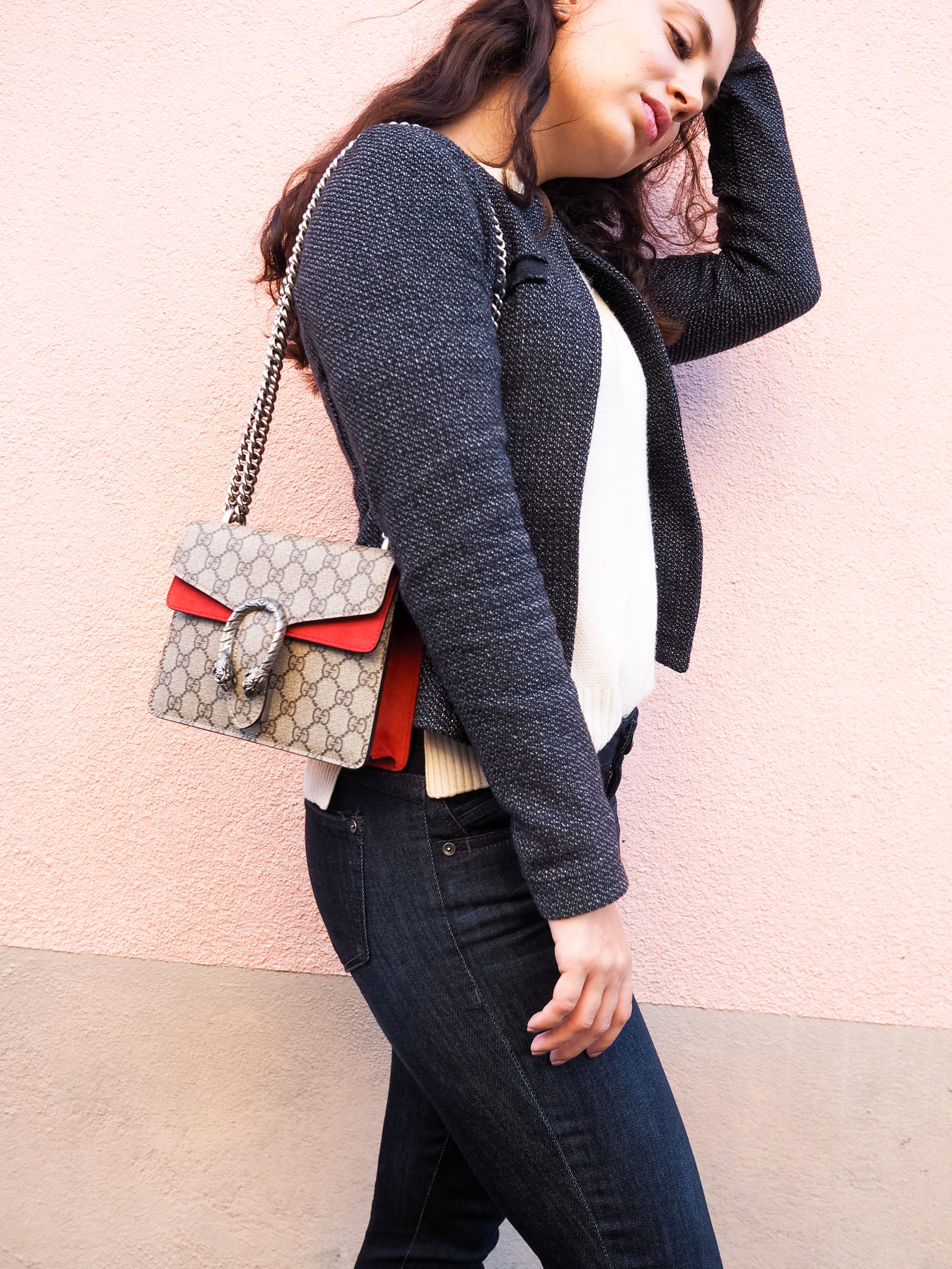 You could low key call me a handbag addict. If there was one item in my wardrobe that I could spend all of my money on that would be a handbag. A handbag is an everyday essential for most, and if chosen correctly can be worn for many years to come.
To me, it is that perfect accessory to take a simple outfit and make it fashion forward, and can easily make your high street outfit look luxe. In this post I want to introduce you to the newest handbag in my collection and my new go-to bag – my Gucci Dionysus mini.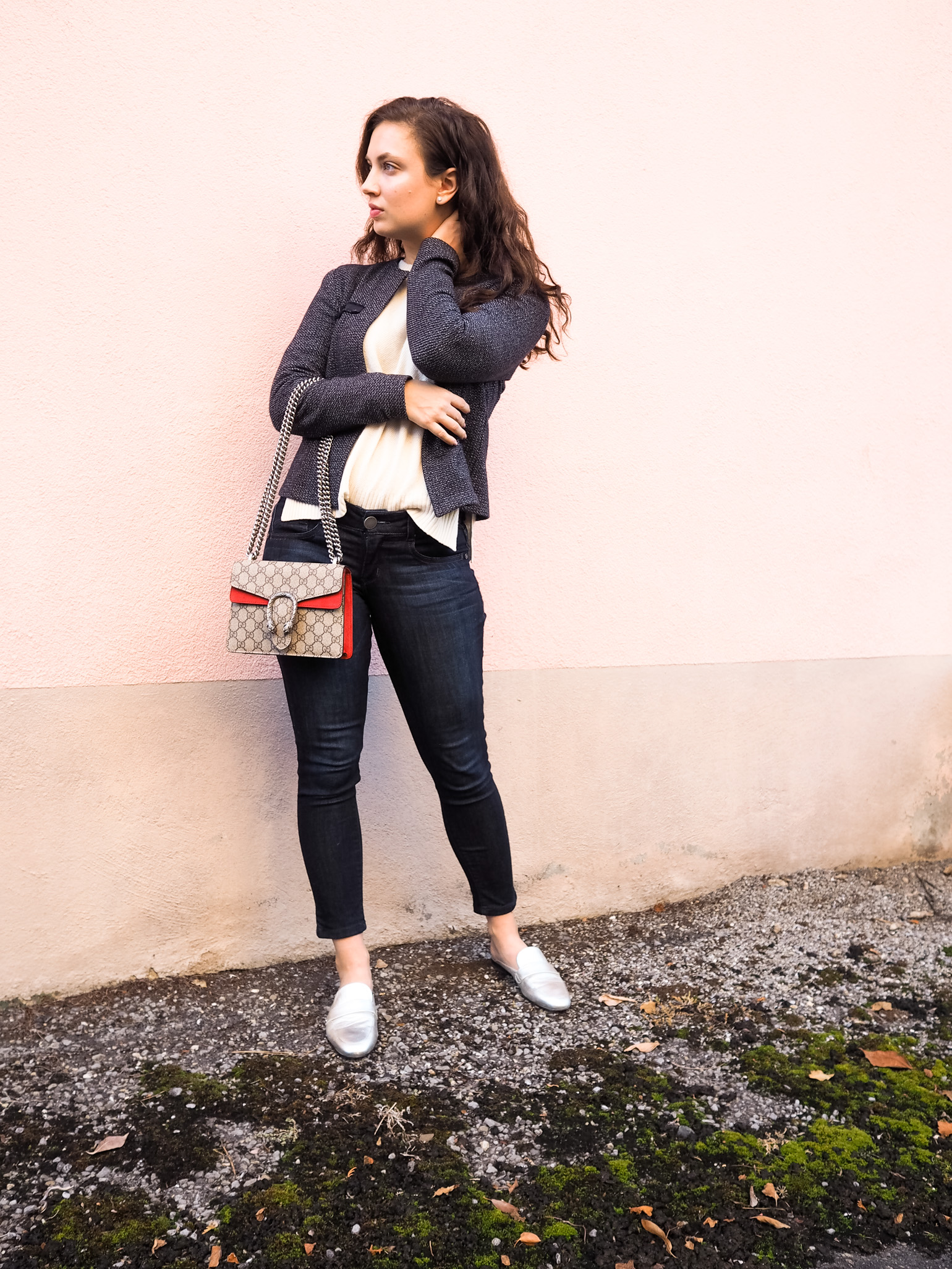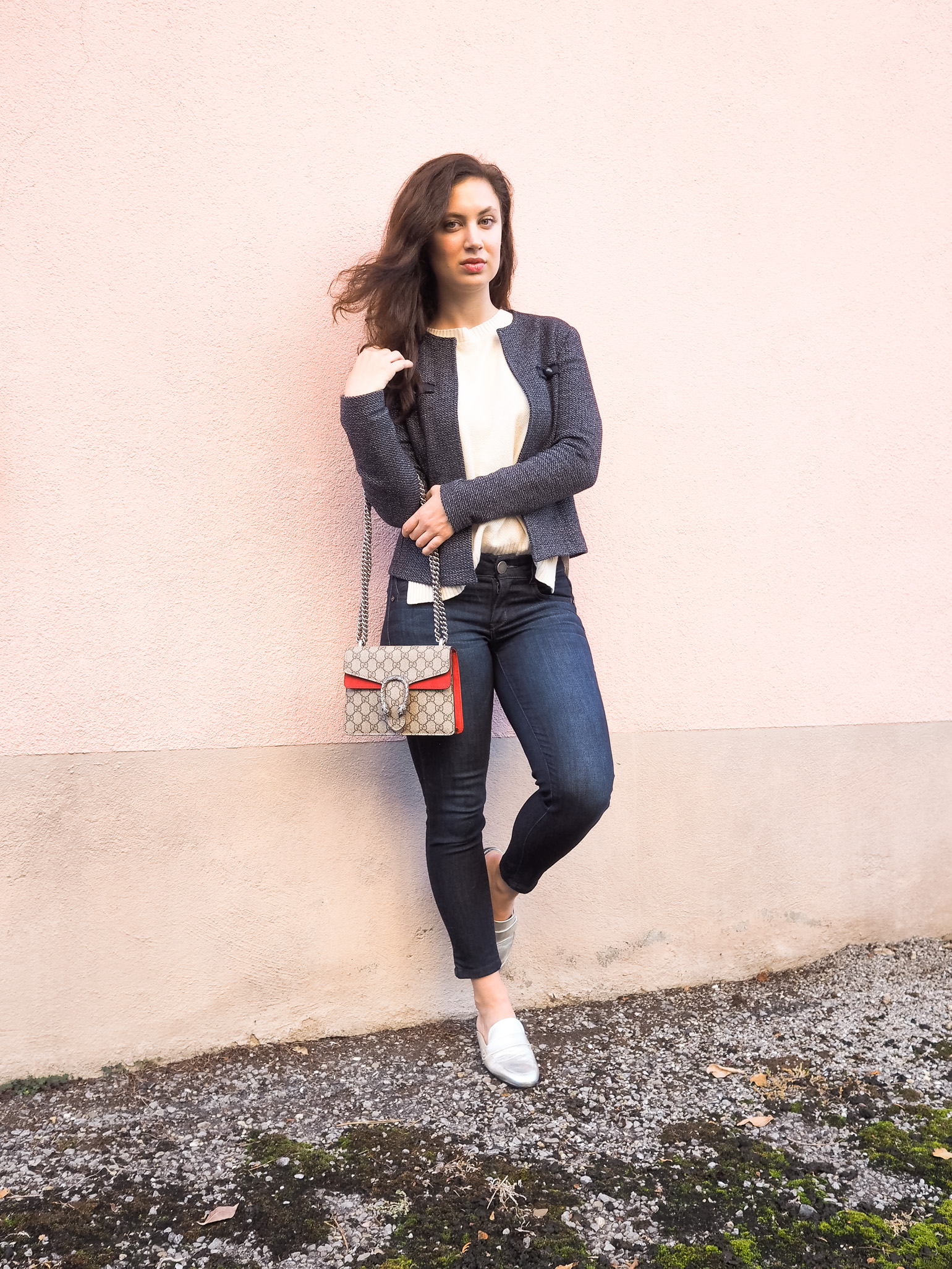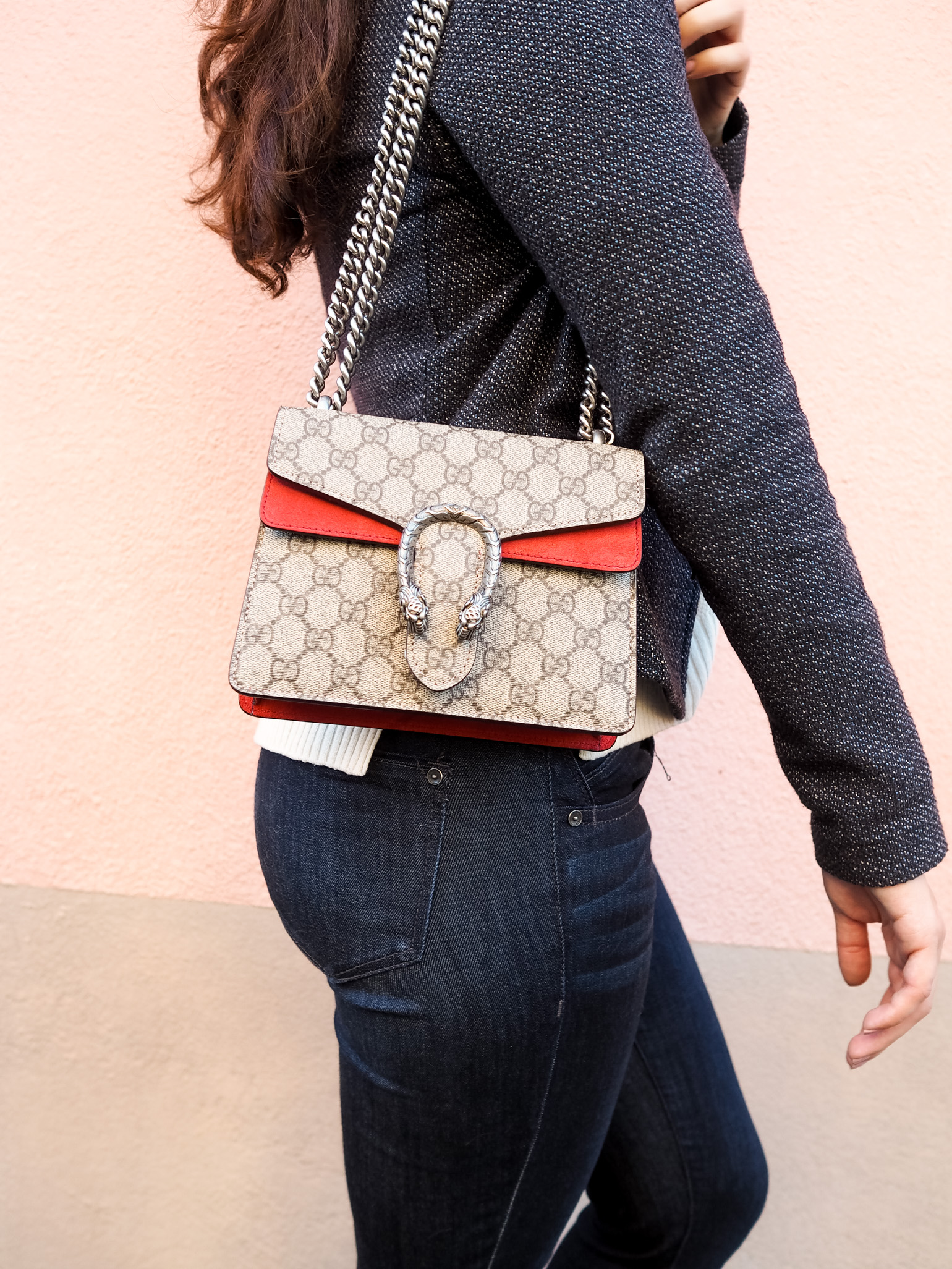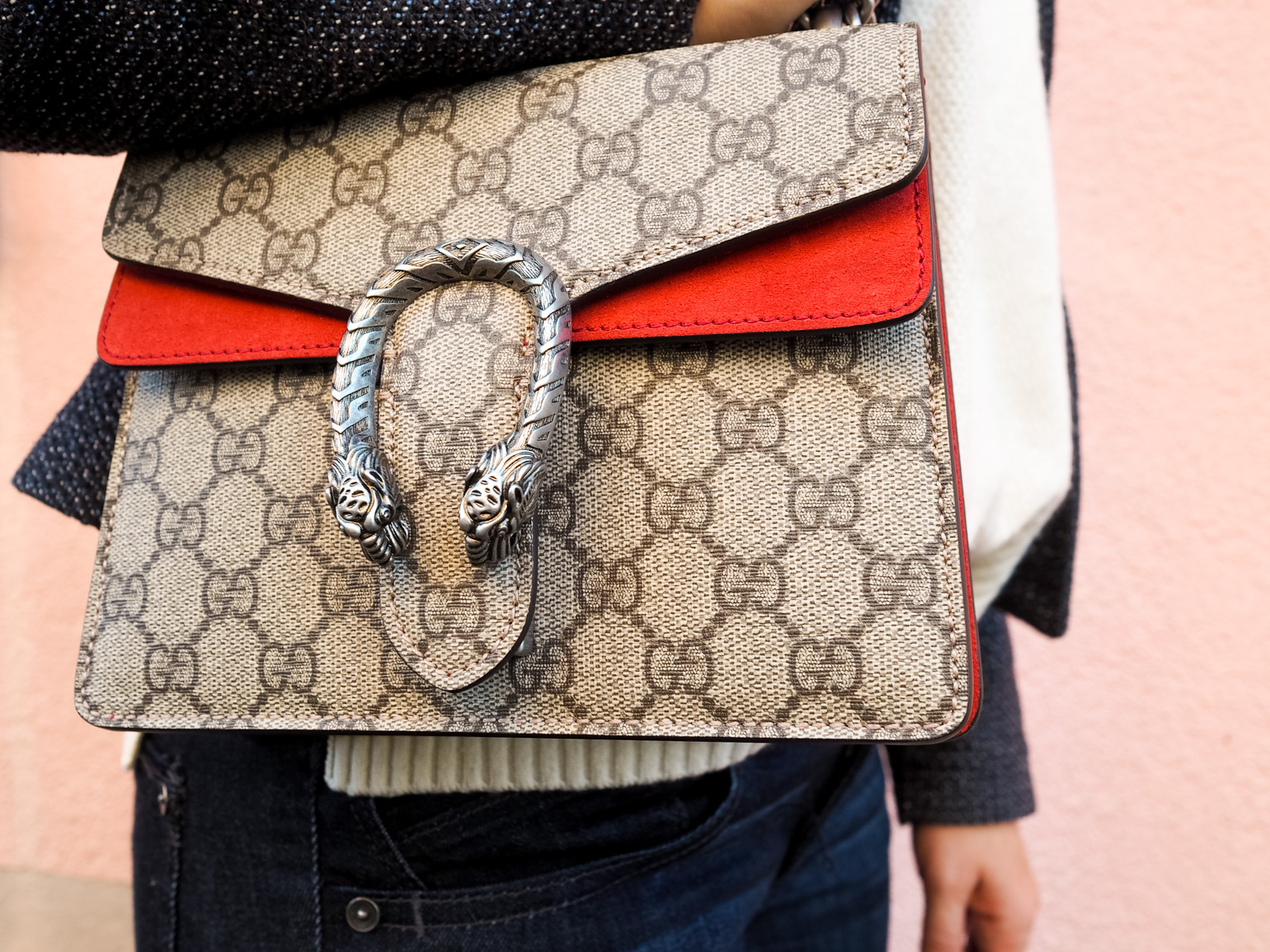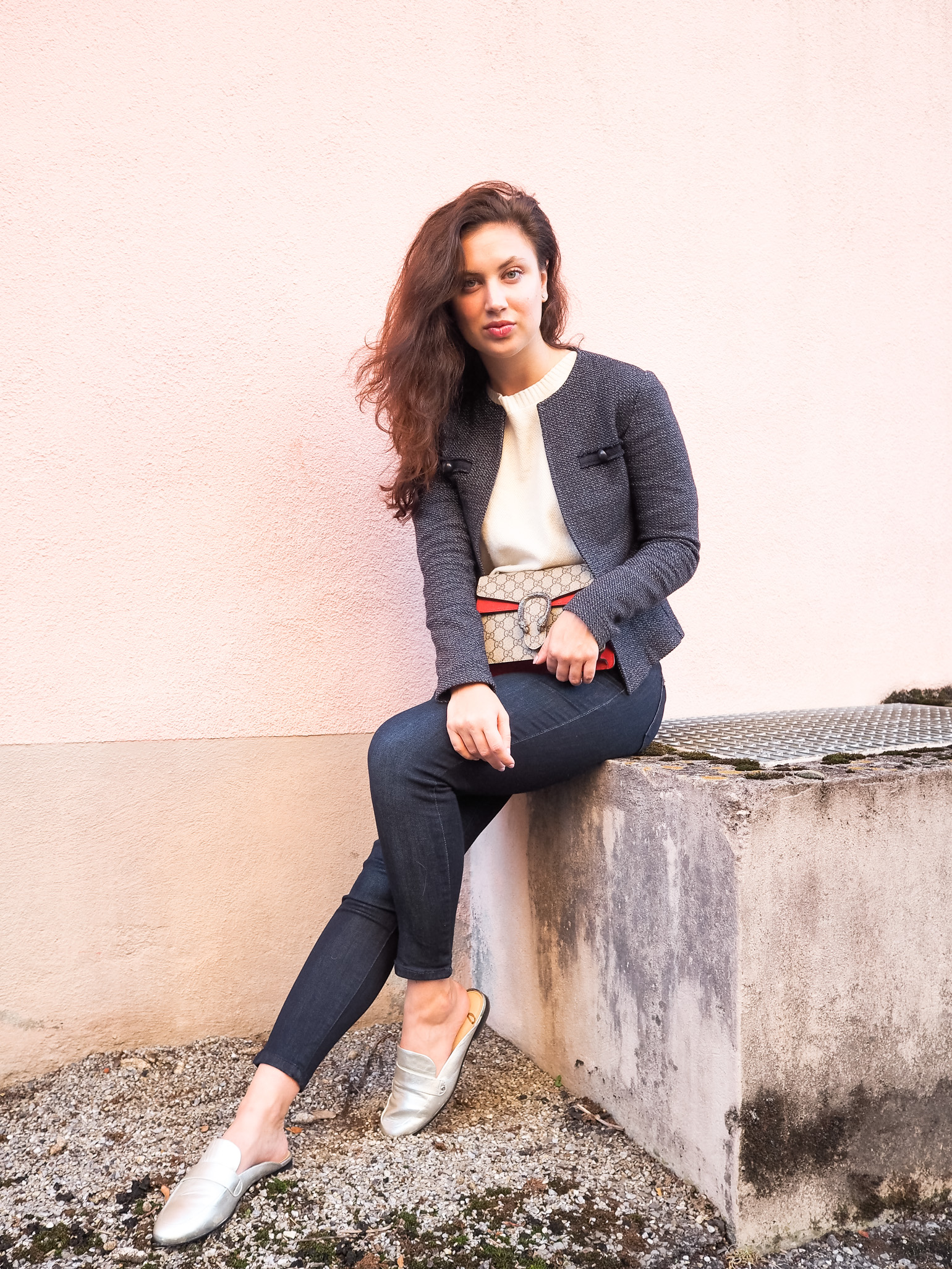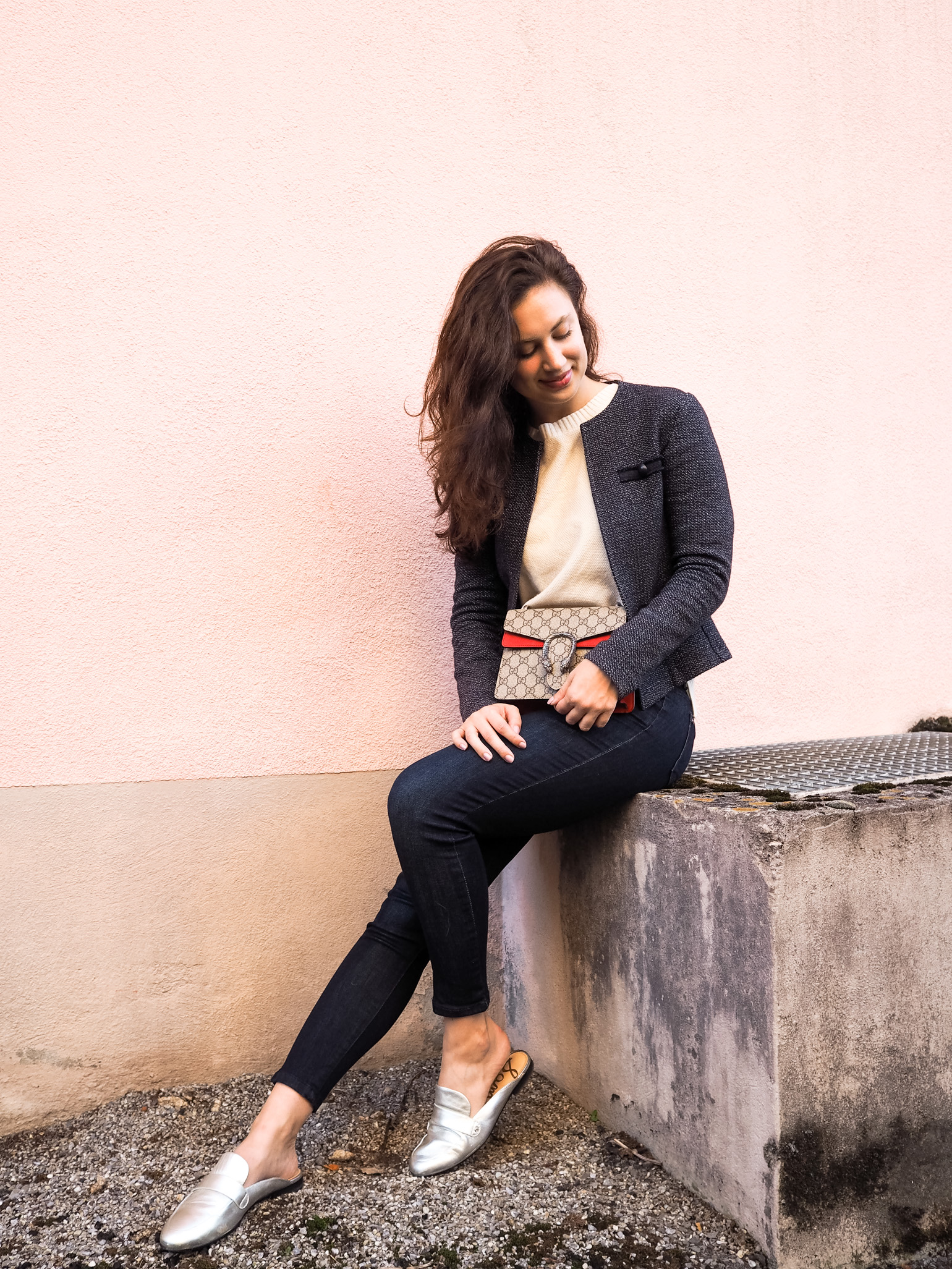 Sweater//Frame (similar here)  Jacket//Camaïeu (similar here and here)  Jeans//Wit & Wisdom  Shoes//Sam Edelman  Handbag//Gucci  Watch//Skagen
Now before you say really, another handbag? Isn't that so materialistic. Well you're right, it is! We are all collectors in a way. Some collect stamps, some collect vintage concert tees, and some collect seashells.
What do I collect?
I collect luxury handbags. Not only does a handbag happen to be incredibly useful – I am all about my items having a purpose. But it is in essence wearable art, especially when you have an immense appreciation for the history and quality craftsmanship of these brands. That's how I like to think about it!
As a child, I knew I wasn't like the other girls my age who "liked" fashion or wanted to wear pretty clothes. You could definitely find me twirling around in my dress, draped in jewelry too big for my age and singing the theme song to Pochaontas (trust me, there is video footage of this). However, I always had this keen interest to learn more about these high fashion brands I saw in magazines – their previous collections, their inspirations, and what was on trend. I would and still get this feeling that I can't quite put into words when I'm surrounded by these beautiful things or find a collection that really speaks to me.
Can that be my form of mediation? I guess you could say that I've always loved being around fashion. 
Why did I choose the Gucci Dionysus Mini?
In a previous post, I talked about how I was looking for a new handbag to wear this Fall and Winter season. I wanted there to be elements of what is on trend, but I also didn't want it to be too trendy. When I spend that type of money on a handbag, I want to make sure that I will still like it next year and that I am not only restricted to wearing it when the temperatures drop. That immediately crossed off all of the beautiful velvet and fully suede bags on my wishlist (like the Chloe Pixie or the Gucci Marmont in velvet).
When the Gucci Dionysus was first released in the Fall of 2015, I loved it! Honestly though, I thought it was going to be a trend bag and I was wrong. This handbag has stayed a staple in the wardrobes of your favorite fashion bloggers and Instagrammers alike.
I always like my bags to have a twist or something a bit different to make it stand out. I decided to opt for the red suede as a pop of color and it is also the color of the season. The Gucci Dionysus mini was the perfect size for me as I have become skilled at pairing down the contents of my handbag, and I am also petite (height challenged). After seeing a fellow petite lady and handbag queen, Mel Soldera, rave about this bag…I knew I needed it in my collection too.
In a few months, I will do an in-depth handbag review to let you know my thoughts and how this handbag works for my lifestyle.
What are your thoughts on the Gucci Dionysus?
SHOP MY LOOK
SaveSave