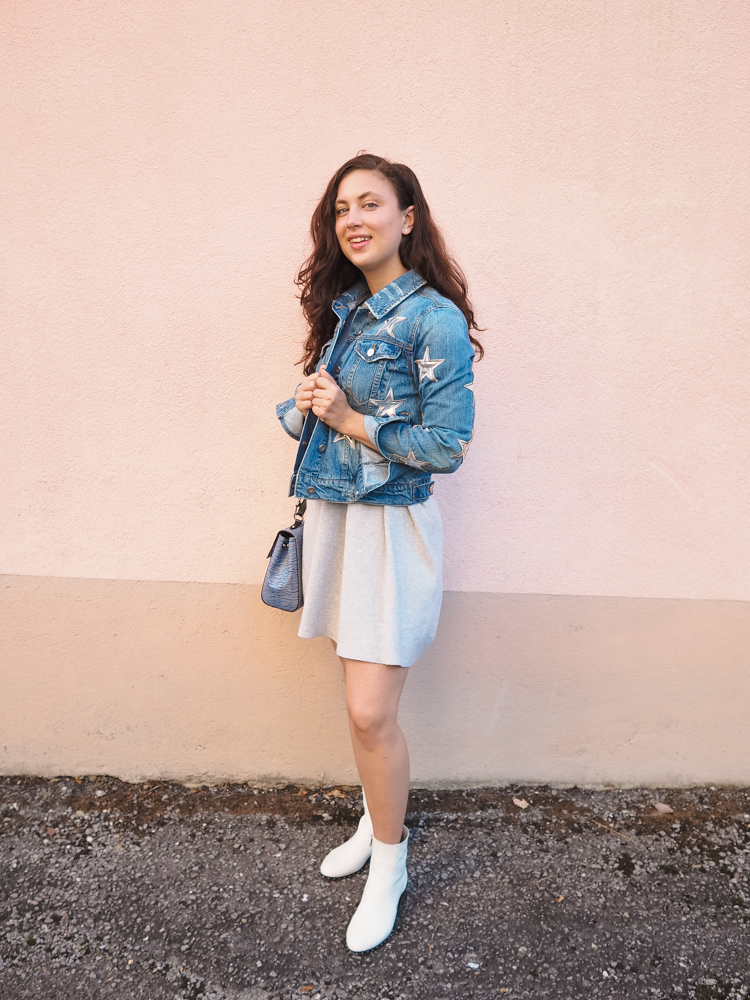 I knew I wanted to implement the star print trend that I was seeing everywhere into my everyday wardrobe, but I didn't know where to start. Would I look juvenile? Would I look out of place wearing this star printed motif outside of the 4th of July?
When I saw this denim jacket I knew I had to have it and already envisioned numerous ways to style it, which is always a good sign before buying something. I just didn't realize how versatile this denim jacket was. If you were around me in everyday life then I bet you would be tired of seeing me wear this star printed piece. But I can't because it is just that good.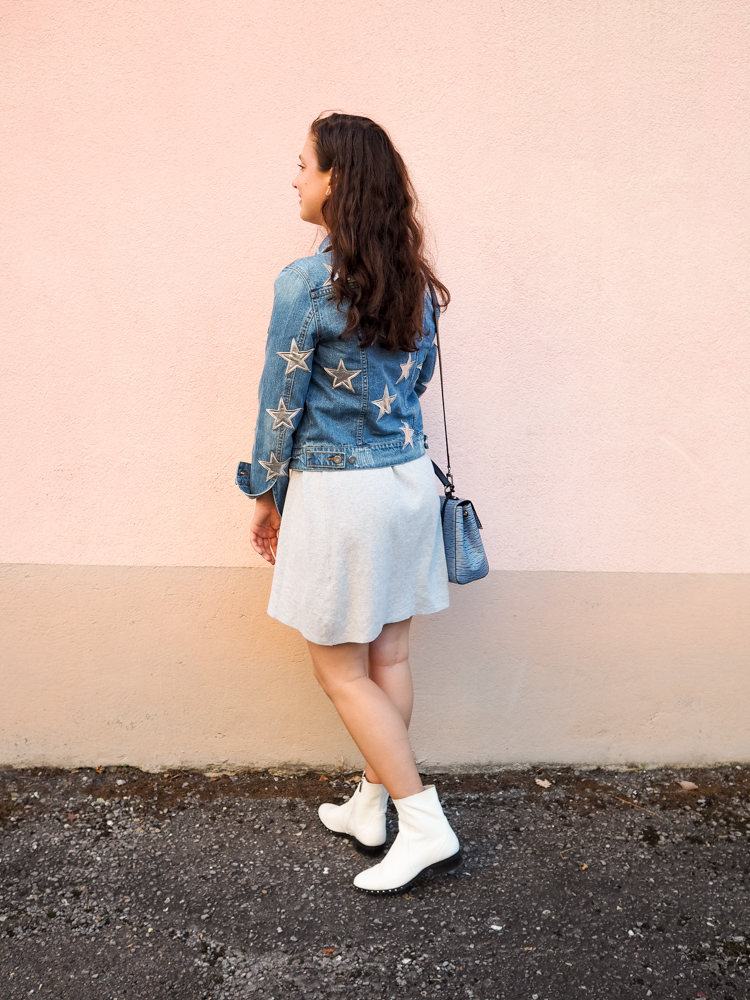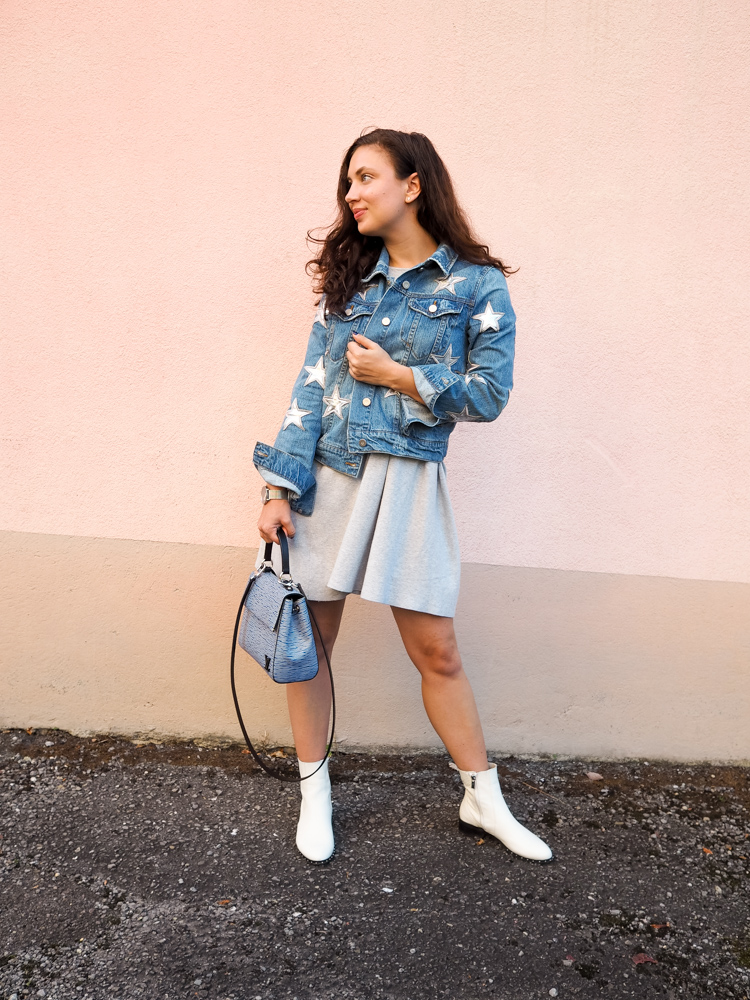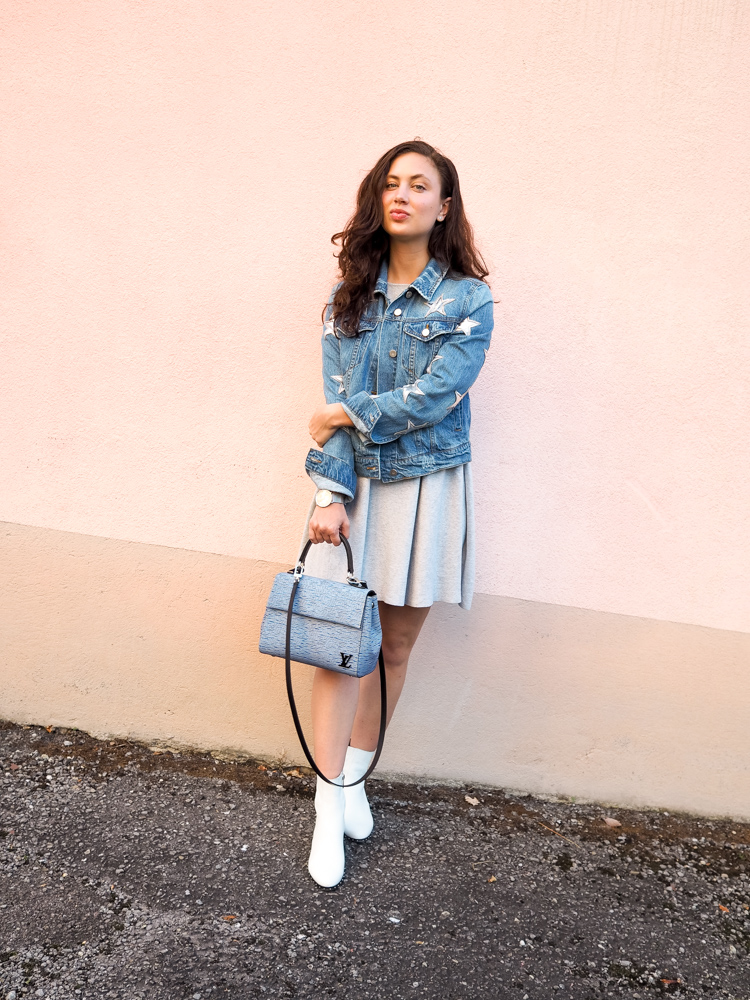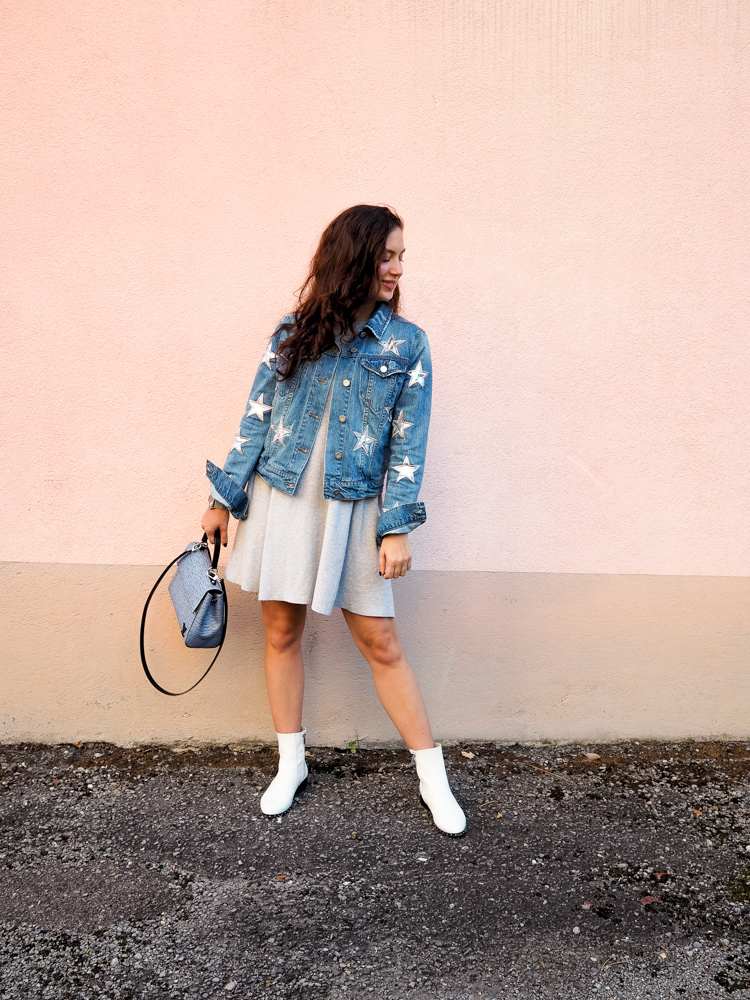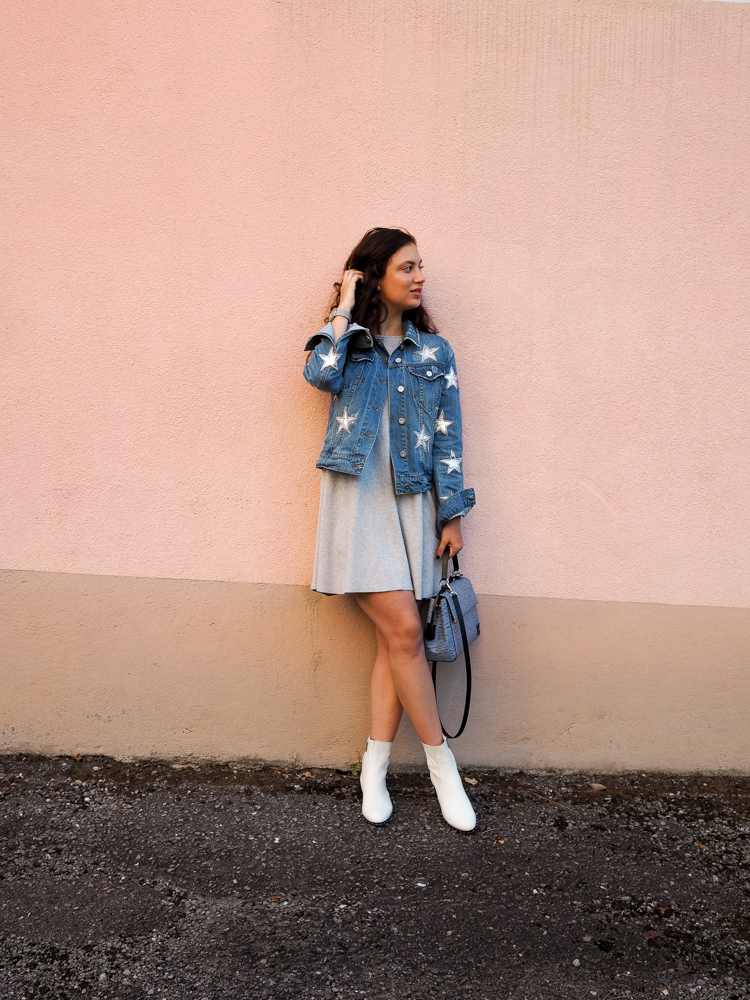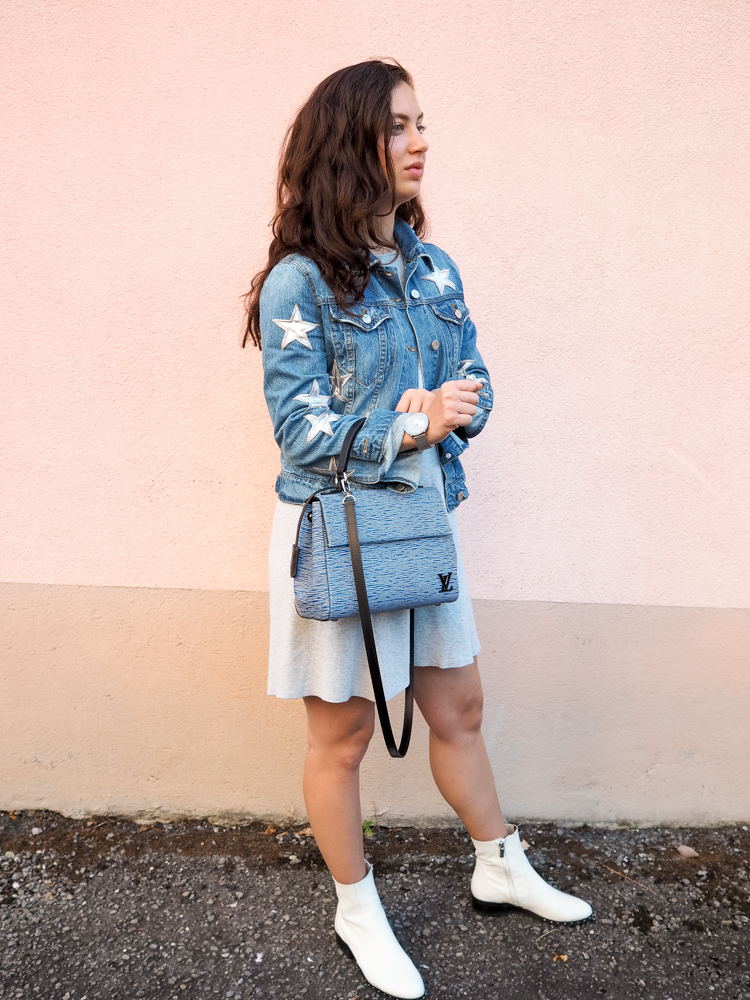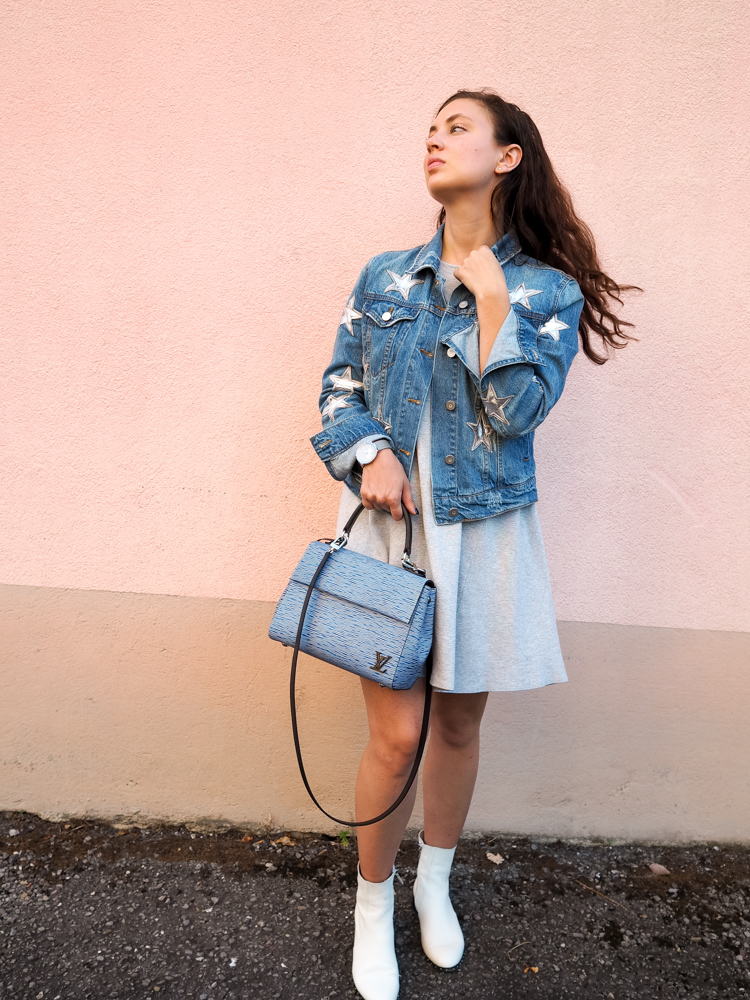 Jacket//Bagatelle  Dress//Zara (bought last season, similar here and here)  Handbag//Louis Vuitton  Boots//Topshop  Watch//Skagen
Who knew such a loud star printed jacket could be worn in so many ways. What makes this jacket so easy to style is that it is a twist on a classic item every woman should have in her wardrobe – the trusty denim jacket that never fails you. When I step outside of my comfort zone or want to implement a trend that I know won't last too long, I stick to classic pieces that have elements of this new trend. It's a nice way to dip your toe in the trend while you figure out if it works for you or you can style it with items you already own.
Just because it is a current trend doesn't mean that you have to wear it. 
That is the amazing thing about figuring out your own personal style, which I think comes with age. You have a greater sense of what looks good on your body, and what trends are worth your while. My favorite way to wear this star printed denim jacket is denim on denim for a casual but cool vibe. I even often wear this denim jacket with my star printed sneaker espadrilles (self-explanatory, right?).
For a more evening appropriate look, you could pair this denim jacket with leather leggings, a white sheer blouse, and high-heeled black booties – preferably pointy toe. For a pop of color you could add a little red handbag.
For this look, I paired my star printed denim jacket with my favorite transitional weather dress. I bought this dress at Zara in April, and it was perfect when transitioning into the warmer Spring weather. You can see how I styled this dress in another way in a previous post.
There was no way I couldn't pair this look without my white booties of the moment. I've already gotten so much wear out of these shoes that they have paid for themselves 100 times over. They add a freshness and pop to the look, while keeping the outfit neutral to keep the focus on the statement piece – the denim jacket.
I've worn these booties on the blog several times, and I will definitely continue to wear them. My blog is all about how I, an everyday girl who loves fashion, styles looks in real life with items I actually own. When you love something you wear over and over again. Hopefully that shows you that when I recommend something it must mean I really like it, right?
Are you loving this star print trend too?
SHOP MY LOOK:
SaveSave
SaveSave
SaveSave
SaveSave
SaveSave
SaveSave
SaveSave
SaveSave
SaveSave
SaveSave
SaveSave
SaveSave
SaveSave
SaveSave
SaveSaveSaveSaveSaveSave