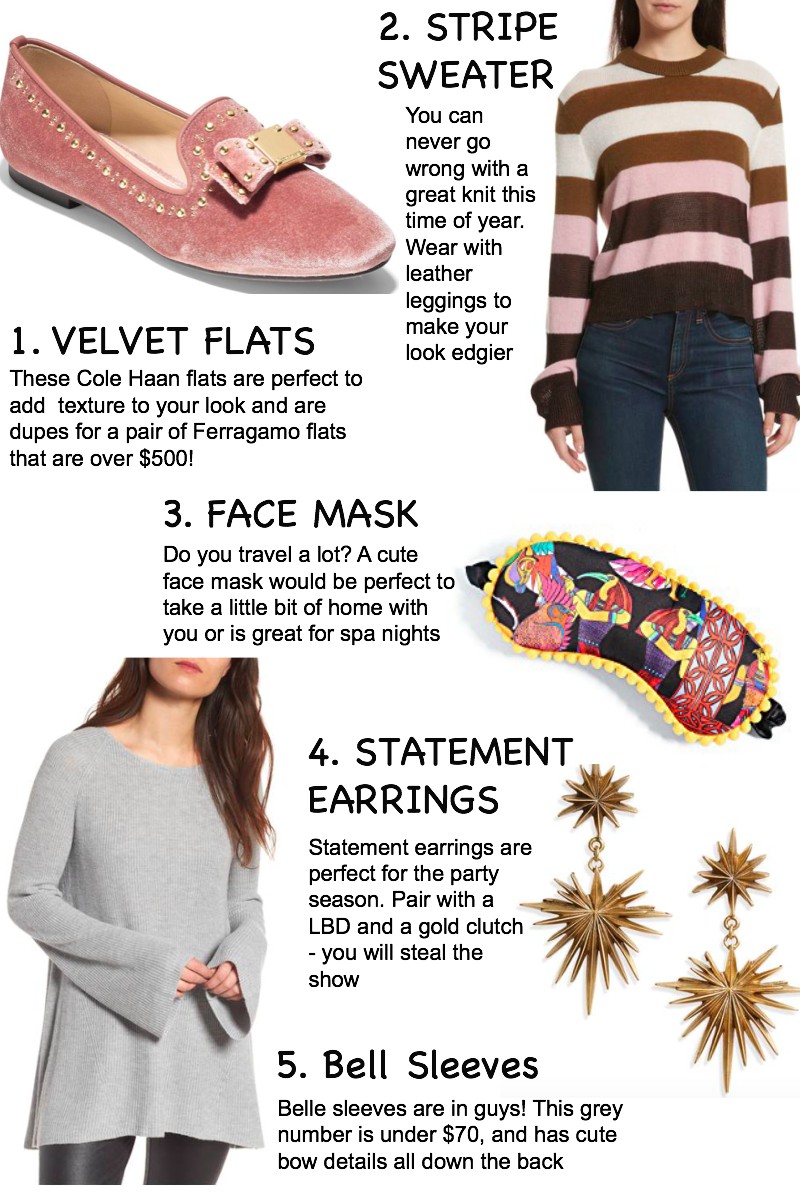 SHOP THESE NEW ITEMS:
The online shopping market can be good and bad for the at-home shopper. It's great because you can shop from the comfort of your home or anywhere really, and can quickly price match amongst different retailers. However, it can be hard to find what you really need and can be overwhelming because there is just so much out there!
Leave it to me, an avid shopper who considers one her past times browsing through the many pages of online retailers on a daily basis. I've gathered 5 new arrivals to help you narrow down the online noise. You can shop these items directly from my post or use this as inspiration for future shopping trips.
If you're anything like me then you have a long running list of items you would like to add to your wardrobe in your head. Hopefully, this post can help you!
My favorite item that I found (and will have to try on when I am back in Dallas) is the Cole Haan pink velvet flats that are close dupes for this pair of Ferragamo flats for under $200! I loved the look of the Ferragamo flats – they're in my favorite color, easily add texture to any look, and are quick to make you look put together. However, I wasn't about that almost $600 price tag for something that I don't see as a staple.
Here are a few other notable mentions that didn't make it in the post, but I still wanted to share with you:
Rebecca Minkoff Ankle Strap Pumps – white shoes are really on trend at the moment, and add the perfect pop of freshness to your look. I was nervous about the white shoe trend so I opted for a cheaper alternative of Topshop booties, and I can't stop wearing them. It's kind of embarrassing how much I wear them. You can see me introduce my white booties in a previous post here.
Colorful Marble Phone Case – Our phones have become our accessories now, and are often not put away in our handbags so why not have a fashionable phone case. I love that this phone case is different to the typical marble cases we have seen. It's colorful, but still understated enough to work if you aren't one for crazy colors.
V-neck Red Lace Blouse – As I am sure you have heard a hundred times before, red is the color of the season. It is the power color that you want to rock, but is also a holiday color staple. This red lace blouse would be perfect for any holiday parties that you have coming up. Wear with jeans and glitter boots for a fun but casual look or pair with some black flared trousers and strappy heels to dress up the look.
I would love to do more of these what's new in stores post for you! Which item is your favorite in this post?
SHOP THIS POST
SaveSave