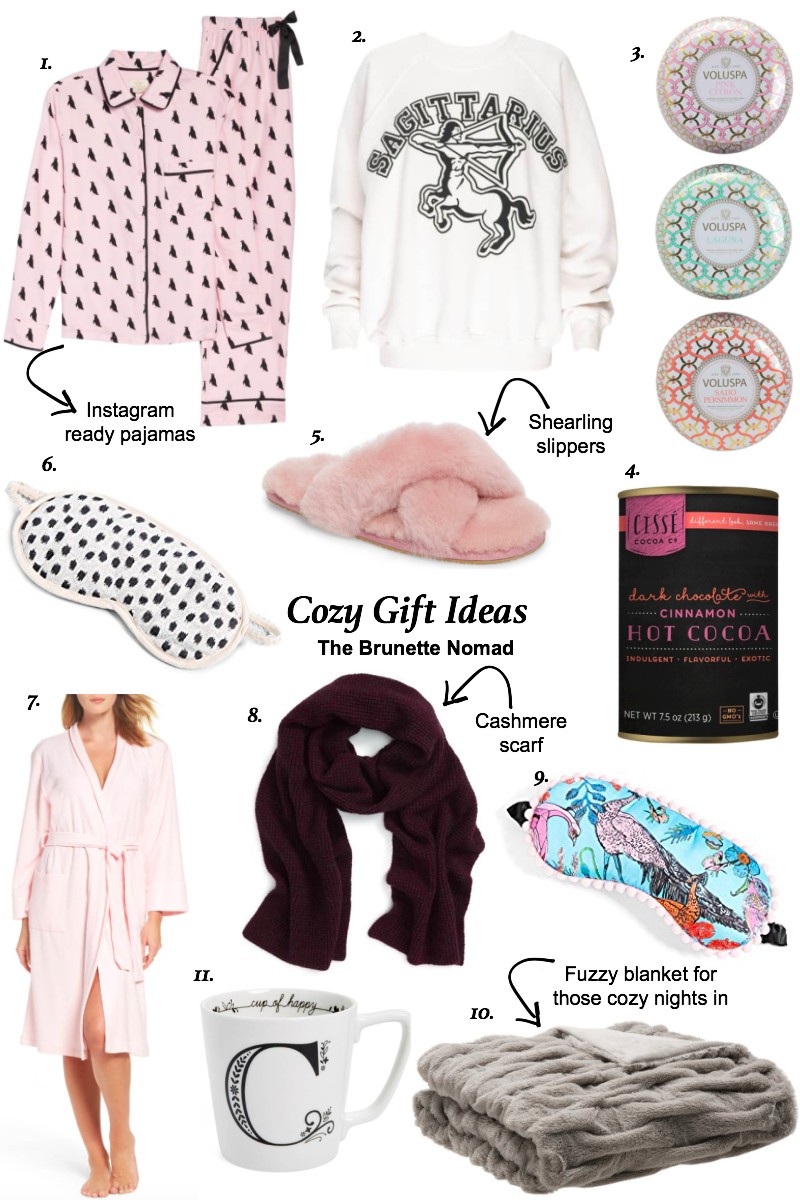 SHOP THESE COZY GIFT IDEAS: 
The gift guides just keep on coming! Now that we are almost into December, Christmas feels right around the corner, and it is the perfect time to begin your gift shopping (if you haven't already).
To see my previous gift guides and for all gift idea inspiration click here. I have 3 other gift guides covering all price points and different types of interests from beauty to fashion to hostess.
Today is my cozy gift guide for that homebody we all love. These cozy gift ideas are perfect for those who love to snuggle up on cold winter nights and watch a movie or for any fellow bloggers who work from home. We live in our lounge clothes, but that's a secret.
There is nothing better than coming home and changing straight into your cozy pajamas. I am 100% guilty of this and that is why I love #1 and #5 – not only are you super cozy, but you still look Instagram ready and cute.
One thing you may not know about me is that I am what you call a robe-aholic. I live in robes and have 6 different robes that I rotate, and none of these have I bought myself. That is why I think they make great gifts for anyone who works a stressful job or for those who treasure their cozy items.
A cozy gift guide couldn't be complete without #10 –  a soft blanket is the coziest gift of them all. It's perfect for lounging on the couch and watching a movie. Pair this gift with #4 and #11 for a movie night essentials kit, and I can guarantee whoever recieves this thoughtful gift will be so happy!
What cozy gift ideas do you love? Which item is your favorite in this cozy gift guide?
SHOP THIS COZY GIFT GUIDE:
SaveSave
SaveSaveSaveSave
SaveSave
SaveSave
SaveSave
SaveSave
SaveSave