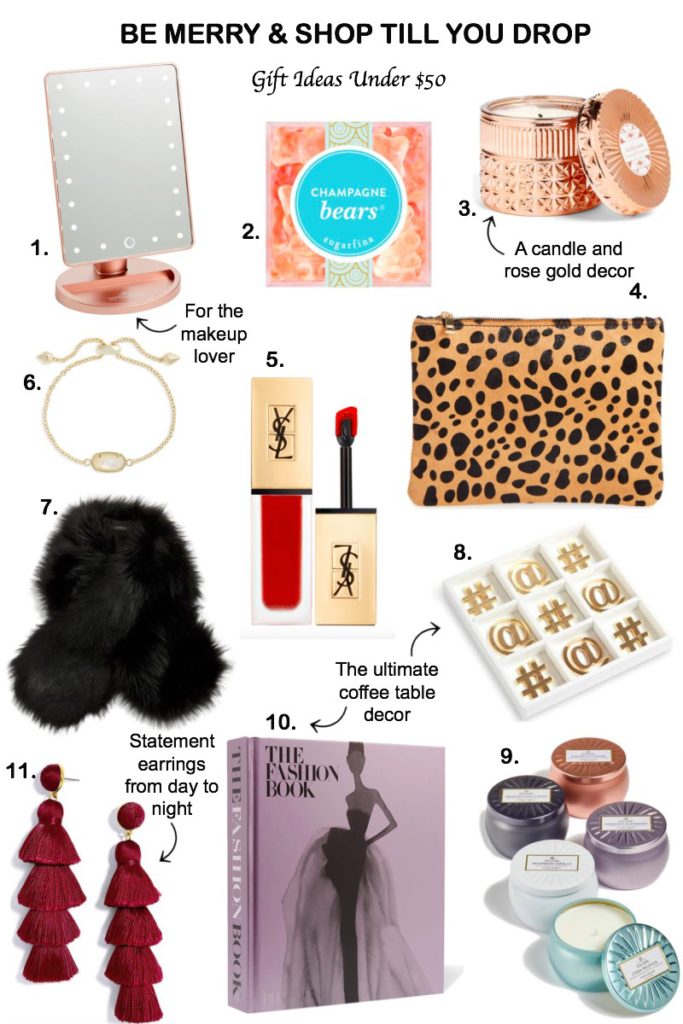 SHOP THESE GIFT IDEAS RIGHT HERE:
Is it too early to start shopping for Christmas gifts for loved ones? I think not. It is never too early, but you could call me a planner. I start thinking about gift ideas months out, but that is only because I want to find the perfect gift for my friends and family. Now you can too! During November and early December, I will be putting together a series of gift guides to help you on your Christmas shopping journey to find the perfect gift – no matter your price point.
It can be overwhelming, and difficult to know where to start so in this post I have compiled a few gift idea for those gifts under $50.
These could be great stocking stuffers or perfect as stand alone gifts. I am one of those people who loves the expression on my loved one's face as they open their present. There is no better feeling than getting their gift so right. Just call me Santa!
A few other gift ideas for this under $50 Gift Guide:
Silk Scarf: Silk scarves are my secret weapon to make a simple outfit look put together (you can read about my lazy girl's guide to looking put together in this post). They seem very luxurious, but can come at many different price points. This one is one from J.Crew, and comes with a fun graphic print to keep your silk scarf modern.
Too Faced Palette: I have only ever heard good things about Too Faced pallets, especially this particular one. If you know a beauty junkie or someone who loves their warm shadows then this would be the perfect gift. Who would really say no to new makeup anyway?!
Cat Eye Sunnies: Quay is an Australian brand that makes affordable and funky sunglasses. I have two pairs and have always received so many compliments on them. I personally feel that you can never go wrong with a classic cat eye shape. These types of sunglasses can instantly make you feel glam, and they come in a protective pouches so the presentation is nice.
Bonus Gift idea:
If you have a group of girlfriends who love to exchange gifts, you could buy two holiday sets and split these among your friends for great value for money. Holiday sets come at a better price than if you are to outright buy the same number of items.
I am a candle fanatic and I think candles always make a great gift because it is something people love, but don't always buy for themselves. Buy a candle gift set like this one from Voluspa (comes with 4 candles) and this fun Clinique lipstick set to give each friend 1 candle and 1 lipstick. Gifts sorted!
SHOP THIS UNDER $50 GIFT GUIDE:
SaveSave
SaveSave
SaveSave
SaveSave
SaveSave
SaveSave
SaveSave
SaveSave
SaveSave
SaveSave
SaveSave