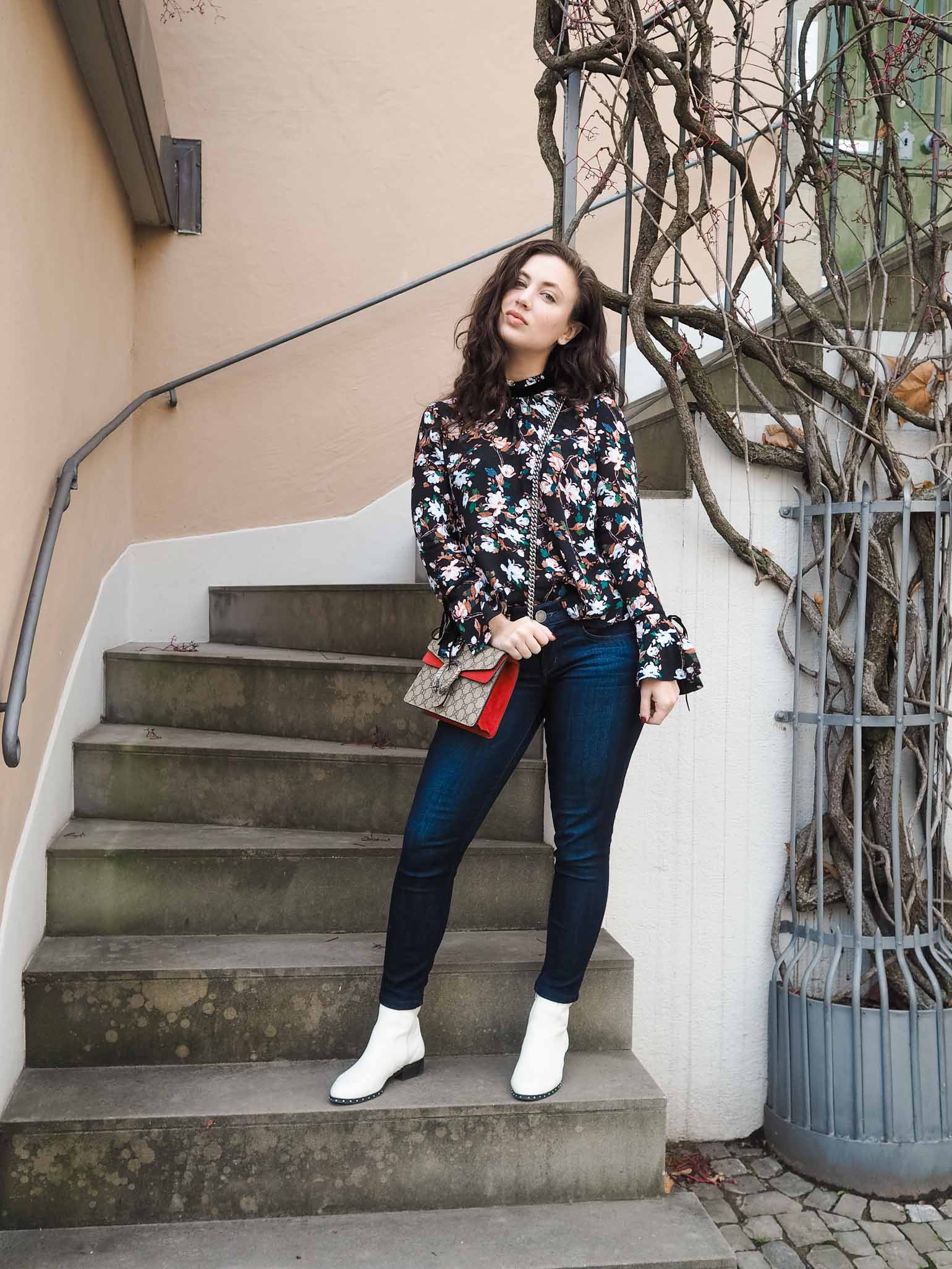 Happy Shopping Day Friends! The biggest sales of the season are still currently happening – Black Friday and Cyber Monday. This is the perfect opportunity to get all of your Christmas presents for cheaper or buy those items you've had your eye on for sometime, but didn't want to pay full price. The latter would be me!
I thought I would share with you all of the items I have purchased during the sales this year (while they are still actually going on) to help you pick up those final few items that you may have missed. Sales can be stressful and overwhelming, and if you have a similar taste in fashion to me then I am sure you will love my Black Friday and Cyber Monday picks so just keep reading.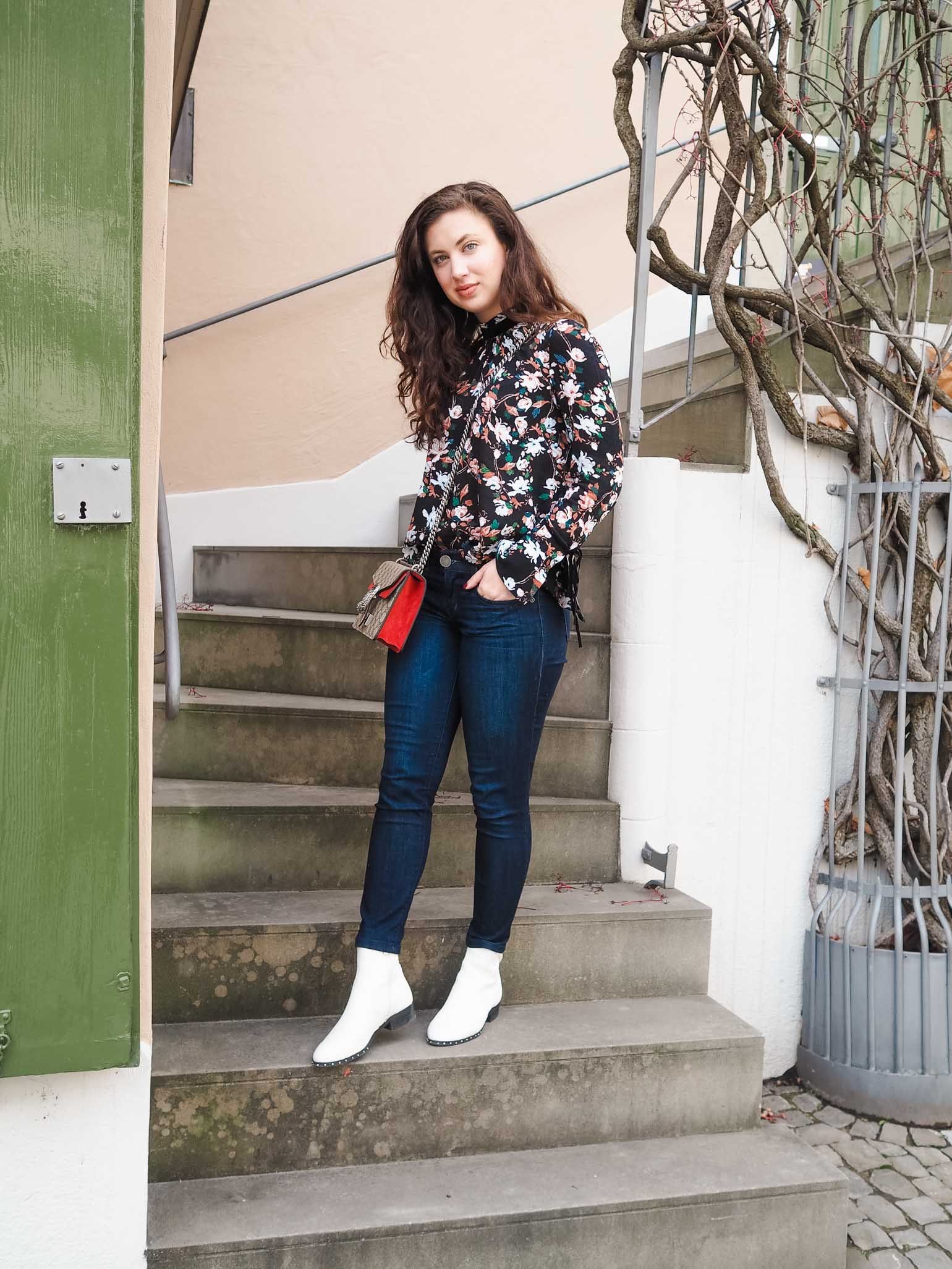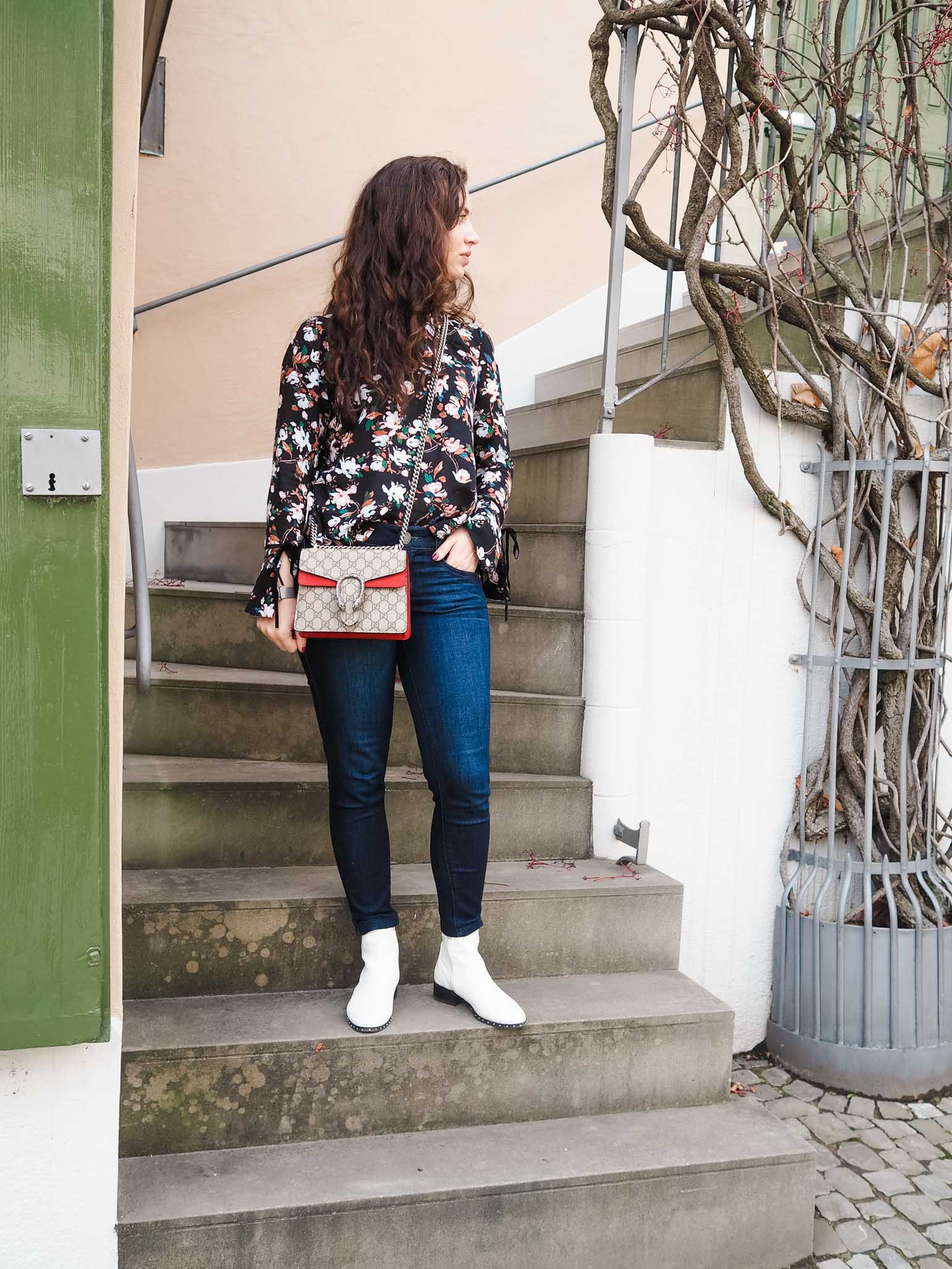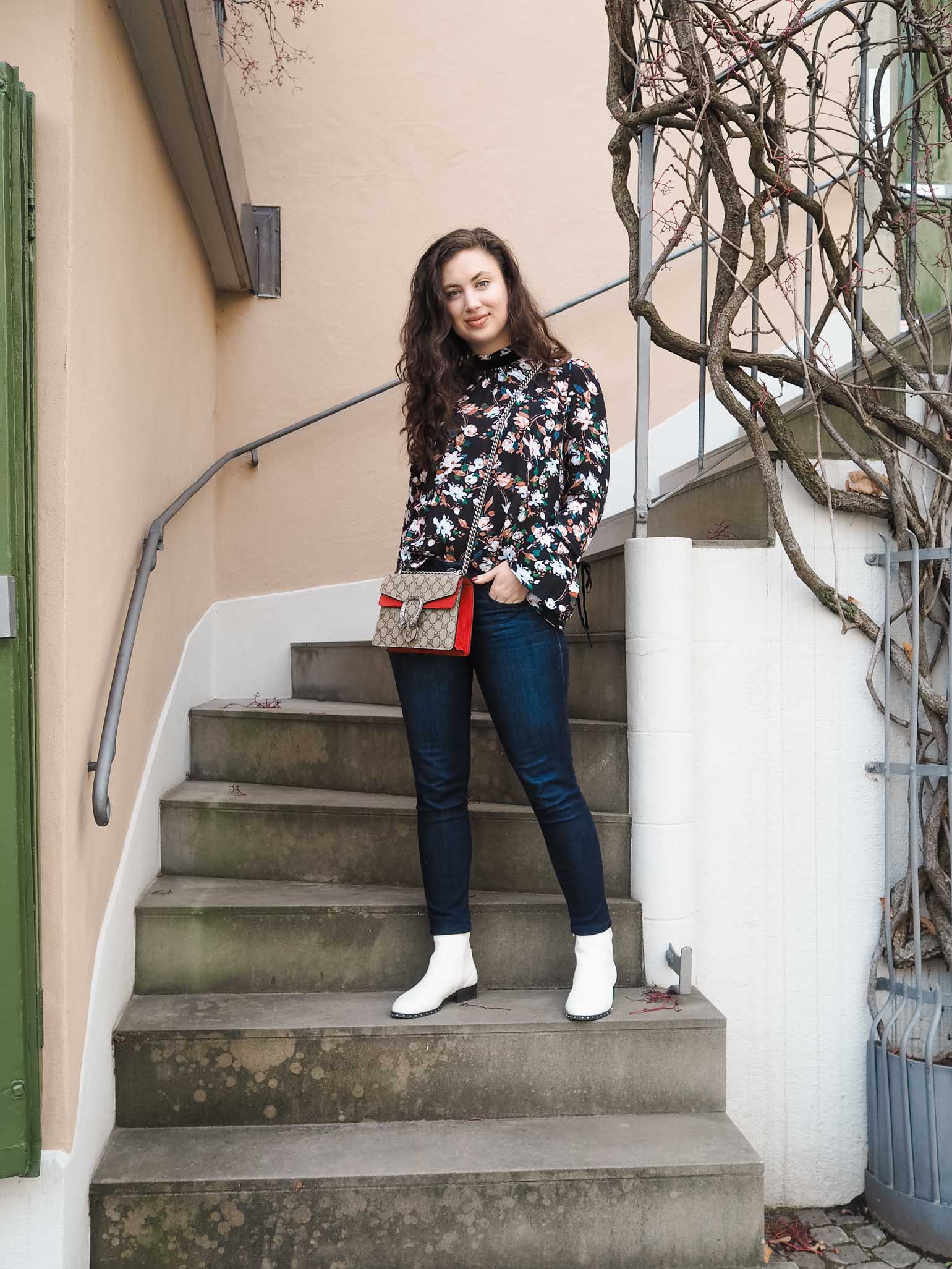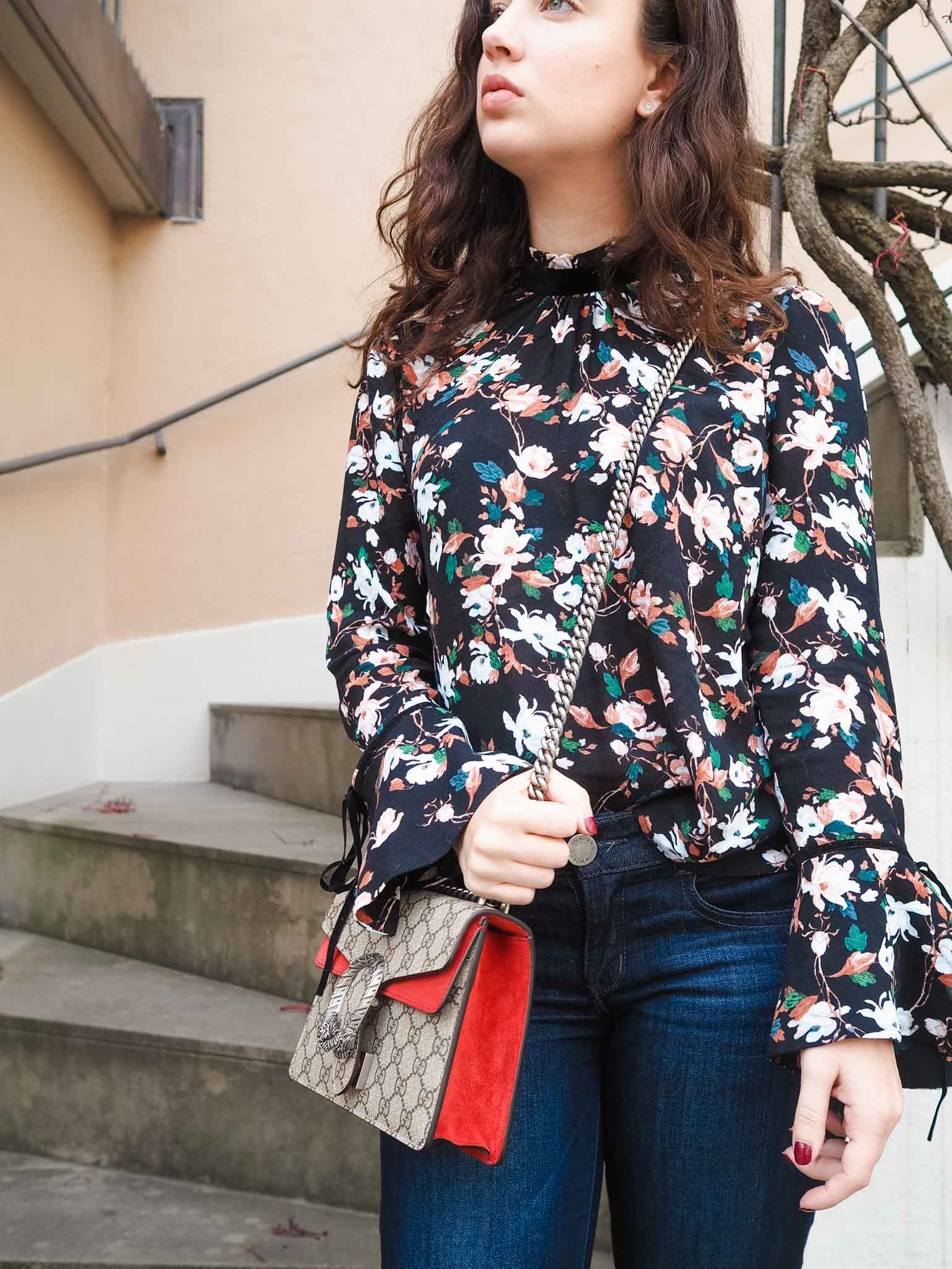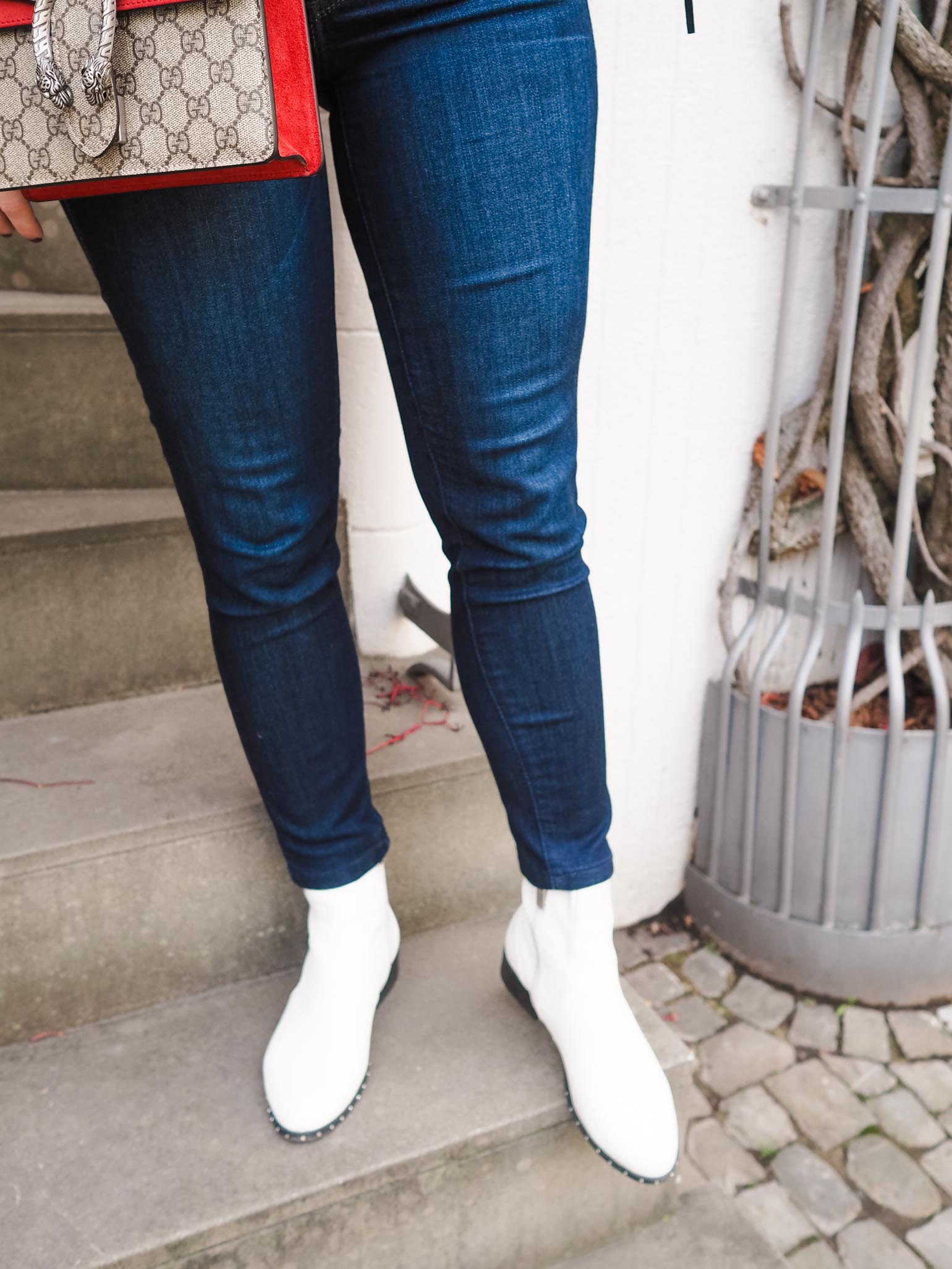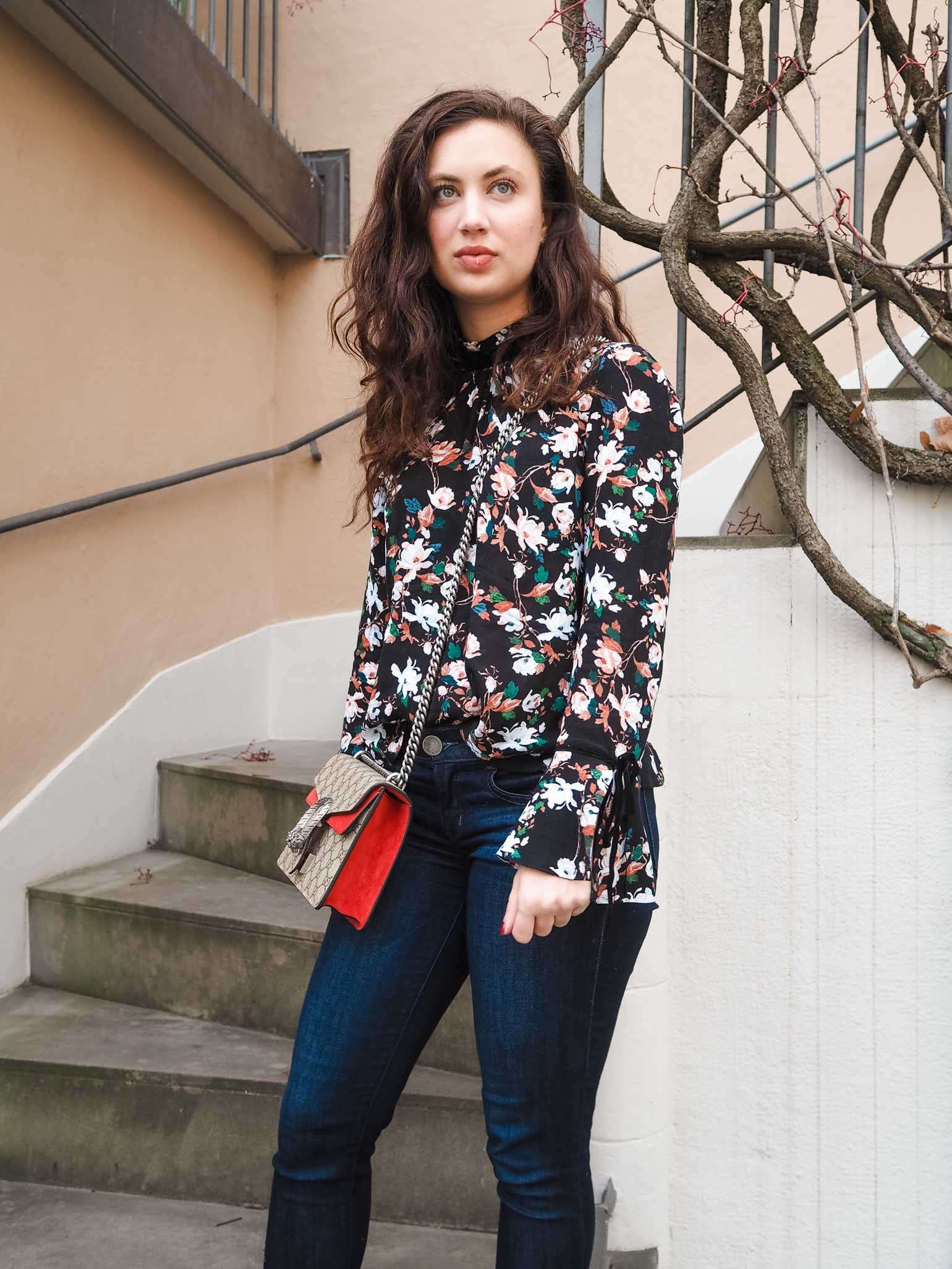 Top//BP (sold out, similar here and here)  Jeans//Wit & Wisdom (similar pairs here and here on sale – 30% off)  Boots//Topshop  Handbag//Gucci
Before I get into my sale picks, I thought I would just share a quick #ootd (outfit of the day) for you all. In case you are thinking that this floral blouse looks familiar, you are right. In early Fall, I shared this number from BP in a blog post with a green suede skirt and have found so many ways to wear it since. I don't often go for dark floral prints, but this blouse has completely changed my mind. The dark print, high neck, and bell sleeves are very on trend for this season.
Unfortunately, this top is sold out, but I have linked a few similar options above so you can recreate a similar look.
This outfit wouldn't be complete without my two essentials of the season: my Gucci Dionysus mini and a pair of white booties. I purchased this handbag about a month ago, and have worn it constantly. I was worried the red would be difficult to style, but it honestly goes with everything. The red adds that perfect pop of color and drama to typically dark winter style while the white booties add a that freshness. White booties are so chic and a great winter alternative to black boots.
Now let's get onto what you are really here for – my Black Friday and Cyber Monday sale picks.
WHAT I BOUGHT IN THE BLACK FRIDAY & CYBER MONDAY SALES:
NORDSTROM – Extra 20% off selected sale items 
Kate Spade Velvet Mules – I have been obsessed with this luxe fabric this season, but I wanted something that could be worn for day or night. These velvet mules would be perfect in the day with a pair of dark wash denim and a chinky knit. For night, just add leather looking jeans and a sweater with dramatic sleeves.
Ribbed Knit Sweater – I envisioned this as the perfect sweater to pair with leather leggings and my favorite Stuart Weitzman 5050 boots. It is hard to find cute sweaters that also covered your booty.
Lace & Ruffle Top – This is a great top to wear for those Christmas parties with a casual dress code. The lace and ruffle details add some glamour and sophistication, but if paired with denim or even better plaid trousers it could be a perfect casual party look.
Casual Button Down – An essential is very woman's wardrobe. Need I say more?
Stripped Belted Tee – A fun take on an otherwise simple long-sleeve tee. You can never go wrong with a classic stripe because it never goes out of style.
NYDJ Skinny Jeans – This is one of my favorite brand for jeans. It works well with us petite women who also have booties. I have the exact same pair in a dark wash, and have worn them in many blog posts so I thought a black pair would be a great addition to my wardrobe.
NYDJ Super Skinny Jeans – I love skinny jeans, and decided to opt for a pair of super skinny denim this time. I tend to prefer tight on the bottom and looser on the top so my petite figure doesn't get drowned out by overly loose clothes.
Beautyblender – I listed this item in my previous gift guide for the beauty lovers in your life because this is a holy grail in my makeup collection. It will change the way you put on foundation, and makes blending cream products so easy.
NEIMAN MARCUS – Up to $750 gift card on full priced items 
Ferragamo Velvet Mules – This was my splurge of the sales! I have been eyeing these babies since I saw Amy from the blog Dallas Wardrobe rock these in a post. I can already imagine these worn in so many ways from structured trousers to casual denim. This will be the perfect touch of luxe that I always look for in my winter looks.
Satin Pajama Shirt – I have tried to find a silk and/or satin pajama shirt to wear in everyday life for quite sometime. Anyone else with a larger chest will understand my pain. Most seem to be incredibly low cut, but this one looked to be structured quite differently. Also it comes in pink!
Tie-Front Silk Blouse – Perfect for the polka dot obsessed. Another print that will always remain timeless, and can be worn in so many ways. There is nothing quite like a silk blouse, and can easily turn a casual look into something a bit extra.
Tie- Front Plaid Blazer – If you follow me somewhat closely, have probably seen my plaid blazer many times on my blog and Instagram. It is the perfect throw on blazer that surprisingly goes with so many things (including patterns). I decided to upgrade my Zara blazer with this one from J.Crew because I have already gotten so much wear out of it.
Camel Blazer – Such a classic blazer in a color that I don't have. I love an all cream look with a camel blazer or coat. It looks so chic and like there was a lot of thought put into the look. This blazer would also be the prefect backdrop for a pop of red.
Pink Topcoat – There is something so sweet and delicate about a pink coat. I was on the hunt for a pink blazer during the sales, but had such a hard time finding exactly what I wanted…as usual. This pink topcoat just spoke to me and I thought it would be great for those grey Swiss days.
Wool Wrap Coat – Guys! The color on this is stunning, and I cannot wait to style it with a cozy grey turtleneck. It reminds me of a robe that you can wear in public, and looks super cute.
Faux Fur Stole (pink version) – I have spoken about how faux fur can make a simple look into something special. It is so easy to throw on with a sweater or over a coat. It would also make a fun gift for any fashionistas in your life.
BAUBLEBAR – 35% off everything
Bejeweled Hoop Earrings – This set of earrings is going to be my go to pair for the holidays. I just know it! They offer some bling and are so fun. I am just loving my affordable statement earrings at the moment.
Tassel Earrings – I have seen these earrings before and have always loved them. They are a great pair of statement earrings, but also delicate in the blush pink.
What did you pick up during Black Friday and Cyber Monday? Are you still shopping the sales?
SHOP THIS LOOK:
SaveSave
SaveSave
SaveSave
SaveSaveSaveSave
SaveSaveSaveSave
SaveSave
SaveSave
SaveSave
SaveSave
SaveSave
SaveSave
SaveSave
SaveSave
SaveSave
SaveSave
SaveSave
SaveSave