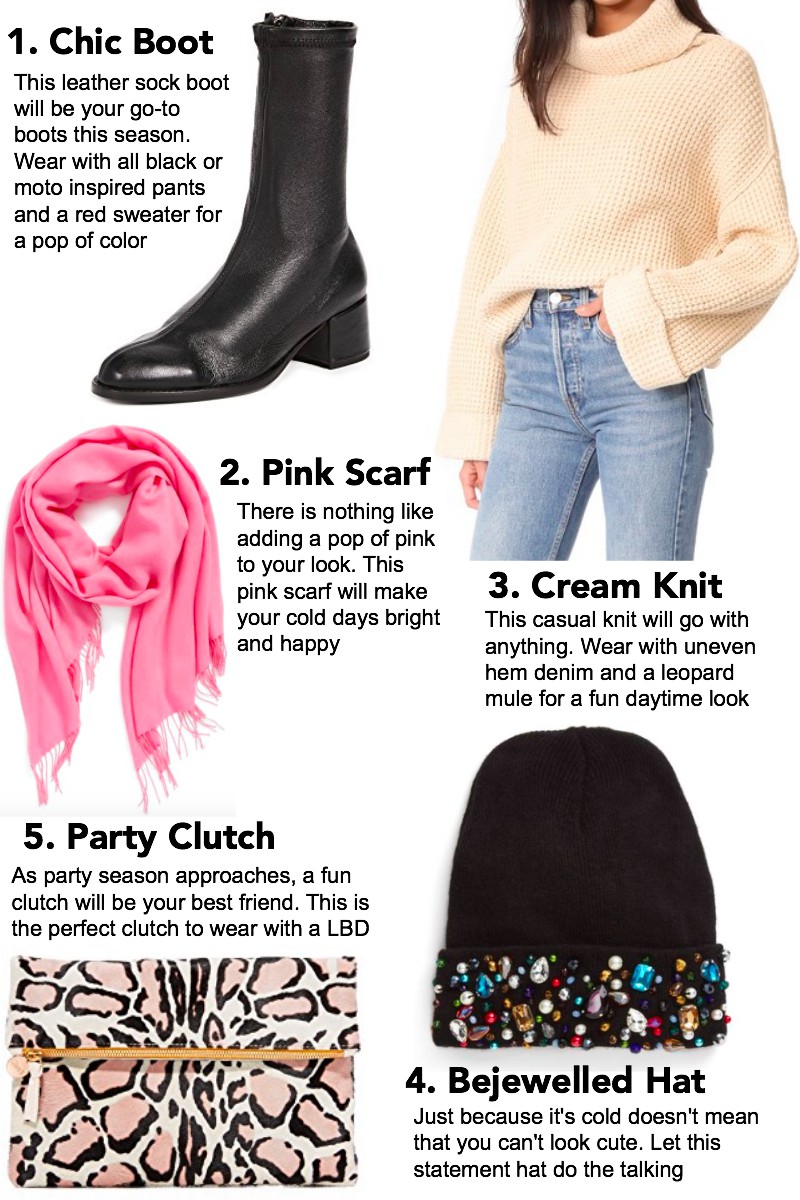 SHOP THESE NEW IN STORE ITEMS:
This is my second installment of What's New in Stores – showing you the latest items and new arrivals in some of my favorite stores. Click here to read my first post in case you missed it. I hope these posts are helpful for you to discover new items, gather inspiration for future shopping trips, or for shopping right from my post. It is also really helpful for me and has me daydreaming about my next purchases. A little dangerous to feed the monster, I know. 
I have always loved shopping, even from a  young age. As I've gotten older and started using my own money, my philosophy on shopping has definitely changed. I buy, what I call, smart. I buy items that make me feel good, invest in quality pieces not just trends, and will only buy something that can go with multiple pieces I already own.
I do find myself shopping more to keep up with the blogging world – which is good and bad. It is fun for me to put looks together and be adventurous with my fashion choices. In the business of blogging, these items can be considered an investment.
While it is really important for me to bring new and interesting content to my readers, I do re-wear items over and over in real life.I am a real girl with a real budget so I will count this post as virtual window shopping for the moment. I'm holding out for those Black Friday sales. Are you doing the same?
What other new in store items did I love?
Spanx Leather Leggings – I have heard good things about these leggings, but have never tried them. In this post, I discussed my favorite pair of affordable leather leggings, but I would love to try several different brands to find the ultimate pair. Obviously, Spanx are known to suck you in at all of the right places so I would be interested to see how these leggings work for a petite girl with a big booty. These leggings would look comfy, but still chic paired with a grey turtleneck and my favorite Stuart Weitzman 5050 boots.
Faux Fur Stole – The dusty pink color is the perfect way to add a pop of color for those who typically love neutrals, and is a great accessory as party season approaches. I would add this as the wow factor to a simple evening look. Imagine this paired with a classic LBD or a silky ivory blouse and wide legged black trousers. So many ways to wear it this season!
Military Style Coat – My style icon has to be Olivia Palermo. She is so chic, can mix patterns and textures like a boss, and basically get's it right everytime. So when I heard she collaborated with Banana Republic I was very excited. This red military coat is the perfect statement outwear piece that you could wear season after season. Red is the color of the season, but the cut is so classic that it doesn't make the coat feel too trendy. Wearing this red coat with an all cream ensemble would be perfect.
What was your favorite new in store item listed in this post? What kinds of items would you like to see in the future?
SHOP THIS POST
SaveSave
SaveSave
SaveSave
SaveSave
SaveSave
SaveSave
SaveSave
SaveSave
SaveSave
SaveSave
SaveSave
SaveSave
SaveSaveSaveSave
SaveSave
SaveSave
SaveSave
SaveSave
SaveSave
SaveSave
SaveSave
SaveSave
SaveSave
SaveSave