This is definitely a style of handbag that you haven't seen me wear on the blog yet, and to be honest I'm rather picky about my mini backpacks. I like my handbags to be functional, versatile, and something I can wear for years to come. I've been fascinated by mini backpacks since the emergence of the palm springs backpack from Louis Vuitton, which I feel like started this whole trend.
Who really wants to spend almost $2,000 on something they aren't sure they will wear long term? That is where this adorable faux fur Kate Spade number comes in. Want to know my thoughts on this mini backpack? Keep reading.
SHOP THESE MINI BACKPACKS (various price ranges):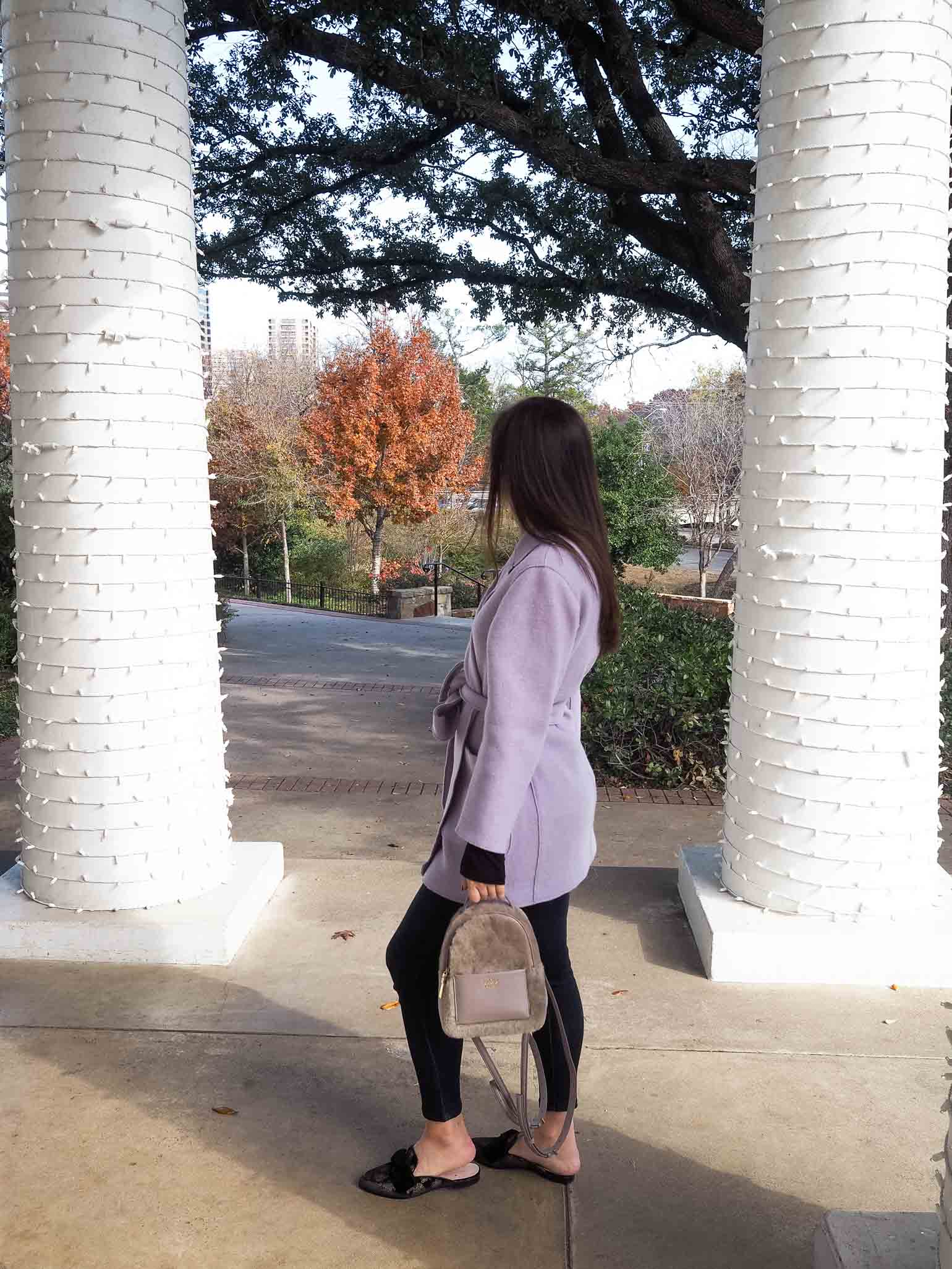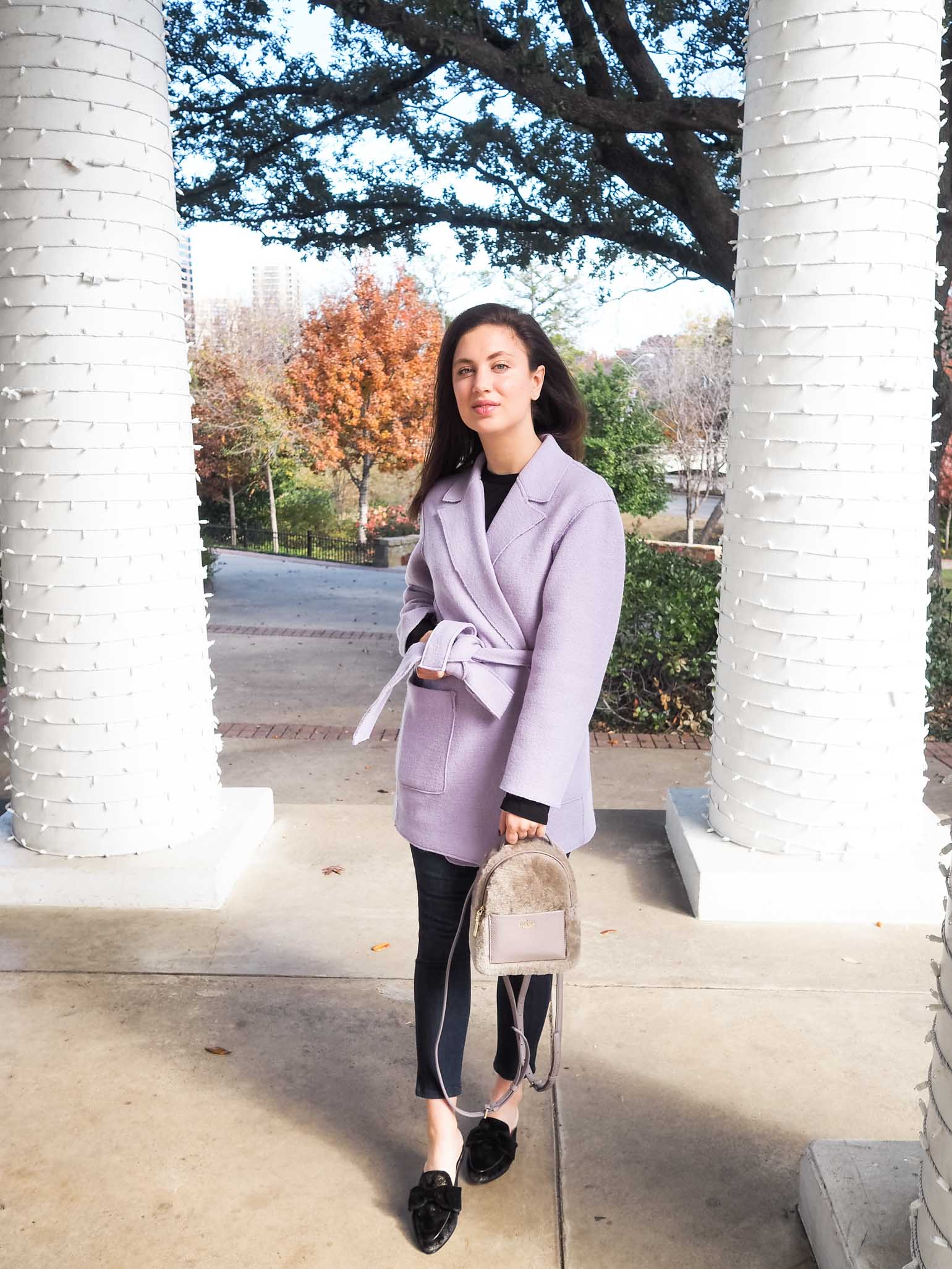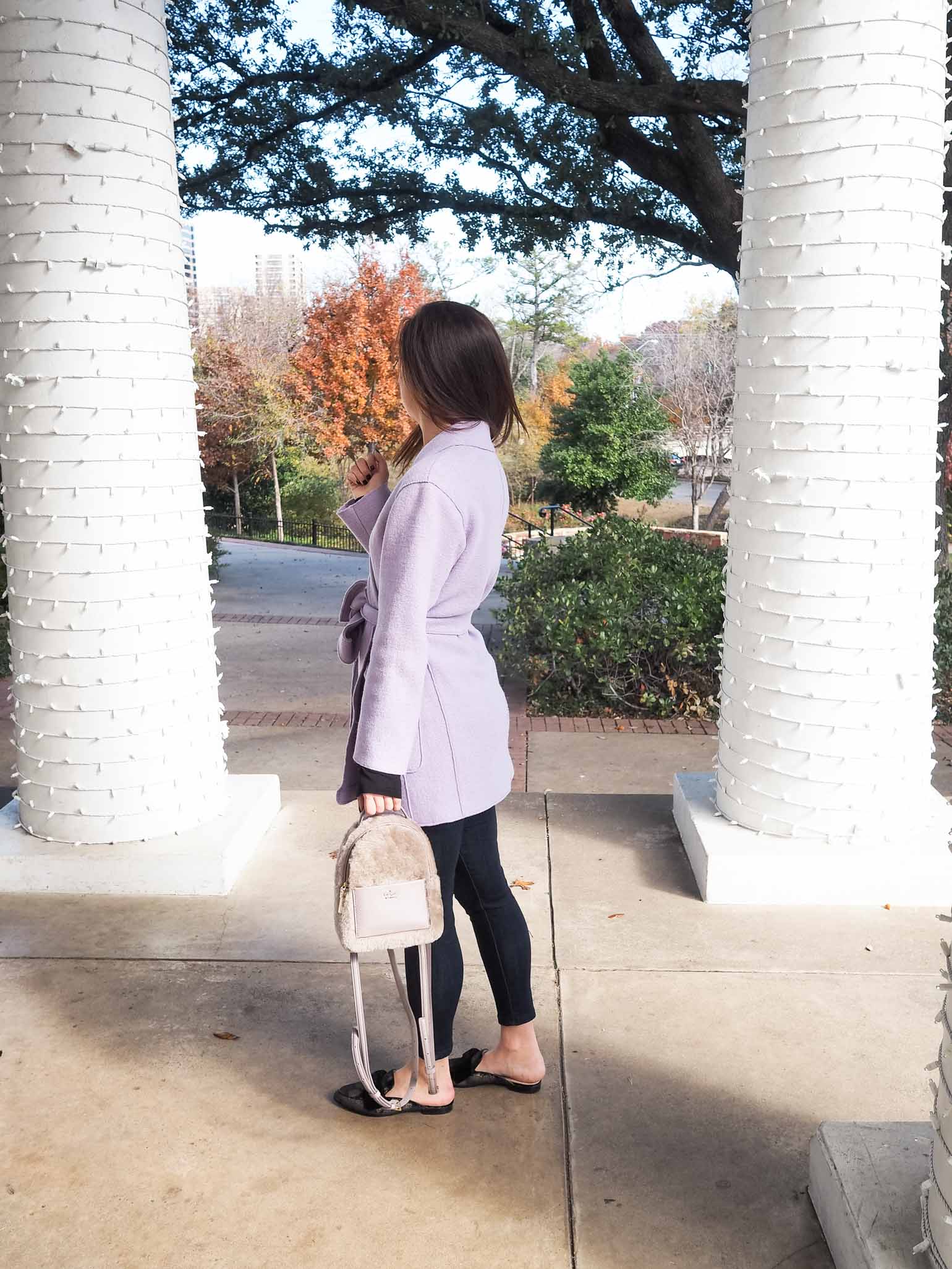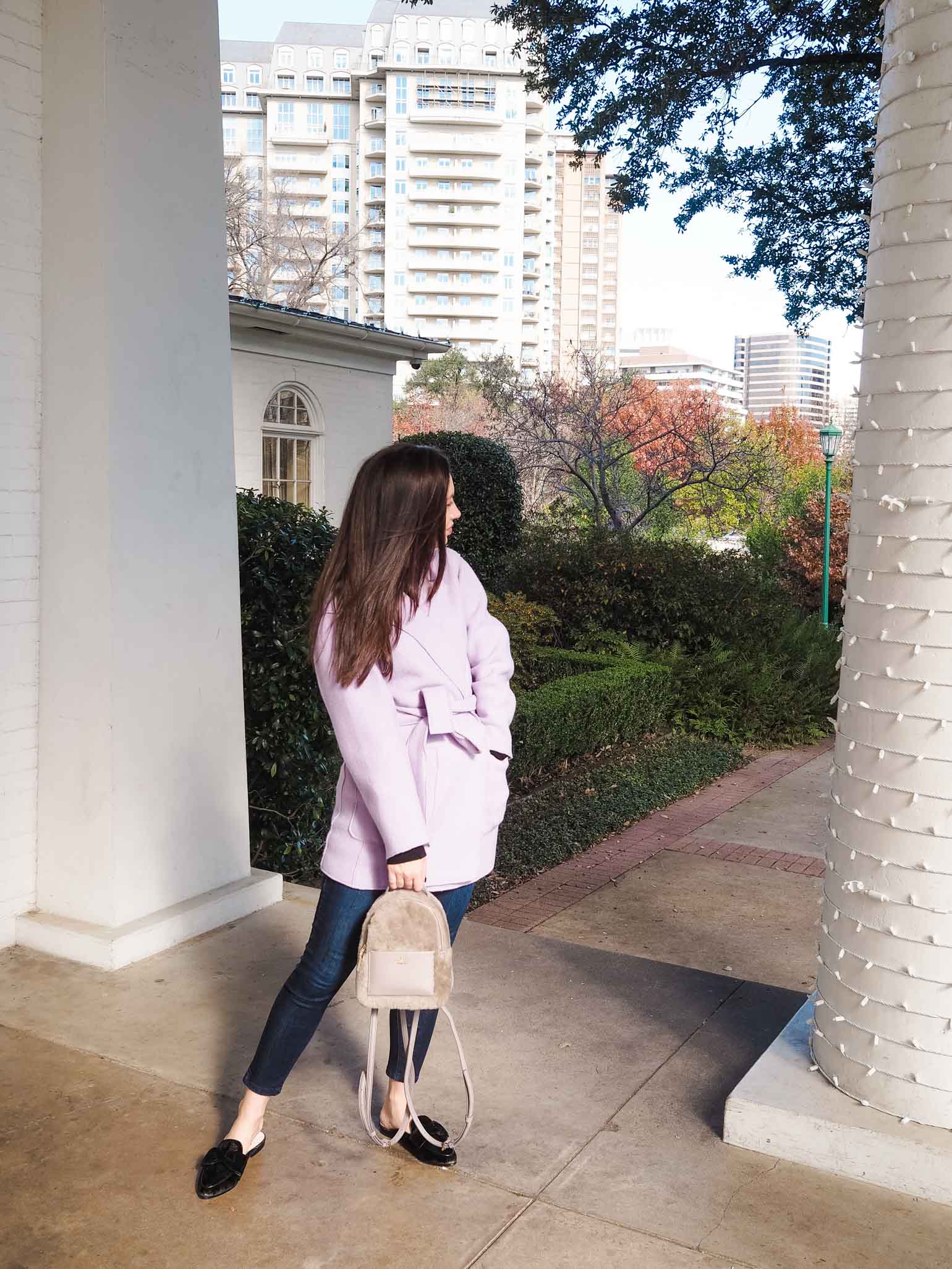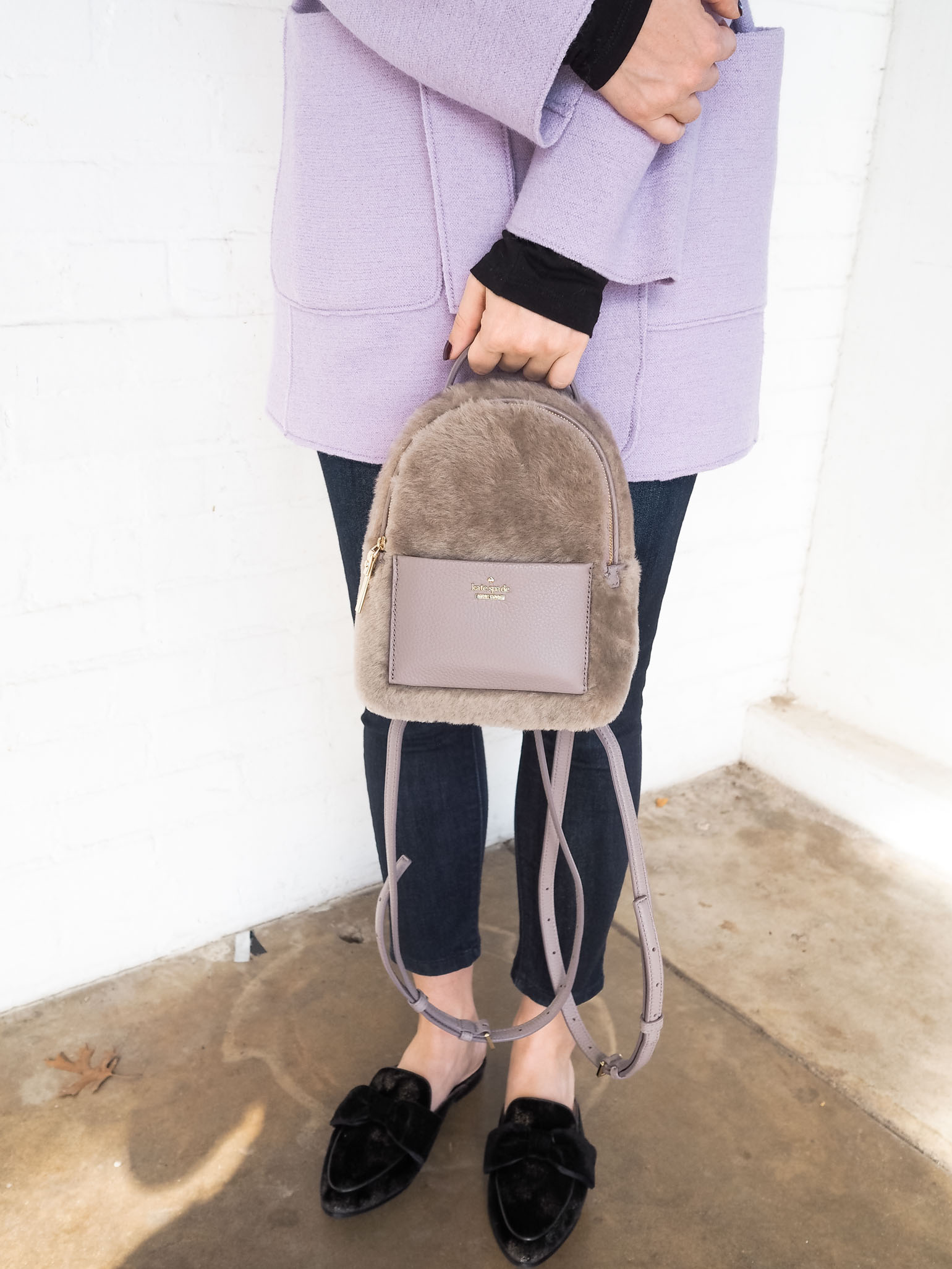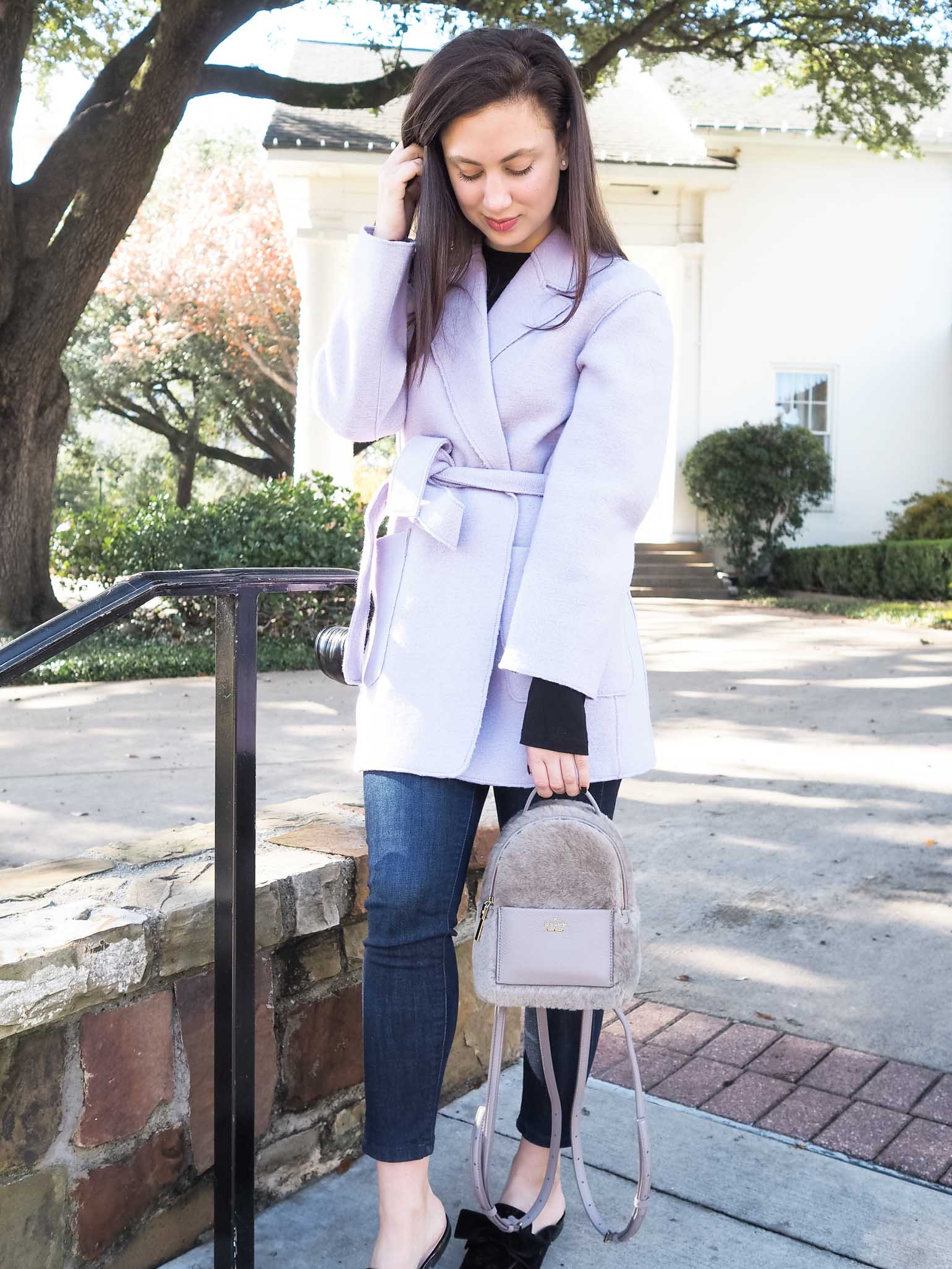 Coat//J.Crew (sold out in this color but still available in black and a mossy green, similar here and here)  Top//T By Alexander Wang (cheaper alternative here)  Jeans//Wit & Wisdom  Handbag//Kate Spade (c/o)  Shoes//Kate Spade
First off let me start this blog post by saying that I've been stuck in bed with the flu and a fever for the last few days so I really hope this all makes sense. If not then 'tis the season for getting sick, right? I just had to get this blog post out for you and share this fun Kate Spade handbag that I think would make a great last minute Christmas gift, and would also be the perfect addition to your winter wardrobe.
The temperatures have finally dropped in Texas so now you can actually say it is winter. When I popped by the Kate Spade boutique this week I knew I had to shoot with this item. I love the faux fur detail, which adds that perfect element of texture to any of your winter looks, and the color in person is a what I would call a mauve/brown so it's not just our typical neutral. I prefer to carry mini backs by the top handle because I think it gives that cool and casual vibe, and is a little more unexpected way to wear it. The straps are also adjustable…talk about details guys! You would be surprised at how many handbags do not have adjustable straps and as a petite girl that just doesn't work for me.
I can imagine this faux fur mini backpack paired with an all white look – white denim and a cream sweater. Yes, white denim still works in the winter and I think it can actually be very chic during this time of the year. If you wanted to create an edgier look than add a leather skirt and leopard booties paired with the cream sweater. Leather and faux fur are always a great combo for winter.
What are your thoughts on this cute Kate Spade mini backpack? Are you into this trend?
SHOP MY LOOK:
*Kate Spade kindly let me borrow the handbag for this post. No compensation was given from Kate Spade as a result of displaying their product or mentioning the brand. I personally picked out this handbag, and all opinions are always own. 
SaveSave
SaveSave
SaveSave
SaveSaveSaveSave
SaveSave
SaveSave
SaveSave
SaveSaveSaveSave
SaveSave
SaveSave
SaveSave
SaveSaveSaveSave
SaveSave