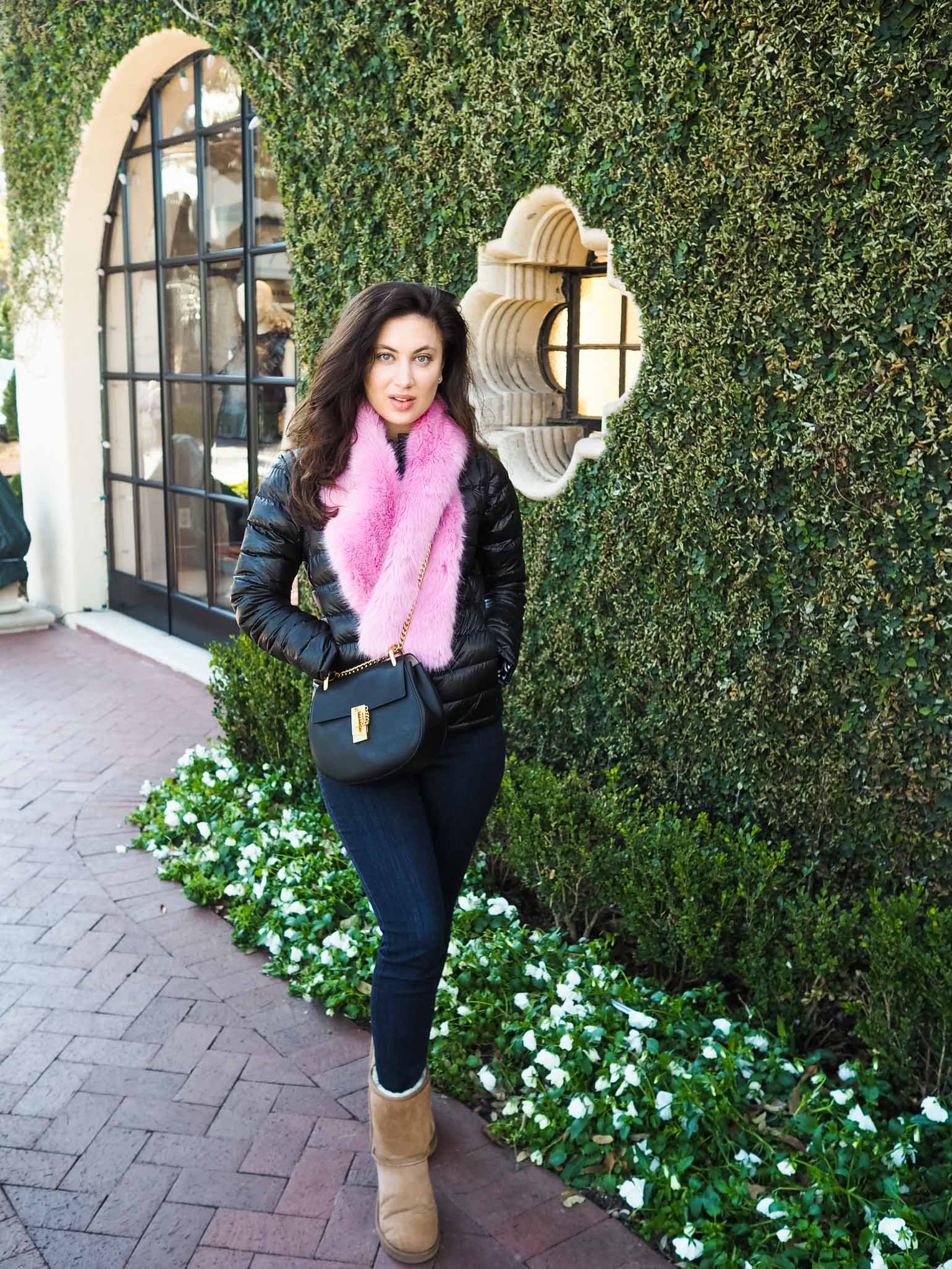 If you follow me then I think it is no secret that I am a casual handbag addict, a connoisseur, a collector. It is where I consistently choose to splurge when it comes to my wardrobe, and I feel it is such a key element in completing my looks. I may have expensive taste in handbags, but I see them as investments for the future (should I ever want to sell one) and it is the one item that I cannot leave the house without.
Today's post is a handbag reveal for the latest addition to my collection – my Chloe Drew. Read more to hear about my initial thoughts, if I would recommend this bag, and see how I style it with a comfy winter look.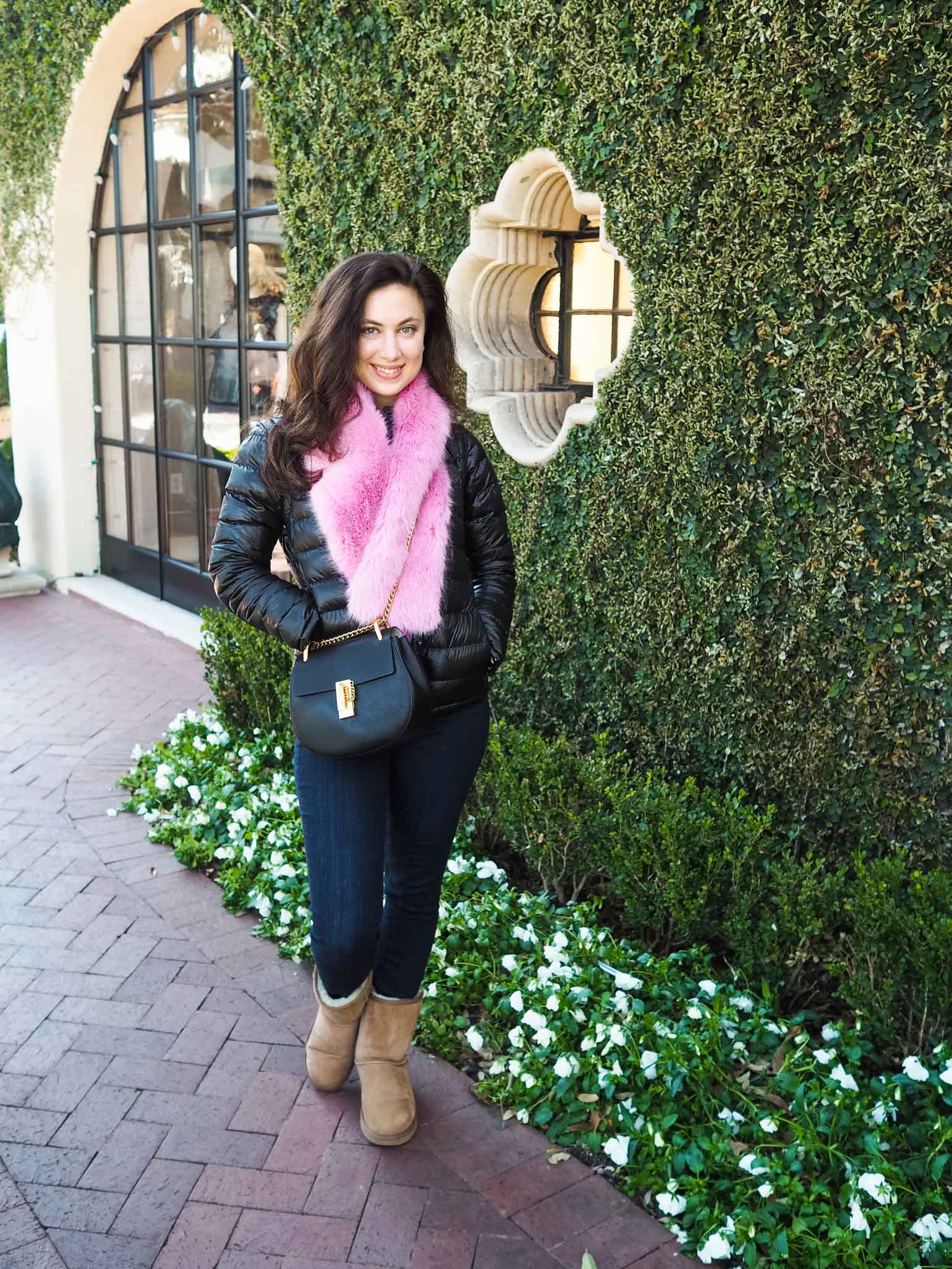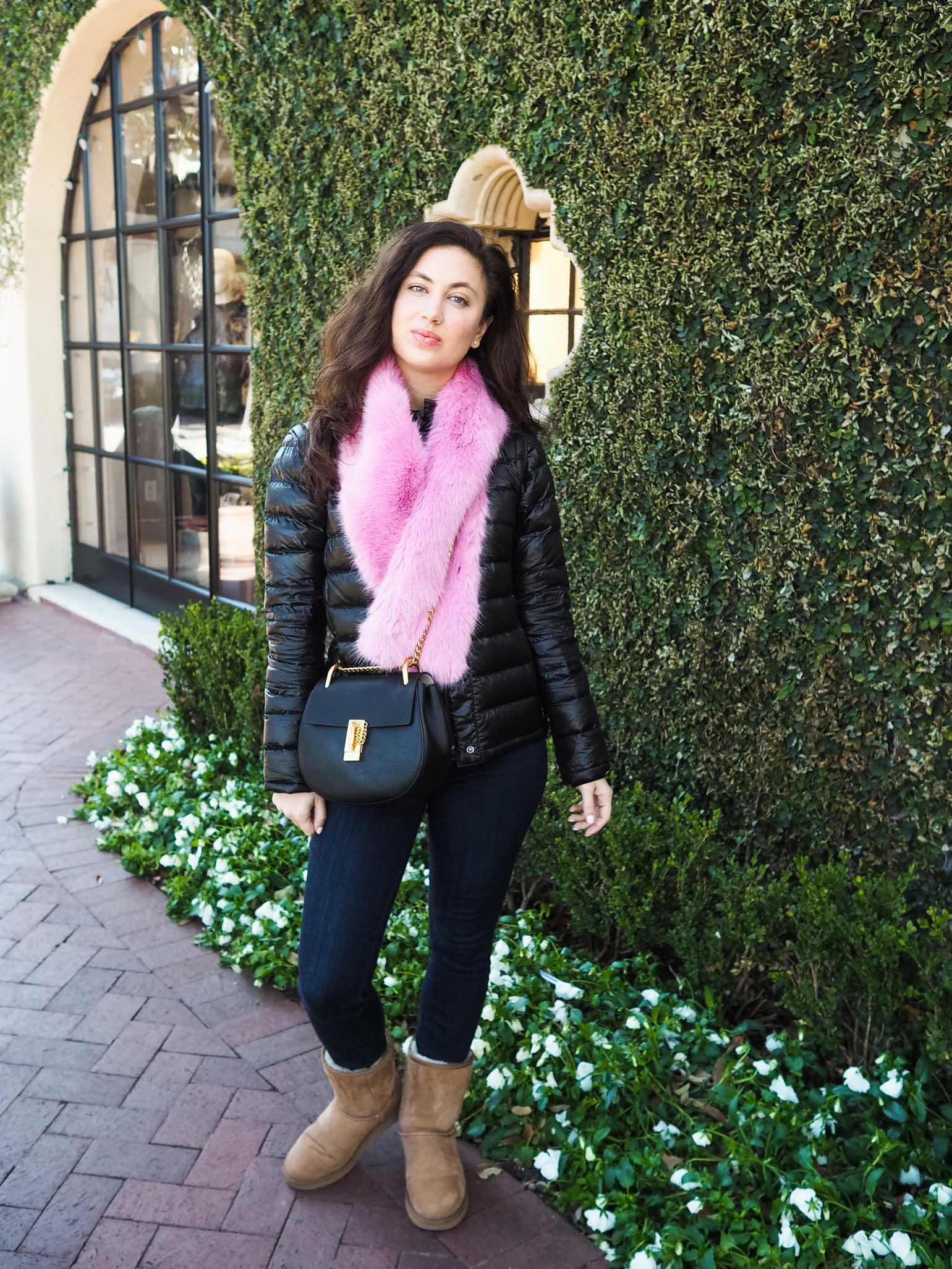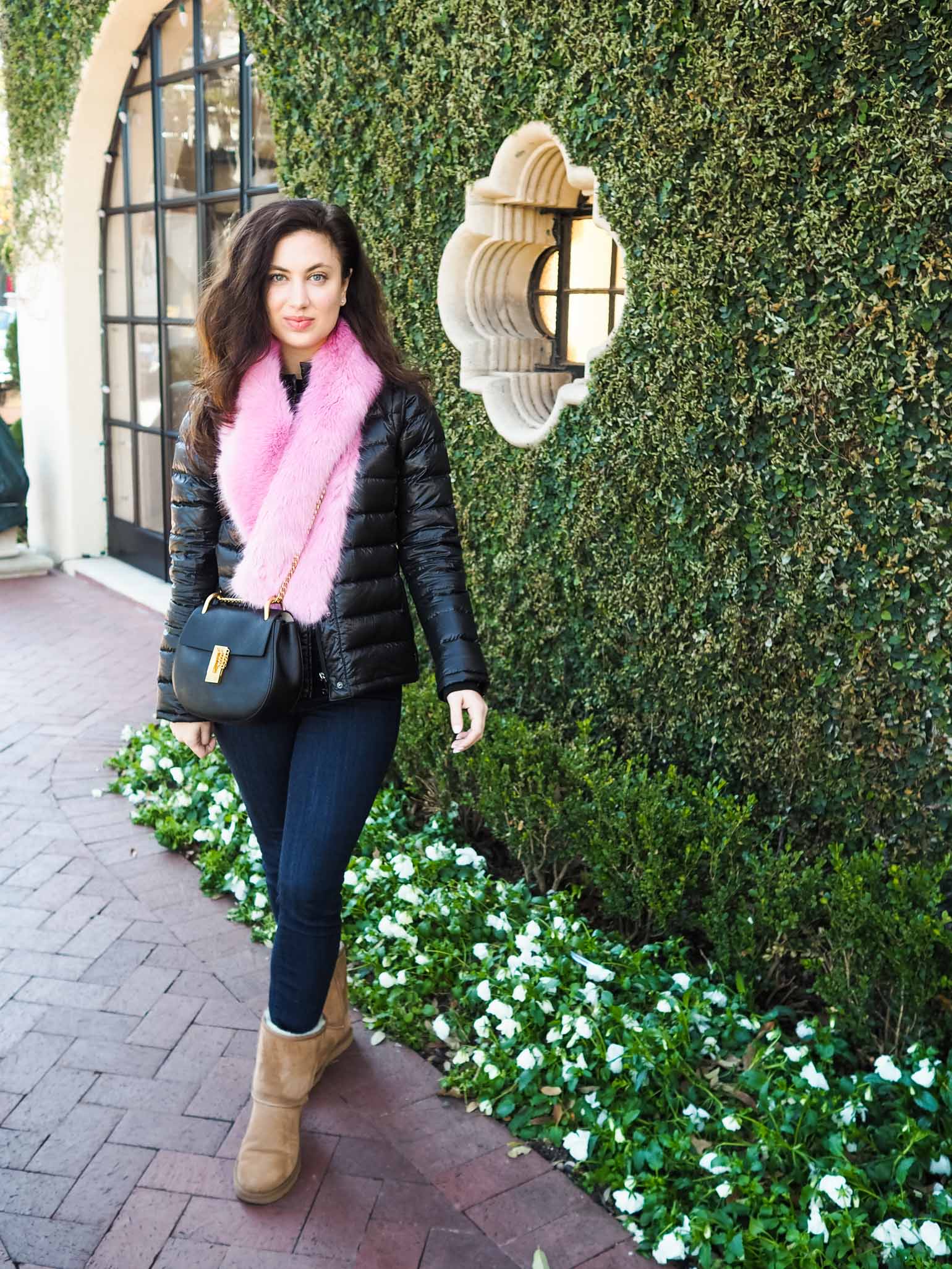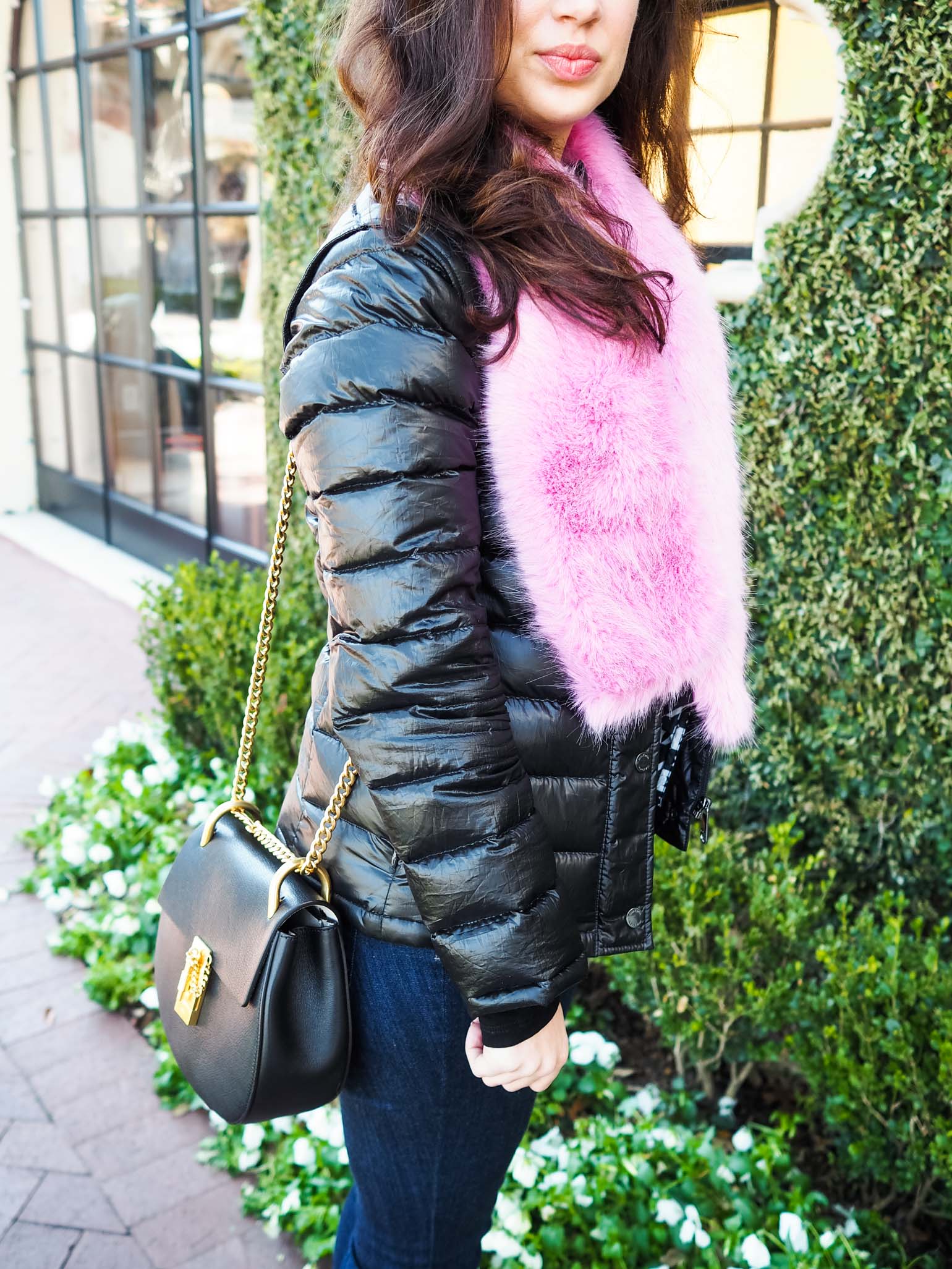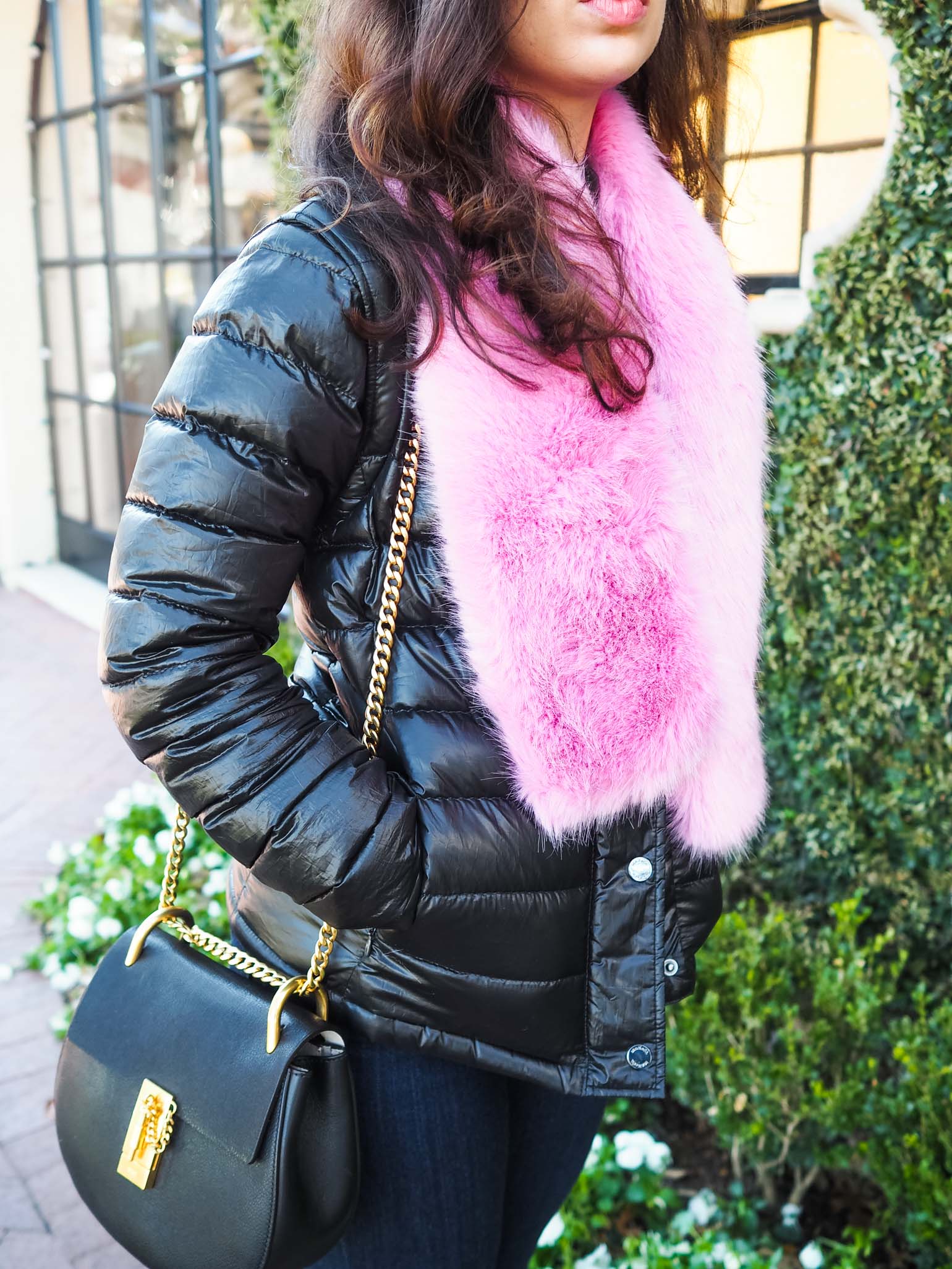 Jacket//Max & Co (sold out, similar versions here and here)  Long-sleeve T-Shirt//T by Alexander Wang (cheaper alternative here)  Jeans//NYDJ  Boots//Ugg  Handbag//Chloe (dupe versions here and here)  Faux Fur Stole//J.Crew (sold out in pink in stores, similar here)
Have you ever felt the giddiness of finding an unexpected deal or when an item you are looking at is not only the last item in the store, but also happens to be in your size?
That is what happened when I found my Chloe Drew in the after Christmas Sales. I previously introduced this handbag in a post last week where I styled it with a ruffled plaid jacket. I decided to pop into my local Neiman Marcus because I saw online there was a sale on handbags, and I clearly couldn't miss that. Much to my surprise this Chloe Drew was sitting on the sale table and had only been on the floor for about 10 minutes. Lucky, right?
I tried it on and fell in love, and instantly knew it would become a fast staple in my wardrobe. I have had that feeling before (like with these metallic Sam Edelman mules), and I have not been wrong yet. When you can instantly think of various items in your wardrobe that would pair well with it then it is usually a good sign the item will be worth the investment…and let's be honest, these bags are investments.
I had actually been looking at this handbag for about a year, and had almost pulled the trigger twice. I almost purchased it in red and in an off-white. However, I was really nervous about color transfer from jeans in the off-white version so I passed. I had looked on the pre-love market, but could never find quite what I was looking for.
I am already pleased with this bag, and I have no idea why I didn't purchase it sooner. The design is simple so it will go with everything and black is timeless. The leather is grained, and feels sturdy – like it could hold up to everyday activities. The chain is surprisingly comfortable to wear on the shoulder and as a crossbody bag. I think the gold hardware also adds a little bit of elegance to an otherwise very simple bag.
Would I recommend this bag?
I've only worn it everyday since I purchased it so I think I will let that speak for itself.
I plan on writing a post soon about how I afford luxury handbags and tips on how you can too. Let me know in the comments below if that is something you would be interested in or if there are any specific questions you may have for. I would be happy to address that in my blog post.
What are your thoughts on the Chloe Drew? Are you a fan or would you pass it up?
SHOP MY LOOK:
SaveSave
SaveSave
SaveSave
SaveSaveSaveSave