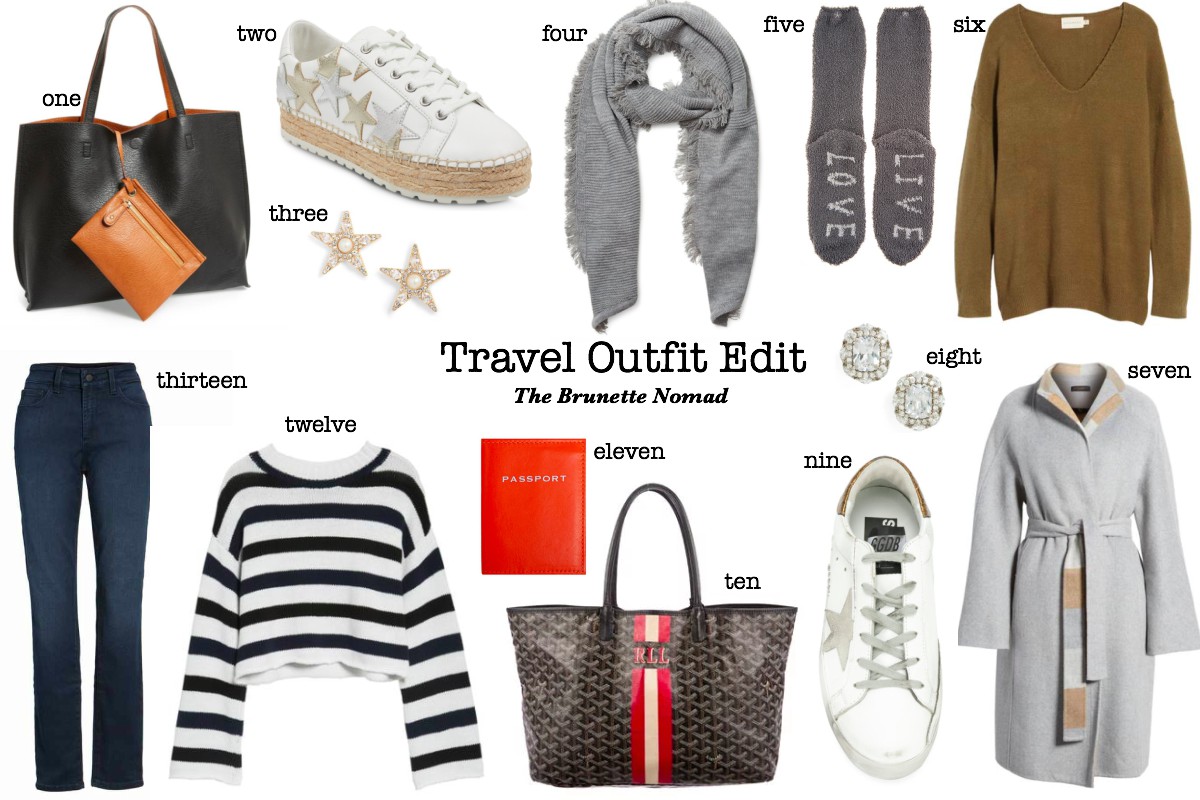 SHOP MY TRAVEL OUTFIT EDIT:
Seeing as how I have just come back from my month long trip home and am currently dealing with jet lag, this travel post was very fitting. In this travel outfit edit, I am sharing items that I would actually wear to the airport for that much needed comfy but presentable outfit, and a few bonus items that I consider travel to be essentials on long haul flights. 
For those who may be new to my blog, I have been traveling internationally since I first started walking and have lived abroad on and off since the age of 12 so I truly feel like I have grown up at airports. Want to know what it's like to live abroad? Read my previous post where I talk about the truth of living in another country – the good and the bad.
Over the years, I have realized that I have created my own in-flight routine and have a travel uniform that I want to share with you.
In the New Year, one of the top goals that I consistently hear about is traveling more. I created this edit to assist you in your travels this year and for some airport #outfitinspo for all of your new adventures.
The key to my airport uniform is comfort mixed with style. 
Let's start with a great travel friendly tote – something easy to clean, that will fit all of your essentials, and you don't have to worry about when throwing under your seat or in the overhead bins. #10 is the ultimate catch-all and travel friendly tote when you want to look stylish. I think this may be a handbag purchase for me in 2018. If you're not quite ready for the splurge, #1 is a fun reversible tote that I used for my first job. It's also under $50!
If you're anything like me then you must get cold on airplanes, which is why #4 and #12 are essential. I usually opt for a sweater or long-sleeve shirt to keep me cozy in-flight. Also a great blanket scarf can act as an extra blanket on those long-haul flights.
The first thing I do on the plane is to change into my "real" flight outfit. 
When you're on a 9+ hour flight, comfort is essential. I change into pajama pants and fuzzy socks (#5) while keeping the top part of my outfit the same. No one will ever know if you have the blanket on you throughout the entire flight. After breakfast, I change back into my denim (#13 – super stretchy and so comfortable) and fashion sneakers (#2 – my favorite travel shoe). Now you know my secret to making the plane my temporary home.
A FEW OF MY TRAVEL ESSENTIALS:
LIP BALM// I already have naturally dry skin so the recycled and harsh airplane air doesn't make it any better. I never travel without a good moisturizing lip balm that I keep in an easy-to-reach location. I am currently using the Vaseline Lip Therapy in Rosy Lips, which is my favorite brand for all lip care products.
SHEET MASK// Yes, I am that crazy person who makes the airplane her spa. Airplane air can reek havoc on your skin, and why not make the most of your time while you watch movies for hours. My all time favorite brand for sheet masks is Dr. Jart. The best place to buy a 5 pack of Dr. Jart sheet masks for cheaper than retail value is eBay. This Dr. Jart one is my favorite hydrating sheet mask ever.
THERMAL SPRAY// In my last post, I showed the makeup products that I use for blog photoshoots, and how I use them. My Evian thermal spray is not only my favorite way to freshen my skin again after putting on products, but is key part of my in-flight routine. Whenever I feel that my skin needs a little pick me up, I use this spray as my miracle worker. It even comes in a travel sized version.
SNACKS// There is nothing worse than being stuck on a long flight when hunger strikes, you have to wait for the next meal or you can choose to snack on the candy bars/cookies available in the "snack basket" in the galley. I would rather choose exactly what I like and then you don't have to leave your seat when you finally get comfortable. My favorite snacks to bring on the plane are granola bars, any type of gummy candy, and dried fruit.
BONUS TIP: If you want a great in-flight dinner, opt for take out sushi. You can either wait to buy it at the airport (if your airport has sushi available) or pick it up the day you leave. Just make sure the travel sized soy sauce is in your bag of liquids.
What is your favorite item in this travel outfit edit? Do you find that you also have a travel uniform and in-flight essentials? Feel free to share in the comments below!
SHOP THE TRAVEL OUTFIT EDIT:
SaveSave
SaveSave
SaveSaveSaveSave
SaveSave
SaveSave
SaveSave
SaveSave
SaveSave
SaveSave
SaveSave
SaveSave