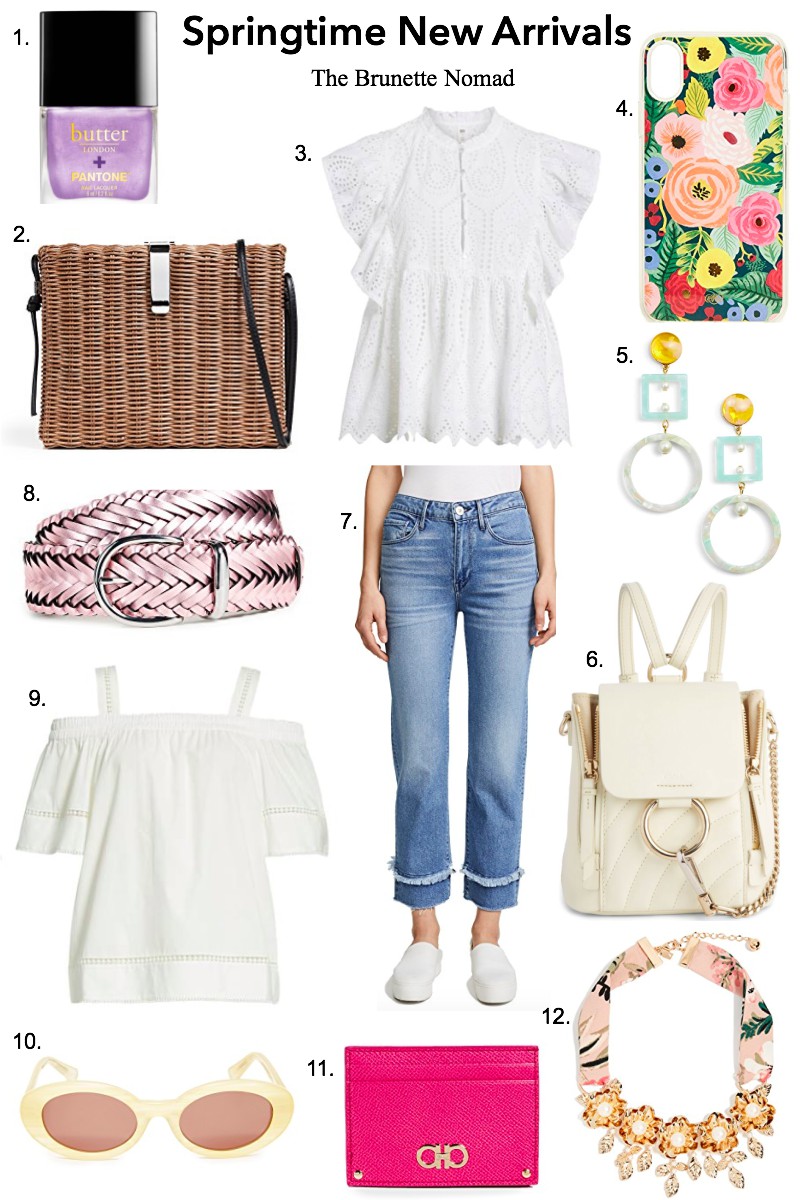 SHOP THESE NEW ARRIVALS FOR SPRING:
1//2//3 (just sold out, similar here)//4//5//6//7//8//9//10//11//12
This is my third new arrivals post on the blog. See my previous posts here and here, which were all about Fall and Winter items. In today's post, welcome to my new arrivals for Spring to bring you out of this dreary cold weather and into that Springtime outfit inspiration.
Can you tell I'm excited for winter to be over? Cold weather can be really picturesque during the holidays, but once New Year's is over I am ready for Spring. It's my mission to start to implement more springtime pieces into my wardrobe and provide you with some great Spring outfit ideas – no matter where you live.
I am crushing hard on #7. I purchased a similar pair last Spring and got so much wear out of them. They are surprisingly flattering on a petite frame, and are just a slightly different take on traditional denim.
In a recent Instagram post, I talked about how I am a big fan of sunglasses. I don't wear makeup most days (that may be shocking to some of you based on my blog) so #10 is that perfect accessory to hide those tired eyes. How cute is the shape too?
Crisp whites will never go out of style for Spring and Summer. Cue #3 (just sold out, similar style here) and #9 – classic white blouses with a trendy twist. They are perfect for all ages, and can easily be worn from day to night just by changing your accessories.
OTHER NEW ARRIVALS THAT I LOVE:
Affordable Woven Bag – It's no secret at this point that I am obsessed with the woven bag trend. I've probably talked about it in every other blog post so sorry guys! I do have a pension for luxury bags. It's what I prefer to spend my money and to me, it's quality over quantity. However, with a fun trend like this, there is no need to break the bank. You can even rock the woven bag trend in winter if you're too impatient for that Spring weather.
White Mules – Mules are some of my favorite style of shoes to wear. They're casual yet chic, and oh so easy to throw on. A pair of white shoes is a must in anyone's wardrobe. It's still a neutral so it will go with anything, but it adds such a freshness to your look. It can also easily transition you into other seasons. So basically it's a win-win.
Liquid Blush – I have always been a big fan of cream and liquid blush. As someone who has drier skin, I prefer to keep my powder products to a minimum. Liquid blush is a great way to add a natural flush look to the face without wearing a lot of makeup. It's also perfect if you're trying to achieve that dewy look.
What is the one item in Spring that you are looking forward to wearing? Let me know in the comment section below! 
SHOP THESE NEW ARRIVALS:
SaveSave
SaveSave
SaveSaveSaveSaveSaveSave
SaveSaveSaveSaveSaveSave
SaveSave