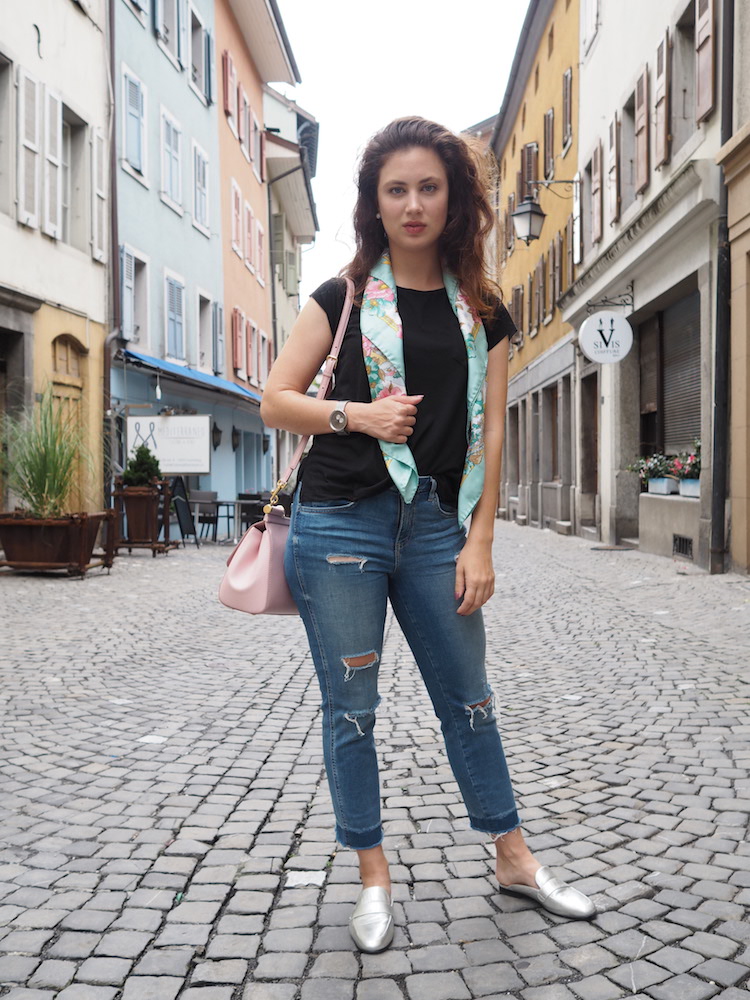 The harsh reality is that yoga pants are not always socially acceptable…yes, it's true! Sometimes you just want to look cute, but don't want to put a lot of thought into your outfit whether you're always running late or you've had a long week and can't spare energy to think about what to wear.
I have finally found the perfect (what I call) lazy girl's formula to getting dressed quickly while looking put together. This is 100% possible. This type of look is on constant repeat for me and makes getting dressed super easy for my lazy girl days.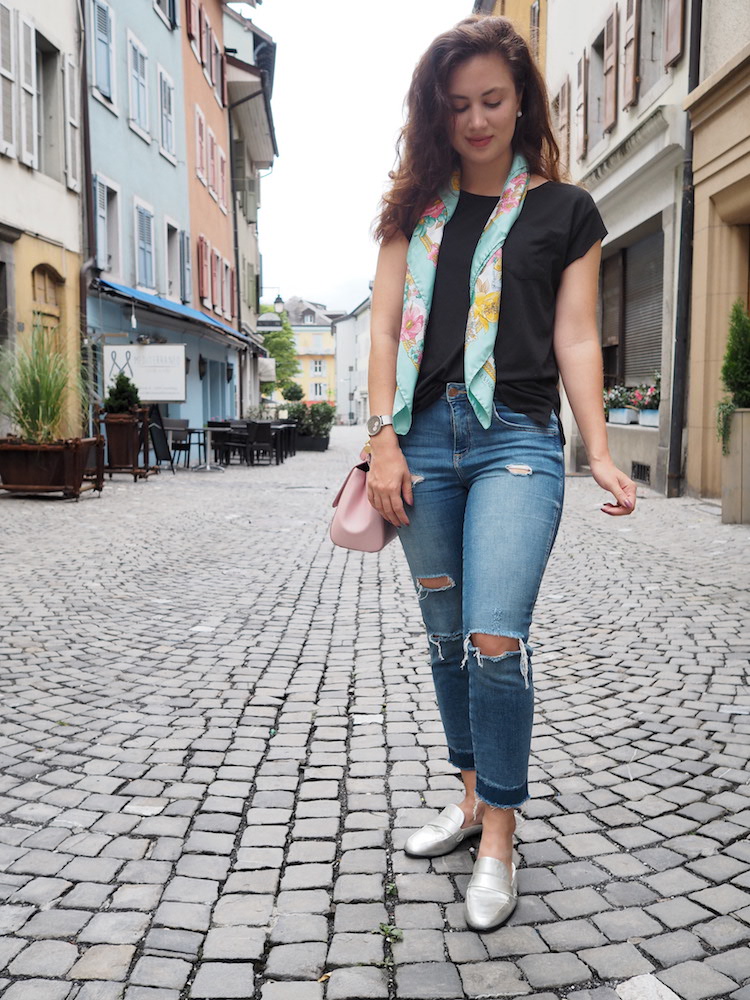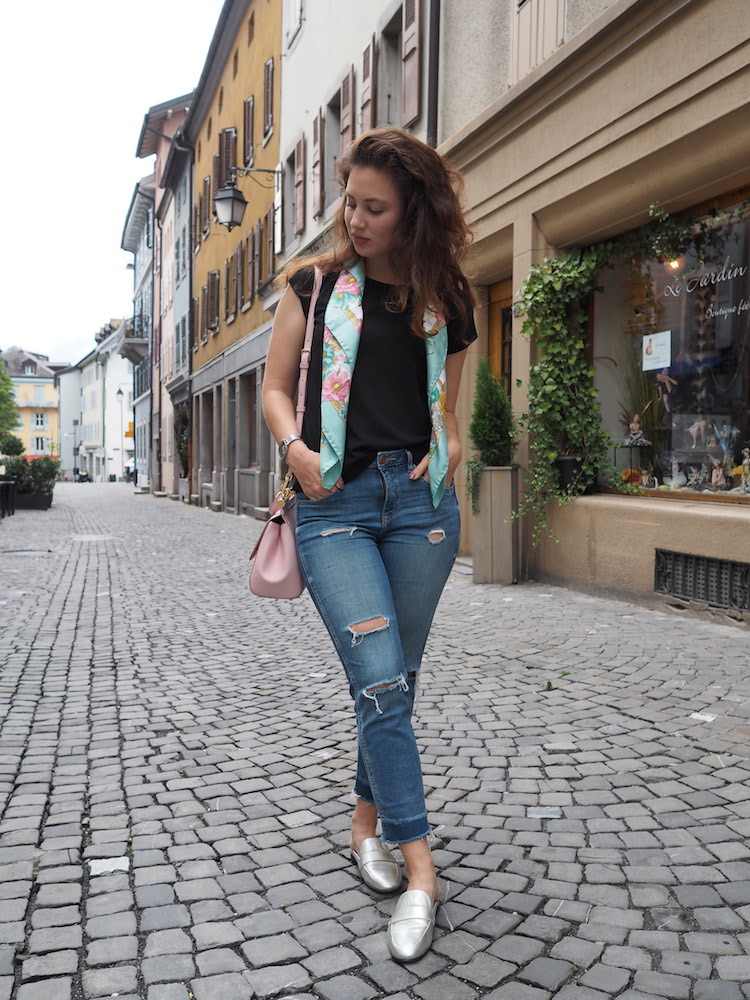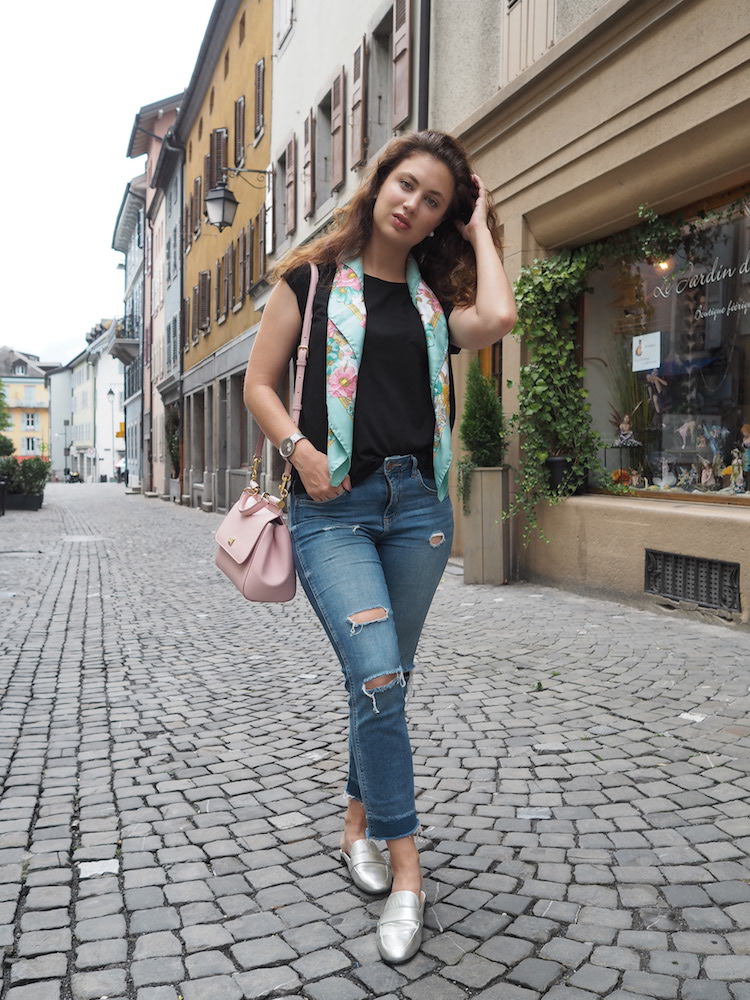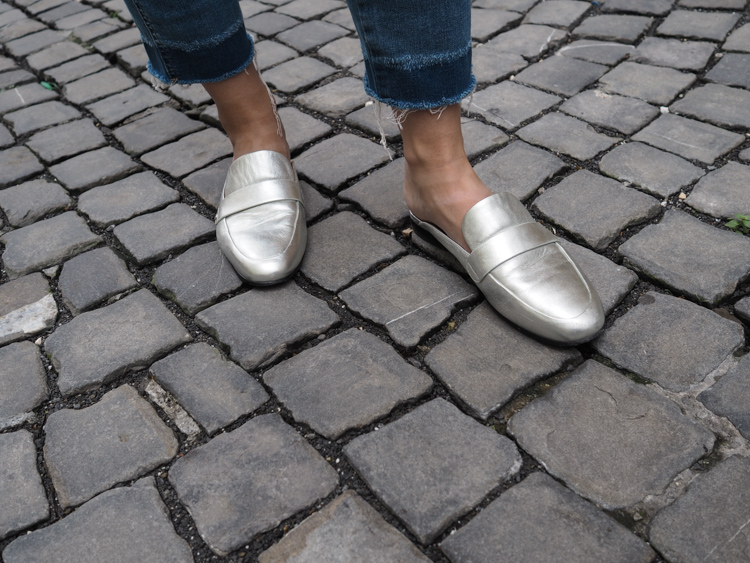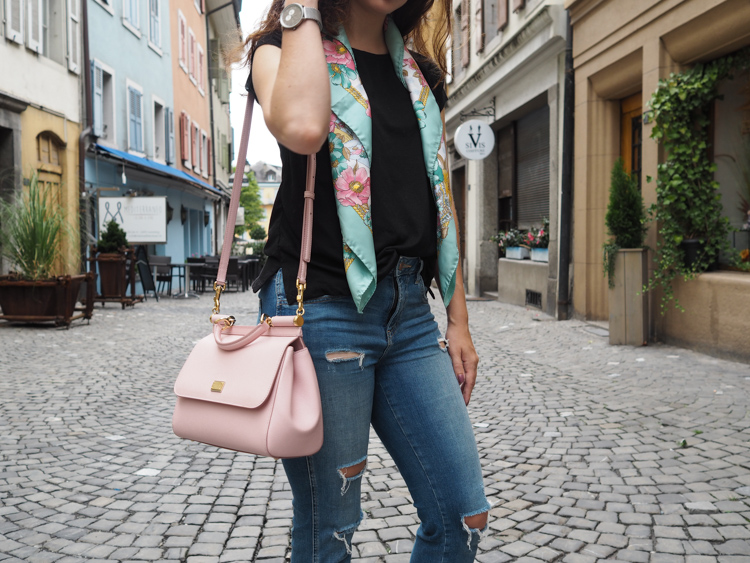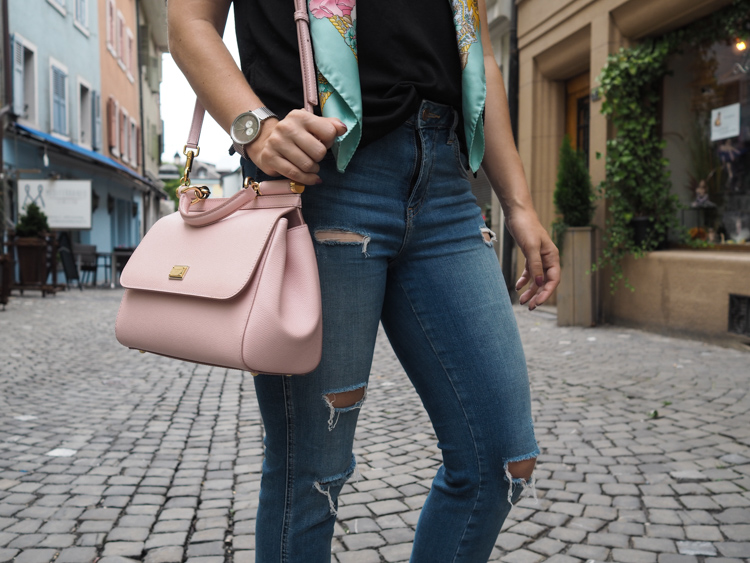 Top//Zara (old, similar here and here)  Jeans//New Look  Handbag//Dolce & Gabbana  Shoes//Sam Edelman  Silk Scarf//Paul Verlaine  Watch//Skagen (old, similar here)
My Formula for the Perfect Lazy Girl Outfit
STEP 1: THE FOUNDATION
The most basic look you can wear is a t-shirt and jeans, but it is also a wardrobe staple. I am sure you already have these items in your wardrobe, and if you don't it is a must-have. Splurging on a t-shirt is not necessary as any store from Walmart to Nordstrom will carry a reasonably priced t-shirt. My favorites have small slits on the sides to make it easier for the half-tuck, which is the effortless cool way to wear any shirt or blouse today.
However, if you are willing to splurge on a t-shirt, my favorite brand is Vince because the fit is really flattering and the material is so soft. You can often find these tees on sale at Shopbop or Nordstrom Rack.
STEP 2: STATEMENT SHOE…that is comfortable 
You kept the foundation simple so now you have to build up from there to make the outfit completely you and as I always say elevate the look. By adding a statement shoe you take this look from a simple tee and jeans to something eye-catching.
Since I hurt my ankle a year ago, I really shifted my shoe focus from heels to flats. I always felt that a statement shoe had to be a heel, but nowadays there are so many flat shoe options that are not only comfortable but statement.
These Sam Edelman slides are my favorite shoe to add to a simple look because the metallic silver adds a fun element, and they are padded inside. This makes them so comfortable! When I bought these shoes I knew I would get a lot of wear out of them, but I don't think I truly realized how often I would wear them. I swear I own other shoes.
STEP 3: GO-TO HANDBAG
Add your go-to handbag that you know works with any look because there is a reason it's your go-to handbag. This could be your favorite tote or mini handbag. This Dolce & Gabbana handbag is a no brainer for me because:
1)It has a strap so I can easily wear it crossbody
2)It holds everything I could ever need
3)It adds some color to my simple look, but is still a neutral.
I encourage everyone to re-think the traditional neutrals. Even though this handbag is a powder pink, it is still neutral enough to pair with multiple colors or patterns. The light pink bag adds a bit of color to my look and another element of interest, which is what we are trying to achieve.
*Bonus Tip: Strategically buy your handbags to easily transition from day to night. This will work for most events unless you are going for black tie or to a very elegant affair. I purposely buy handbags that will go with a majority of outfits to make getting dressed as simple as possible.
STEP 4: COLORFUL/PATTERNED SILK SCARF
The secret is out…silk scarves are my secret weapon to making any outfit look more elegant and put together. I have loved silk scarves from around the age of 16 and have been slowly collecting them. I was made fun by friends and family because they told me only grandmas wore these.
Call me a grandma then because this simple accessory does the trick. You can find them in varying colors and patterns, and it is such an easy way to add some color to any outfit. I wear silk scarves with a t-shirt and jeans (like in this look), a LBD, or a simple blouse and skirt.
These silk scarves have come back in fashion, and you can easily find them anywhere. Here are a few silk scarves that I love at all prices ranges: Halogen, J.Crew, Etro, Gucci
Do you have a go-to look for lazy days when you still want to look cute?
SHOP MY LOOK
SaveSave
SaveSave
SaveSave
SaveSave
SaveSave
SaveSave
SaveSave
SaveSave
SaveSave
SaveSave
SaveSave
SaveSave
SaveSave
SaveSave
SaveSave
SaveSave
SaveSaveSaveSaveSaveSave
SaveSave
SaveSave
SaveSave
SaveSave
SaveSave
SaveSave
SaveSave
SaveSave
SaveSave
SaveSave
SaveSaveSaveSave
SaveSave
SaveSave