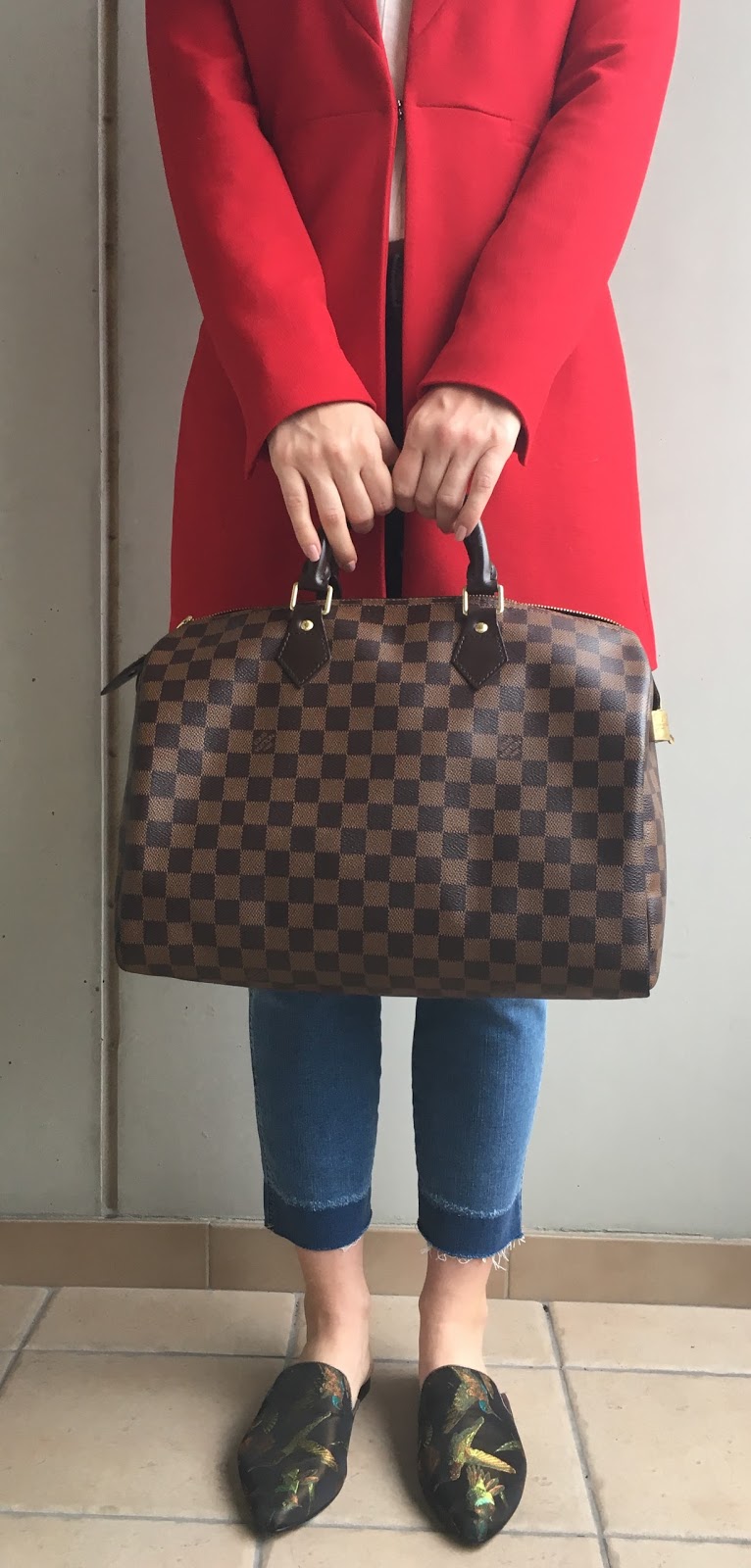 I thought I would do a handbag review on one of my most beloved handbags, and the one that really started my luxury collection. I've always been a handbag lover so when my 21st birthday rolled around my parents asked if I wanted a trip to Vegas with them or a designer handbag of my choosing. Obviously, I went for the handbag because I thought a trip is a one time thing, but this handbag will last for years (plus I know I'll make it to Vegas one day!).
After having this handbag for 4 years, I wanted to tell you the good and the bad. If you are in the market for a new handbag or just love reading luxury handbag posts, keep reading…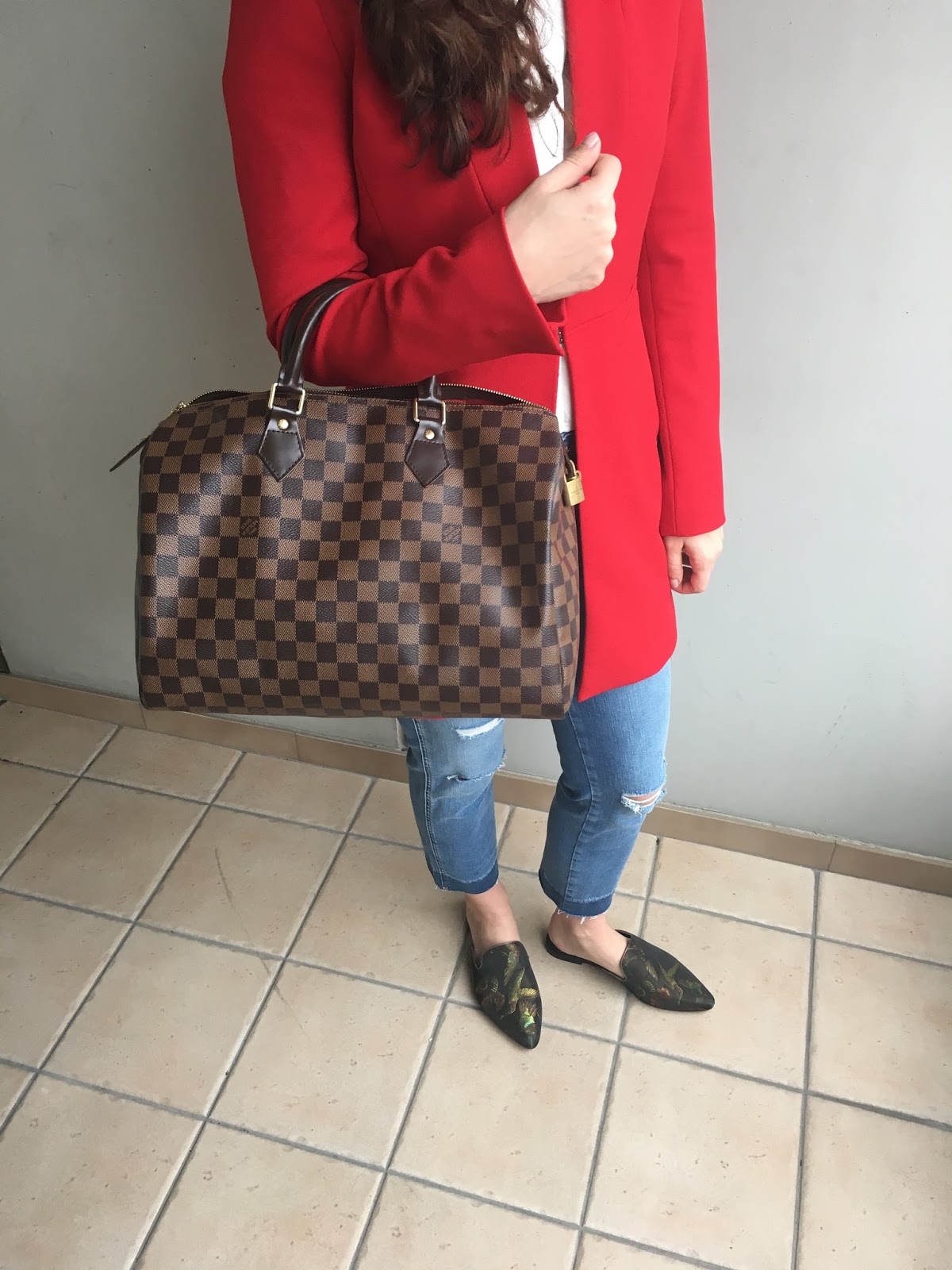 Jacket: Zara // Jeans: New Look // Slides: Zara // Handbag: Louis Vuitton
Pros//
Classic Style: Speedy is one of the most classic Louis Vuitton styles that I think everyone should have in their handbag collection. It is also a great style of bag to start your luxury collection with.
Quality: Louis Vuitton is historically known for their quality products, and pre-testing before your item hits the stores. For example, a Louis Vuitton Neverfull should be able to withstand 500 lbs. Yes, you read that correctly. Should your handbag have any sort of damage, take it in to a retail store and they'll see what they can do. Whether that is sending the bag off for repair or giving you a whole new handbag. That has actually happened to my mom.
Price: Compared to other high end designers, Louis Vuitton classic handbags are fairly priced in the industry. Especially since it is one the largest and most recognized houses in the world. When burying a designer handbag you can typically spend a few thousand dollars, but this particular style currently retails at $990. There are price increases every year so if you think of this from investment perspective you'll get your moneys worth (as long as you take care of it).
Versatility: The damier print is my favorite from Louis Vuitton as I find it easily goes with everything you could ever wear due to the light and dark brown pattern. You can use this handbag for any occasion: work, formal, or casual. My favorite is to pair this iconic pattern with a t-shirt and jeans to add a touch of sophistication to a simple outfit.
Cons//
Handles: The only reason I regret my decision of choosing this handbag is that I did not get the bandouliere style. While this handbag is so cute and ladylike with the top handles, it isn't always the most practical. I have found as I've gotten older, and my life has become more hectic that I prefer to have my hands free. After awhile of carrying it in the crook of your arm, it can become a bit uncomfortable. If a top handle bag bothers you then this is NOT for you. I would look at the bandouliere, if you still love the style.
Interior Design: There are no inside compartments to this handbag other than a tiny little pocket. If you like to keep your handbags organized, I would suggest carrying different pouches for your needs. Otherwise, your stuff will roam completely free and you'll find yourself digging through this Mary Poppins of a purse (I swear it holds so much!).
Size: If I had to do it again, I would go for the speedy 30 or even the 25. I mainly use this handbag for traveling or over night stays somewhere. My needs have changed since I first got the handbag, and find that I now prefer smaller bags. I have really reduced the amount that I carry, and now only want to walk around with my essentials. If you are the type of girl who loves big handbags then this is a great style for you!
To see my other handbag reviews click
here
.
What are your thoughts on the Louis Vuitton Speedy?
SHOP THIS LOOK
SaveSave
SaveSave
SaveSave
SaveSave