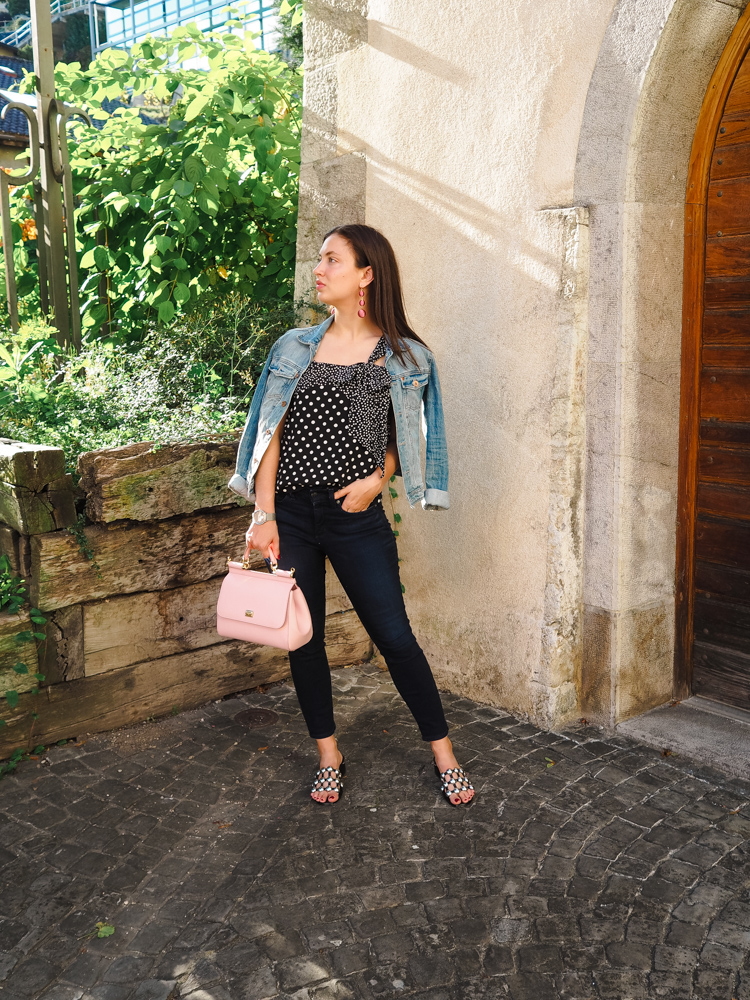 I'm just under 5ft 4 inches and have a short inseam – no #legsfordays over here!
Finding jeans that not only fit my body shape, are on trend, and that I actually like has always been a challenge for me. For years, I have dreaded going denim shopping  because I knew I would try on over 30 pairs and either come out with one pair of jeans or walk out empty-handed. I found myself sticking to the same two pairs of jeans that worked for me, and not exploring any further since there clearly couldn't be anything out there for me…or so I thought.
This summer I said enough was enough and I wanted to find denim that worked for my petite frame. I came away from the experience with a a new favorite brand that I'm so excited to share with you.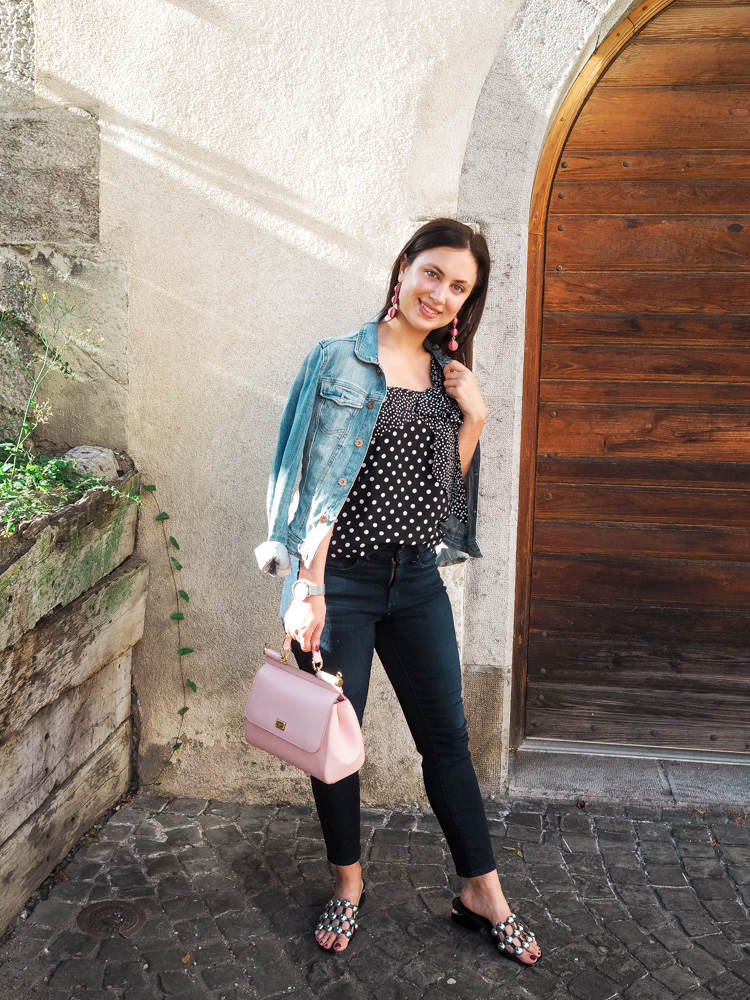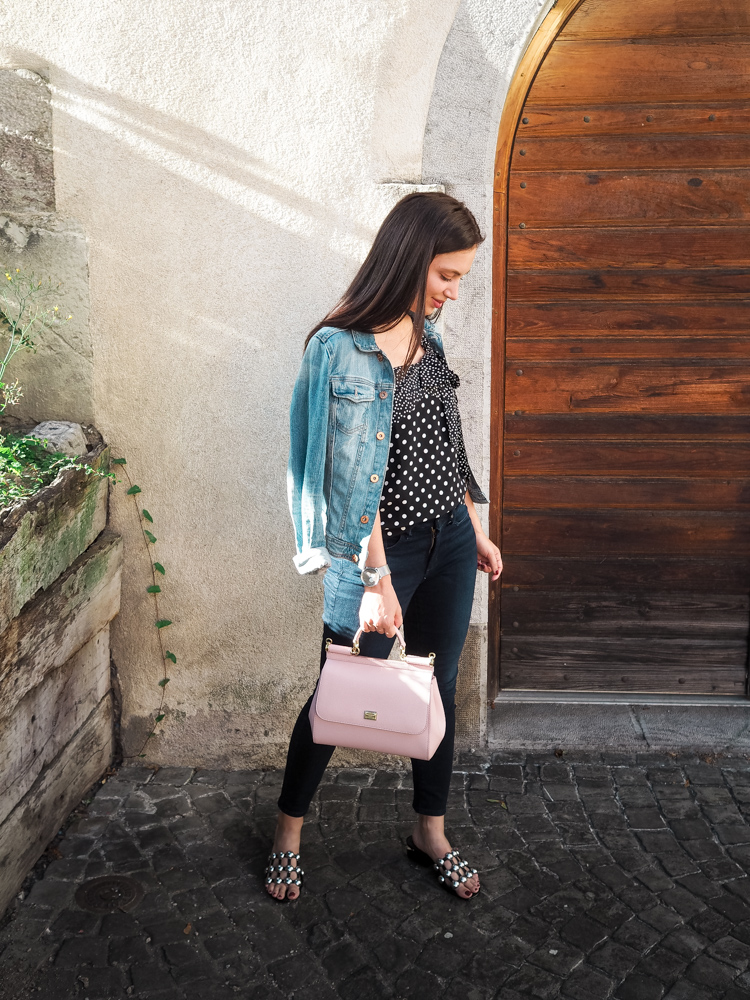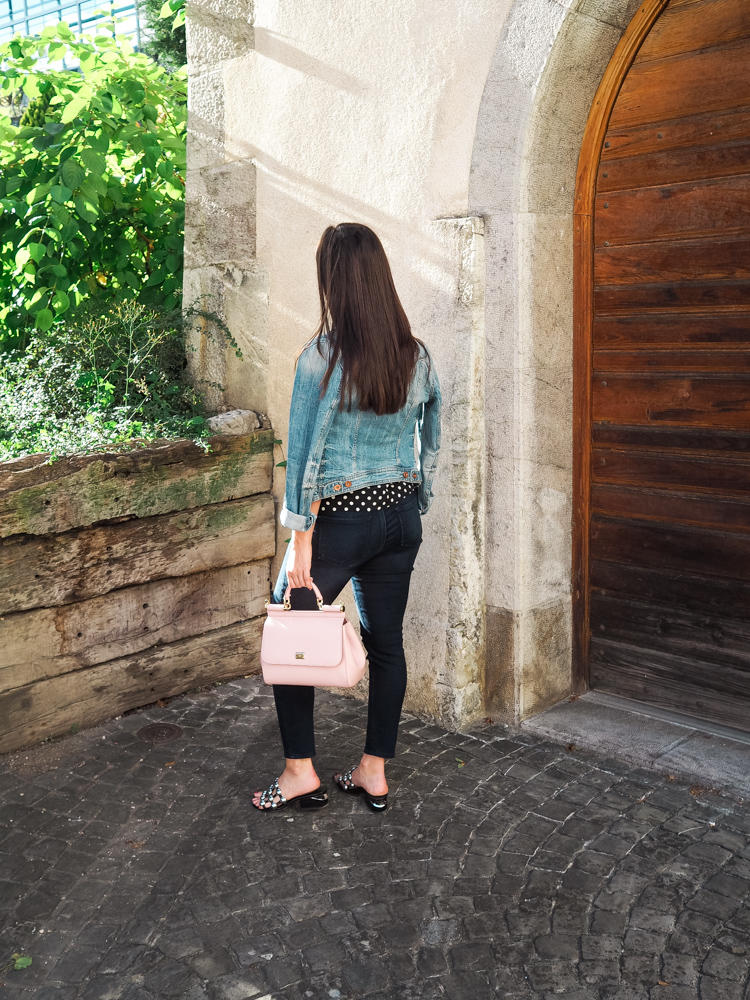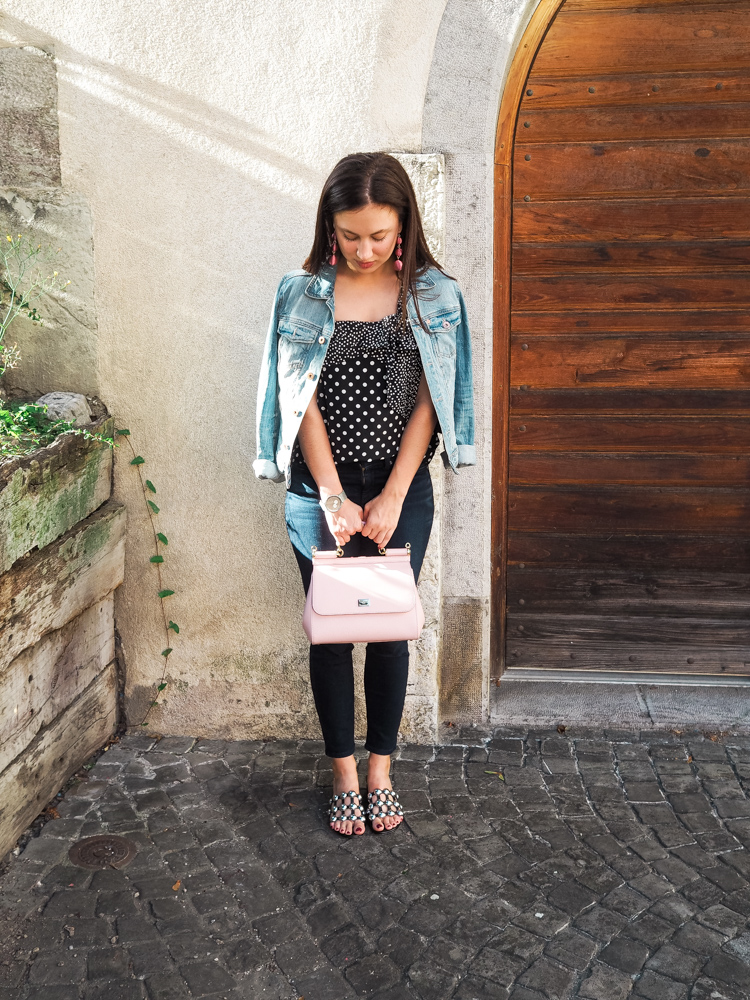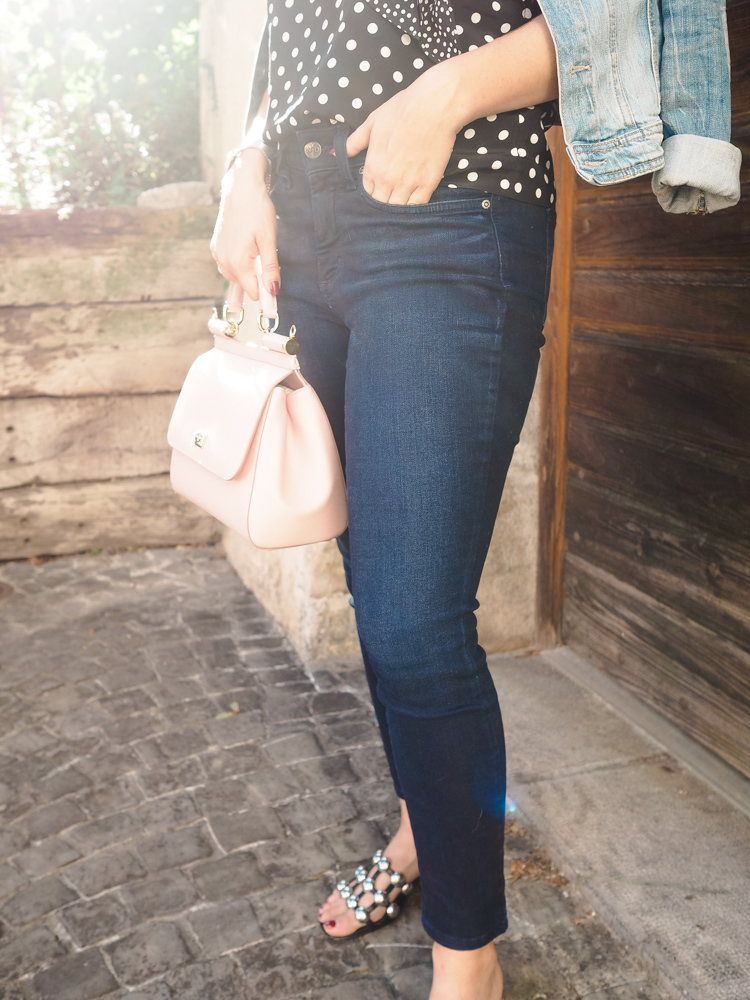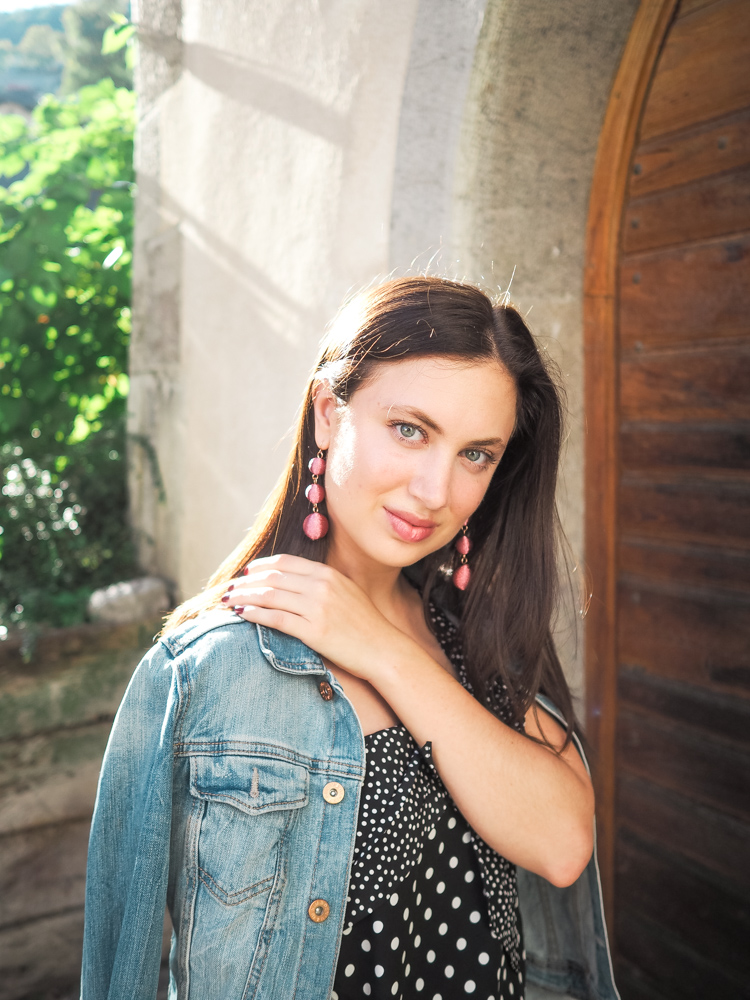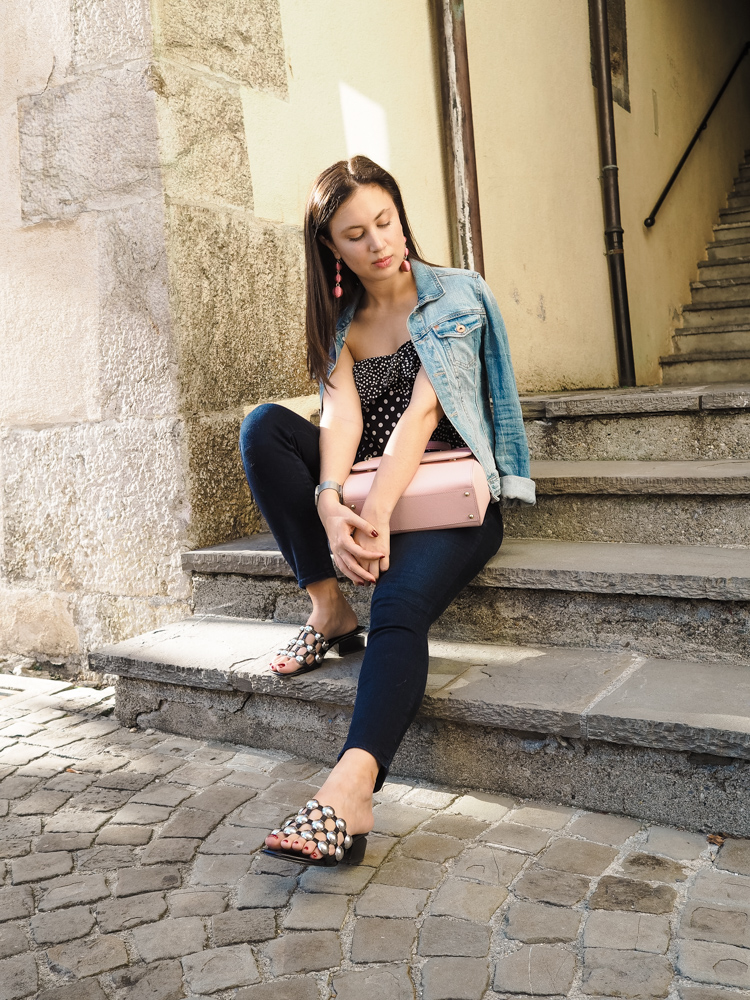 Top//J.Crew (now sold out, similar here) Jeans//NYDJ  Jacket//H&M (old, similar here and here)  Shoes//Alexander Wang  Handbag//Dolce & Gabbana  Earrings//BaubleBar  Watch//Skagen (old, similar here)
Why do I love my denim?
Over the last few years I have found myself gravitating towards denim more and more. I don't know if it's because as a working woman (surely, I can't be old enough to say this) I don't have the free time I had in college or if I have finally realized the amazing potential denim can have on your wardrobe.
Sure, denim is one of the most basic elements to any wardrobe, but it is also a key piece that every woman NEEDS to own. Denim is that singular item that looks good on all ages, all body types, and is acceptable for most occasions on a regular basis – not a wedding, unless the invitation says otherwise.
Denim is my favorite item to wear from day to night as it is so easy to pair with nearly anything in your wardrobe. By changing accessories you can quickly elevate your daytime denim look to a more evening appropriate attire. My favorite trend of the moment is to wear denim on denim. See a recent posts here, where I rock a Canadian tuxedo in a modern way.
My favorite denim brand:  NYDJ
To find jeans to fit my frame, I used to shop in the juniors section. I found it quite limiting as I had to sort through to find classic, but adult looking jeans. I may be height challenged, but that doesn't mean I am petite all over. I have that Mediterranean behind. 
When I tried on my first pair of NYDJ, they fit like a glove. The length was perfect – slightly cropped to show a bit of ankle. I find that very flattering, and it a great choice when you want to show off your shoes. The jeans stretched to fit my booty, morphed to fit my smaller waist, and were so soft. It passed my very rigorous denim test!
This post is not sponsored in any shape or form. I just feel like I finally found an adult brand of denim that is truly made for petites who have a butt. That seems to be a rare occurrence. My favorite style is the Ami Stretch Ankle Skinny…oh so good!
What is your favorite denim brand?
SHOP MY LOOK:
SaveSave
SaveSave
SaveSave
SaveSave
SaveSave
SaveSave
SaveSave
SaveSave
SaveSave
SaveSave
SaveSave
SaveSave
SaveSave
SaveSave
SaveSave
SaveSave
SaveSave