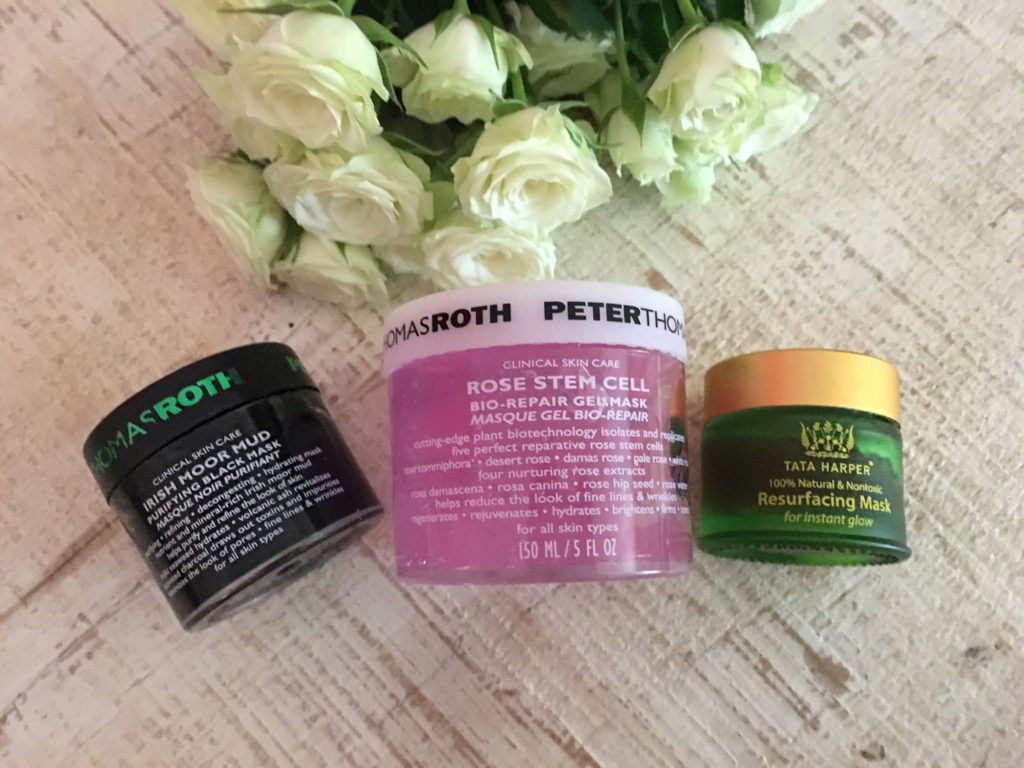 I have always been fascinated by skincare. There are so many different types of products with endless possibilities of ingredients from toners to serums to face masks. They all claim to be the magic product for your skin, which makes trying skincare so fun. You never know what you'll find that will become a favorite in your routine.
However, we all know that everyone's skin is not the same. What may work great for me, may not work great for you. You hear your favorite blogger/Youtuber/celebrity gushing about how amazing this one product is. You shell out a bunch of money and then it doesn't work for you. Been there, done that!
I always love to gather multiple opinions when it comes to skincare because the products can be expensive. It helps when you have heard multiple positive reviews from people you trust, and when you hear about it from someone with similar skin to yours. In this post I share 3 face masks that I have really been loving at the moment.
Background on my skin: 
When you read about someone's favorite skincare items or their regime, it is always helpful to know more about their skin as they may have entirely different skin than you do. I would say I currently have combination to dry skin now. I am dry on my cheeks,  a little under my eyes, and chin. However, I have started to become oily on my forehead. I was never acne prone as a teenager. It wasn't until this last year and a half that my skin started to breakout and I developed adult acne (horrifying feeling). I would classify the acne as mild because it really is only on my cheeks or jawline with some persistent spots that keep coming back. I think this happened from a combination of a hormonal imbalance and stress from work. My work situation is very stressful, and I don't sleep enough anymore. Too many things to do and so little time. I am in my mid-20's so anti-aging isn't a huge concern for me at this time. I am more interested in general upkeep of my skincare regime to ensure my skin ages well and is clear.
Let's get into the face masks
I head so much about this face mask before I ever tried it. I was really on the fence whether or not to buy it as the reviews were quite mixed: some said it was amazing and others said they didn't notice a difference in their skin. One day I decided to take the plunge and buy the mask – I love testing out new face masks to find the best ones. Besides the packaging being of high quality (comes in a glass jar that travels well), I love the feel of the actual product. It is not overly scented or liquidy to where it runs down your face. I always worry when skincare is too fragrant if it will react negatively with my skin. At this time, I have not necessarily noticed a huge improvement in the overall texture of my skin as I think this is something I will see overtime after months of use. However, what I have noticed is that my skin has a more glowly complexion. The mask contains beta-hydroxy acid so it acts as a great exfoliating face mask. I have also noticed that my skin's texture does seem to be improving a tad so I think I will have to check in later and let you know how it is working.  
Some of my favorite masks are detoxifying masks for those purifying properties. Let's get all of that gunk out!
I think the site describes this mask best by saying, "Mud helps draw out dirt, oil and grime as it infuses skin with moisture, vitamins, essential minerals and potent anti-oxidant benefits." Doesn't that make you want to try it? My skin always feels really clean after using it and if you are sensitive to smells then you do not have to worry…this mask is basically odorless. The texture was much different than I expected – it is almost like a bouncy jelly feel. It also doesn't try my skin out compared to other mud masks I have tried in the past.
I previously tried the Origins Clear Improvement Active Charcoal Face Mask, which I am thinking about giving another try.
Clearly, I am a fan of Peter Thomas Roth face masks. Next on my list to try is the Pumpkin Enzyme Face Mask. I like to keep this mask in my refrigerator so when I apply the gel texture, it feels so refreshing and gives a great cooling affect. The face mask contains 5 rose stem cells and is blended with multiple rose extracts to improve your skins vitality. It can help with the appearance of fine lines and wrinkles, dehydration, dullness, and overall skin toning. I love masks that have multiple uses in one!
I can't speak about the improved appearance of fine lines and wrinkles as I'm only in my mid 20's, but my skins does feel more hydrated after use. I often apply this face mask a bit before bed and use it as a sleeping mask to really give my skin extra hydration.
  What are your favorite face masks that you can't live without?    
SaveSave SaveSave SaveSave SaveSave SaveSaveSaveSave SaveSave SaveSave SaveSave SaveSave SaveSave SaveSave SaveSave SaveSave SaveSave
SaveSaveSaveSave