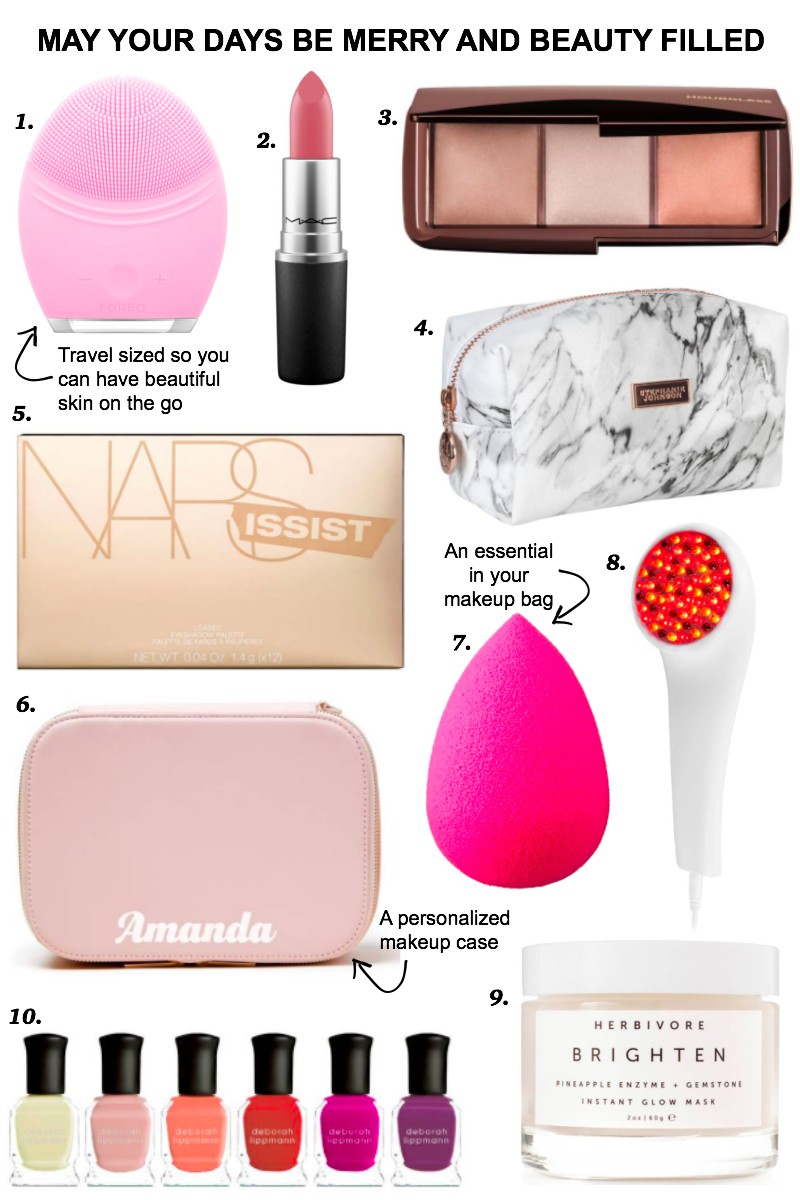 SHOP THE ITEMS IN THIS BEAUTY GIFT GUIDE:
Happy Black Friday my friends! If you are anything like me then you have been shopping the sales the last few days and have found some great finds. I just can't wait to actually try on my items when I am back home in Dallas (19 days guys). I have no doubt you will be seeing these pieces in some upcoming blog posts so stay tuned.
In this post I am sharing my third gift guide of the holiday season! To see my previous gift guides click here. So far I have posted a gift guide for items under $50 and stocking stuffers. Now I am creating a gift guide for all of those beauty lovers in your life or for you fellow beauty junkies – when the gifts are good you have to shop for yourself too.
I have always loved makeup and remember the first "real" makeup item my mom ever bought me. It was an eyeshadow quad filled with frosty pinks and light greens in the shape of a phone (I am completely serious).
In recent years my love has shifted a bit from cosmetics to skincare as I believe skincare is the foundation of good makeup. If you take care of your skin, not only do you feel more confident, but your makeup just seems to go on smoother.
I prefer a more natural look, but am completely envious of anyone who can rock a perfect smokey eye or highlight that will blind you! I loved the idea of #6 – a personalized makeup case. Anything personalized makes a gift more unique and shows extra thought. If you haven't tried #7 in your makeup routine then you are missing out. This little makeup sponge has become a cult favorite, and will change the way you put on your makeup. It is one of my favorite things to perfectly blend my under-eye concealer.
EXTRA GIFT IDEAS FOR THAT BEAUTY LOVER IN YOUR LIFE:
Makeup Setting Spray – Game changer! I can't put it any other way. This little product (especially the Urban Decay spray I have linked) has perfected the way I put on my makeup. No transfer onto clothes and will make your look last all day. It is literally called the All Nighter Spray, and I believe this product lives up to its name.
Tata Harper Mask – If I ever leave home for more than a few days, I will 100% bring this mask with me. This is a resurfacing mask meant to improve your skin's radiance and texture. Tata Harper is a well known name in the beauty community so any skincare junkie or beauty lover in your life would be happy to receive this. All you need is this mask and the jade roller for a perfect gift!
Luxury Lipstick – Yves Saint Laurent beauty makes high quality products that come in even more beautiful packaging. These items would look stunning on a vanity table or to simply take out of your handbag. We all wear lipstick, but how often do we buy ourselves luxury branded lipstick? Probably not often for most of us. To me these are the best gifts – items we use and love, but will rarely splurge on. As a fellow beauty lover, this gift would be welcome!
Jade Roller – After hearing about jade rollers for the last year, I finally decided to see what this craze was all about. I love experimenting and love a good beauty tool. This tool targets facial tension relief that can cause wrinkles and fine lines, and helps to improve circulation that will detoxify the skin and provide that healthy glow we all strive for. I love to put mine in the fridge for an added cooling affect, which is such nice treat at night.
What other items would you include in a gift guide for beauty lovers?
 SHOP THIS GIFT GUIDE:
SaveSave
SaveSave
SaveSaveSaveSave
SaveSave
SaveSaveSaveSave
SaveSave
SaveSave
SaveSave