If you follow me then it is probably very easy to see that I love my handbags, especially my luxury handbags. It's where I choose to spend my money time and time again because there is nothing quite like a quality handbag that will last you years, and can transform your simple look to something more extraordinary.
In this post, I am sharing my thoughts on my Louis Vuitton Cluny BB in this updated version of the epi leather. You have seen this handbag many times on my blog and on my Instagram. However, after owning it for six months I wanted to share my thought on this handbag.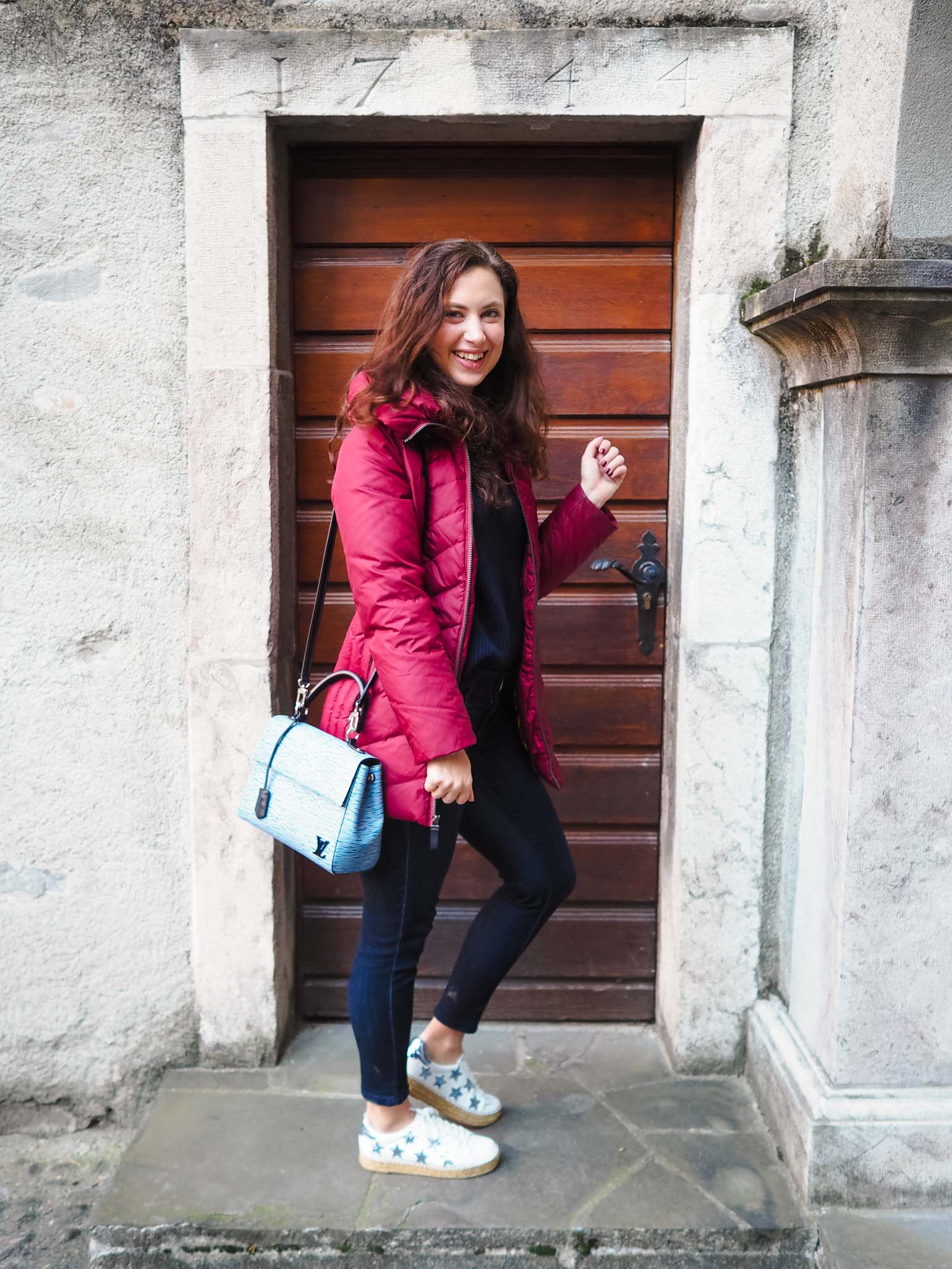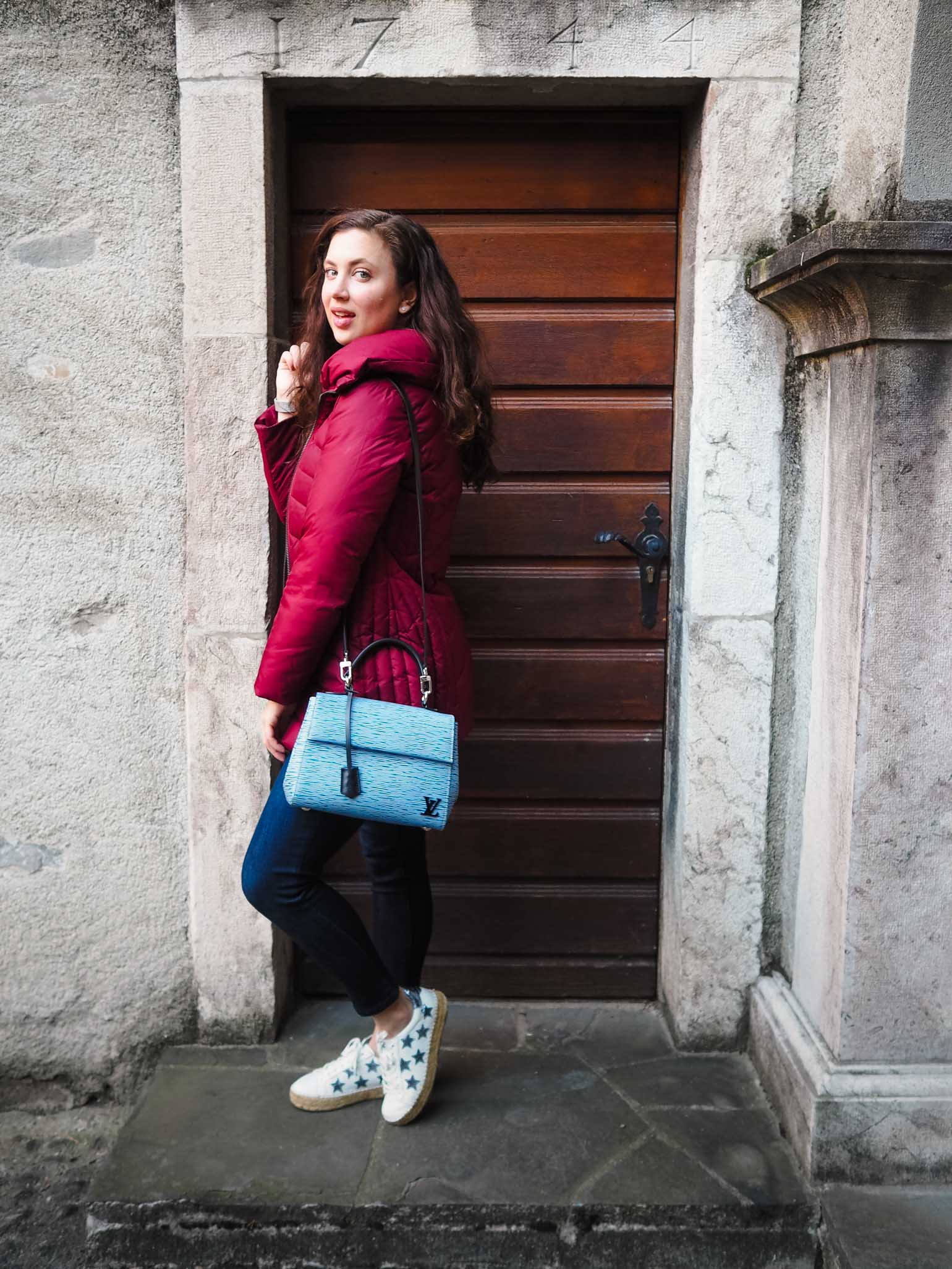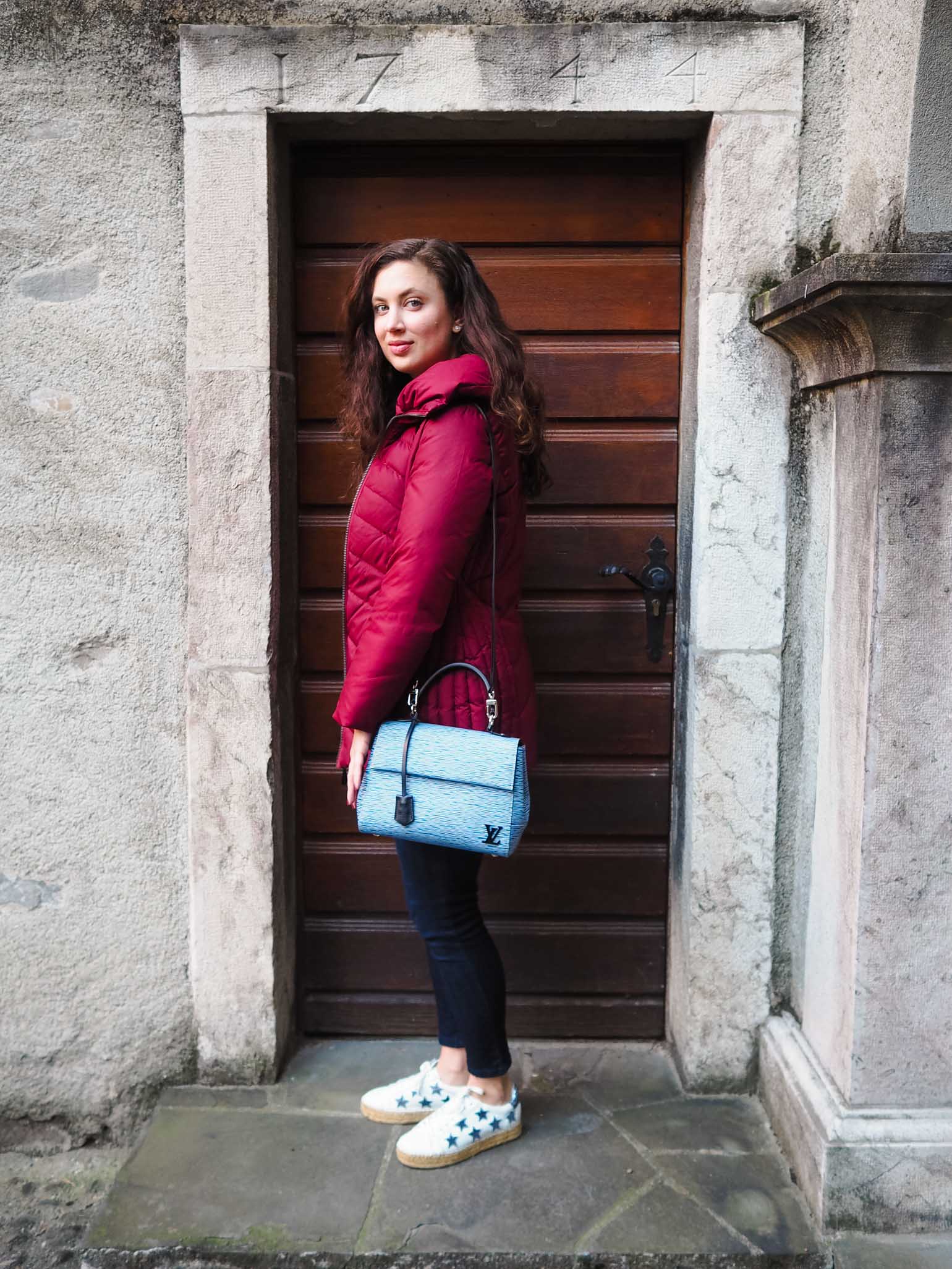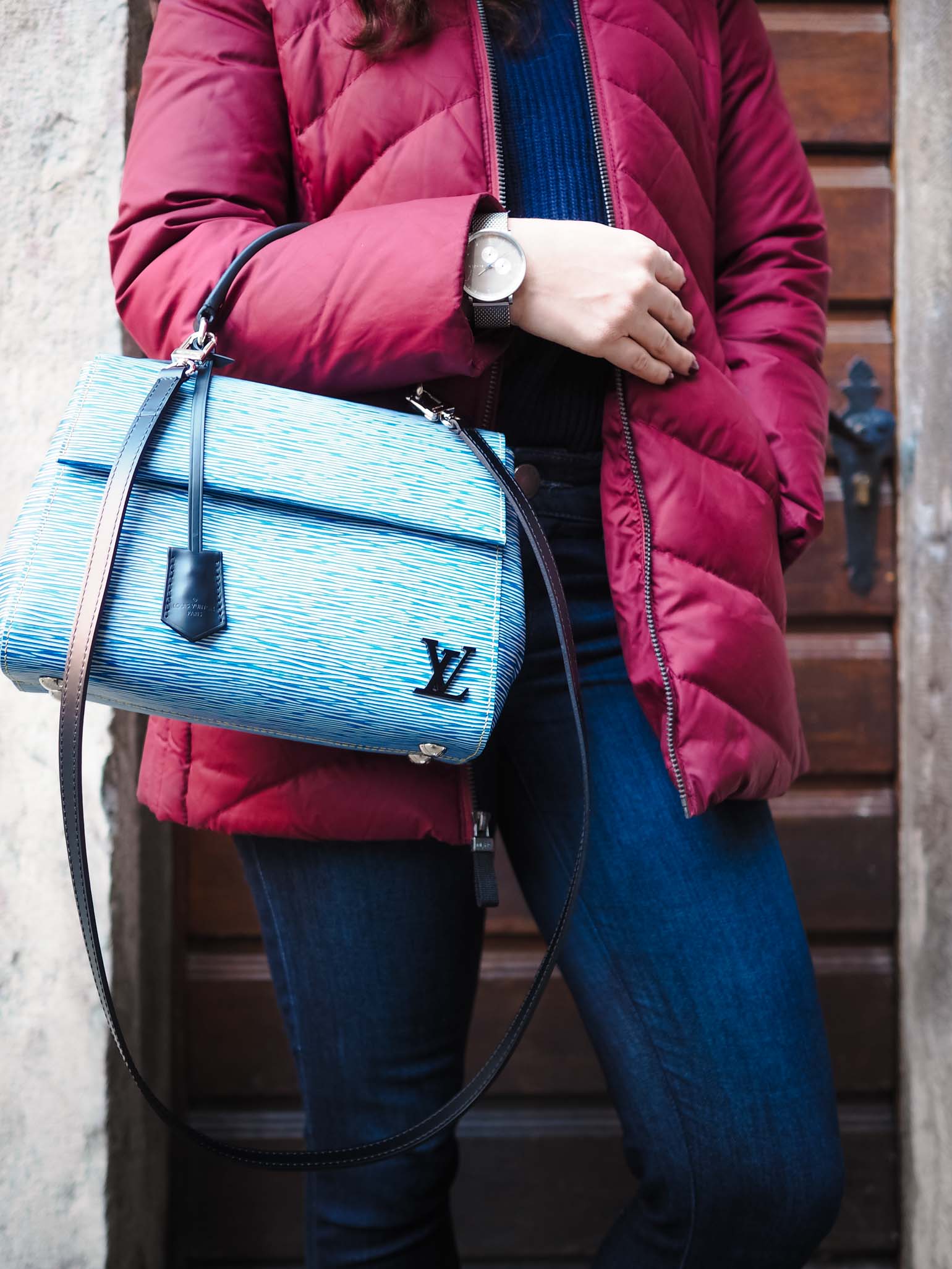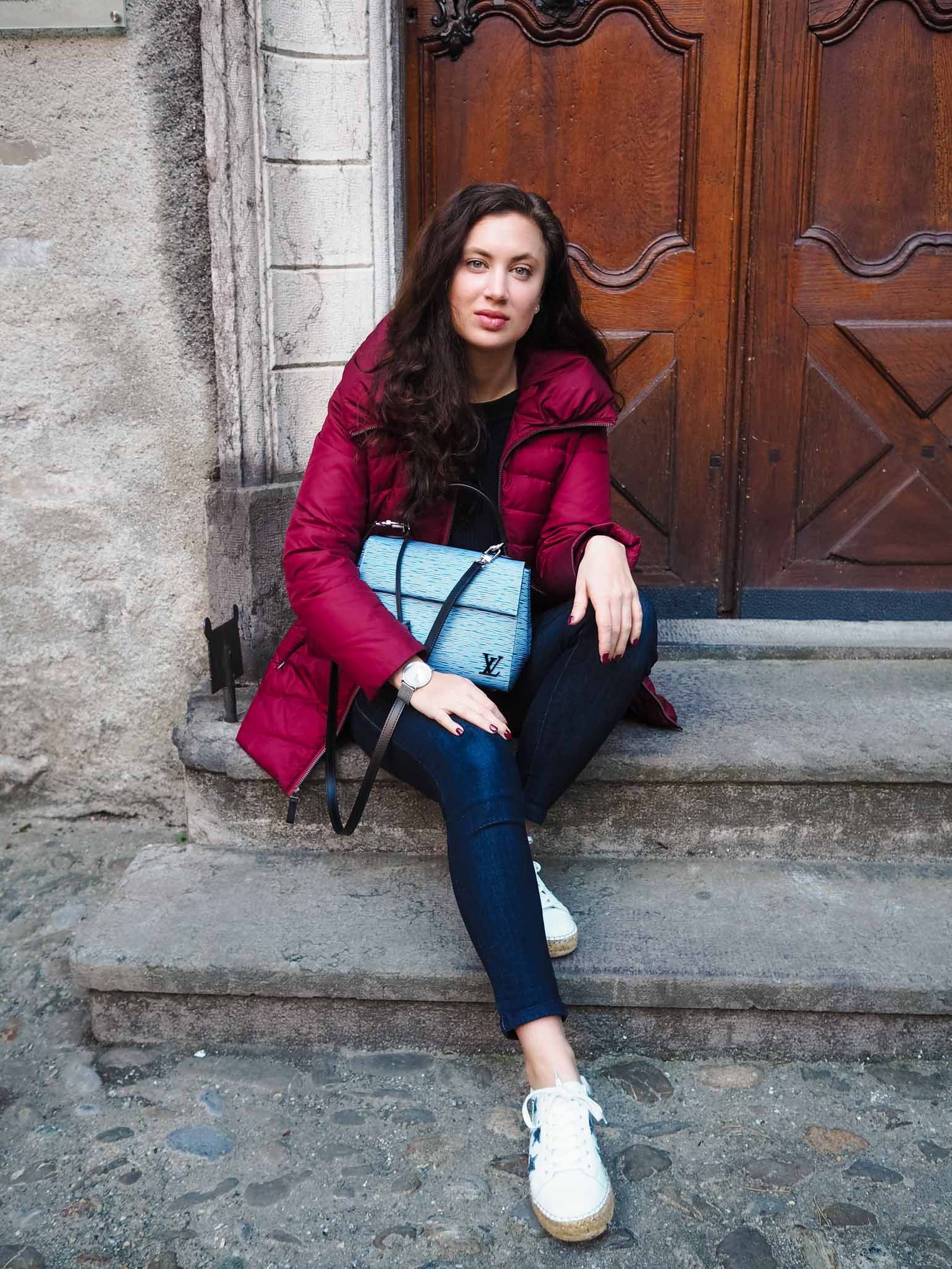 Coat//Andrew Marc (old, similar here and here)  Sweater//J.Crew  Jeans//Wit & Wisdom (on sale right now)  Handbag//Louis Vuitton  Shoes//Marc Fisher (also love this pair)  Watch//Skagen
If you are anything like me then you probably have a fascination with luxury handbags – whether you've made the plunge or not. When people find out the prices of these expensive accessories they may think you're crazy (maybe I am a little bit), but to me, these are more than just handbags.
When you have such love for these global fashion houses and see the details up close, these handbags become wearable works of art – maybe a bit dramatic, but the craftsmanship is truly beautiful. That's one of the reasons I am willing to spend the money that I do on these luxury goods.
They are also great investments. Most luxury brands have price increases every year, which means (depending on the brand and the style of the bag) you could actually re-sell your handbag for more than you paid for it.
Typically, classic bags or very rare finds do best on the pre-loved market. 
Hermes, Chanel, and Louis Vuitton are the top 3 brands that buyers look for pre-loved so there is a constant demand. If you are into buying bags for investment purposes then these are great things to know. For me, I buy to wear and because I know I will get my money's worth.
MY THOUGHTS ON THE LOUIS VUITTON CLUNY BB:
I purchased this bag as a birthday present to myself this summer (#treatyoself). I documented my food itinerary on a trip to Prague with my mom in a previous post. If you are a fellow foodie then you will love this post!
I came to Prague with 4 bags on my list that I wanted to see (3 from Louis Vuitton and 1 from Gucci). When I saw the Cluny BB in this new epi leather that is meant to resemble denim, I was hooked!
PROS:
Quality – I have used this bag so much over the six months that I have owned it, and the handbag still looks as new as the day that I bought it. The material is strong and holds up well to everyday life, there is no cracking on the leather, the stitching is perfect, and it comes with metal feet on the bottom of the bag! Honestly, do you know how many bags do not come with feet that should? I am very pro feet!
Detachable Strap – I have mentioned this before, but I LOVE detachable straps on my handbags. When I am spending this amount of money, I really want to make sure that I can get the most out of it. A detachable strap allows you to wear it multiple ways, and for so many different types of occasions. For a casual outfit, I keep the strap on (even if I am holding it by the top handle), and for a more ladylike look or formal look, I would remove the strap so it looks like a top handle only bag.
Versatility – I was a bit worried at first that this brighter denim inspired epi leather would be hard to style, but this bag constantly surprises me. It pairs so perfectly with denim, but will also look beautiful with a LBD. The combination of the blue and black makes this bag easy to pair with anything.
Uniqueness – This is a new and updated version of the typical epi leather handbags that you may be used to seeing. Still, to this day, I have not seen another person in everyday life or on social media have this exact handbag. I also very rarely see anyone carry handbags with this particular epi leather. I love having a handbag that isn't as common and is a show-stopper.
CONS:
It was hard to even think of a con because I love this handbag so much, but I thought to add one just to make it fair.
Standing ability – I have heard it mentioned before that this handbag can easily tumble forward. This isn't something that really bothers me as I don't often leave my handbags sitting on the table when I go out. I have not really experienced that this with this bag because I think this version of the epi leather is sturdier than the typical Louis Vuitton epi leather. However, if that is something that really bothers you then maybe make a note, and test it out in the store.
MY OVERALL THOUGHTS:
I think it is easy to see that I love this handbag, and would highly recommend it to anyone in the market for a new bag. It is the perfect size to use every day, but also so easy to transition into night. I love that this version of the epi leather is rare so it makes this handbag feel even more special. The quality is fantastic, which is why I can understand the higher price point. I wish I could pay less for this bag, but I do understand why Louis Vuitton charges what they do for this particular handbag.
I would actually really like to have a second Cluny BB in the classic monogram print. There are two multicolored straps that you can choose between so it makes the monogram print more unique, and I would even love to have this version of the epi leather in another handbag (like a Twist bag).
What are your thoughts on the Louis Vuitton Cluny BB? What handbags are on your wishlist?
See how I styled this bag a few different ways: denim on denim, all black look, wild star printed jacket. 
SHOP THIS LOOK:
SaveSave
SaveSave
SaveSave
SaveSave
SaveSave
SaveSave
SaveSave
SaveSave
SaveSaveSaveSave
SaveSave
SaveSave
SaveSave
SaveSave
SaveSave
SaveSave
SaveSave
SaveSave