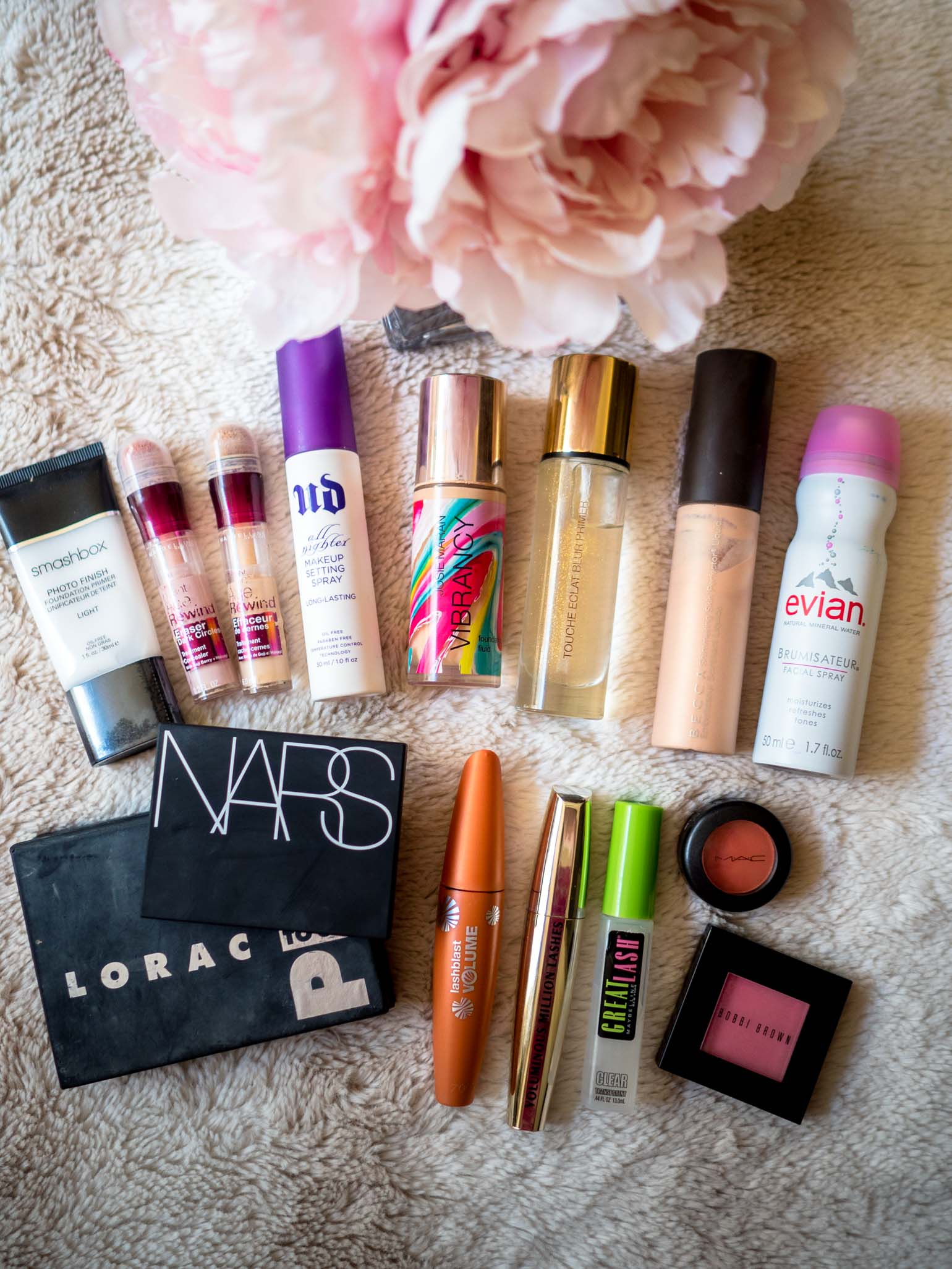 One aspect of blogging is to create and style an overall look that you want to highlight to your readers. Obviously, you can see the clothes that I style for every blog post, but what about the other element that contributes to the overall aesthetic – my makeup.
I prefer to wear a natural makeup look to keep the focus on the outfits as I am a fashion blogger after all. I never want my makeup to become distracting, and in real life I wear natural makeup. In this post, I want to share with you the makeup that I use for every blog photoshoot and how I use these specific products. It may not always be in the way that you think.
While I do love a good natural makeup look, I thought about experimenting with some more colorful lips when the look compliments it. When you find a look that works for you and products that you love, it can be hard to get out of that routine.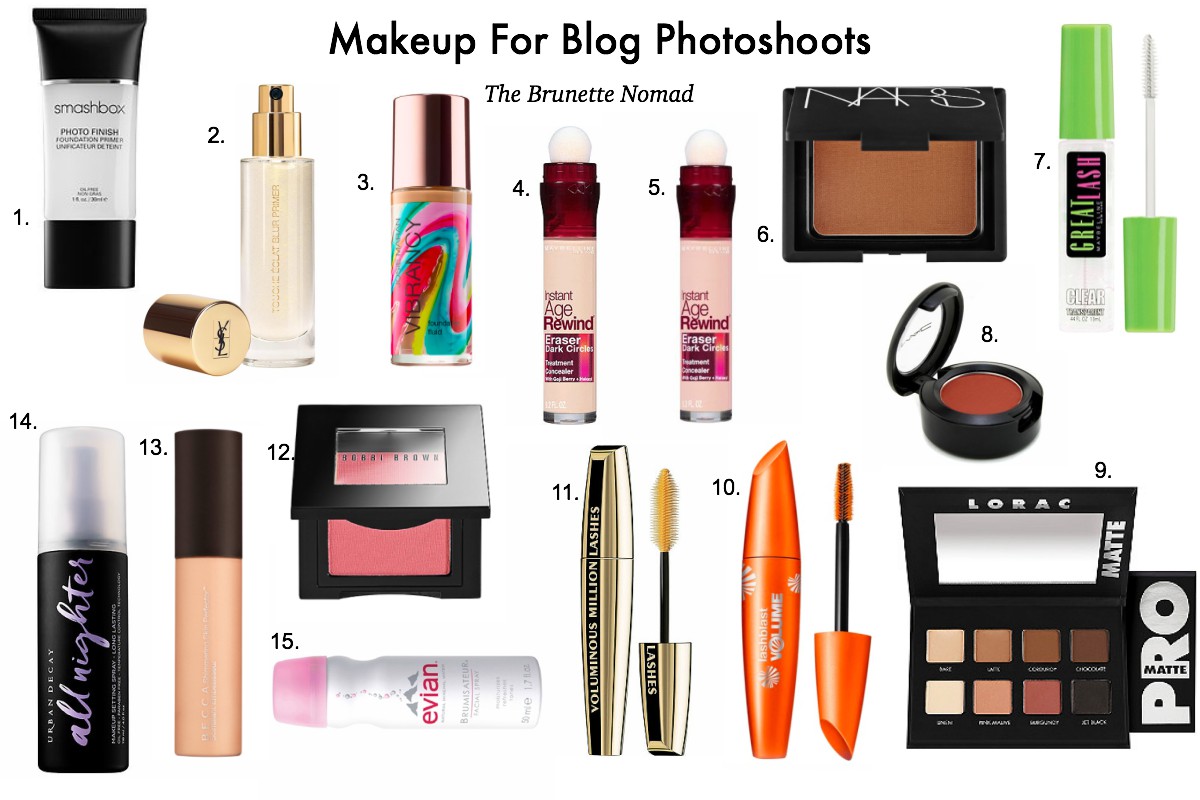 THE PRODUCTS I USE:
1// Smashbox Primer: I've continually gone back to this primer for years because it is great for dry skin and helps my makeup stay on forever. It is not a silicone based primer, which I generally prefer, and feels like a light facial lotion.
2// YSL Blur Primer: I wouldn't consider this one a necessity on a regular makeup day, but who doesn't want blurred pores when they are going to be in front of a camera? It's a silicon based primer that I love to apply with a beauty blender. This may be a bit extra, but if you love to splurge on makeup then give it a try.
3// Josie Maran Foundation: If you've used Josie Maran products before than you know that the brand is all about hydration and caring for your skin. This foundation is just that. I would call it a medium coverage, but is easily buildable.
4// Maybelline Age Rewind Concealer: One of the best products at the drugstore, and I have used it since it came out. It's a great undereye concealer to diminish dark circles and just create a nice blank canvas for the next product I use.
5// Maybelline Age Rewind Brightener: I use this product on top of the concealer for that wide awake look, and to make it look like I've slept well when maybe I haven't. The twist top of this product is so convenient and easy for travel. This is something that I cannot live without.
6// Nars Bronzer "Casino": I love the texture of Nars powder products because they are so soft and feel like amazing quality. It has no shimmer, which is highly preferred and looks better in photos. I wouldn't call this my favorite bronzer, but that is only because I tend to prefer a very pigmented red toned bronzer for high bronzing impact.
7// Great Lash Mascara: This is an oldie but a goodie. I don't use this product in the tradition sense, and I bet now you're wondering what else can this be used for? After I comb my brows with an actual toothbrush (don't worry – it's only used for my brows), I use Great Lash as a brow gel to keep them in place all day. It works!
8// M.A.C. Eyeshadow "Red Brick": To me, M.A.C. is the ultimate brand for eyeshadows. The color selection is out of this world, the quality is great, and the price is fairly reasonable in the world of makeup. I usually lean towards warmer toned colors, especially reds and oranges in the crease to bring out the blue in my eyes.
9// Lorac Pro 2-Go Palette: The funny part is that I only use two items in this palette currently. I use the white shimmery eyeshadow as a highlight under my brow bone, and the bronzer to amp up my Nars Casino. It's important to add extra color when you will be in front of the camera to give your skin some life.
10// CoverGirl Lashblast Mascara: I've used this mascara on and off since high school. There is a reason I keep coming back to it. It's super affordable, and the simple but large wand is great for that voluminous look. The formula isn't too wet, which I prefer because otherwise I will get tiny dots on my brow bone. One of my favorite mascaras of all time.
11// L'Oréal Million Lashes Mascara: Of course, I can't just live with one mascara (there was a time where I used to use 3 mascaras, but that was a bit extra). For even more drama and va-va-voom, I add on top another voluminous mascara. I find this one is slightly different to the lashblast because this wand acts as a comb so I feel like I can coat every lash.
12// Bobbi Brown Blush "Apricot": The first makeup book that I ever owned was by Bobbi Brown. Her line is synonymous with emphasizing natural beauty looks that any woman can recreate. This apricot blush shade is the perfect natural flushed look to make you look instantly healthy.
13// Becca Shimmer Skin Perfector "Champagne Pop": I have been a long time subscriber to Jaclyn Hill's Youtube channel so I was excited when she partnered with Becca Cosmetics. I love to mix the shimmering skin perfectors in with my foundation and to use as a liquid highlight on my cheekbones. This also comes in a pressed powder form for those who like some major highlight action.
14// Urban Decay All Nighter Spray: I cannot ever go without a makeup setting spray in my routine again. I wish these had been a thing when I first started wearing makeup because once you incorporate one into your life you will never go back. It keeps your makeup perfect all day, and will also help avoid any transfer on clothes from bronzer or foundation that is on the neck or jawline.
15// Evian Thermal Spray: The final step in my makeup routine (you are finally here!) is to use a thermal spray after my setting spray has dried. It perks my face back up and keeps the makeup looking as natural as possible after using powder products. This is something I started doing a few years ago, and I swear it makes a difference.
What about lipstick?
I do use lipstick, but didn't include it in the picture because I am not partial to any specific brand or color. I generally opt for a natural color aka "your lips but better" as I feel like that is what suits me best. My newest lipstick that I am loving is the Urban Decay Sheer Revolution Lipstick in the color Sheer Streak. It's really moisturizing, but if you are looking for something to last all day then I wouldn't opt for a moisturizing lipstick.
What are your favorite makeup products to use? If you have any great makeup recommendations, I would love to hear them in the comments below. 
SHOP MY BLOG PHOTOSHOOT MAKEUP:
SaveSave
SaveSave
SaveSave
SaveSave
SaveSave
SaveSave
SaveSave
SaveSave
SaveSave
SaveSave
SaveSave
SaveSave